Personally I maintain a safe distance from cleansers with a high pH level but when my bumps got out of hands and nothing else worked, I decided to up my skincare game and do give the highly raved Cosrx Salicylic Acid Daily Gentle Cleanser a try. Despite the cleanser having a pH level of whooping 10, I decided to compromise the acid mantle of my skin just once, for the sake of my stubborn bumps. Unlike the older version, the new version is a lot milder, but some reviewers claim that it's not suitable for dry and normal skin beauties and I completely trust them, you see I will never recommend someone with dry or normal skin to use a cleanser that has a pH level of 10. However, I have a normal (and sensitive) skin and I still took the risk because I desperately wanted to get rid of the bumps. Now a short history on my bumps: remember when I got badly infected after getting my bridal makeup done and how that infection lasted almost an year?? Well, it took me 3 months of oral meds and topical antibiotics to get rid of them, however, I ran out of my meds when I still had 3 tiny bumps left on my cheeks. I thought that because I had continually taken my meds for 3 months, this last trace of my infection will disappear soon. They didn't, and gradually started re-growing. Now I messed up so bad that I knew I needed to restart my 3 months course again. But I decided to give K-Beauty one last try, and that's when the Cosrx Salicylic Acid Daily Gentle Acid Cleanser entered the scene (after numerous calming and soothing products that failed).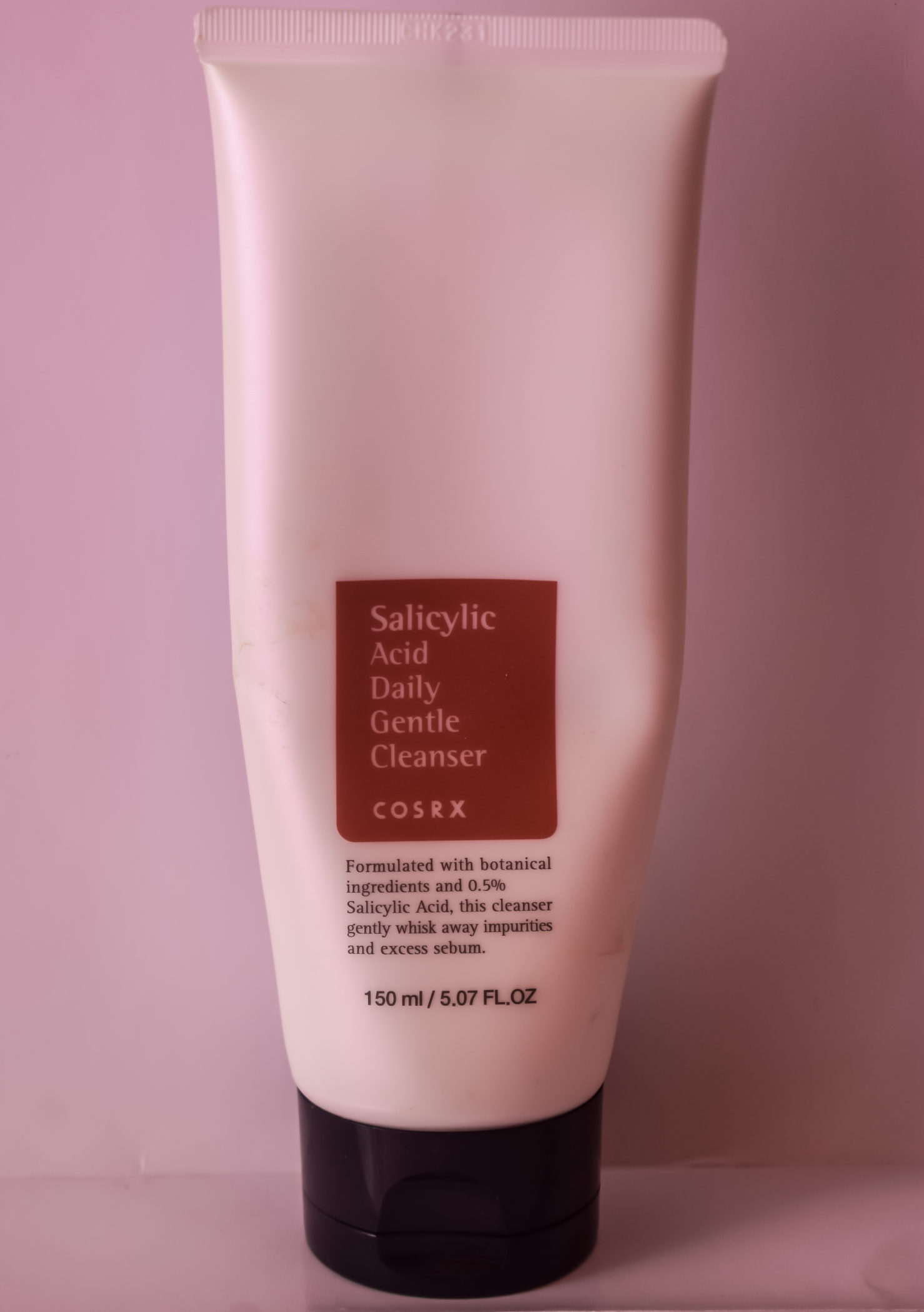 Description:
COSRX Salicylic Acid Daily Gentle Cleanser helps to reduce breakouts and promotes clear skin. Ideal for all skin types including sensitive.
It gently removes impurities and excess sebum while fighting pimples and blemishes, leaving skin soft and smooth without the stripping feeling.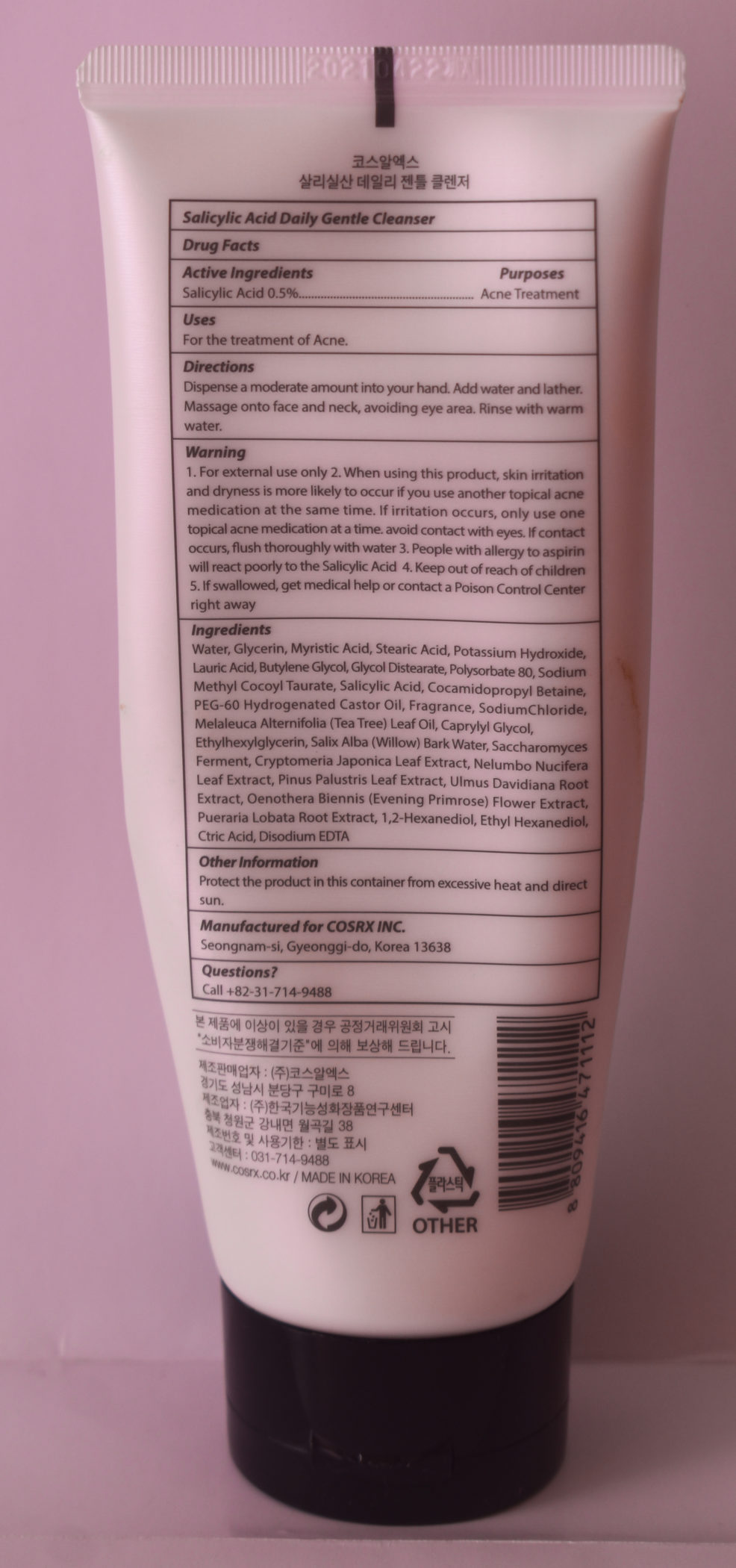 Ingredient: Purified Water, Glycerin, Myristic Acid, Stearic Acid, Potassium Hydroxide, Lauric Acid, Butylene Glycol, Glycol Distearate, Polysorbate 80, White Willow Bark Water, Yeast Fermentation Filtrate, Cedar Leaf Extracts, Petal Leaf Extract, Daimyo Seed Extract, Elm Root Extract, Evening Primrose Extract, Puerariae Radix Extract, Sodium Methylcocoyl Taurate, Cocamidopropyl Betaine, Phage-60 Hydrogenated Castor Oil, Salicylic Acid, Acid, tea tree leaf oil, sodium chloride, disodium iodide, 1,2-hexanediol, ethylhexanediol, caprylyl glycols, ethylhexyl glycerin, perfume
Water, Glycerin, Myristic Acid, Stearic Acid, Potassium Hydroxide, Lauric Acid, Butylene Glycol, Glycol Distearate, Polysorbate 80, Sodium Methyl Cocoyl Taurate, Salicylic Acid, Cocamidopropyl Betaine, PEG-60 Hydrogenated Castor Oil, Fragrance, Sodium Chloride, Melaleuca Alternigolia (Tea Tree) Leaf Oil, Caprylyl Glycol, Ethylhexylglycerin, Salix Alba (Willow) Bark Water, Saccharomyces Ferment, Cryptomeria Japonica Leaf Extract, Nelumbo Nucifera Leaf Extract, Ulmus Davidiana Root Extract, Oenothera Biennis (Evening Primrose) Flower Extract, Pueraria lobata Root Extract, 1,2-Hexanediol, Ethyl Hexanediol, Ctric Acid, Disodium EDTA
My Experience:
The cleanser comes in a no frill, simple packaging and a sturdy cap. It foams up really well and a little goes a very long way. The cleanser removes the last trace of makeup and sebum and gives the squeaky clean feeling. The salicylic acid gently exfoliates and peels the skin getting rid of the acne causing bacteria. Now due to the pH level I was expecting to feel the tight feeling on my skin and I wasn't wrong. After the very first usage I noticed a very clear skin and within a few days my bumps started disappearing. Honestly if I don't mind the tight feeling on my skin if my monstrous bumps disappear, plus I apply my toner within 30 seconds after drying my face anyway.
Since I have a normal skin, I'm not sure if I should continue using this on a daily basis, but so far, I am. I haven't felt any drying feeling on my skin yet apart from the 30 seconds between drying my skin and applying my toner. Also I've used it during the same routine when I used my BHA and thankfully I didn't break out (I'm not stupid, it was just an experiment). I recently got a huge hormonal acne while PMSing and it reduced within 2 days thanks to this cleanser. I'll keep using this daily until my acne completely disappears, after that I'll probably keep it for my PMS days.
Overall, I've become a huge fan of this cleanser despite the pH level. But because I've a normal skin, I won't be using it on a daily basis once I completely get rid of my bumps and acne.
Pros:
Gets rid of bumps and acne like a champ
Does everything it claims
Worth the money
Cons:
Where to buy:
Rating:
4.8/5