So Nykaa launched their own range of sheetmasks about a month back and I had to have them in my stash. I pre-ordered them right away and now that I've used most of the masks I'll start reviewing one by one starting with the Tea+Aloe Vera one. The reason that I barely reviewed skincare products recently was because I haven't been able to take much care of my skin. Like I've been saying for the last 1 year, our apartment is really cold, humid and gloomy and winter was tough. I had to give up on my skincare routine and was washing my face just once while showering. I rarely chemically exfoliated unless I was visiting home and wash off masks were out of the books. No wonder my cheeks grew a few bumps and despite being cold prone I used the Nykaa Tea Tree & Aloe Sheet Mask as soon as I received the package.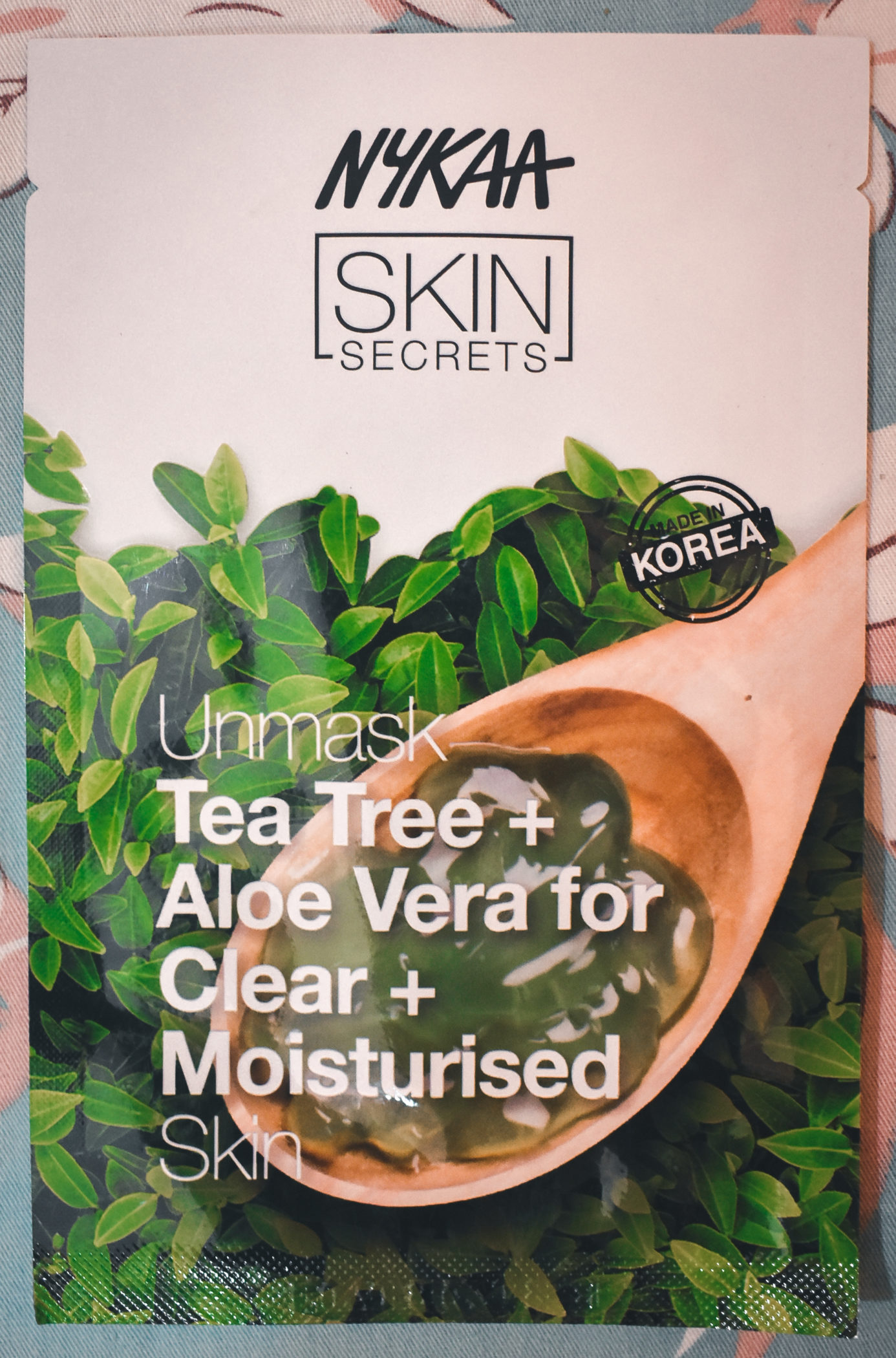 Description:
Introducing Nykaa Skin Secrets Sheet Masks, where touted beauty secrets from the soils of India meet the cutting-edge technology of Korea.
Carefully chosen, we bring you 11 variants that are specially made to target all your skin concerns. Tucked away in our grandma's diaries, these ingredients are humble yet potent. Passed on from generations to generations, they have never ceased to mark their vitality even in the modern world. Now, we have brought to you the most-precious beauty secrets in the form of our Nykaa Skin Secrets sheet masks.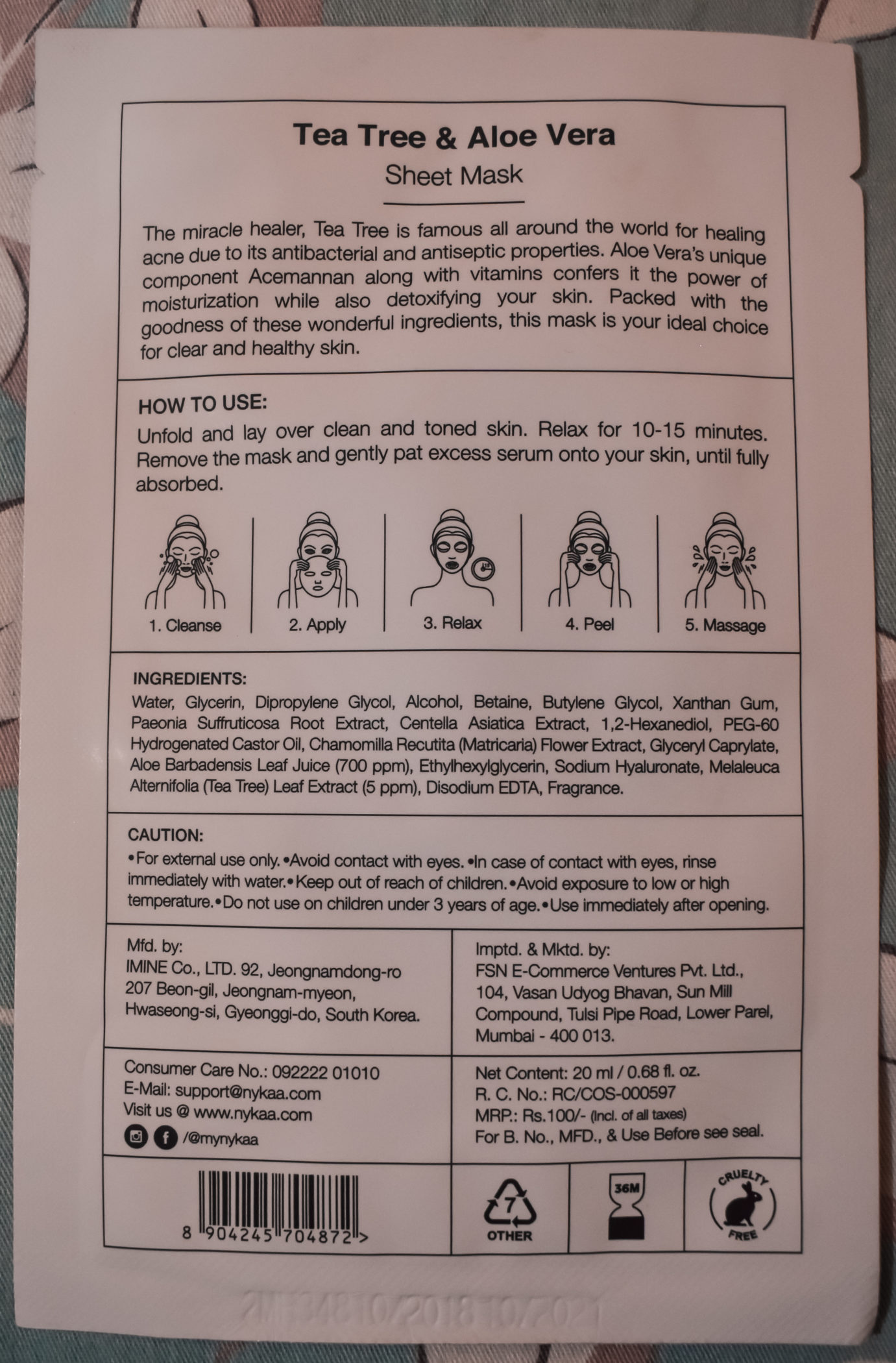 My Experience:
Like I already mentioned, I was barely taking care of my skin when I used the Nykaa Tea Tree & Aloe Mask. I wasn't exfoliating or using a wash off masks as frequently as I do and I also ran out of my moisturizer and was using an aloe very gel while waiting for my moisturizer to be delivered. Needless to say, my skin wasn't at its best and had several bumps on the area where I got skin infection last year and the year previous to that (that area is still extremely sensitive). Tea Tree Oil Sheetmasks are my best friends when I get bumps and hormonal acne and thus I used it right away after it was delivered.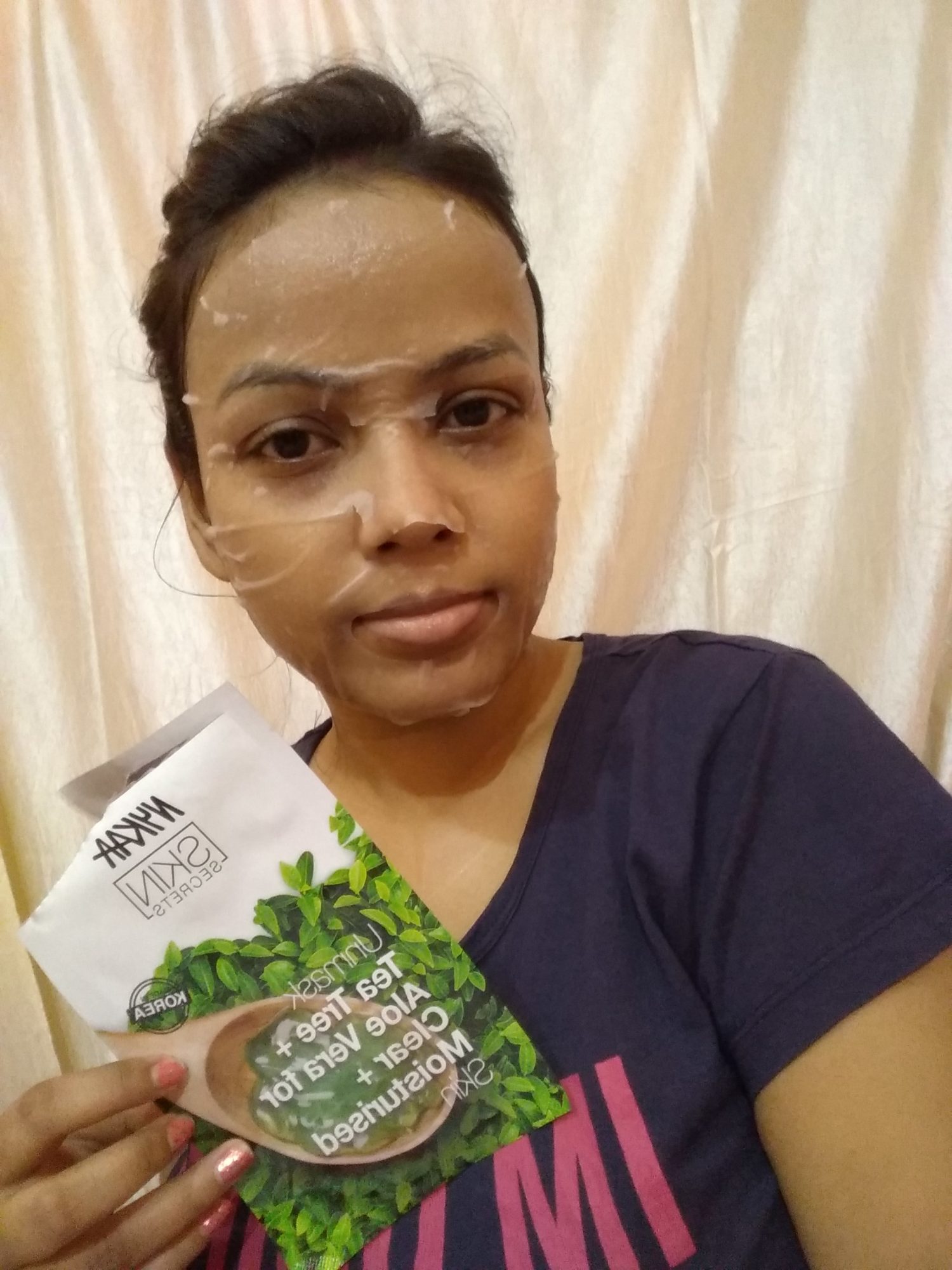 It comes in a classy no frill packaging, doesn't come with a film attached, yay!!! Because while I love taking care of my skin, I feel extremely guilty because of the packaging waste that I create. The fitting was perfect! I mean of course it has been created taking average Indian features in mind so it was something that I was expecting. It's probably the best fitting mask that I've ever used minus the few wrinkles. After keeping it on for about 30 minutes I removed it to reveal a super hydrated, nourished and clear skin. My bumps had reduced visibly and the hydration lasted for about a couple of days. So yes, it did everything it was meant to do and noticeably reduced my bumps. However, the presence of alcohol, that too pretty high up in the ingredient list is what stopped me from stashing my drawer with Nykaa sheetmasks. I mean sure I can put alcohol on my face occasionally if I have bumps or pimples or for the sake of review, but since I like to use sheetmasks everyday, these masks are not the type of masks that I'll stash my mask drawer with.
Will I Recommend It?
If you have acne prone skin and have no problem using products containing alcohol, then you can give it a try.
Will I Purchase it Again?
I was thinking of stashing my drawer with a few of them in case of emergencies (like getting pimples or bumps on special occasions) but I realized that I have used sheetmasks that reduced pimples and bumps that doesn't contain alcohol, so…
Pros:
Does everything it claims
Reasonably priced, on sale most of the time
Easily accessible to Indian sheetmask geeks like me
Perfect fitting
Cons:
Price:
100rs but on offer most of the time
Rating:
4/5