Hey everyone, how was your Valentine's day? I hope you all spent some lovely moments with your beloved. Though Valentine's day is over, this time of the year love is always in the air. I love spring! It makes me want to pamper myself. And what better way to make yourself feel pampered than gifting yourself some beautiful lingerie? When it comes to lingerie, I only trust Zivame. I have been a loyal customer of Zivame since its inception. Zivame is the first ever online lingerie store in India which is also founded by a woman. It is the most convenient, considerate and customer-friendly online lingerie store ever! Why considerate you may ask? Well, it has sizes catering to every woman. From Sensual bridal lingerie to superb sports bras to Babydolls, Zivame has it all. Don't believe me? Check them out yourselves!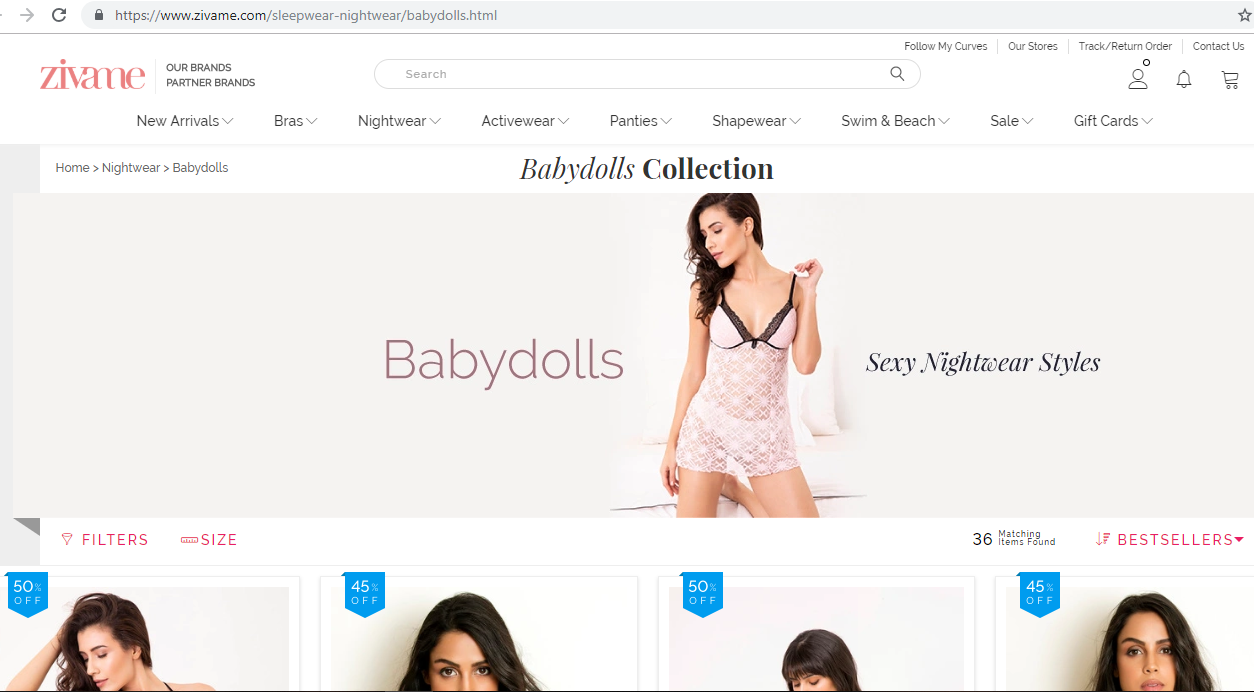 Now coming to the pampering part, I am a proud lingerie hoarder. My lingerie wardrobe is incomplete without Babydolls. They bring the much-needed oomph factor to any lingerie collection. I mean come on! Nothing makes a woman feel and look sexier than a well-made babydoll or teddy. What is Babydoll? It is a short or long two-piece garment which consists of a thong and dress. They were first invented by a designer called Sylvia Peddler according to Glamour Magazine. Babydolls are often made with luxurious fabrics like silk and satin. Some Babydolls are also made with high-quality lace and mesh fabrics. And Zivame has a wide range of Babydolls. Babydolls are indispensable for any woman who looks for elegance and comfort with a dash of sexiness. Planning a romantic night with your man? Just got hitched and on your honeymoon? Want to feel sexy on your own?  Looking for comfortable night dresses? Aaye, Babydoll is your answer! From super sexy to soft and lacy there is a Babydoll for every girl. The mid-length semi-transparent lacy babydolls are a perfect example of bridal lingerie. The full-length babydolls made with satin or silks make for great night dresses as they are very soft to the touch. For the bolder ladies, you can wear Zivame's padded babydolls instead of your regular bras under clothing and pair it with stockings of your choice. There are endless ways to wear and style Babydolls.
Personally, I love satin babydolls as they are ultra comfortable and provide effortless style. And the best thing about shopping at Zivame is their great pricing! Most of the times there are huge discounts on everything. Right now the Babydolls are on 50% off sale. You can shop your heart out and still not burn a hole in your pocket ladies! Zivame also has a no questions asked 15 days return policy so you can buy from them with ease of mind. The returning procedure is very easy as well. Just select the items you want to return and Zivame will arrange a reverse pick up from your home. All the customer care executives are also female so you won't have to face embarrassment that you do when buying from local stores.
I am off to stock up on my lingerie stash. What are you girls waiting for? Remember, great lingerie gives you the confidence and comfort to conquer the world! So buy now your choice of Babydolls from Zivame and give yourself some much-needed love. You'll be surprised by the sheer versatility of Babydolls. Happy shopping loves!