Sarees are one of the most beautiful and elegant attire that one can wear, and now that the  Christmas season is over and we are already gearing up for the upcoming Saraswati Puja. My first Anniversary is also around the corner so I was looking up some Sarees online. I love to shop online and online shopping sites have been my best buddy recently as I've been staying mainly indoor these days.  The best part about shopping sarees online is that you don't even have to worry whether it fits or not. And nothing beats the crazy deals that I found on Homeshop18! Homeshop18 needs no introduction. It is one of the biggest and most reliable E-commerce and TV shopping platforms. And the best thing about Homeshop18 is the detailed YouTube program that they host. Through these live streams on YouTube we, the consumers, can actually see the details of the merchandise on offer, unlike other E-commerce websites where only pictures of the merchandise are displayed.
I love the combo deals that they offer on bundled products and they have an amazing collection of outfits. For this wedding season, you can choose from a variety of designer sarees from Homeshop18. Their range of Sarees starts from as low as 249 Rs and goes up to 16969 Rs. You can not only browse through Saree types but as well as by brand, colour, design, occasion, fabric, colour and offer.
From art silk to Benarasi to Lehenga, they offer a plethora of choices to choose from. One of my favourite pieces is the pretty pink Cotton Silk Light Beige Saree By Cozee Shopping. Apart from that they also have a huge collection of Bridal Sarees and Festive Sarees you can choose from this festive season. The red bridal sarees are extremely gorgeous and come within a very affordable range. You can also get a chart of their best selling sarees in case you love to go with the trend. When it comes to choosing according to designs, they have all the designs and patterns one can think of, from abstract to an animal to peacock, they have it all. Among brands, they have Triveni, Stitch Sensation, Silk Bazar, Rachna, Kanooda Fashions, Aadya Couture, Aaboli, Aasvaa, Andand Sarees, Brand Villa Fashion, De Marca and many more.
When it comes to draping sarees, I'm no pro and I've always needed help but after attending an event where Celebrity Saree Draper Dolly Jain demonstrated various styles of Saree draping in a matter of seconds I really got inspired and started trying to drape saree by myself.
Since I've always let my mum purchase sarees for me, my cupboard is filled with traditional Sarees like Ikkat, Pure Silk, Dhakai Jamdani, Bomkai etc…However, lately, I've developed a love for contemporary sarees, though I don't own a many of them. One of my favourite contemporary Saree is this Yellow Art Silk Saree that I got from Triveni Sarees. Also, yellow happens to be the colour traditionally worn on Saraswati Puja, so I might get another yellow piece for this Saraswati Puja.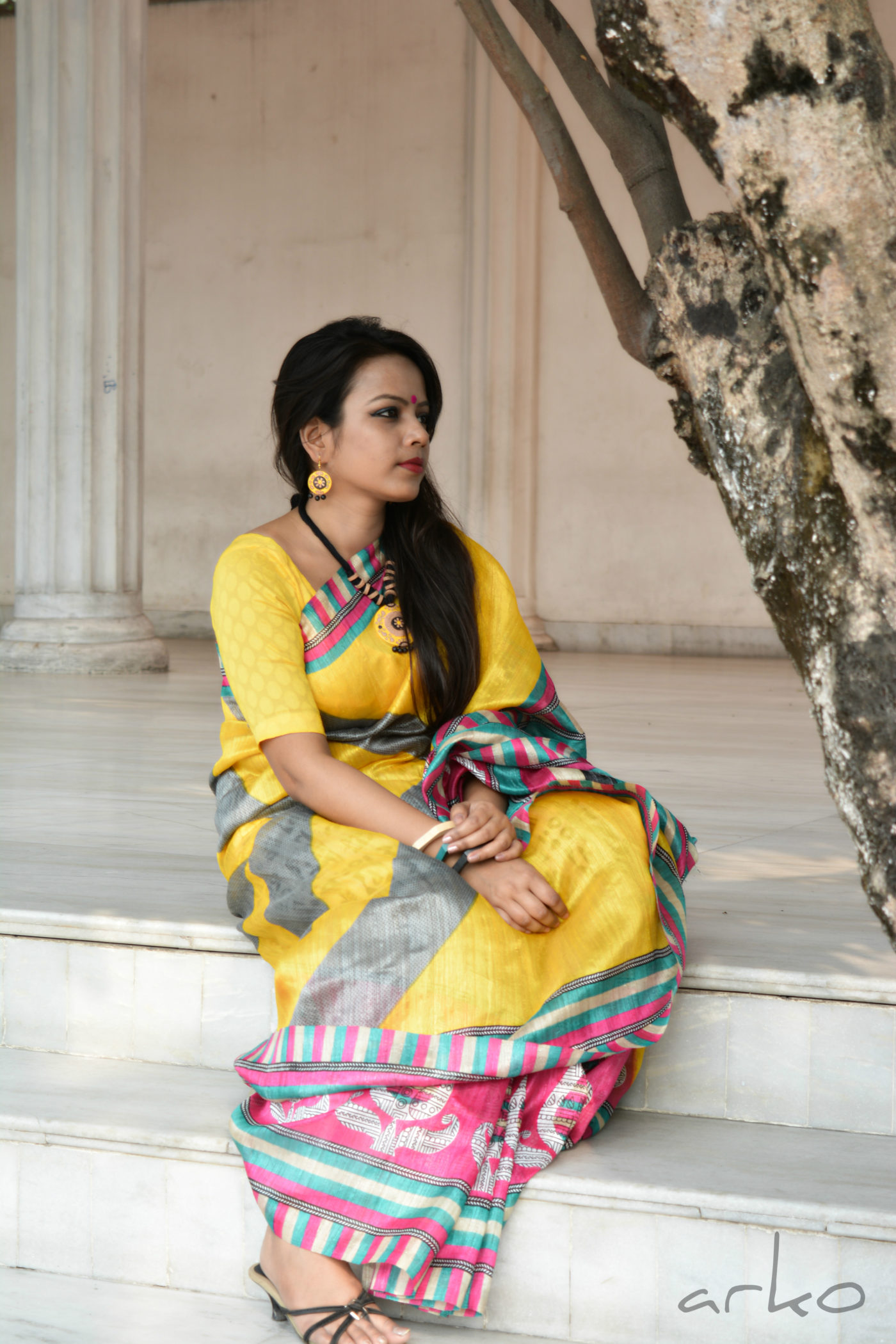 Do let me know what some of your favourite fabrics are when it comes to Sarees. I might get some more types to explore…