I've been a skincare nerd for years and upon my discovery of a gem of a mask, I'm surprised that I never came across the ingredient called 'mugwort' all these years. I mean, I know I have been whiney about my skin infection for a while, but boy did I dicover an instant relief for irritated skin and I'm never going back to any other product when my skin experiences bump and irritation.
I'm From Mugwort Mask is a wash-off mask to calm and soothe the skin. Containing full of vitamins and minerals, it quickly soothes irritation and redness while having a cooling and calming effect.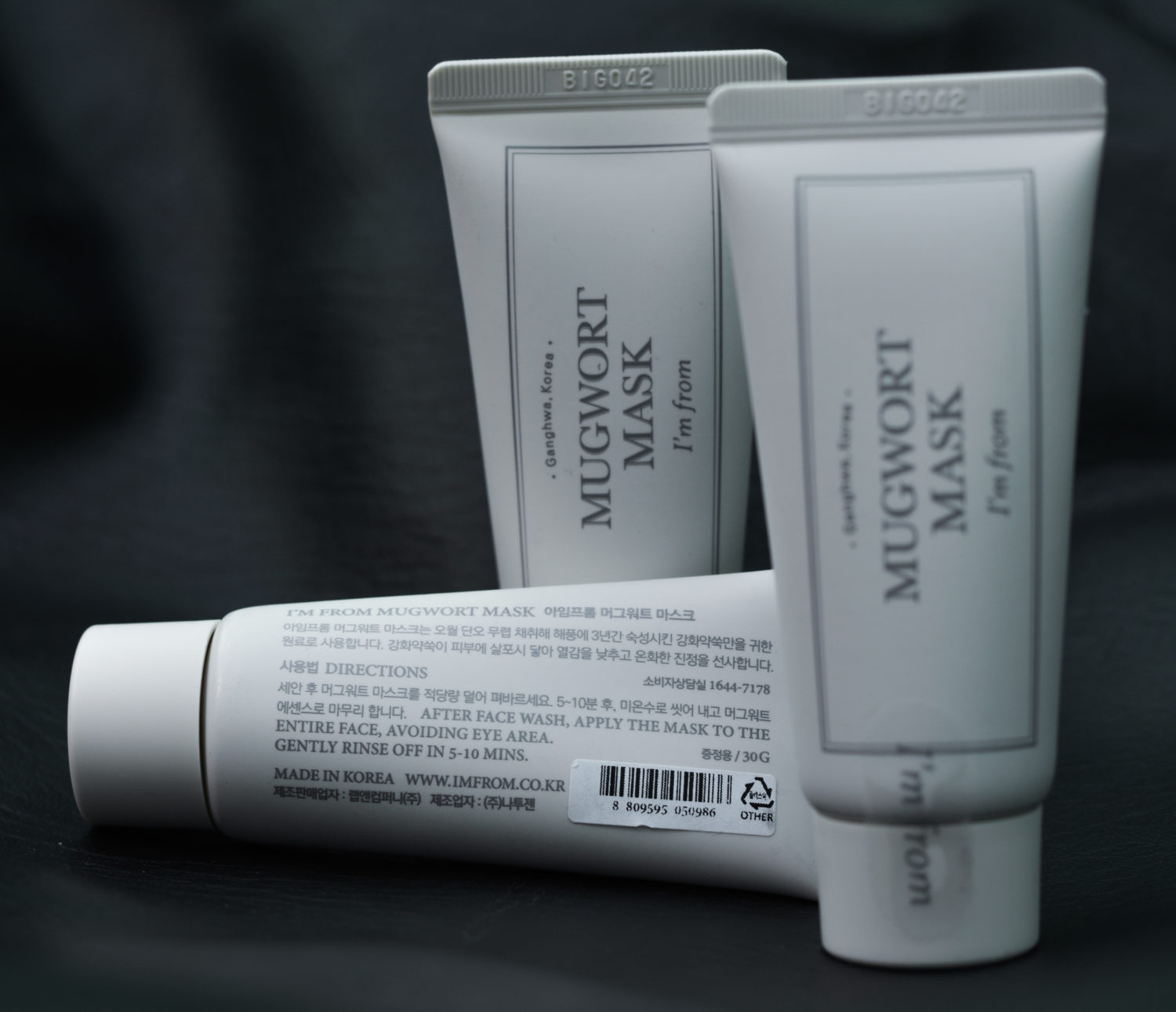 How to Use: 1) After cleansing, apply a thick layer of the Mugwort Mask evenly onto the face.
2) Rest for 5-10 minutes and rinse gently with water.
3) Finish with the Mugwort Essence. The Mugwort Mask is gentle enough and perfect for everyday use as well!
* The green beads in the Mugwort Mask are ground mugwort particles and may be different in sizes and shapes.
Ingredients:
Water, Butylene Glycol, Glycerin, Artemisia Princeps Leaf Powder, 1,2-Hexanediol, Cordyceps Sinensis Extract, Polygonum Cuspidatum Root Extract, Scutellaria Baicalensis Root Extract, Methylpropanediol, Ligularia Fishceri Leaf Extract, Rosa Davurica Bud Extract, Camellia Sinensis Leaf Extract, Glycyrrhiza Glabra (Licorice) Root Extract, Chamomilla Recutita (Matricaria) Flower Extract, Rosmarinus Officinalis (Rosemary) Leaf Extract, Centella Asiatica Extract, Glyceryl Polyacrylate, Sodium Polyacrylaste, Carbomer, Arginine, Phenoxyethanol, Allantoin, Dipotassium Glycyrrhizate, Panthenol, Xanthan Gum, Disodium EDTA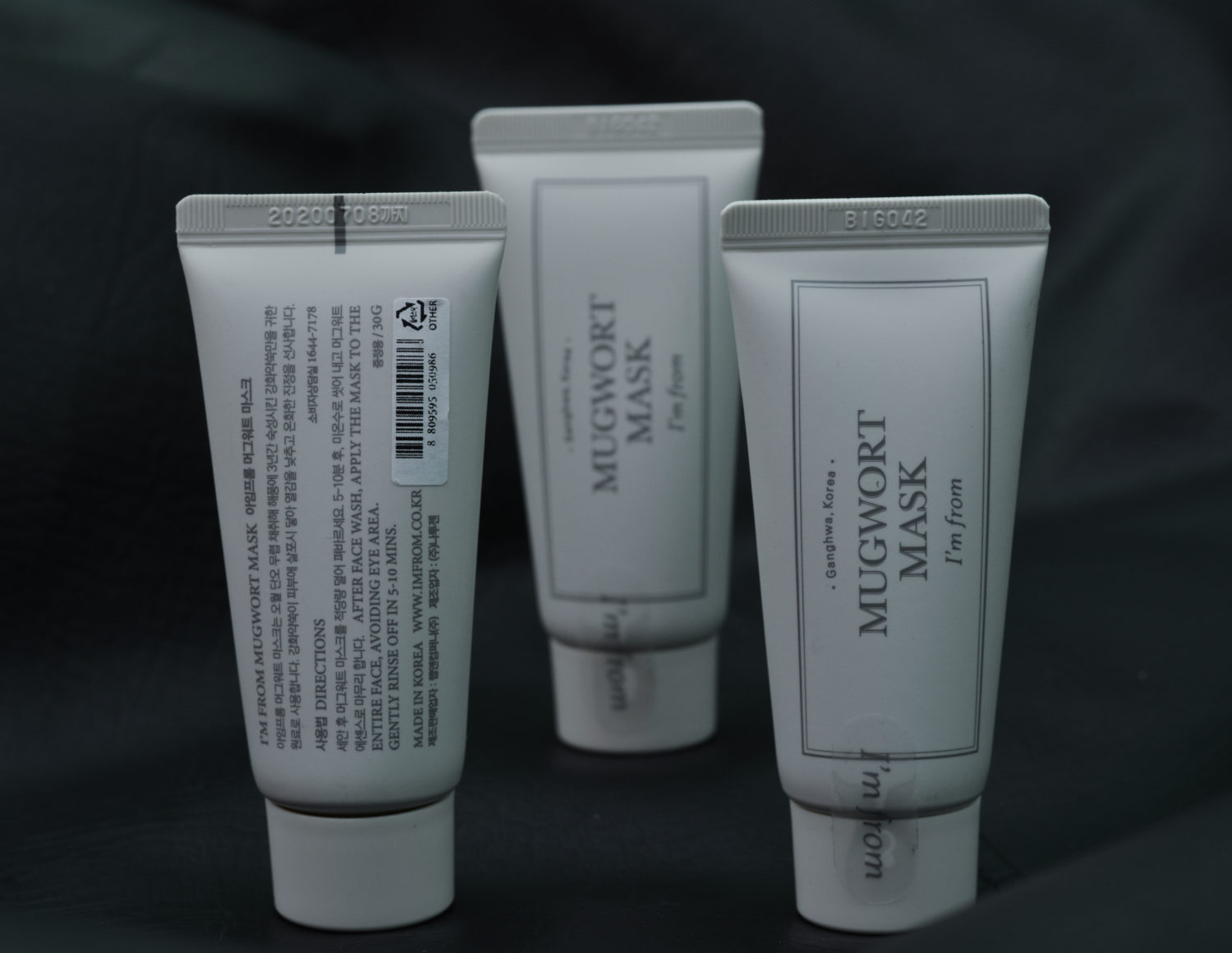 Mugwort is a herb that has multiple skin benefits. It's anti-bacterial, anti-fungal, anti-inflammatory and calming.
The CosDNA analysis came up pretty clean with only a few triggers.
My Experience:
Lately I've been suffering from a wash-off mask mania. I've been hoarding wash-off masks like crazy and while most of my other wash off masks are still sitting on my vanity un-reviewed, I'm still on a wash-off mask shopping spree and drooling over any K-Beauty wash off mask that I'm spotting on the internet (that doesn't mean that I'm over my sheetmask mania though). I received 3 30gm sample packs of I'm from Mugwort Mask from Wishtrend and since it's a lot different than my entire wash-off mask collection (I drool over mainly clay masks) I decided to give it a try the very day that I received it, mentally scheduling the pore shrinking method for the next day.
That very day, I had a few bumps on my skin due to giving a Vitamin C another try and also due to travelling back from my hometown. I washed my face and applied a dime-sized amount on my face. It has a gel like texture with visible chunks of the main ingredient. Even though the mask has grits, I avoided trying to scrub my face with the grits because if it was meant for scrubbing, the website would have mentioned it. The packaging says to leave it on for 5-10 minutes but since it's not the type of mask that dries up on your face and since I was really enjoying the calming effect after 4 hours of travel I kept it on for 15 minutes.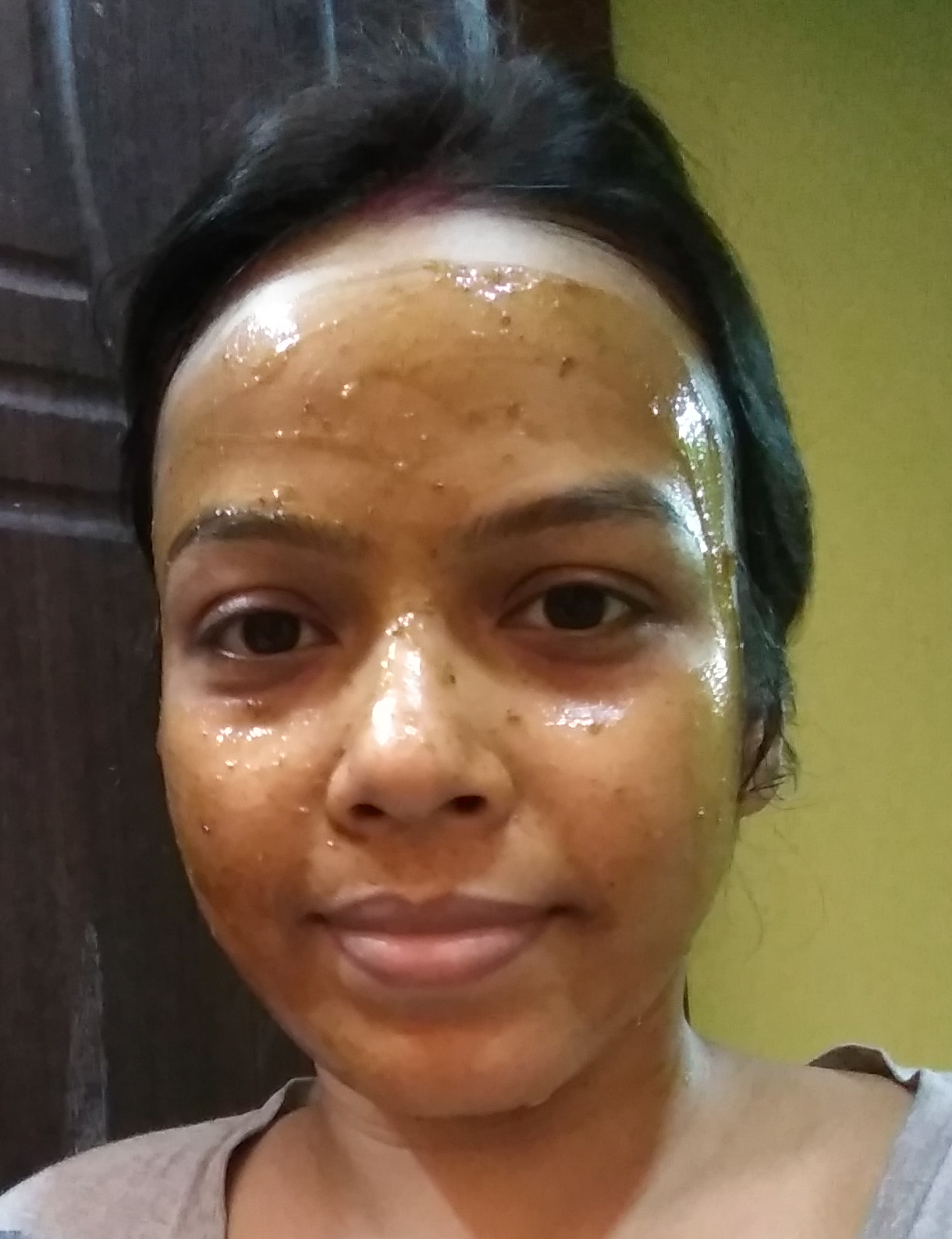 While washing it off, it took a slippery form and washed off easily and I guess the chunks of mugwort did a mild exfoliation as well. After drying off my face I looked into the mirror and could not see any of the bumps that I had before applying the mask. It was like the bumps literally washed off along with the mask, just like magic.
I seriously, seriously never have been more impressed with any other product in my entire life, at least not while having an irritated skin. The redness, the bumps, everything disappeared into thin air. A few days later I got a few tiny bumps on my cheeks after wearing makeup on Diwali (yes my skin is that sensitive right now, thanks to the previous infection), and I applied the mask again, and bam! Clear skin in just 15 minutes!
To be honest I've never used a product that gives such instant effect. And I'm like why don't we see more products that has mugswort in it?!  However, this is not the type of mask I would waste on a good skin day, firstly because I will save every bit of it for times when my skin experiences any kind of irritation, secondly because it doesn't have any other job, so why waste such a good product when it's really not needed?
Another thing to be noted is that since it's not the 'dry up' type of mask, it doesn't really dry up the skin post application, rather makes the skin feel hydrated. Applying the next products really do feel like a luxurious experience.
Whom will I recommend it?
Acne prone and sensitive beauties: You've got to try it.
Beauties that experience irritation from time and time again: You need to keep it in your stash for bad skin days.
Specially blessed beauties who never suffer from skin irritation: I would recommend trying out other masks from their range, they all look drool-worthy. I for one am already aiming for the rice one and the volcanic one and all the other masks they have.
Brides to be: Keep one in your stash for emergencies. Do a patch test beforehand.
Pros:
Does what it claims
No added fragrance
Immediate effect
Doesn't dry out the skin
Cons:
Nothing that I can find out.
Where to buy:
Rating:
5/5