In the past 3 years my skin has gone through a lot of phases; broke out for months due to over usage of retinol, got introduced to hormonal acne and caught bacterial infection twice from dirty makeup brushes that lasted over 6 months both times. Currently I'm just glad that my skin has been doing well (*touchwood*), but after the recent infection that I got during my wedding, my skin has been really dark and tanned. So my recent concern for my skin is brightening and I'm doing everything that I possibly can to gain back my glass skin effect that I achieved right before my wedding.
A few months back I received a few  Sulwhasoo First Care Activating Mask from my Korean friend Song and I couldn't be more thrilled. You see, as a K-Beauty nerd who's been obsessed with Kbeauty for about 4 years now, I would choose a traditional Korean brand over a newly launched Korean brand any day. And thus I was thrilled to receive a Sulwhasoo mask as they are hard to get in India otherwise.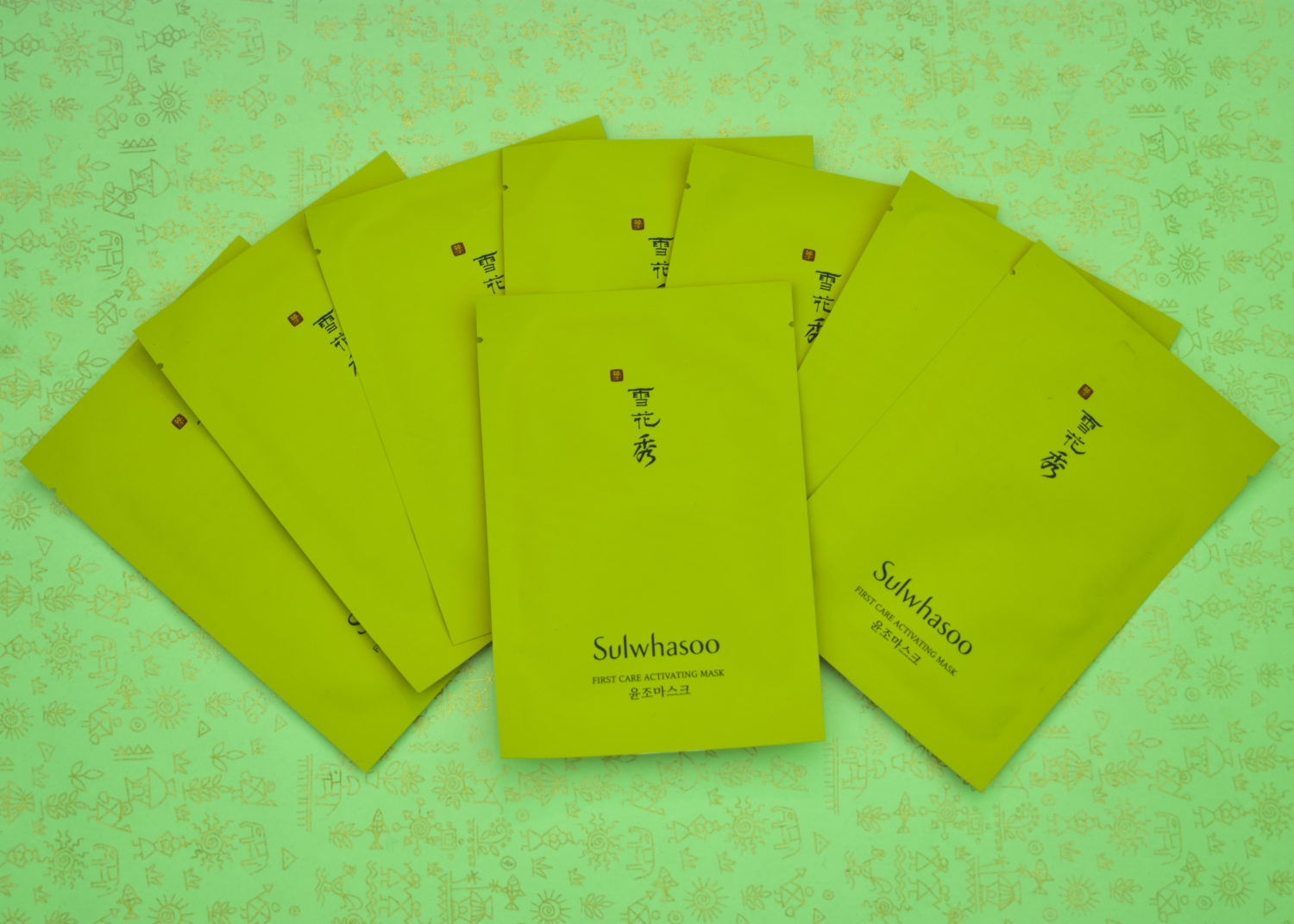 Description:
A balancing care mask that helps sooth and clear skin texture with the Micro Net Radiance Sheet generously soaked in the JAUM balancing complex™, designed to help improve skin balance.
Korea's No. 1 serum for the past 20 years is now offered in a sheet mask that delivers optimum skin texture and instant moisturization.
Either used alone or paired with First Care Activating Serum EX for exceptional synergy, witness ultimate radiance with Sulwhasoo's JAUM Balancing Complex™, the brand's proprietary ingredient complex created with five herbs carefully selected from over 3,000 herbal ingredients. The exclusive complex helps restore skin's balance of vitality, resilience, clarity, regeneration and nourishment, improving skin's natural radiance and boosting the efficacies the entire skincare regimen that follows.
The unique micro net radiance sheet effortlessly adheres to the skin, aiding the full and effective absorption of the formula.
The gentle, calming herbal scent of the mask relaxes the mind and body as you pamper yourself and your skin to the extraordinary power of JAUM Balancing Complex™.
Maximizing the skin balancing properties of the JAUM Balancing Complex™From over three thousand precious Korean herbal ingredients, just five were carefully chosen to comprise the optimal formula for the JAUM Balancing Complex™. our signature complex helps improve skin balance by delivering essential ingredients to the skin with vitality, resilience, clarity, regeneration and nourishment.
Creating smooth skin texture with a single sheet mask containing 1/3 of a bottle of First Care Activating Serum EXDeeply hydrates and soothes the skin for a smooth and clear look by delivering the efficacious properties of our first care activating serum ex to the skin.
Serenity for the skin and mindThe subtle and natural herbal scent of First Care Activating Mask helps relax your body and mind.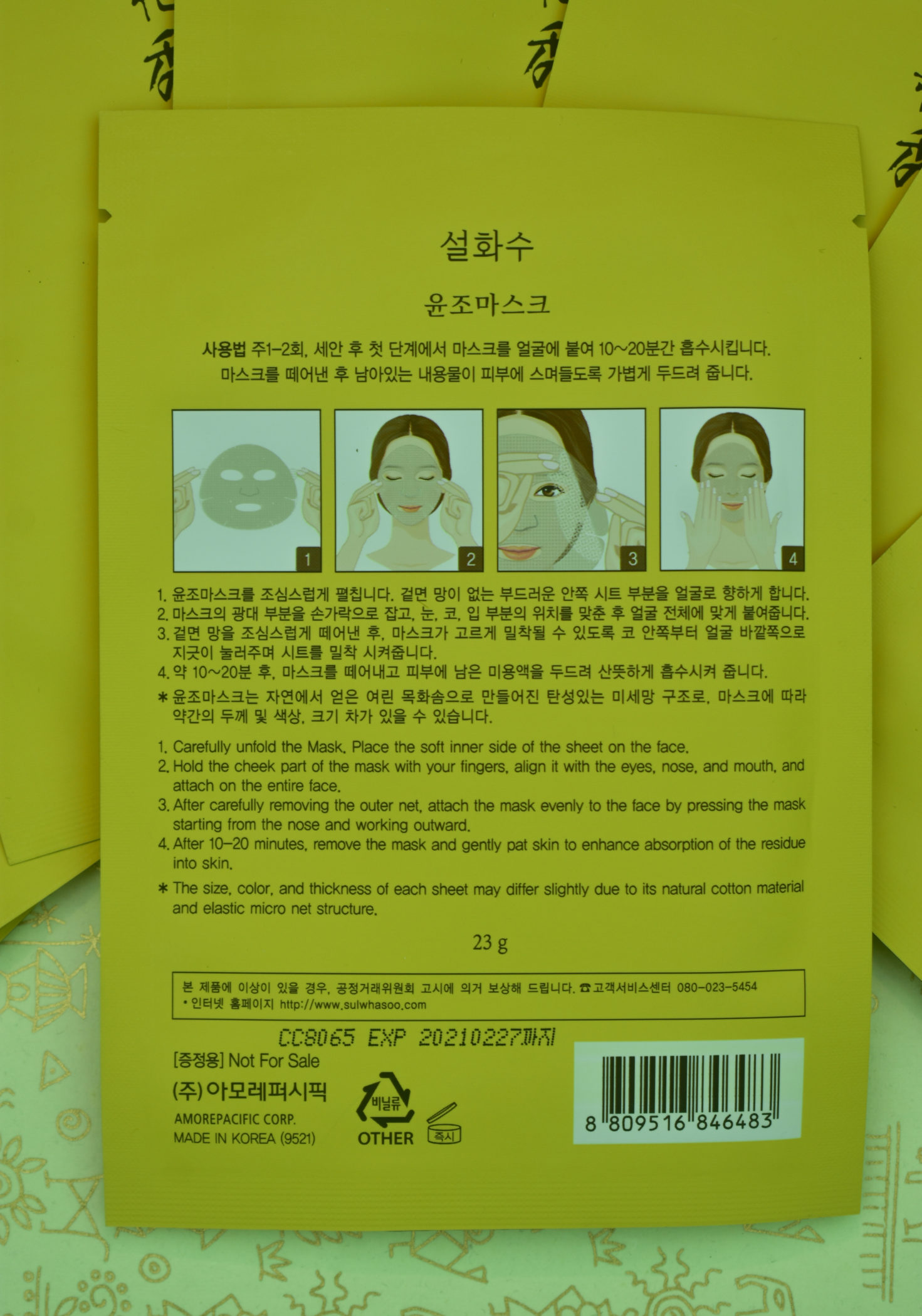 Sulwhasoo First Care Activating Mask ingredients: Water, glycyrrhiza uralensis (licorice) root extract, propanediol, butylene glycol, glycerin, betaine, camellia sinensis leaf extract, paeonia albiflora root extract, nelumbo nucifera flower extract, polygonatum officinale rhizome/root extract, lilium candidum bulb extract, honey, ophiopogon japonicus root extract, juglans regia (walnut) seed extract, portulaca oleracea extract, zizyphus jujuba fruit extract, biosaccharide gum-1, natto gum, PEG/PPG-17/6 copolymer, 1,2-hexanediol, glyceryl polymethacrylate, bis-PEG-18 methyl ether dimethyl silane, carbomer, PEG-60 hydrogenated castor oil, dextrin, theobroma cacao (cocoa) extract, xanthan gum, ethylhexylglycerin, tromethamine, disodium EDTA, phenoxyethanol, fragrance
The CosDNA analysis  came as clear as it can get. The presence of licorice as the second ingredient had me impressed because of its anti-inflammatory and brightening effect. The rest of the ingredients are potent with anti-aging, anti-inflammatory, moisturizing, brightening and anti-oxidant benefits.
Price: $12 for a single mask
My Experience: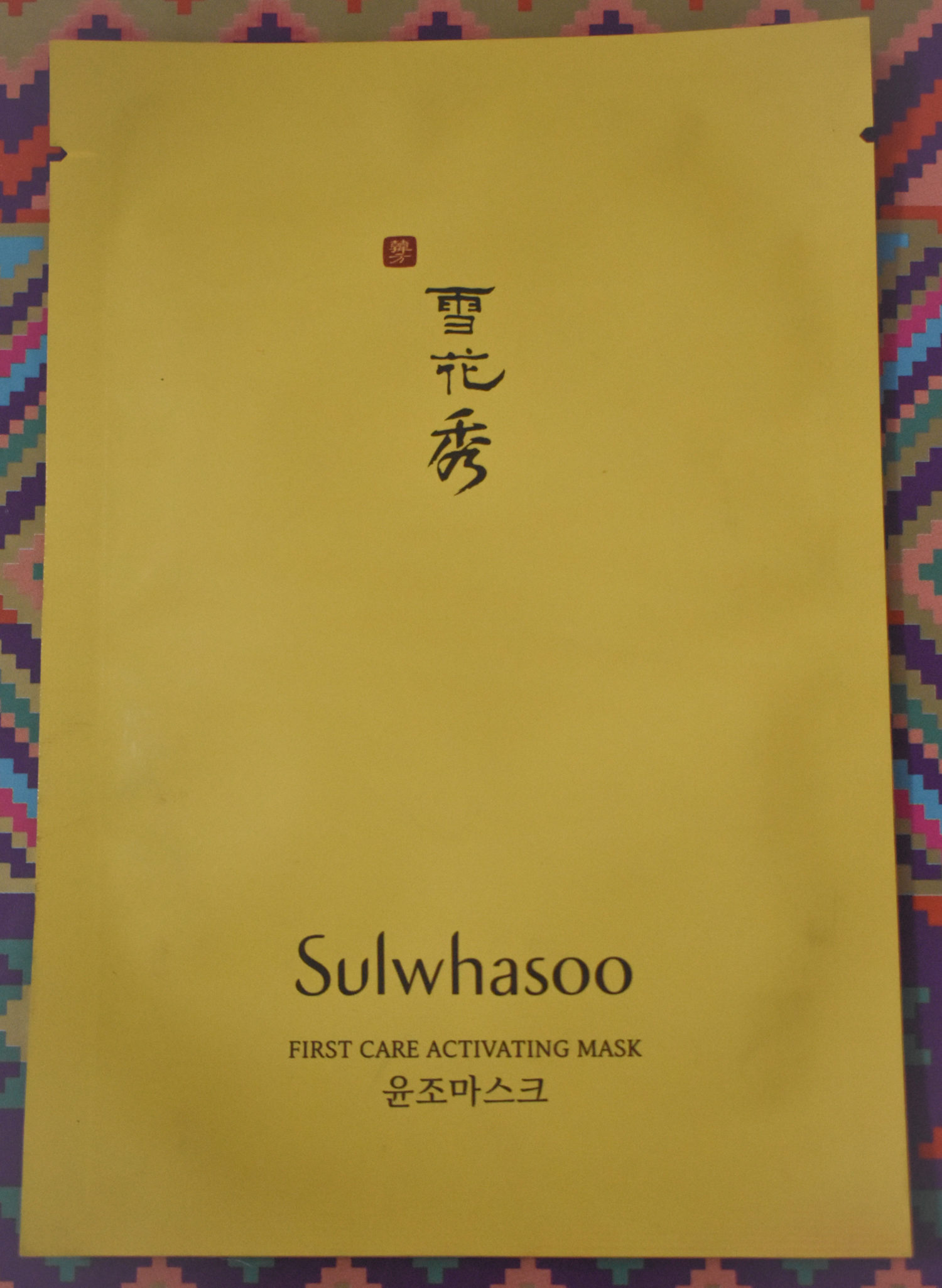 When it comes to Sulwhasoo products, I always have high hopes to begin with, and for a mask worth $12 I wasn't sure what glorious effect I should expect. The packaging is classy and elegant like all Sulwhasoo products and the sheet comes along with a mesh backing. The serum is thick and reddish like red ginseng sheetmasks and the sheet has visible pores. The fitting is neither perfect nor too bad on my face, which means, while I don't have to cut the holes bigger, the sheet definitely has wrinkles on my face.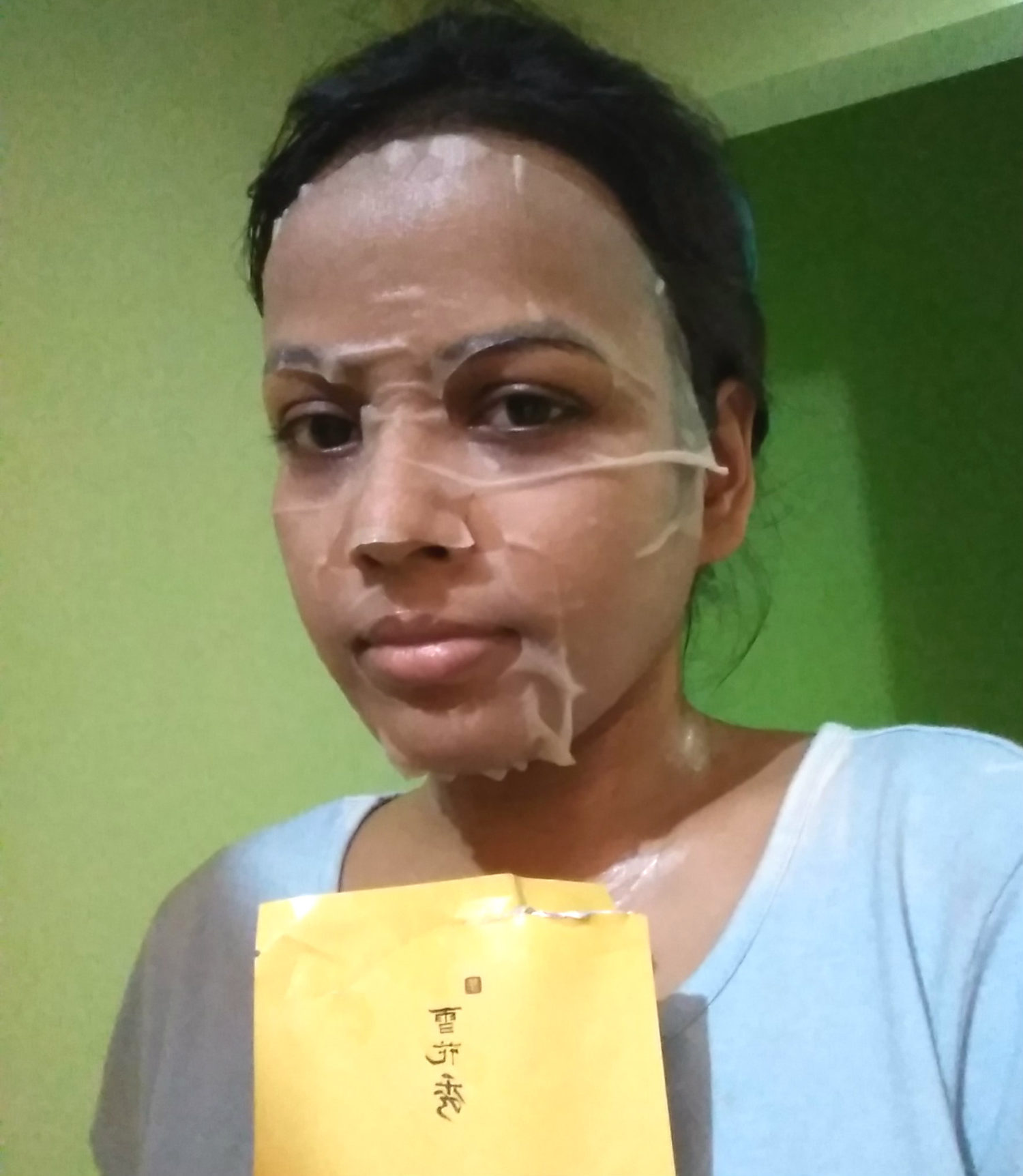 The sheet was drenched in enough serum and even after sitting 40 minutes on my skin, it was still wet. There wasn't any noticeable difference right after removing the mask except for immense hydration but the next morning I woke up to an overall plump, healthy and evened out skin. While my skin looked radiant, the brightening effect wasn't as noticeable as the Illiyoon Skin Solution Niacin Brightening mask (which was a miracle bdw). Which is understandable because the Illi mask claims solely brightening while the Sulwashoo mask has more than one job. The plumped up skin and the healthy glow lingered for around 3 days and while using a $12 sheetmask (plus shipping and custom) twice every week isn't very budget friendly I guess it can actually be the one solution to multiple problems ( i;e: irritated skin, aging signs, dull and dry skin) if used regularly.
Like I already said, my skin didn't have any other issue while using the Sulwashoo masks, but the presence of the anti-inflammatory agents look promising and I wish I had one of these when I had stubborn bumps on my skin.
Overall, I'm highly impressed with this sheetmask and will stock up on these for the nights before special occasions. While it's exactly not budget friendly, these are the type of mask that you would want to use the night before your best friend's wedding. But if your budget does allow you to use it once or twice a week, it can help combat multiple skin issues in a single step, especially if you are 25+.
Pros:
Comes with anti-aging, anti-inflammatory, moisturising, brightening and anti-oxidant agents
Does everything that it claims
Alcohol free
Doesn't irritate your skin
Cons:
Nothing that I can point out
Rating:
4.9/5
Where to buy:
If you want to watch me apply the mask, you can check out this video uploaded by Song.