*Guest post by Parna Banerjee, a skincare enthusiast Clara met via a makeup group.
If you want to look like a 20-something while you are actually in your 40's, do something more than just praying that your youthful good genes kick in. For example, you can follow the road many celebrities like Victoria's Secret model Adriana Lima have taken, and commit to using anti-aging vitamin C serum to help maintain a healthy, youthful complexion.
Ideal for people of all ages and skin types, the skin care benefits of vitamin C serum are numerous, the most popular one being that it helps to fight the appearance of fine lines/wrinkles.
● PROMOTES COLLAGEN PRODUCTION
The bane of any woman's appearance who has reached her 30s are fine lines and wrinkles. But you can always fight that right? One of the best ways to fight aging signs is by regular usage of vitamin C products, because of their concentrated levels of antioxidant, vitamin C helps boost collagen production, filling in fine lines and wrinkles. As a result, you may notice a youthful skin without the need for any expensive and potentially risky cosmetic work!
● PROTECTS SKIN FROM SUN DAMAGE
In addition to its anti-aging benefits, vitamin C is also great for protecting your skin from damage—both from the UVA and UVB rays. That's because vitamin C is an antioxidant and it naturally helps to strengthen the skin and repel things that could damage it. Of course, vitamin C should not be considered an alternative to wearing sunscreen, but when used under the sunscreen, it can really work really great for your skin.
● REDUCES UNDER-EYE CIRCLES
Vitamin C has also been found to help even out skin tone and reduce the appearance of under-eye circles.
● SPEEDS UP HEALING
Studies have also found that high levels of Vitamin C can help speed up the body's natural healing processes. This makes it ideal for use on the face and other areas of skin, as it can help to heal small cuts, acne scars, and other blemishes more quickly and effectively.
● REDUCES SKIN DISCOLORATION
If you suffer from skin redness or discoloration of the skin, then a quality vitamin C serum may also be able to help you achieve an even out skin tone and better complexion. Specifically, vitamin C is great for reducing redness. With just a few application, you may find that you have a more even skin tone.
● HELPS DE-TAN
If you are struggling to remove a stubborn tan, Vitamin  might be the answer.
IMPROVES HYDRATION AND MOISTUREIf you suffer from dry skin, vitamin C is a must. Especially if you have tried multiple moisturizers and creams that has failed to nourish your skin. Using vitamin C products , you can enjoy the high concentration of vitamins that your skin truly needs to improve moisture content and overall hydration.

● CREATES BRIGHTER, HEALTHIER SKIN

In addition to improving your skin's overall complexion, vitamin C can brighten your otherwise dull skin, allowing it to look healthier and more vibrant. High concentrations of vitamin C leaves the skin looking and feeling replenished and revitalized.

● REDUCES INFLAMMATION

It has also been found that vitamin C, in high enough concentrations, has inflammation-reducing qualities. It is ideal for people who tend to wake up in the morning with unsightly puffiness around the eyes or other areas of the skin. A little bit of vitamin C serum can go a long way in this case.

● SPEEDS UP HEALING OF SUNBURNS

Finally, in addition to protecting your skin from sun damage, vitamin C also effectively helps in healing sunburns. Apply a few drops of Vitamin C after you have been sun burned, and it will help promote faster healing so you can get rid of the redness, itching, burning, and other symptoms that are associated with sunburn.
So these are some benefits Vitamin C has on our skin. However, choosing the right one for your skin is essential, especially if you have a sensitive skin. Out of all the Vitamin C serum that I've tried, my favourite one is the one from Timeless Skincare. They use a 20% concentration combined with Vitamin E which gives the skin a radiant glow.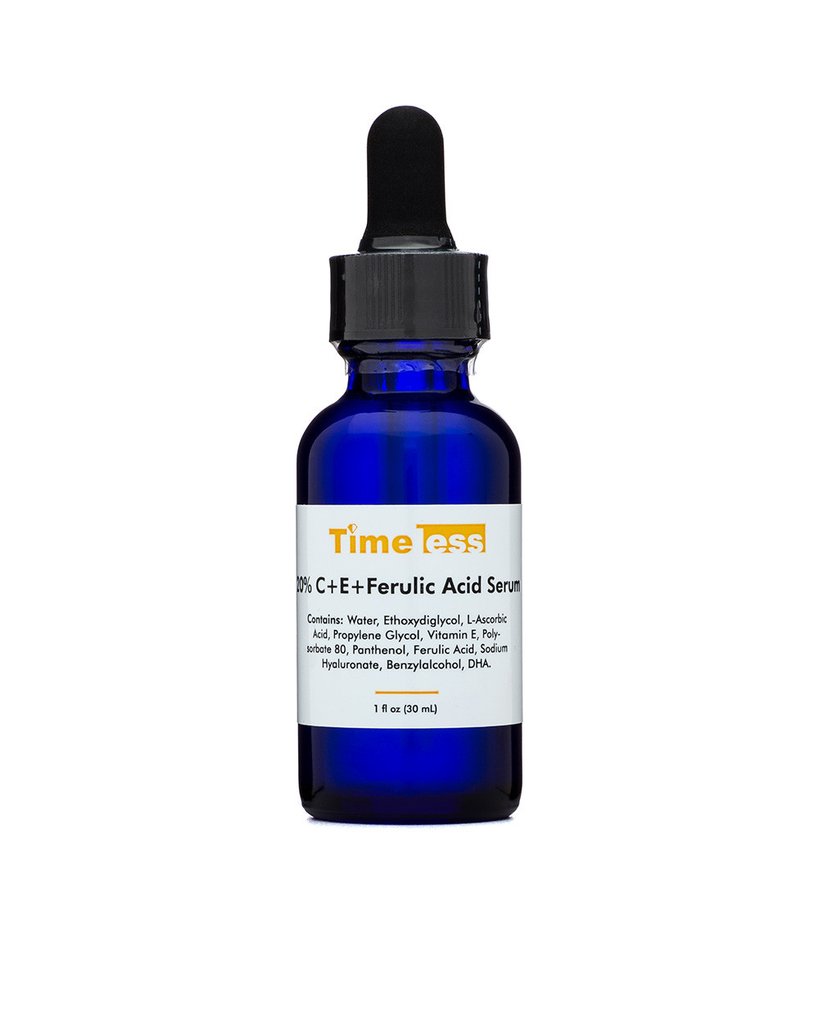 One of the cons of Vitamin C is that they do not last very long, 3 month without refrigeration and a little more with. Storing the bottle in a cool, dark place is also very important to maximize the self life. Also it's recommended to avoid using the Vitamin C on days you will chemically exfoliate the skin.
Hope I've covered all the important areas regarding topical Vitamin C. Do let us know what are your favourite Vitamin C serum in the comment section below…