One of the biggest struggles with sensitive skin beauties is to choose the right sun protection for your skin. As for me, I was born with all kinds of allergies imaginable: skin allergy, dust allergy, cold allergy, sun allergy (photo-sensitivity) and then if I apply the wrong kind of sun protection, the scariest type of skin allergy peeks up in no time, and refuses to bid my skin goodbye for weeks. So reading the ingredient list before applying a sunscreen is very important for me, and the ones that suits my skin, tends to make me look like a ghost. Throughout these years the only sun protection that has suited me but gave me less white cast was a gel one with a very low SPF and the Klairs Mid Day Blue Sun Lotion that does leave white cast but a lot less than other sunblocks that I ever tried.
And then I received the newly launched Klairs Soft Airy UV Essence that changed the sun protection game for me. I received the UV Essence as a Press sample about 3 weeks back and had been using it religiously since.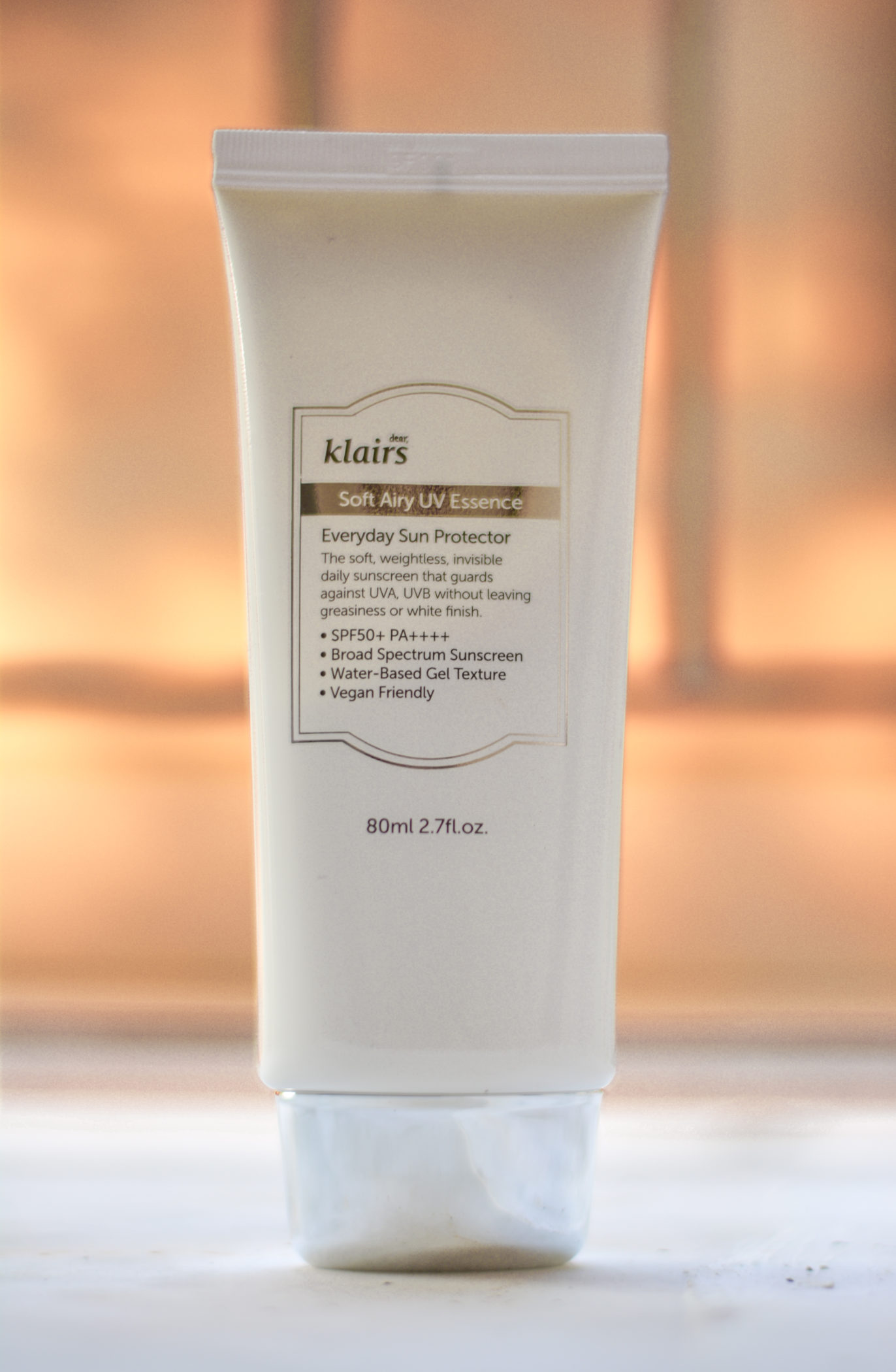 Claims:
The Klairs Soft Airy UV Essence SPF 50 PA++++ is an everyday sun protector for sensitive skin. As is it water-based, it holds a gel-type texture to give a soft weightless and light finish. Also with its high SPF and PA level, it completely guards the skin against UVA, UVB without leaving any greasiness or white cast.
About the Option
The Klairs Freshly Juiced Line is to brighten dull skin with the effect of the vitamin for sensitive skin. Apply Soft Aivy UV Essence after using this line to shield your skin from UV lights and enhance vitamin effects.
Ingredients:
Water (Aqua), Dicaprylyl Carbonate, Butylene Glycol, Dibutyl Adipate, Diethylamino Hydroxybenzoyl Hexyl Benzoate, Hydrogenated Polyisobutene, 1,2-Hexanediol, Glycerin, Niacinamide, Ethylhexyl Triazone, Polyglyceryl-3 Methylglucose Distearate, Silica, Cetearyl Olivate, Cetearyl Alcohol, Sorbitan Olivate, Glyceryl Stearate SE, Methyl Glucose Sesquistearate, Sorbitan Stearate, Panthenol, Beta-Glucan, Disodium EDTA, Citrus Junos Fruit Extract, Adenosine, Sodium Hyaluornate, Anthemis Nobilis Flower Oil, Caprylyl Glycol, Ethylhexylglycerin, Tocopherol, Allantoin, Citrus Aurantium Dulcis (Orange) Oil
How to use:
Apply liberally 15 minutes before sun exposure and at the end of your skincare routine. Thoroughly apply to the skin.
My experience:
After my year long experience of trial and error with endless sunscreens I have now come to a point where I can tell from the texture and consistency of a sunscreen if it's a chemical one or a physical one. As soon as I swatched a little amount of the UV essence on my thumb I could tell that it is chemical sunscreen. Yes, I got that from the ingredient list already. But even the Klairs Mid Day Blue Sun Lotion was the best of both world but it had the consistency of a physical sunblock. To be very honest, if it was some other brand, especially a non-Korean brand, I would stay the hell away from a sunscreen with a similar consistency to this UV Essence thanks to my past allergy traumas. But it was a sun essence from my very own Klairs, a brand that I trust with all my heart, and also it claims to be meant for sensitive skin, what more can I expect?!
The very moment that I applied it on my skin, I realized what I have been missing out on all these years. And I also thought that people who doesn't have sensitive skin and have never used a physical sunscreen will never know the struggles trying to blend the white cast. Because this UV essence blended and absorbed on my skin so smoothly that I never even realized I'll ever experience this joy in my life: applying a sunscreen on my face, blending it easily, no white cast, and especially no ignorant people telling me that 'my makeup' hasn't blended.
I mean it blended so easily on my skin that for a moment I thought I might get the allergies because there's no sun protection on earth that can suit my skin and yet give me no white cast. But hours went by and no sign of any irritation whatsoever. Also I could not help but notice how light it felt on my skin, as if I'm only wearing a lightweight day moisturizer. Speaking of which, I have never used a sunscreen before that doubles as a moisturizer. Physical sunscreens are usually thick in consistency, so using a moisturizer is essential. But this UV essence is so hydrating, thanks to the presence of humectants, that I often times skip my moisturizer and apply it over the layers of my multiple essences and serum.
When I used it my skin was already tanned and I was trying to detan but I noticed that my skin didn't tan anymore after I started using this sunblock. I received it a few days before the Durga Puja (regional festival) and I pandal hopped straight for 15 hours starting from 2 in the afternoon and I was expecting a horrible tan due to spending long hours straight under the sun, but to my surprise there were no sign of new tan when I came home the next morning. So it's safe to say, it does what it claims.
As for the packaging, it's similar to the Klairs Freshly Juiced line, a chic silver and hologram print over the white cardboard. Unfortunately my new house help threw away the packaging even before I could click the picture (I had just been using it for 2 days back then). The tube is sleek, silver and white, travel friendly and comes with a nozzle that dispenses the right amount product. Now I would like to mention that applying the appropriate amount is the key. That one time I squeezed out more than a coin sized amount of the essence and applied it in hurry (I have a portion control problem), and co-incidentally it happened to be a very humid day. My skin ended up feeling sweaty and uncomfortable until I splashed some water on my face. So if you especially have an oily skin, be very particular about the amount.
Final verdict
I don't think I'm going back to using any other sunscreen anytime soon.
Pros:
The selection of sunscreen ingredients is safe. They have used Diethylamino Hydroxybenzoyl Hexyl Benzoate and Ethylhexyl Triazone both of which are oil soluble, high absorption UV filters and are safe for the skin.
Presence of Niacinamide that is known for its brightening effect.
Presence of adenosine which is known for its anti-aging benefits.
Suitable for sensitive skin
Moisturizing
Feels light on the skin
Absorbs amazingly without leaving a white cast.
Cons:
Nothing that I can point out.
Where to buy?
Rating:
5/5
NOTE: Press sample, but the opinion is completely my own.