Hello everybody, hope you'll are doing well. A few months back I introduced J-Beauty to my blog but after 1 haul and 3 reviews, it didn't go anywhere further, mainly because I'm still hooked to K-Beauty. However, today I thought of reviewing one of the most popular Sheetmask brand from Japan-Lululun.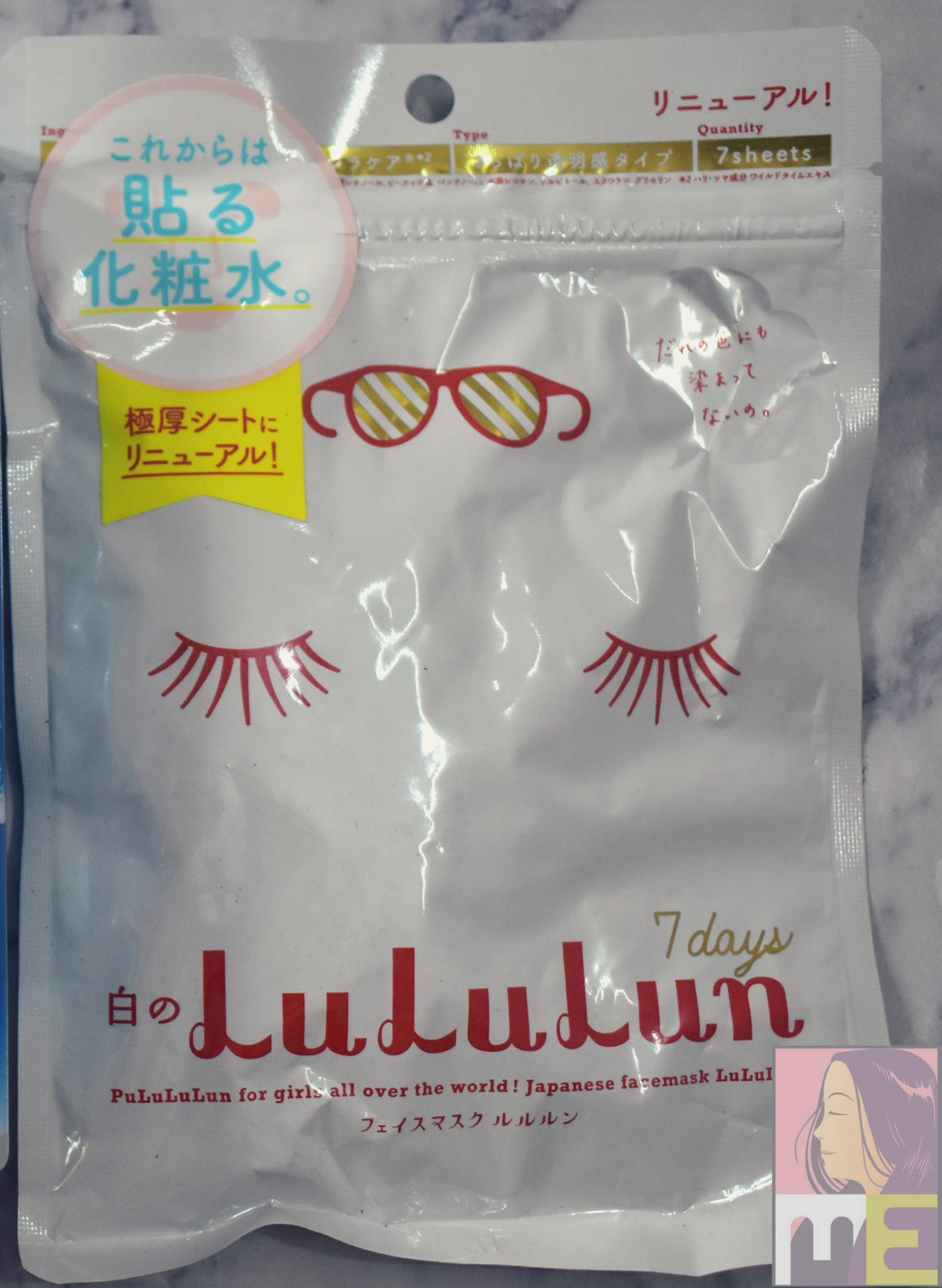 Description:
Boost dull and lackluster skin with the LuLuLun Face Mask in White; one of the best-selling sheet masks available in Japan, specifically designed for daily use to deliver exceptional skincare benefits and leave your complexion positively glowing.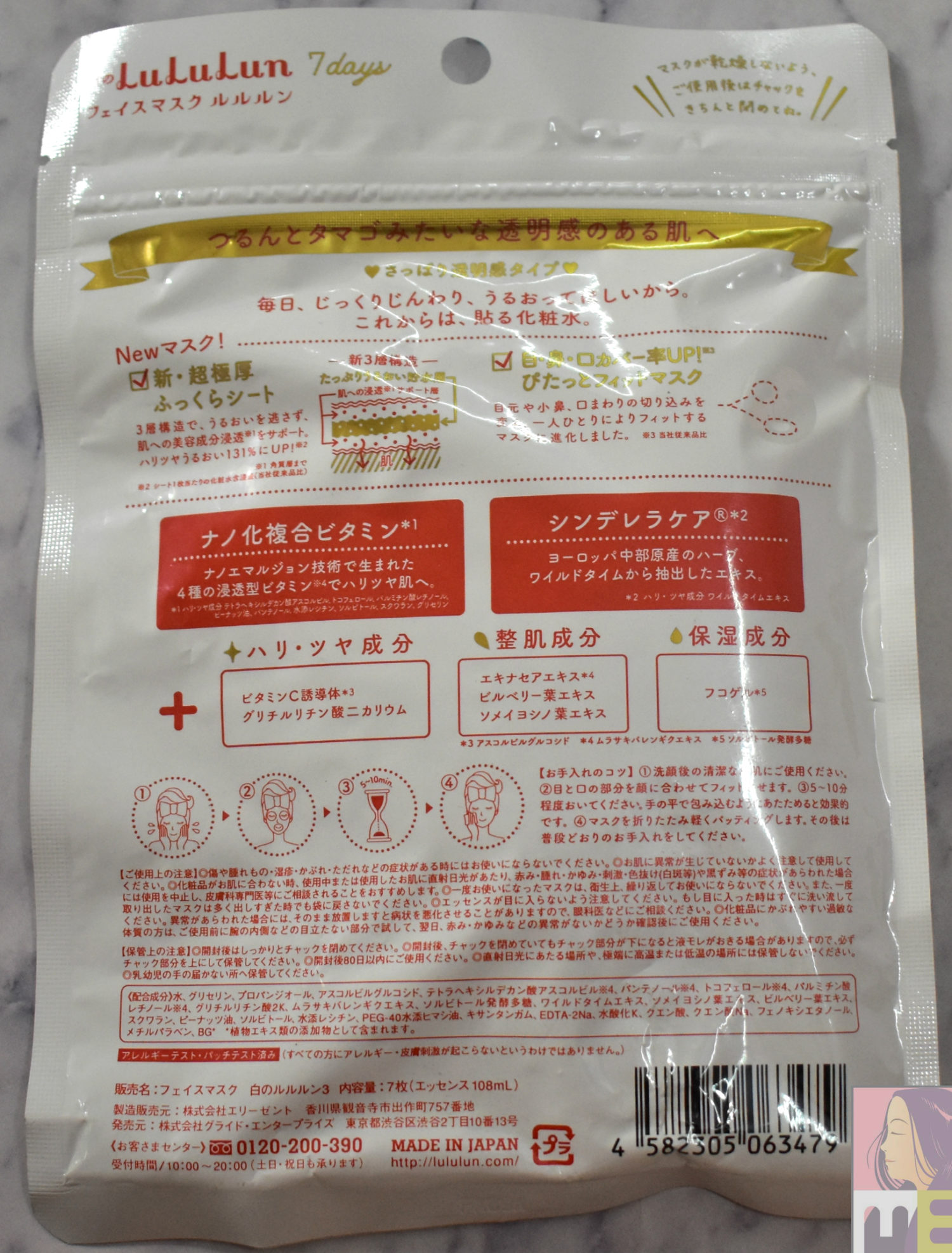 My Experience:
The Lululun masks comes in different variants and I got myself the white one which is for brightening. The package comes with 7 sheetmasks, meant to be used 7 days a week. I remember seeing Japanese skincare videos years ago and got intrigued by the sheetmasks that comes in packaging similar to wet paper towel packagings. I remember those not so fancy and not that good fitting masks that come in bulks and thought they'll be good for everyday use if you don't have budget to spend 100rs on sheetmasks every single day. When I reduced my plastic waste this January initially I stopped using sheetmask until I figured out which brands make eco-friendly packagings. It was then when I remembered the Japanese Sheetmasks that I saw in those J-Beauty videos that comes in bulk and thought they would be a good option for people who want to reduce their waste but loves their sheetmask as well.
And with that I placed my first J-Beauty order from Docodemo that included this Lululun 7 day sheetmask. 7 masks and just 1 packaging, how cool is that! However, as it turns out, shifting to J-Beauty sheetmasks from K-Beauty ones to reduce waste is not actually an option, since the Japanese ones are a lot different than the Korean ones. Before I go any further with this review, I should point out that this article is not going to be a typical review article, but more like a comparison article.
Just like the Japanese mask packaging are a lot different than the Korean ones, the effects are different too. While the Korean sheetmasks are usually soaked in a lot of essences, some to an excess that they drip while putting them on, the Lululun ones are soaked in a minimal amount of watery essence. Speaking of essence, it will be safe to say that the consistency is more like that of a toner than that of an essence, yes it's that runny. The application process is similar to the Korean ones, only they are meant to be left on for 10 minutes. The fitting is not very good and I look too horrible in them to post a sheetmask selfie.
My mask started drying up after 15 minutes and I removed it to reveal a decently hydrated skin, minus the greasiness that you can get from some Korean masks. The essence absorbed with a few patting and I finished it off with a night cream. As for the effect, the first two times I used it, I noticed no effect whatsoever, except for the hydration which never lingered beyond a day. After the third day of usage, there was a mild brightening effect. At first I was sooo disappointed with the mask, after all my skin is used to those extravagant masks K-Beauty world has blessed us with. But once I figured out the differences I realized the J-Beauty masks aren't that bad at all.
I talked to some of my friends that are under the spell of Asian Skincare in general and as it turns out, people who uses both Kbeauty and Jbeauty uses Japanese masks if they are masking in the morning and Korean Masks if they are masking in the evening and it makes complete sense. For a lot of people (including me) Korean sheetmasks can be a little too heavy if you are masking in the morning. On top of that not everyone has the luxury of leaving on a mask for 30 minutes during the rush hours. So imagine, you are going somewhere important in the morning but your skin is not at its best, and you need a quick dose of hydration, that's when these masks come in. You throw on 1 mask and go on with your morning chores/daily routine and then you remove it after 10-15 minutes and tada! You have a healthy, moisturized and brightened skin with zero greasiness.
So let me go through all the differences between the J-Beauty Masks and the K-Beauty masks once again.
 
J-Beauty Sheetmasks
K-Beauty Sheetmasks

 

1.
Meant to be left on for 10 minutes
Meant to be left on for 20 minutes
2.
Packaging comes with multiple sheets
Packaging comes with a single sheet
3.
Drenched in toner like substance
Drenched in essence or serum
4.
Effects are mild
If you choose the right mask, the effects are usually noticeable
5.
Provides decent hydration without greasiness
Sometimes the moisturization can be a little too much
6.
Apt for morning use
Apt for evening use
Overall, I can't say I'm a huge fan of the Lululun masks but I'll prefer having one of these ziplock bags full of multiple sheetmasks stocked in my stash in case of morning emergencies. I won't use one each day as I prefer using my Korean Sheetmasks for my pamper nights but I would explore more variants from Lululun when morning emergency hits me. If you are someone who finds Korean masks a little overwhelming because of the greasiness, you can explore the Lululun masks.
P.S: I'm using a Korean hangbang mask tonight 😀