Innisfree launched the new color clay masks in 7 variants a few months back and I had to get my hands on all. While I was suffering from a skin infection and applying only medicated products I was also stocking up on sheet masks and wash-off masks like a maniac. My first purchase from the color clay mask range was the brightening one and when I saw Nykaa giving away 2x10ml samples of the color clay masks with 500rs worth of purchase I kept placing my orders every single day until I had 4 more varieties of the masks. I would have gotten the remaining 2 as well but then I decided to give my bank balance a rest and get the other 2 after I recover from my infection when I can actually use the masks.
After my infection healed I started with the calming one since I was left with a little bit of uneven skin tone and a couple of pimples. I used it on its own and I also used it while following the pore shrinking method and I loved it. The only way I haven't used it yet is while multi-tasking which I guess will require an entire post.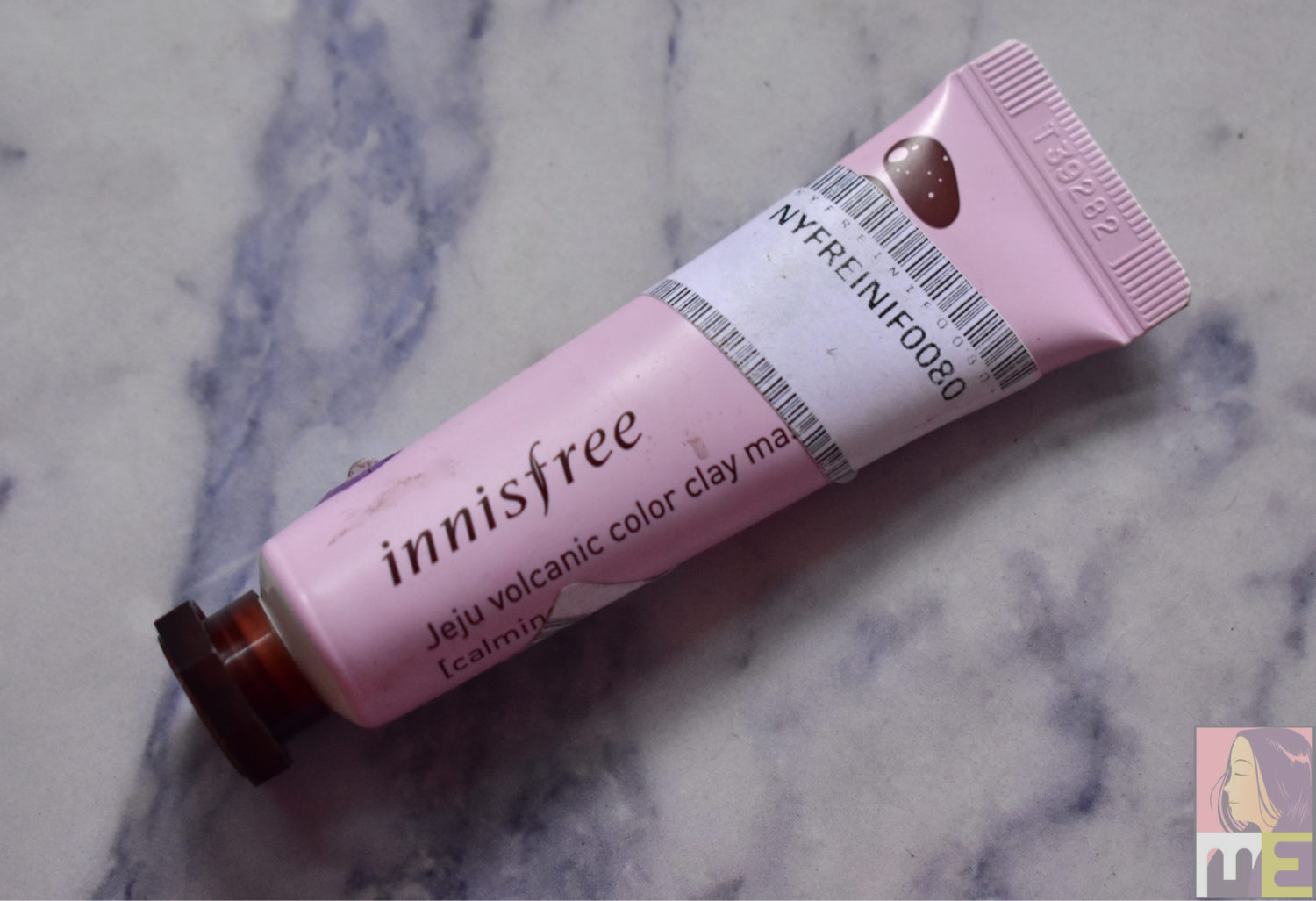 Description:
■ Purple: The volcanic cluster purple mask for sebum control and soothing purposes. [Contains Jeju volcanic clusters and panthenol]
– The purple mask soothes the skin becoming sensitive after being exposed to external irritants.
– With its soft cream-type clay, it is mild enough for all skin types.
How to use
After cleansing, apply an appropriate amount on a dry face and smooth over the problem areas, avoiding the eye and lip areas. After application, wait 5-10 minutes and rinse thoroughly with lukewarm water. (use 1-2 times a week)
Ingredients
Wash away pore-clogging impurities with Jeju volcanic scoria!
Volcanic scoria is a pure, and fairly rare, ingredient formed from lava as it cools after a volcanic eruption.
It has a powerful sebum-absorbing capacity and washes away impurities while moisturizing skin, leaving it cleaner and healthier than ever before.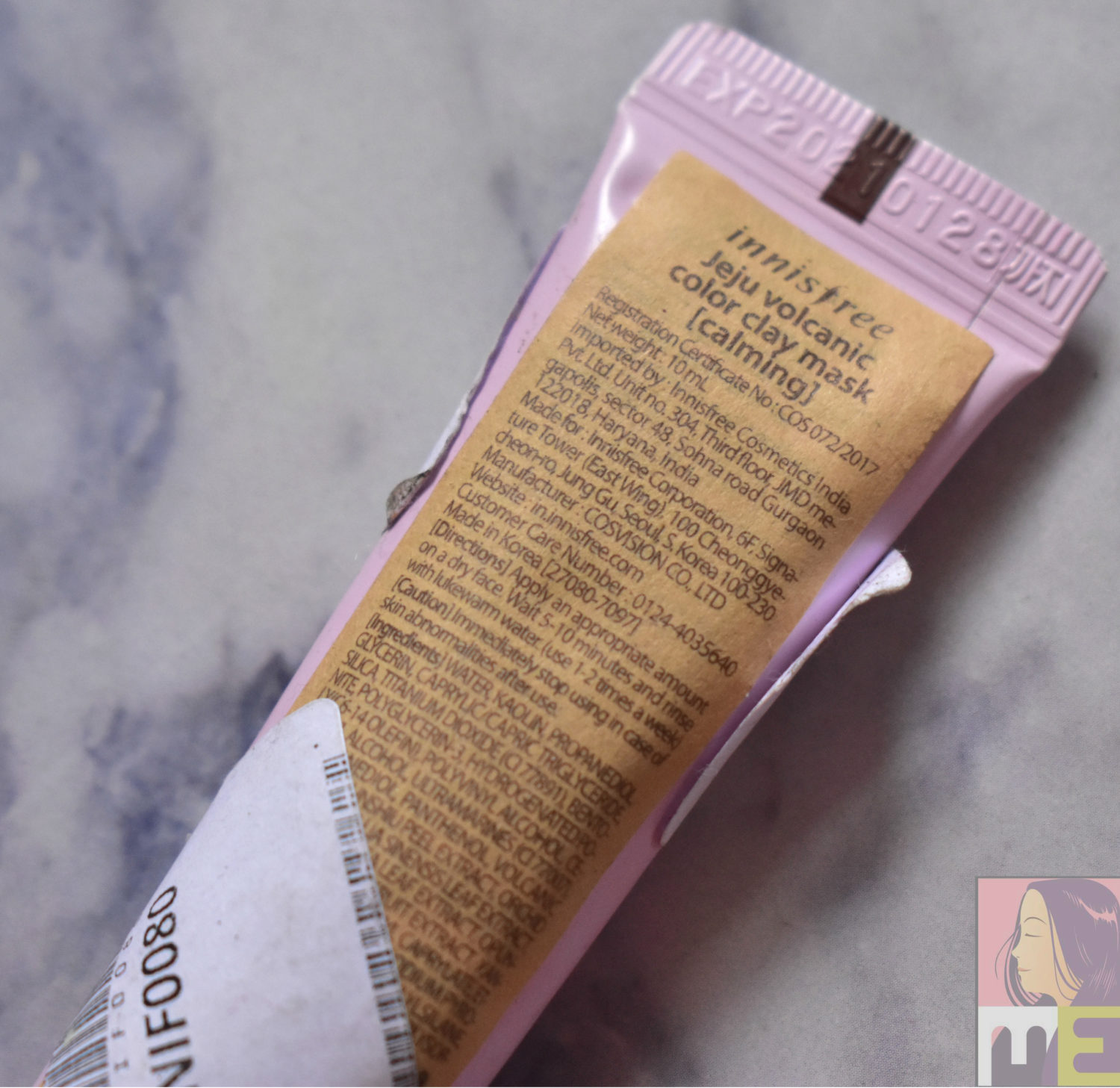 WATER,KAOLIN,PROPANEDIOL,GLYCERIN,CAPRYLIC/CAPRIC TRIGLYCERIDE,SILICA,TITANIUM DIOXIDE (CI 77891),BENTONITE,POLYGLYCERIN-3,HYDROGENATED POLY(C6-14 OLEFIN),POLYVINYL ALCOHOL,CETEARYL ALCOHOL,ULTRAMARINES (CI 77007),1,2-HEXANEDIOL,PANTHENOL,VOLCANIC ASH,CITRUS UNSHIU PEEL EXTRACT,ORCHID EXTRACT,CAMELLIA SINENSIS LEAF EXTRACT,CAMELLIA JAPONICA LEAF EXTRACT,OPUNTIA COCCINELLIFERA FRUIT EXTRACT,XANTHAN GUM,MICA,GLYCERYL CAPRYLATE,ETHYLHEXYLGLYCERIN,TETRASODIUM PYROPHOSPHATE,TRIETHOXYCAPRYLYLSILANE,DIMETHICONE,POLYSORBATE 60,POLYSORBATE 20,DISODIUM EDTA
My Experience:
Like I already said, I used the calming mask while my skin just recovered from the infection but the damage that it did to my skin left behind its traces. I applied the purple mask on a clean, dry face. The texture is creamy and applies very smoothly on the skin. The instruction says to keep it on for 10 minutes but I usually keep it on for 15-20 minutes. The mask doesn't really dry out so if you wait for it to dry before you wash your face, you are going to have to wait forever.
Like any other wash off mask, it's a pain to wash it off, but I somehow felt it takes a little less effort to wash off than the original volcanic pore clay. After removing the mask my skin feels squeaky clean and every time I use it while following the pore shrinking method I do manage to get out as many grits as I do while using the original volcanic pore clay.  I've used it up to 4 times and I've noticed a significant difference in my skin tone. My skin has become a lot more even and the remaining bumps and pimples vanished.
I'm not sure if I'll purchase this again as I belong to the category of people who loves their wash off masks to dry out on their face and thus I'll prefer the original volcanic pore clay better than this one on an average day. But given to the fact that it REALLY calms the skin, I might keep it handy for days when my skin acts up or days that I spent roaming under the sun.
Pros:
Does what it claims
Easily available
Original packaging looks cute and classy
Hygienic packaging
Applies evenly
Cons:
Apart from the fact that it doesn't dry out, couldn't find any.
Price:
Rs 700 for 70 ml
Where to buy:
Rating:
4.8/5