Last year when I was suffering from a severe skin infection, I received a few samples of the Klairs Midnight Blue Calming Cream and it did wonders to my skin. This year when the infection came back and Klairs launched their new Klairs Midnight Blue Calming Sheet Mask right in time, I knew I had to try. Before even I placed my order, Wishtrend was kind enough to send me 5 sheetmasks from the range and after using up 4 of them, I'm here to review the Calming Sheet Masks today.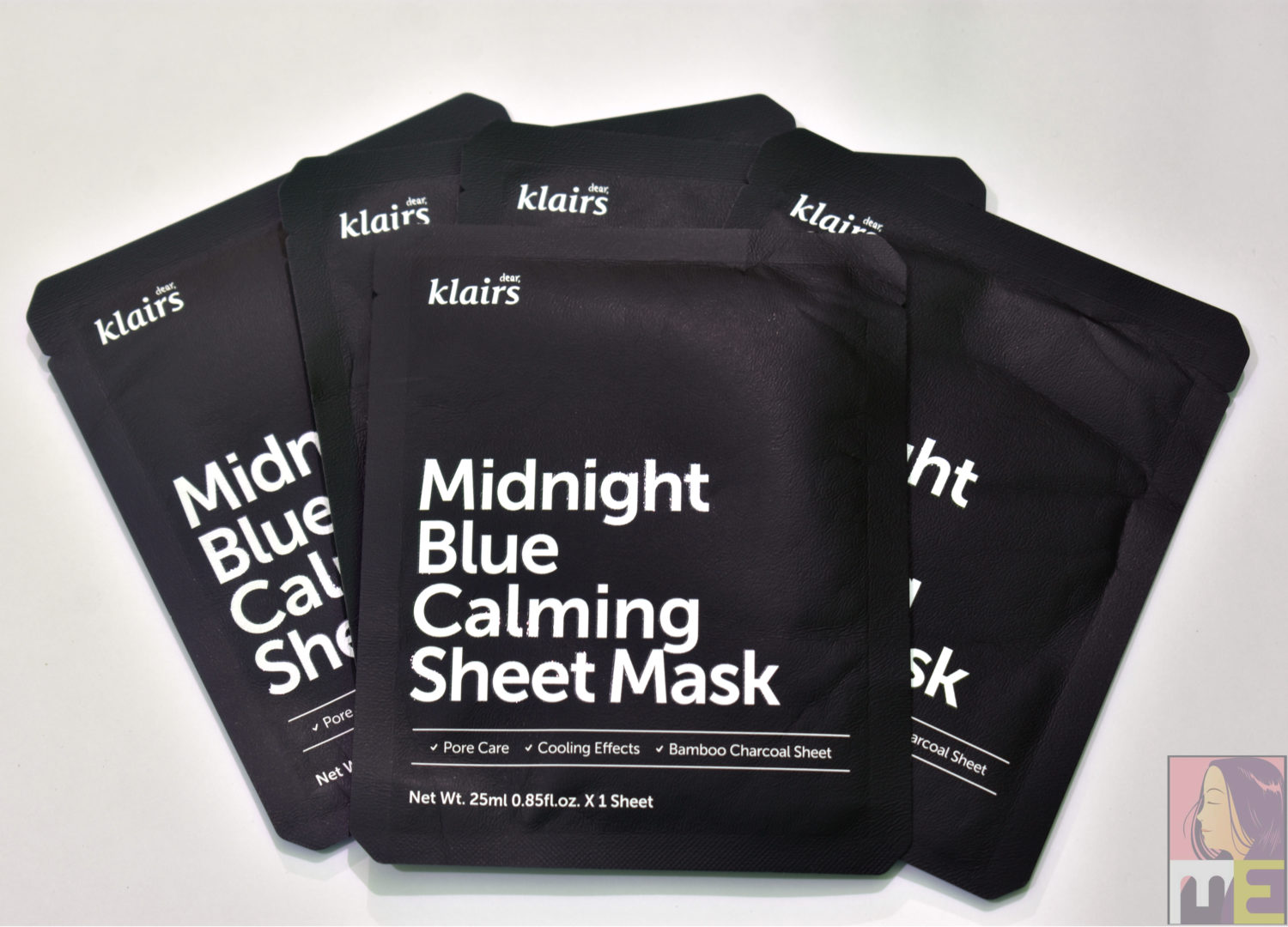 Description:
The KLAIRS Midnight Blue Calming Sheet Mask is specially designed to calm the skin with ingredients that decrease sensitivityLow irritating and cooling ingredients such as Erythritol is used to rapidly lower the skin's temperature and reduce irritation. The sheet to maximize the softness is used to increase calming and balance out the cooling effect of the mask. Bamboo Charcoal on the low irritant sheet makes it comfortable for sensitive skin, and maintains moisture for a long time.
Recommended For
– For skin that is easily heated during irritation
– For skin that feels clogged when applying oil products
– For oily skin with active sebum secretion
– For skin that frequently undergoes facial extraction .
Key Ingredients:
Salix Alba (Willow) Bark Extract
Erythritol, Dipotassium Glycyrrhizate
Melaleuca Alternifolia (Tea Tree) Leaf Oil
Centella Asiatica Extract
All Ingredients:
Water, Butylene Glycol, Methylpropanediol, Glycereth-26, 1,2 Hexanediol, Salix Alba (Willow) Bark Extract, Glycerin, Erythritol, Arginine, Carbomer, Carrageenan, Betaine, Allantoin, Ethylhexylglycerin, Propanediol, Polyglyceryl-10 Laurate, Glyceryl Acrylate/Acrylic Acid Copolymer, PVM/MA Copolymer, Disodium EDTA, Dipotassium Glycyrrhizate, Melaleuca Alternifolia (Tea Tree) Leaf Oil, Centella Asiatica Extract
My experience:
If you already don't know, Klairs happens to be my all time favourite K-Beauty brand because of their dedication towards sensitive skin. Like I said, since their Midnight Blue Calming Cream made significant improvement on my infected skin; I really wanted to try the sheetmask when I was suffering from infection this time. By the time I received my package my infection was already healing with some uneven skin left behind as a trace.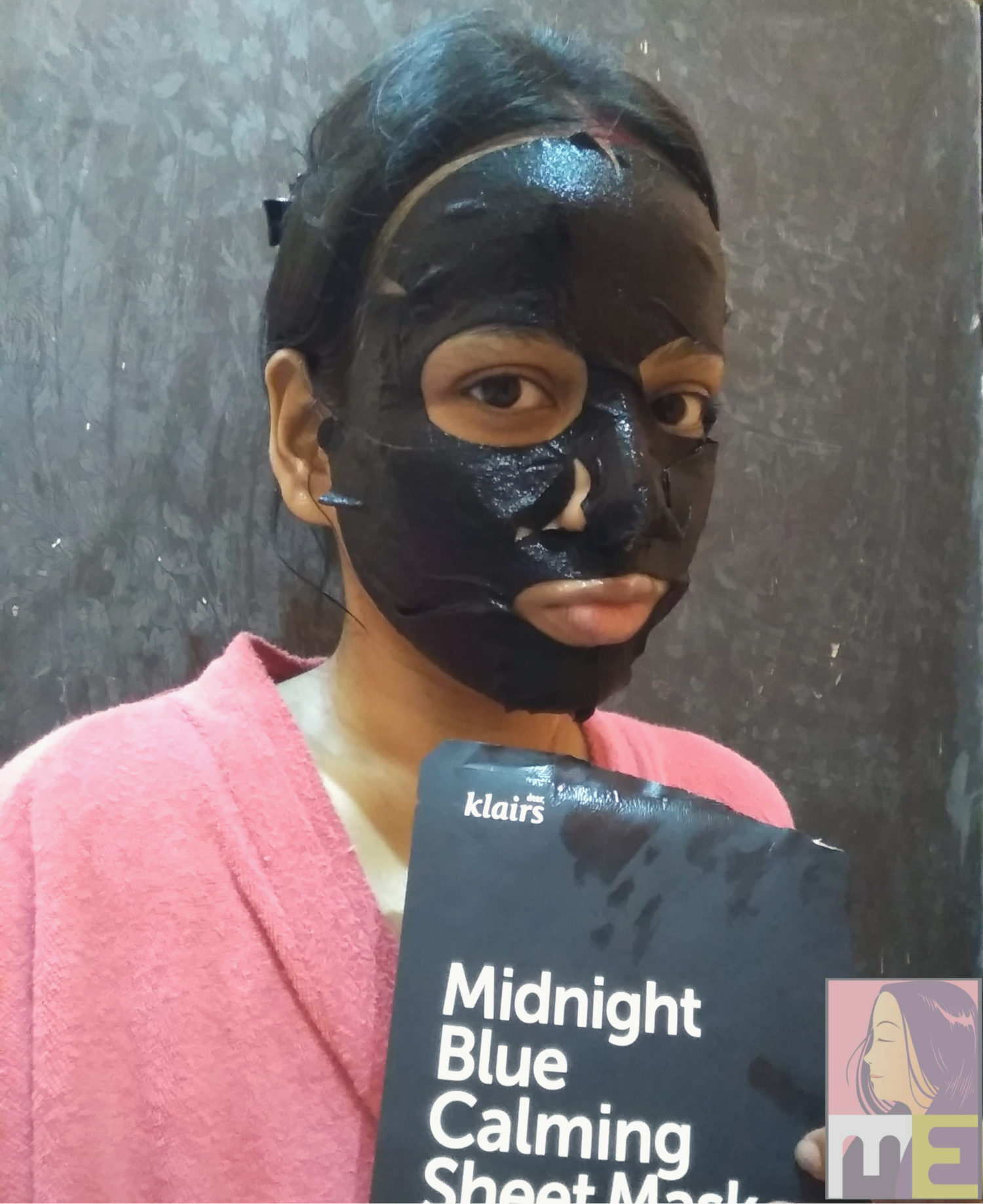 The first time when I tried the sheet mask, I had noticeable uneven skin tone and one acne on my forehead. I tore the sheetmask packaging to reveal the sheet that came in two parts which gave a wonderful fitting. The sheet is made out of cotton and charcoal powder and is drenched in a significant amount of essence that drips while you put on the mask. I kept it on for exactly an hour and it was still wet. Upon removing the sheet I revealed an immensely hydrated, and even out skin, and a shrunk acne. My skin was noticeably plum too, an effect that I look for in all sheetmasks. I did not notice any brightening effect but honestly, after months of using medicated products, I forgot what my 'glass skin' or overall a brightened skin used to look like.
What I like the most about the sheet mask is the fact that it comes in two parts. Not only does it help give a perfect fitting, I also love fooling around with only the upper part on and calling myself 'Batman'. But jokes apart, I really loved the sheetmasks and I also saved myself 1 to use after a few months when my skin will go back to its normal state as after only using medicated products for months without exfoliating I'm not even sure if my skin is able to drink up all the goodness from the sheetmasks at all. Also, since I'm staying indoors these days, it would be nice to have one of these stocked up for a day I might have to spend under the sun.
Will I recommend it?
To anyone who suffers from acne prone/irritated skin or stays long hours under the sun.
Rating:
4.9/5
Where to buy?
Price: $3