If you already aren't aware, I'm a huge fan of Snail Filtrate, it's probably my favourite skincare ingredient. So this is like the second time that I contracted skin infection from dirty makeup brushes and while I suffer from uncomfortable fungal infection, snail products are one of those rare products that make any difference.
Mizon is a well-explored K-Beauty brand by me and I've long had my eyes on the highly raved Mizon Snail Recovery Gel Cream. Previously I've read somewhere that it's a mild cream that needs a follow-up with another thick cream if you have a dry skin, so I ordered it for my sister who has an oily skin before I ordered one for myself. She loved it and after hearing her rave about the product, I got one for myself.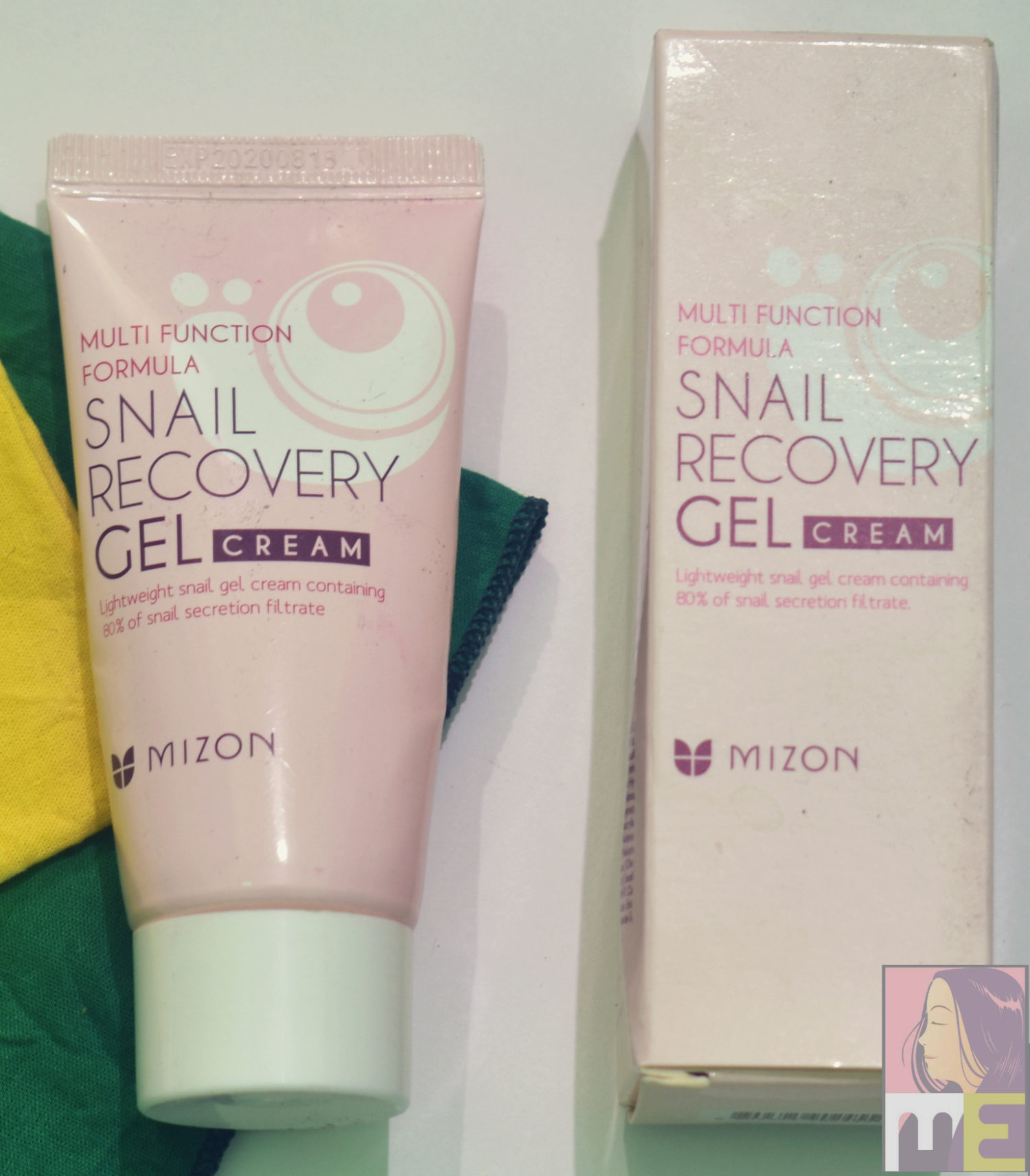 I received my order during the colder months and I started using it from the day before I actually contracted my infection (the day after my wedding). Similar to the last time, my infection started as uneven skin, grew to tiny bumps and turned into cystic acne and with literally NOTHING able to heal them. The only few products that work may soothe and calm them, but NONE has ever been able to completely heal them. The moment I saw my uneven skin, I knew where this was going and because the Mizon Snail Repair Gel was in my Bridal Trousseau, I started applying it right away. I knew it was making a lot difference because my bumps were growing slowly when I was applying it and when I visited my parent's place without packing it, my bumps doubled up in size and got inflamed like the last time.
Claims:
This cult-favorite from Mizon is a lightweight gel type cream that helps to nourish skin. It's concentrated with 74% snail extract, an ingredient loved for its ability to help promote the repairing of skin seen through the reduction of acne scarring, dark spots and fine lines. Also formulated with a medley of botanical and floral extracts, in addition to hyaluronic acid to deliver serious hydration without leaving any sheen or grease
Ideal for oily or combination skin types.
Ingredients:
Snail Secretion Filtrate, Butylene Glycol, Cyclopentasiloxane, Glycerin, Bis-peg-18 Methyl Ether, Dimethylsilane, Polysorbate2-, Sodium Hyaluronate, Carbomer, Glycosyl Trehalose, Hydrogenated Starch Hydolsyate, Triethanolamine, Dimethicone/vinyl Dimethicone Crosspolymer, Dimethicone, Hydroxyethylcellulose, Caprylyl Glyocol, Ethylhexylglycerin, Sodium Polyacrylate, Centella Asiatica Extract, Portulaca Oleracea Extract, Camellias Sinensis Leaf Extract, Nelumbo Nucifera Flower Extract, Betula Platylphylla Japonica Juice, Tropolone, Copper Tripeptide-1, Allantoin, Panthenol, Olea Europaea (olive) Fruit Oil, Helianthus Annuus (sunflower) Seed Oil, Palmitoyl Pentapeptide-4, Adenosine, Disodium Edta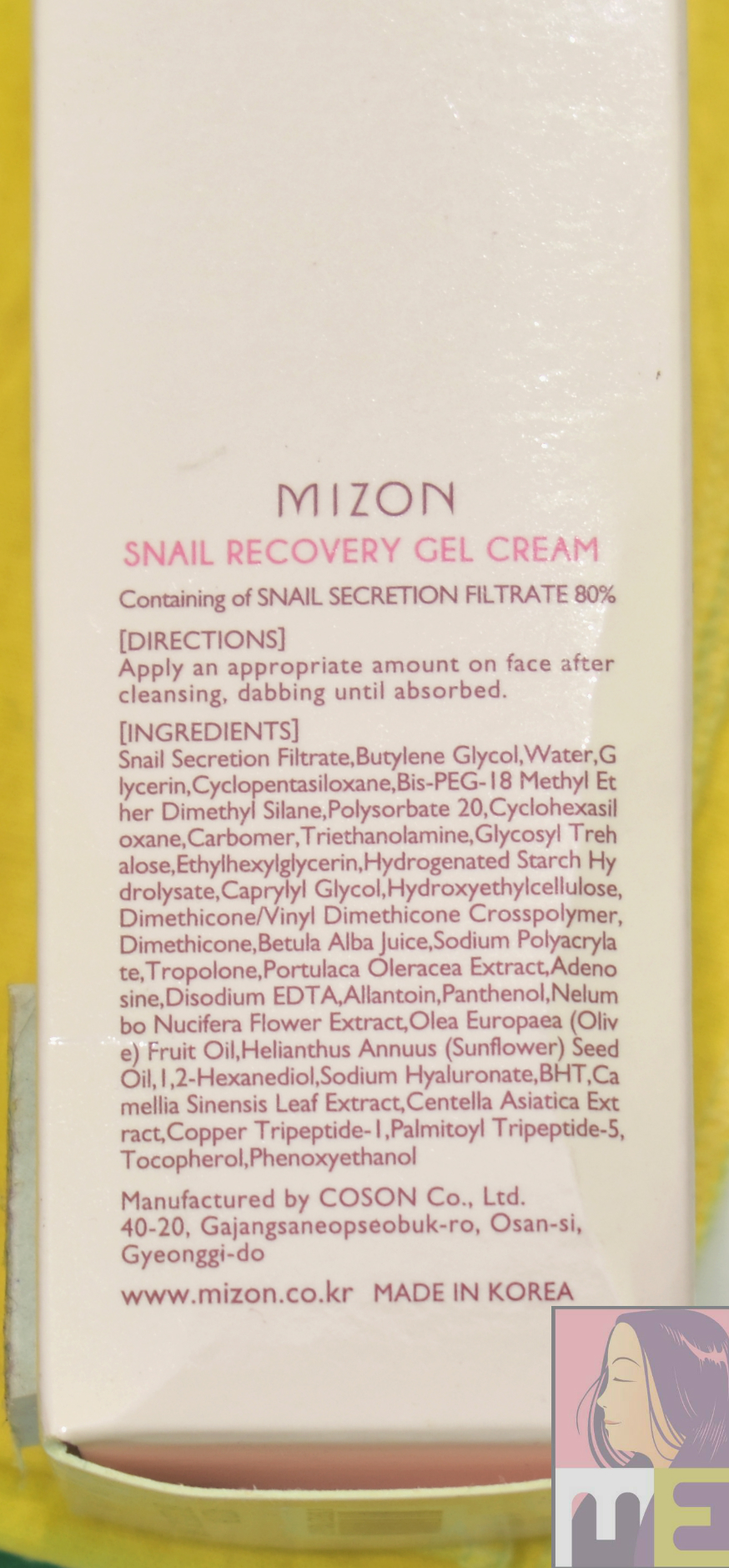 Notable Ingredients:
Snail Secretion Filtrate: The Mizon Snail Repair Gel Cream consists of 73% (cruelty-free) snail mucin which is not only a great ingredient to fight acne but as well delays aging, repairs sun-damaged skin and basically heals any wounds.
Sodium Hyaluronate: Or Hyaluronic acid is known for its super hydrating power.
Copper Tripeptide-1: Promotes skin regeneration and increases collagen and elastin production.
Olea Europaea Fruit Oil: Or olive oil which has been long used for moisturization but can be comedogenic and is a potential acne trigger according to CosDNA.
Palmitoyl Pentapeptide-4:Which is as effective as Retinol when it comes to UV damage.
My Experience:
Like I already said, I started using the Gel Cream exactly around the time that I contracted the skin infection. I noticed uneven skin that slowly grew into chicken bumps. I started using the gel cream right away. It was the colder months and the mild gel wasn't enough for my skin. Even though the name says 'Gel Cream' it's essentially a gel which applies smoothly on the skin and absorbs into the skin within minutes. It can also be used as a final step of the skincare since it seals in all the goodness as well as the stickiness from the previous steps. However during the winter I had to finish it off with a heavier moisturizer. I noticed my bumps were growing a lot slowly than it did last year and they didn't get inflamed like they did last time. I suppose it's the anti-inflammatory benefits of the snail mucin. It didn't completely heal my infection and both times I had to take topical anti-biotics and oral meds to get rid of my infection completely, but I can tell that the gel cream did control the bumps.
As the weather started getting warmer I stopped using a heavier moisturizer over it and that's when I completely fell in love with the Snail Repair Gel Cream. Even though I have a normal skin, the humid weather in Kolkata makes my face sweat too much and I hate applying a heavy moisturizer. No matter how mild moisturizer I use during the summer I feel really, really uncomfortable the couple of hours after applying a cream. But the Snail Repair Gel Cream has been a blessing specifically during the summer time. It absorbs so smoothly on my skin leaving no greasiness, no film, it feels so light on the skin. It's just perfect for the summer.
As for the anti-aging effect, I did not notice anything as *touchwood* I haven't noticed any aging signs on my face yet but knowing that I'm using something with anti-aging benefits is comforting enough.
Will I purchase it again?
Yes, it's my summer holy grail and I'll repurchase it irrespective tf I'm suffering from acne/infection or not.
Will I recommend it?
Yes, especially to oily and combi beauties. However, you may wanna check the ingredient list in case you are allergic to anything.
Pros:
Super cheap
Fights acne
Fights aging signs
Moisturizer the skin
Applies smoothly and absorbs quickly without leaving any greasiness or any film
Doesn't feel heavy on the skin
Perfect for oily and combi beauties
Cons:
Nothing
Price:
$3-$4 at BeautyNetKorea
Rating:
5/5