We moved into our new apartment back in January and even though we've been dining together with my in-laws every night, I've been taking the liberty of flaunting my culinary skills every morning and evening without fail. Because of my obsession with eating healthy, I prefer cooking my own food and if you aren't already aware, I love cooking. My husband however, cannot cook (he attempts though), and he hates grocery shopping too. On the other hand, I used to love vegetable shopping back when I used to stay alone. Every day while coming back from the office, I would pick up one thing or the other, and the market happened to be situated right in front of my apartment.
The market from my current apartment however takes 10-15 minutes by rickshaw and given to the fact that I'm now a full-time blogger and I work from home, I hate going out just for grocery shopping. The other thing I hate is meat shopping; which I why I turned into a vegetarian when I used to stay by myself, but my husband on the other hand wouldn't take a bite that doesn't smell of meat, fish or egg. When I was visiting my sister last year, I saw her ordering online grocery, meat and personal care from BigBasket. She never cooked or grocery shopped while she used to stay with our parents, but ever since her husband survived a massive heart attack, she started ordering her stuff from Big Basket and learnt cooking since both of them stay away from home, and my brother-in-law isn't allowed to eat outside food.
It was the week following our wedding that we started ordering from BigBasket. According to some tradition, we weren't allowed to go out until a couple of weeks, and the only place we were allowed to go to was his home. As lovely as it sounds, I am not the type of person who'll dress up 4 times a day for food. After going without breakfast and supper from a few days, I placed my first BigBasket order. We got everything we needed as our wedding gift; every appliance I could have ever needed: the only thing we needed was the ingredients. I ordered veggies, cookies, bread, biscuits, cooking oils, flour, coffee, milk, tea, pasta, pasta sauce, pizza dough, greek yogurt along with knife and chopping board.  Yes I even bought my knife and chopping board from big basket and they were such reasonably priced. His relatives came visiting a few days after the wedding and were visibly surprised that I already had a fully equipped and running kitchen and my husband and I were busy making ourselves sandwiches and tea when they gave us the surprise visit.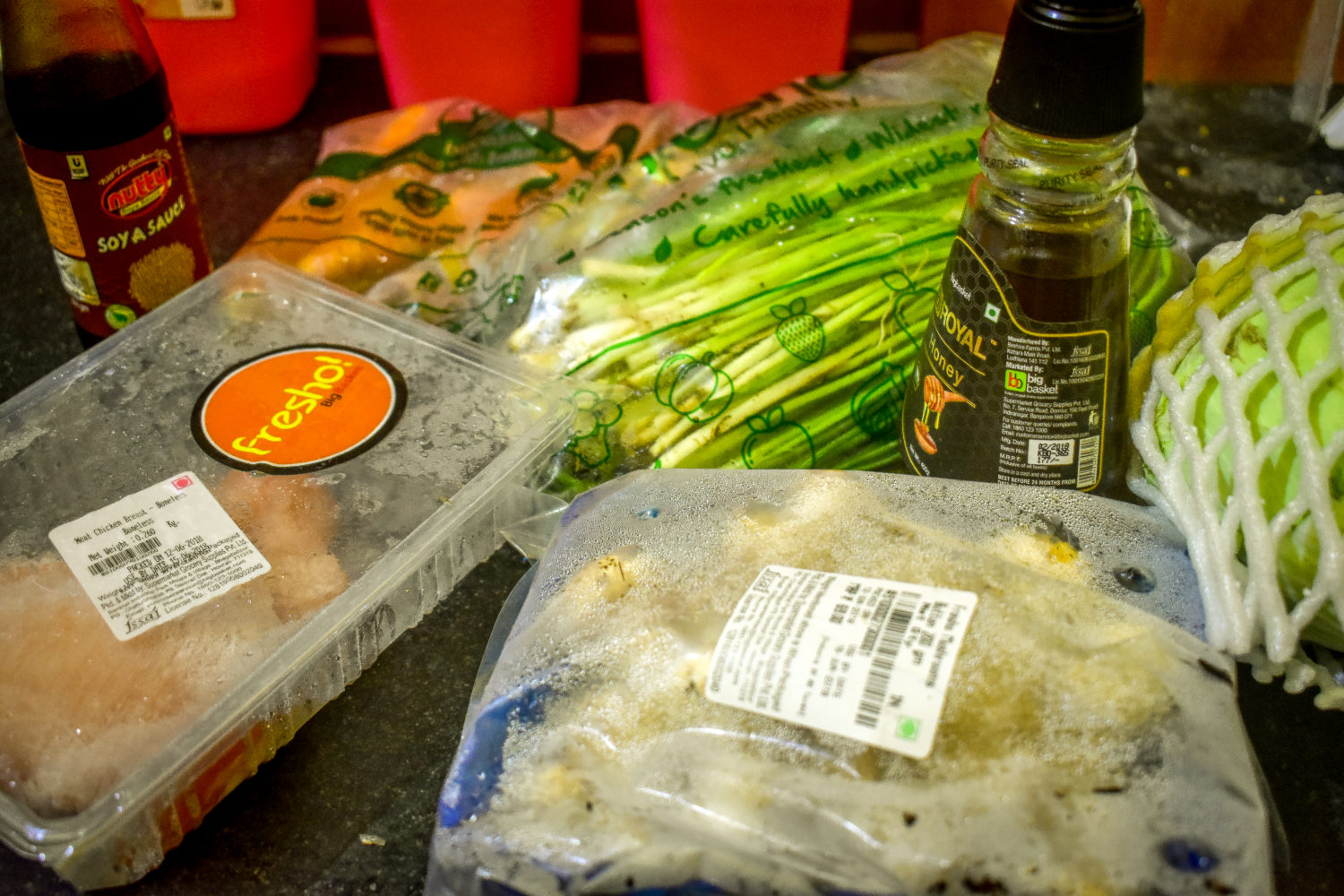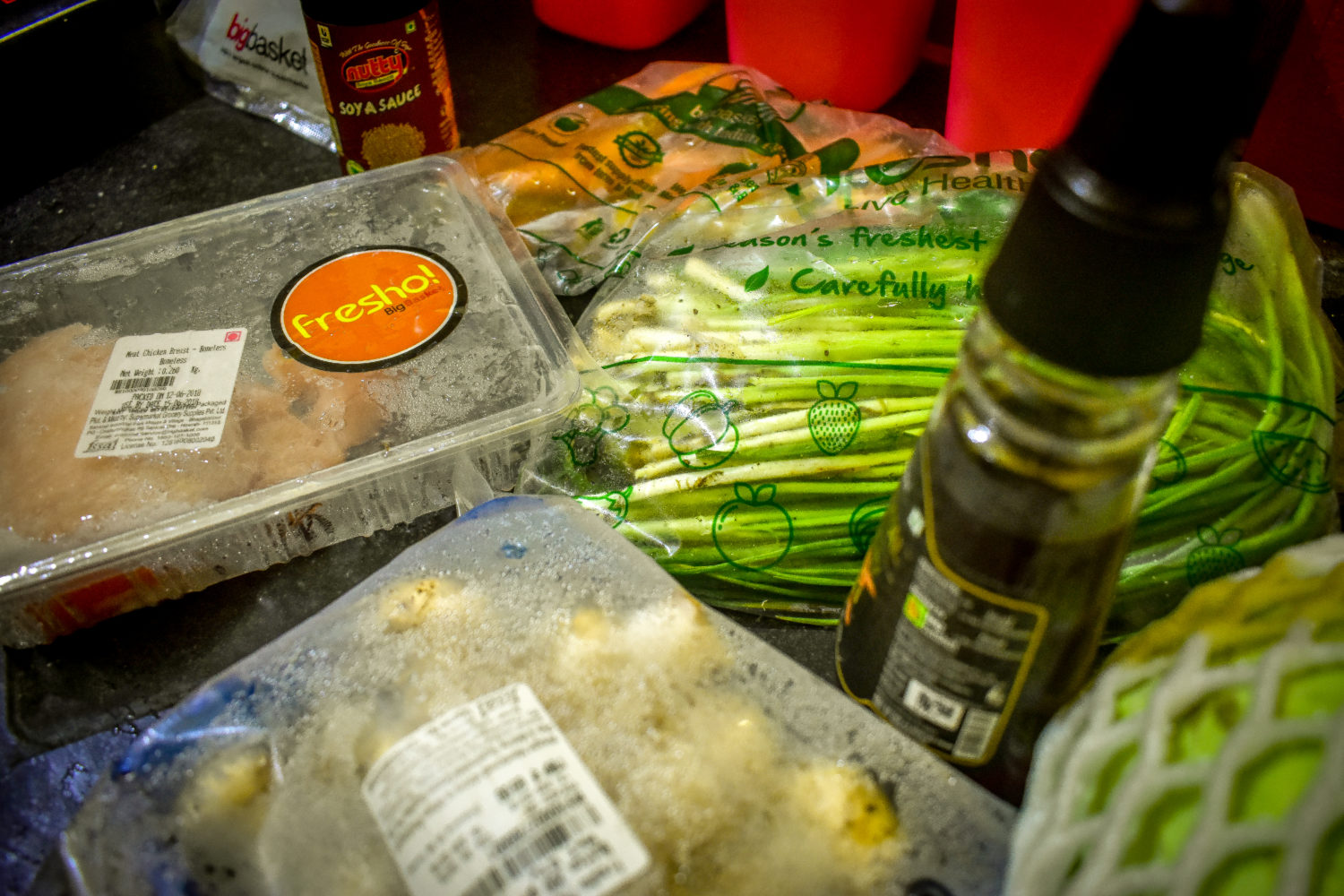 Like I already said, I'm a health freak and I prefer veggies over meat any day. Most of my favourite veggies aren't always available at the regular market, but are always available at Big Basket. One other thing I doubt I'll easily get otherwise is real cheese. As a health freak, I've cut down on not only just processed meat, but on processed cheese as well, and finding real cheese offline is like winning a lottery. And because I've also cut down on processed meat, and I hate meat shopping offline, my husband wouldn't be getting any non-vegetarian (except for eggs) food if it wasn't for Bigbasket.
Bigbasket has made our lives a lot easier since our tightly knitted schedule doesn't allow us much time to go out grocery shopping. From foo, to floor cleaners we purchase it all from Big Basket and they have such a wide range of collection that you'll even get adult diapers on their site if you need. My husband I happen to be big time foodies, and I wouldn't be able to get creative every morning and afternoon if it wasn't for big basket.