So far, I've already reviewed 6 sheetmasks from the Etude House .2 Air Therapy Sheet mask range and apart from the fact that they contain alcohol, I pretty much like them all.
Since I'm in the process of reviewing all the sheetmasks that I used prior to my wedding, and all the sheet masks that were reasons behind my glowing 'glass skin' it's only fair that I review the Etude House .2 mm Air Therapy Mask Blueberry already.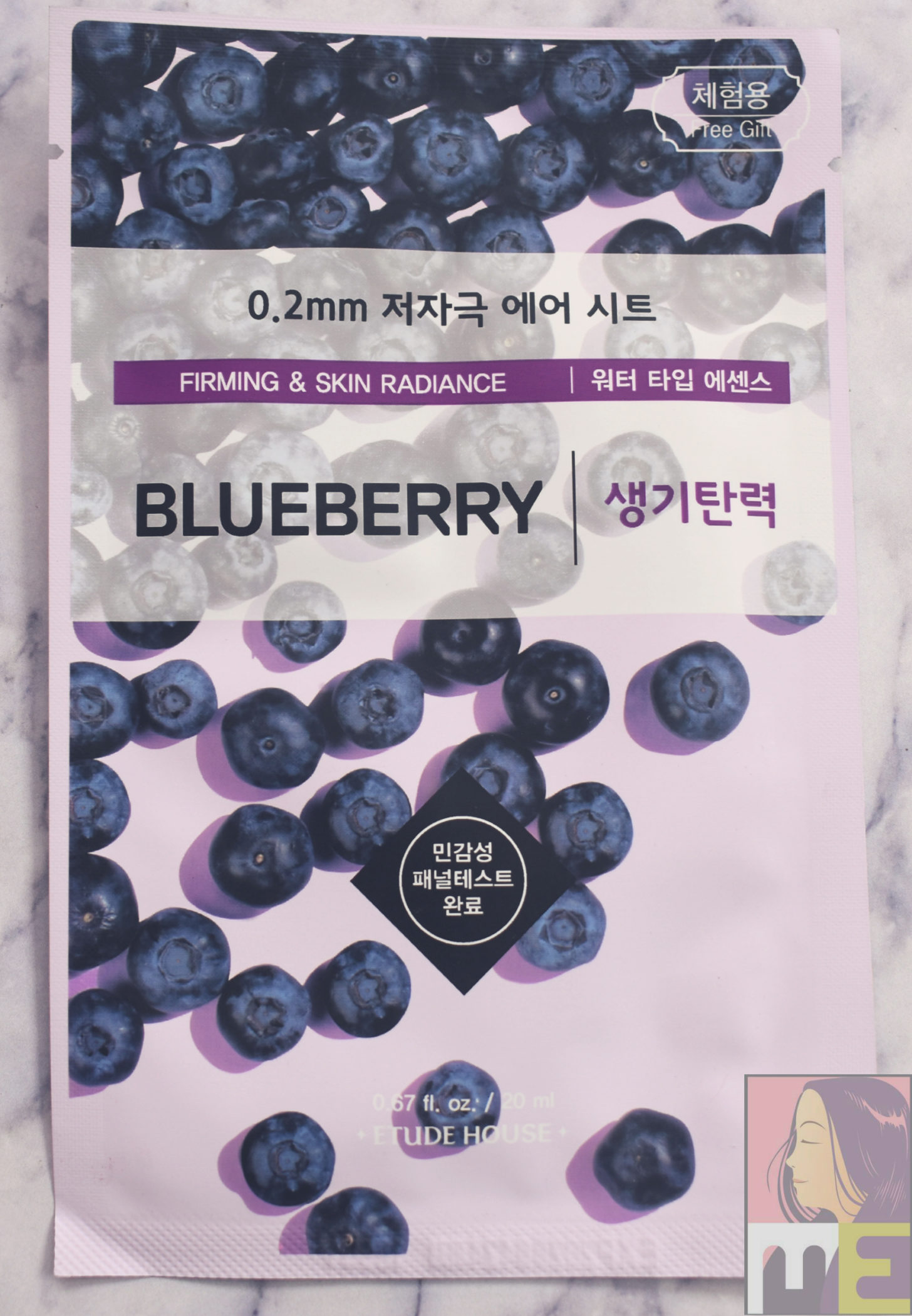 Description:
Low-irritant mask made of breathable 0.2mm air sheet
Contains blueberry extract; antioxidants provide nutrition to skin
Provides moisture and elasticity to dry, flaky skin
To Use: Apply to face after cleansing and toning the skin. Leave on for 15 to 20 minutes. After removing, dab remaining essence into the skin.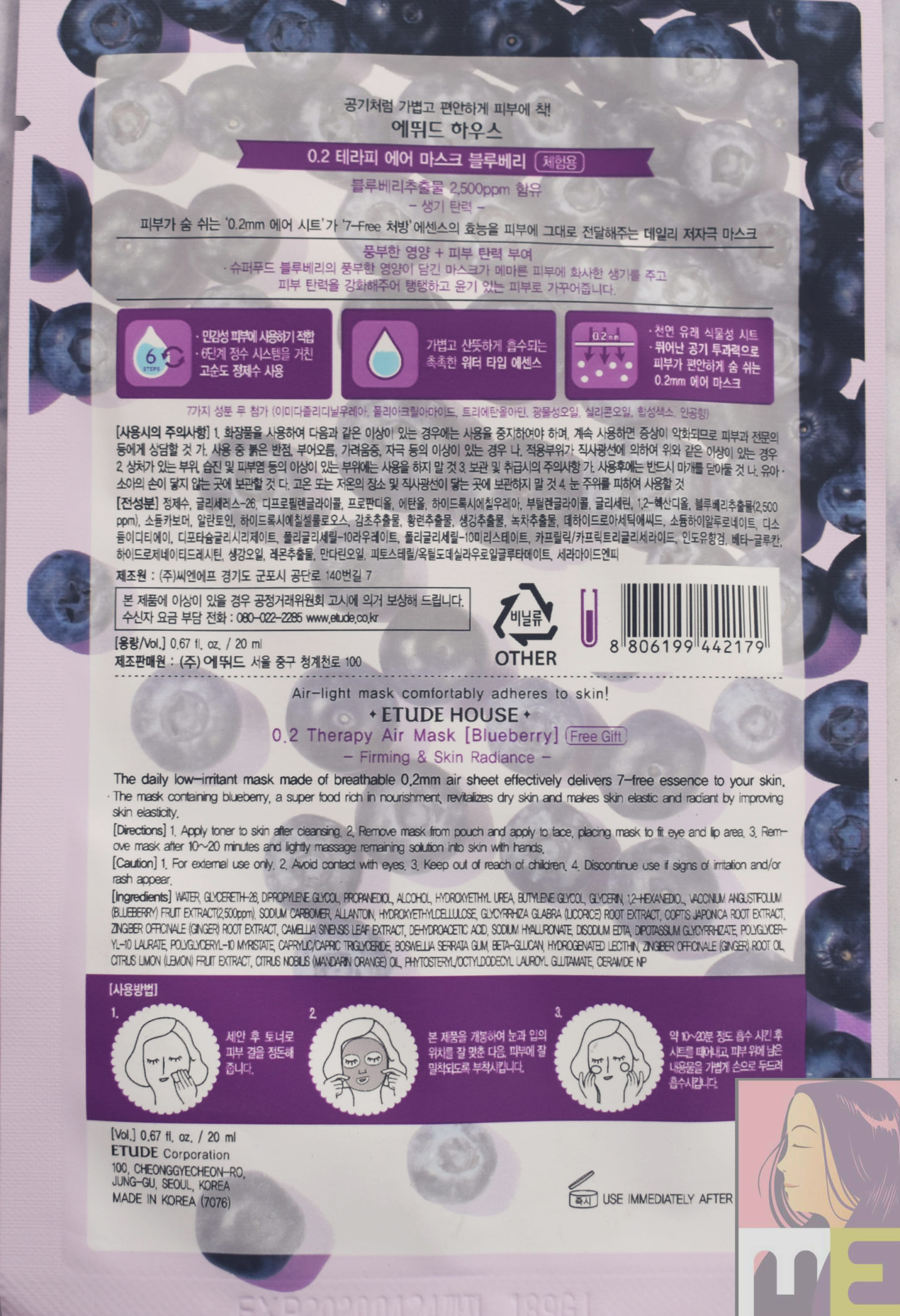 Tips: For a cooling effect, place the mask in the fridge for 10 minutes then apply as usual.
Ingredients: Water, Glycereth-26, Dipropylene Glycol, Propanediol, Alcohol, Hydroxyethyl Urea, Butylene Glycol, Glycerin, 1,2-Hexanediol, Vaccinum Angustifolium (Blueberry) Fruit Extract (2500ppm), Sodium Carbomer, Allantoin, Hydroxyethylcellulose, Glycyrrhiza Glabra (Licorice) Root Extract, Coptis Japonica Root Extract, Zingber Officinale (Ginger) Root Extract, Camellia Sinensis Leaf Extract, Dehydroacetic Acid, Sodium Hyaluronate, Disodium EDTA, Dipotassium Glycyrrhizate, Polyglyceryl-10 Laurate, Polyglyceryl-10 Myristate, Caprylic/Capric Triglyceride, Boswellia Serrata Gum, Beta-Glucan, Hydrogenated Lecithin, Zingiber Officinale (Ginger) Root Oil, Citrus Limon (Lemon) Fruit Extract, Citrus Nobilis (Mandarin Orange) Oil, Phytosteryl/Octyldodecyl Lauroyl Glutamate, Ceramide NP.
My Experience:
I'm an anti-oxidant lover; I love anything that has anti-oxidants in it, from matcha tea to tomatoes. Prior to my wedding I was also taking Lycopene Supplements which is rich in anti-oxidants and I guess it played it's part in giving me a flawless skin too. Blueberry is a superfood for skin, rich in anti-oxidants and if it was easily available in India, it would have been a part of my everyday breakfast. Luckily, beauty products containing blueberries are not as hard to find as fresh blueberries are, and thus they were an important part of my pre-wedding regimen.
Since I was sheetmasking every single day before my wedding, I was choosing my sheetmasks according to my skin condition, and was using detoxifying sheetmasks on days I was using wash-off mask to further deep cleanse my skin. Since it was during the colder months, I also had to make sure thosedetoxifying sheetmasks were moisturizing enough because my skin is usually dry after using a wash-off mask.
I applied the Etude House Blueberry Air Therapy mask after a detox session that includes BHA and the Innisfree Super Volcanic Clay and I left on the super thin mask on my face for about 30 minutes. Like the other masks from the Air Therapy range, the masks gave a second skin feeling allowing me to go on with my chores and the fitting was great like the other masks too.
After 30 minutes I removed the mask to reveal a smooth, bright, radiant, clear and moisturized skin. I can't really say how long the moisturization lingered as I used another sheetmask the very next day, but I was really satisfied with the initial result that I received.
Pros:
Does what it claims
Great fitting
Gives the second skin feeling
Cheap
Cons:
Contains alcohol
Where did I get it?
Price:
$0.40
Rating:
4.7/5