If you aren't already aware, Innisfree has launched a new version of their It's Real Squeeze mask range, and the new version is called My Real Squeeze mask and are alcohol free. You guys are probably aware how I hate alcohol in my skincare products. I am not allergic to alcohol, I just don't like it in my skincare, it makes skin dry and can be damaging if used in a long run.
So I purchased the entire range, and since I got a skin infection after getting my bridal makeup done, I purchased the soothing ones 2 or more each. Needless to say, I got myself 3 Tea Tree My Real Squeeze masks and it was the first one that I tried from this range. I have already reviewed the Tea Tree Mask from the original range; I really loved it and it helped shrink my hormonal cystic acne on multiple occasions and thus I was ecstatic that they have launched an alcohol free version of it.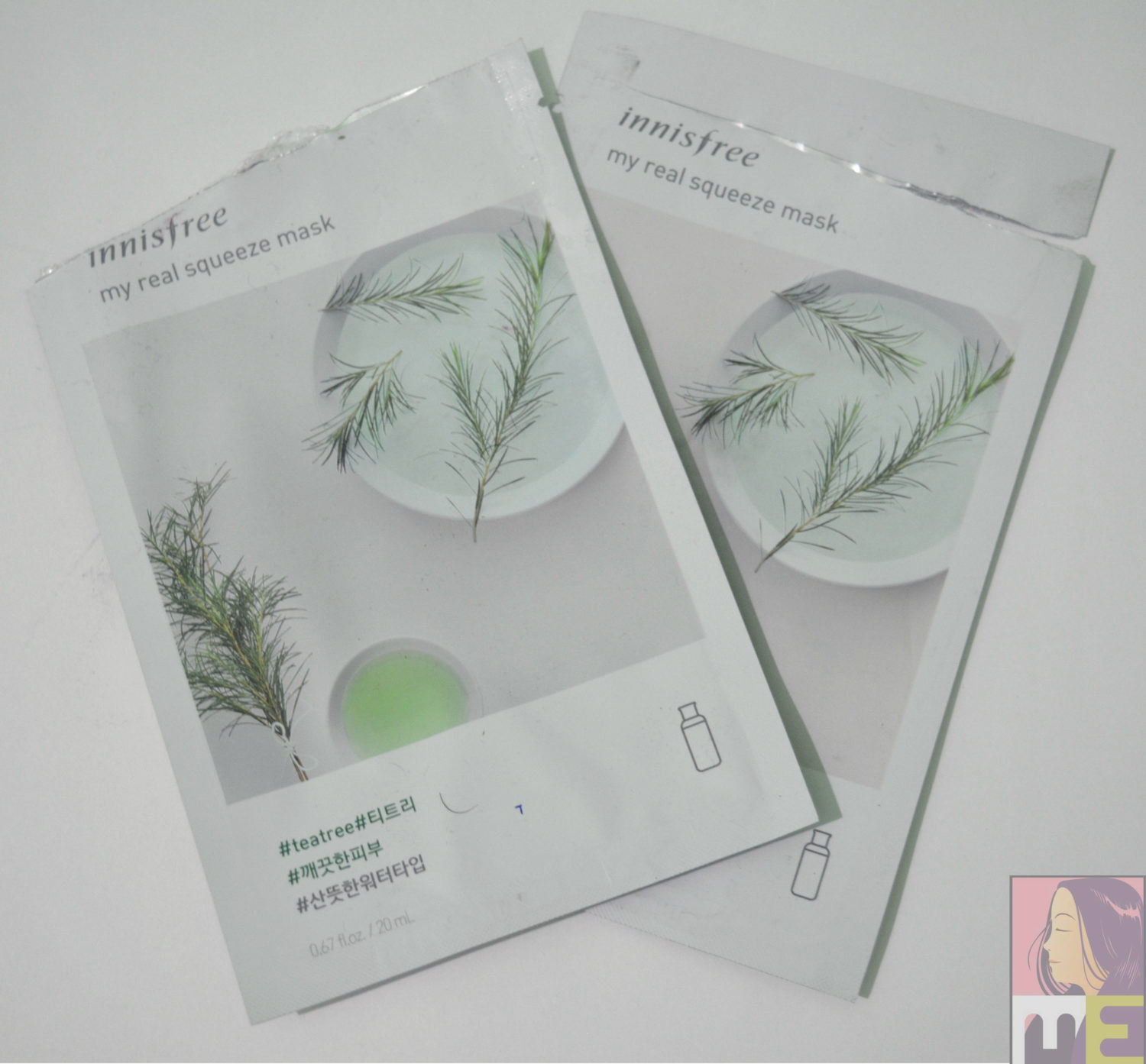 What it is
Naturally-derived thin yet strong 100% cellulose sheet
The thin yet tearing-free transparent sheet adheres lightly to the skin and then effectively delivers essence into the skin.2. Fully enriched with ingredients! Even the freshness of ingredients are extracted with the cold brew squeeze method.
Ingredients are gradually extracted at a low temperature with meticulous care using the cold brew squeeze method to exclude unnecessary elements and enrich with abundant nutrients

3. Customized solution for a smart choice depending on skin condition
The three types of water, essence and cream provide the optimal solution of one mask a day, suited to your skin condition.

4. cold brew squeeze tea tree [tea tree]
Tea tree, which smells sharp, tangy and medicinal, purifies the skin.
How to use
After cleansing, use toner to refine skin texture. 2. Unfold and place the mask on the face, avoiding
eye and lip area. 3. Leave on for 10-20 minutes. 4. Discard the mask and gently pat for further absorption.
My Experience:
Like last year, I developed tiny bumps after using makeup brushes that don't belong to me. The bumps stayed like that for 2-3 months, refusing to shrink, refusing to go away, no matter how many home remedy applied, how many soothing products used. Even when soothing products worked, they worked temporarily, for a couple of days. The bumps turned red, swollen and infected a few months later and the last time it happened two dermatologists failed to heal my infection until I prescribed myself probiotics. This time I started taking probiotics (a different one than I took last time) right when I started seeing the bumps but it failed this time. Last time my infections were there for like 4 months and this time it's again around 4 months and my bumps turned into infections are refusing to go away.
I tried the Tea Tree mask particularly when the bumps were swollen at its worst. I might as well mention that when the bumps turn into infection, my skin turns oily, which is why sheetmasking while having an infection is not a very pleasant experience. Anyway I used the tea tree mask for the sake of soothing. The sheet was a little different than the original range; it had handles on both sides, which made my sheetmasked face look weird. I wasn't particularly fond of the handles because I don't like my sheetmask touching my hairline.
I left the mask on for 30 minutes and the sheet was still a little damp when I removed it. There was no initial effect, only immense moisturization (which I'm not very fond of when I get the infection). However the next day I woke up to calm and shrunk bumps. They didn't go away, but they were controlled. The first time after I used it, the bumps were calm for 2-3 days. The next time I used it again on severely angry bumps (day before yesterday), and woke up to a soothed skin which luckily I'm flaunting while writing this review.
The sheetmask sure didn't help me get rid of the bumps but they sure know how to provide me with temporary relief. I'm still counting my days until my infection vanishes like last year, till then I'll keep using these tea tree masks for temporary relief.
Pros:
Does what it claims
Alcohol free
Easily available
Cons:
Nothing
Where to buy:
Rating:
4.8/5