After a short drive from Alleppey we reached the magnificent Kumarakom Lake Resort. We received a warm welcome, cold towels, welcome tika and coconut water in bamboo stands. Our arrival became a little haphazard as I wasn't able to find my identity card and we went to our room promptly to search for it. We were escorted to our room, a majestic meandering pool villa, a room with vintage interior and an open shower where you can enjoy rain shower when it rains and a bathroom filled with Forest Essential Toiletries. There were welcome fruits and snacks an LED tv, a mirror that doubled as our workstation, a cupboard, a nicely decorated Queen Sized bed and a large glass back door that leads to the meandering pool.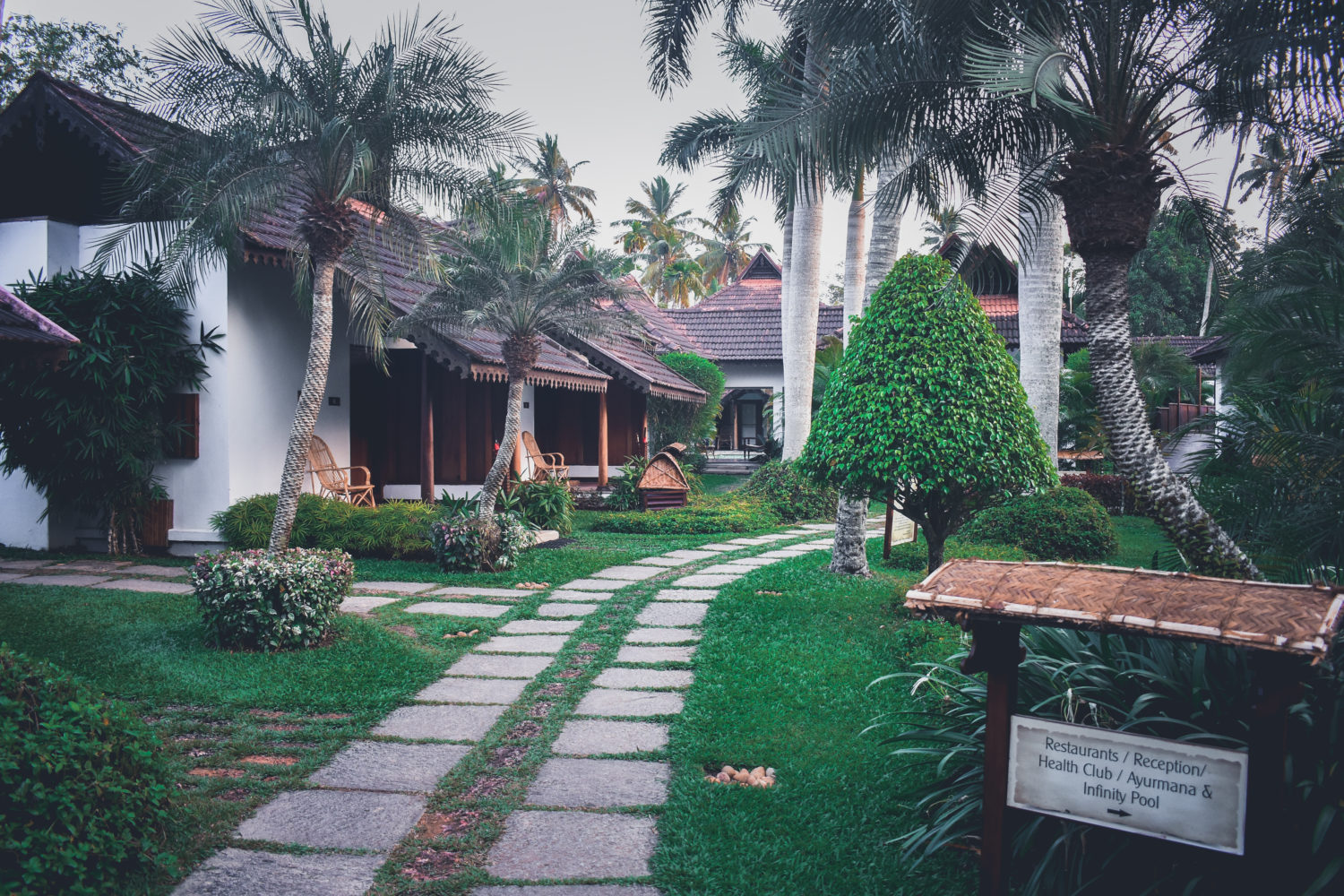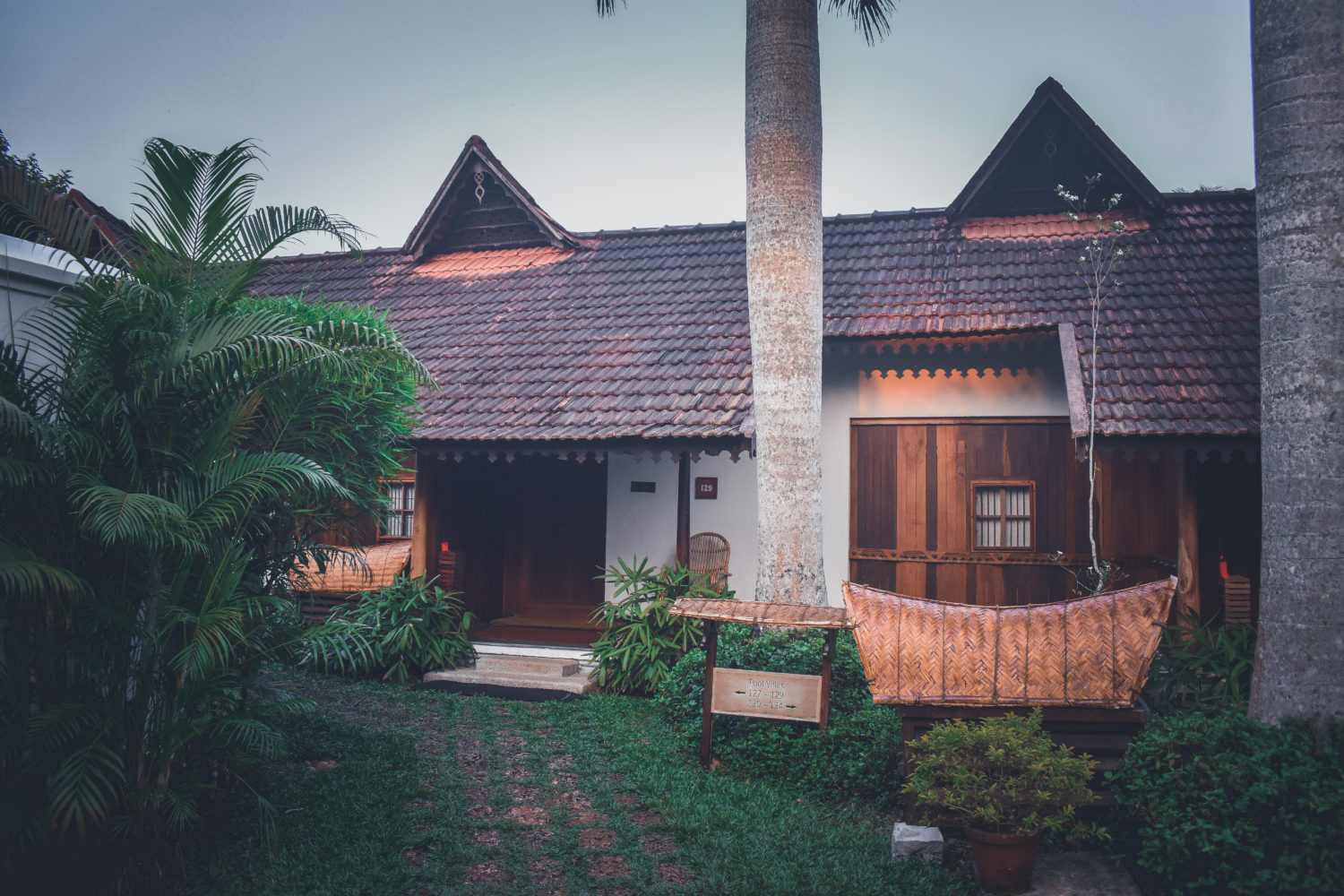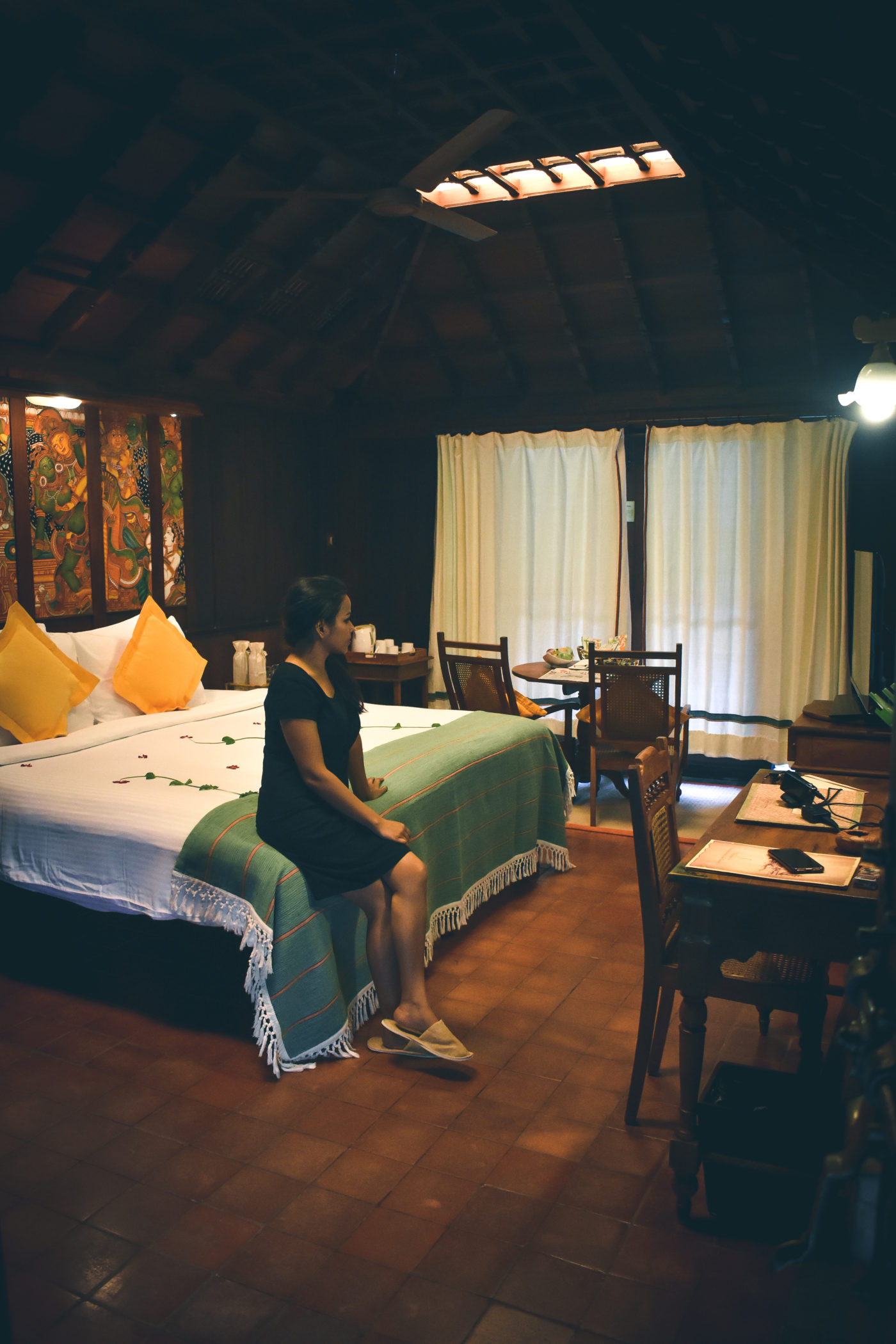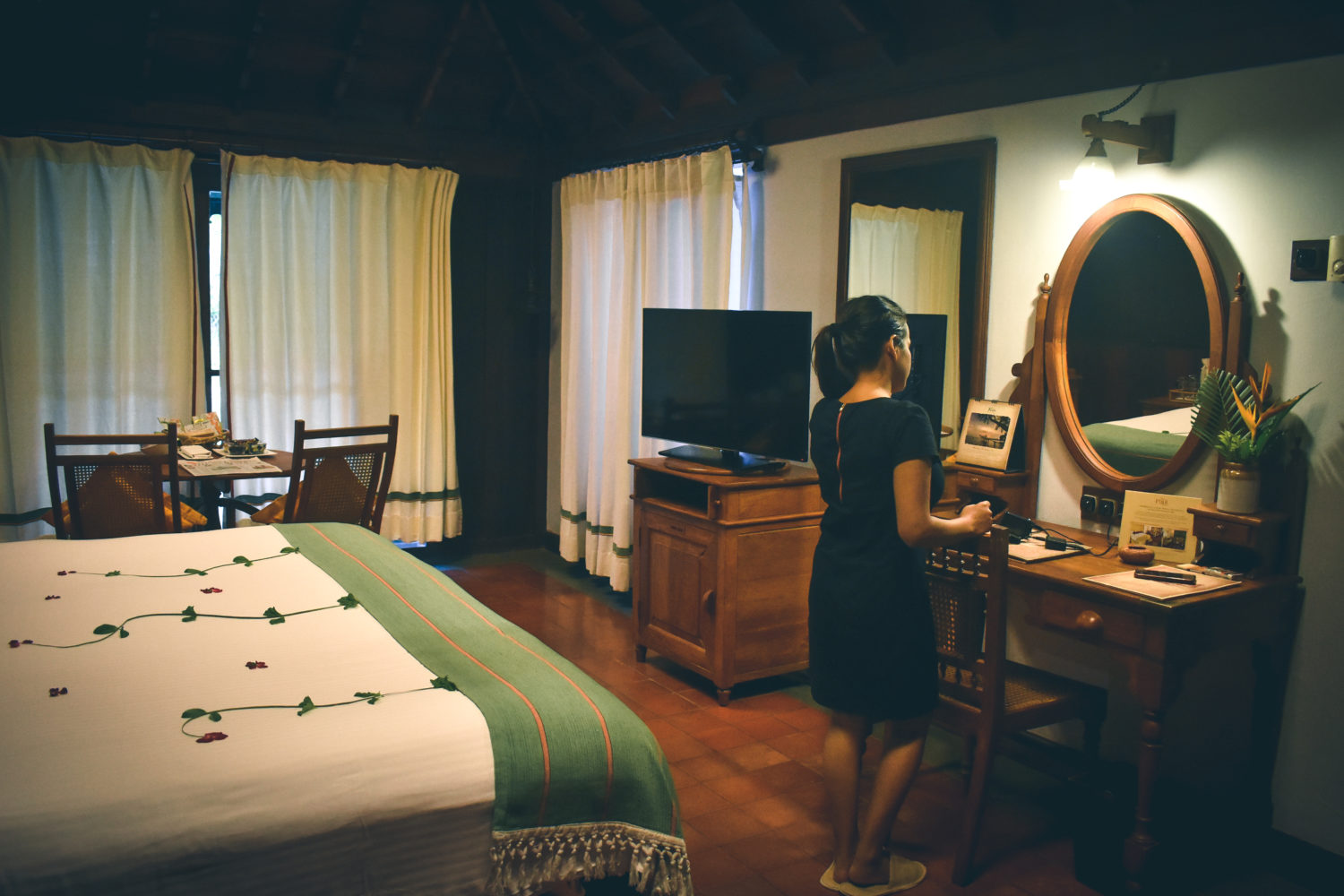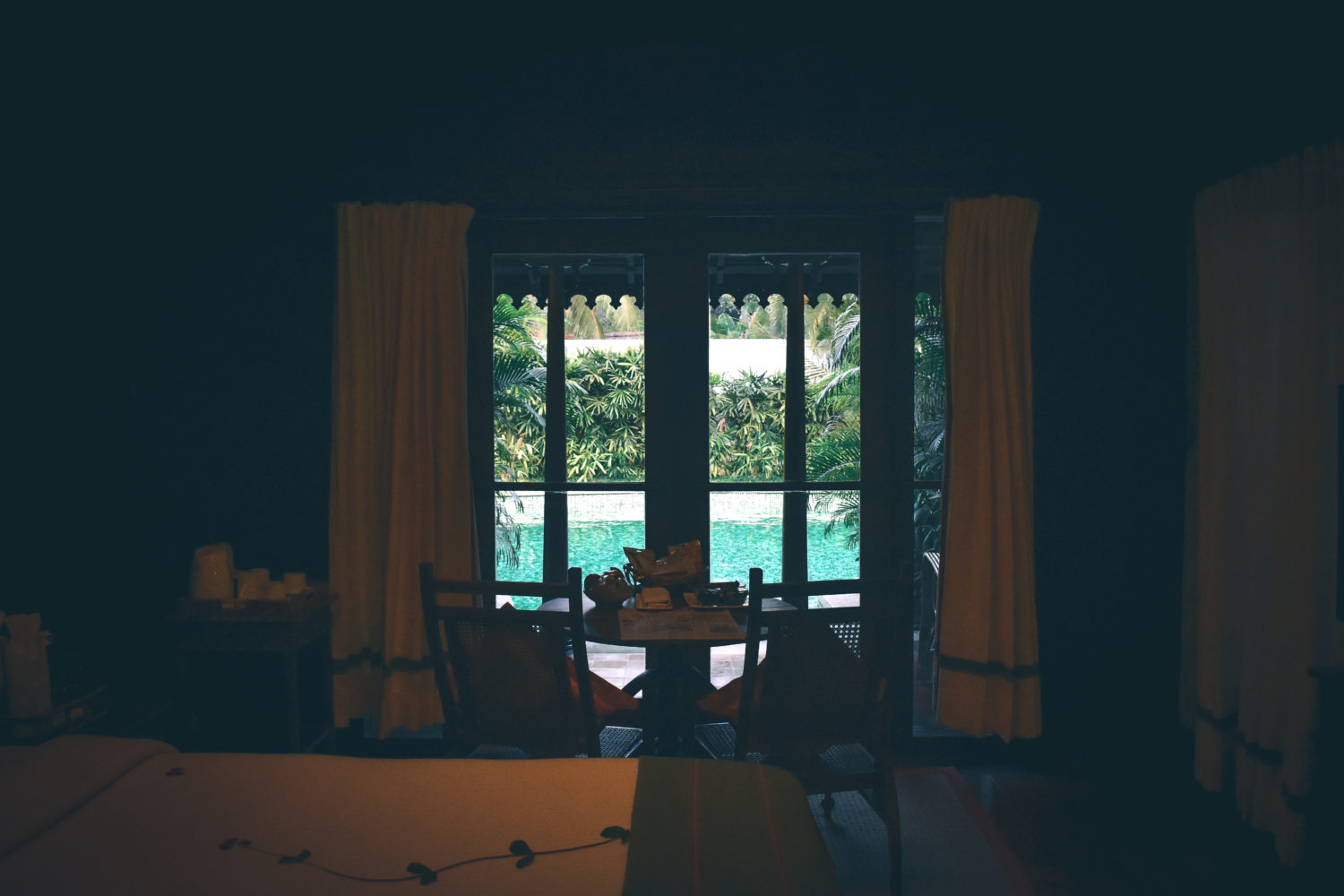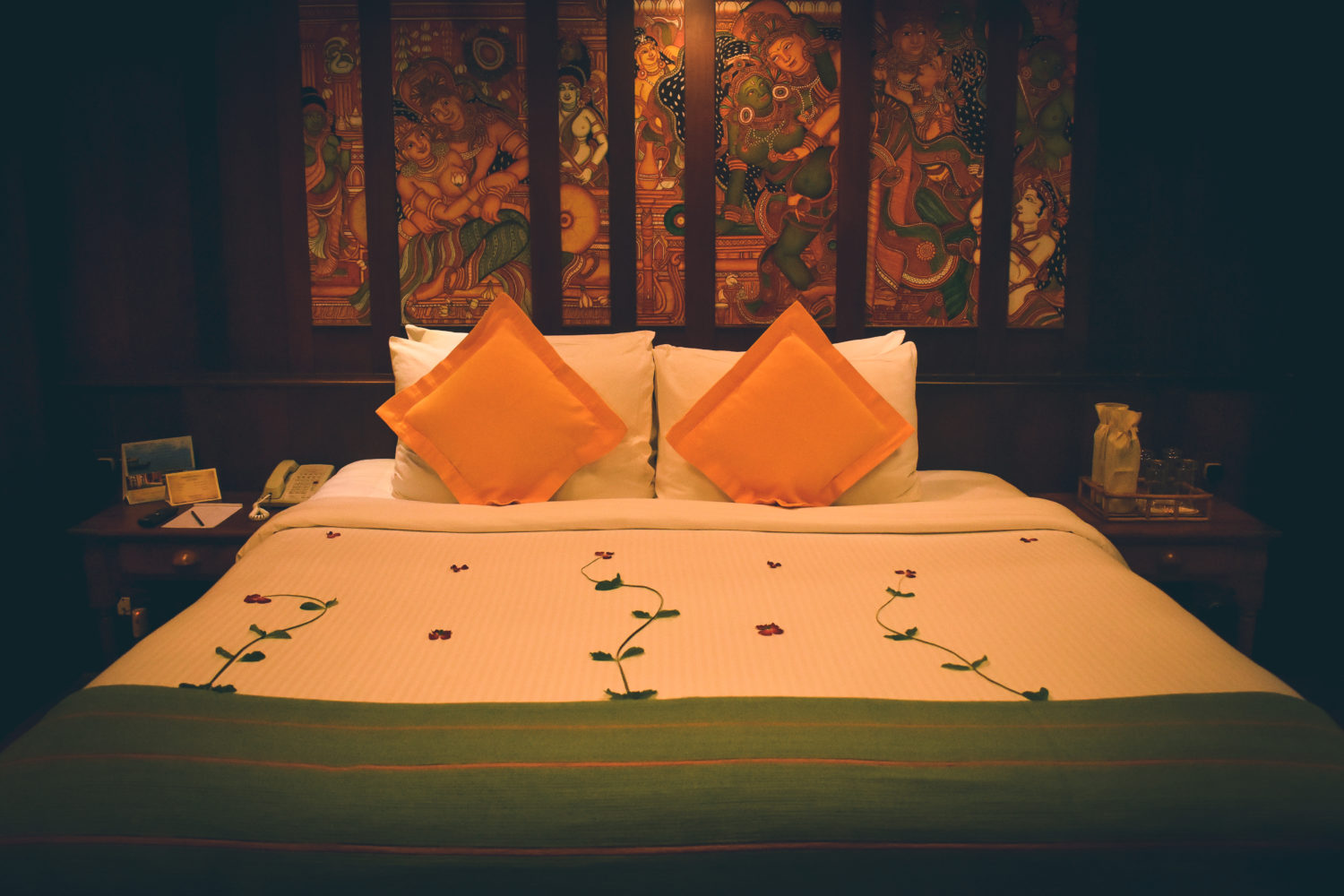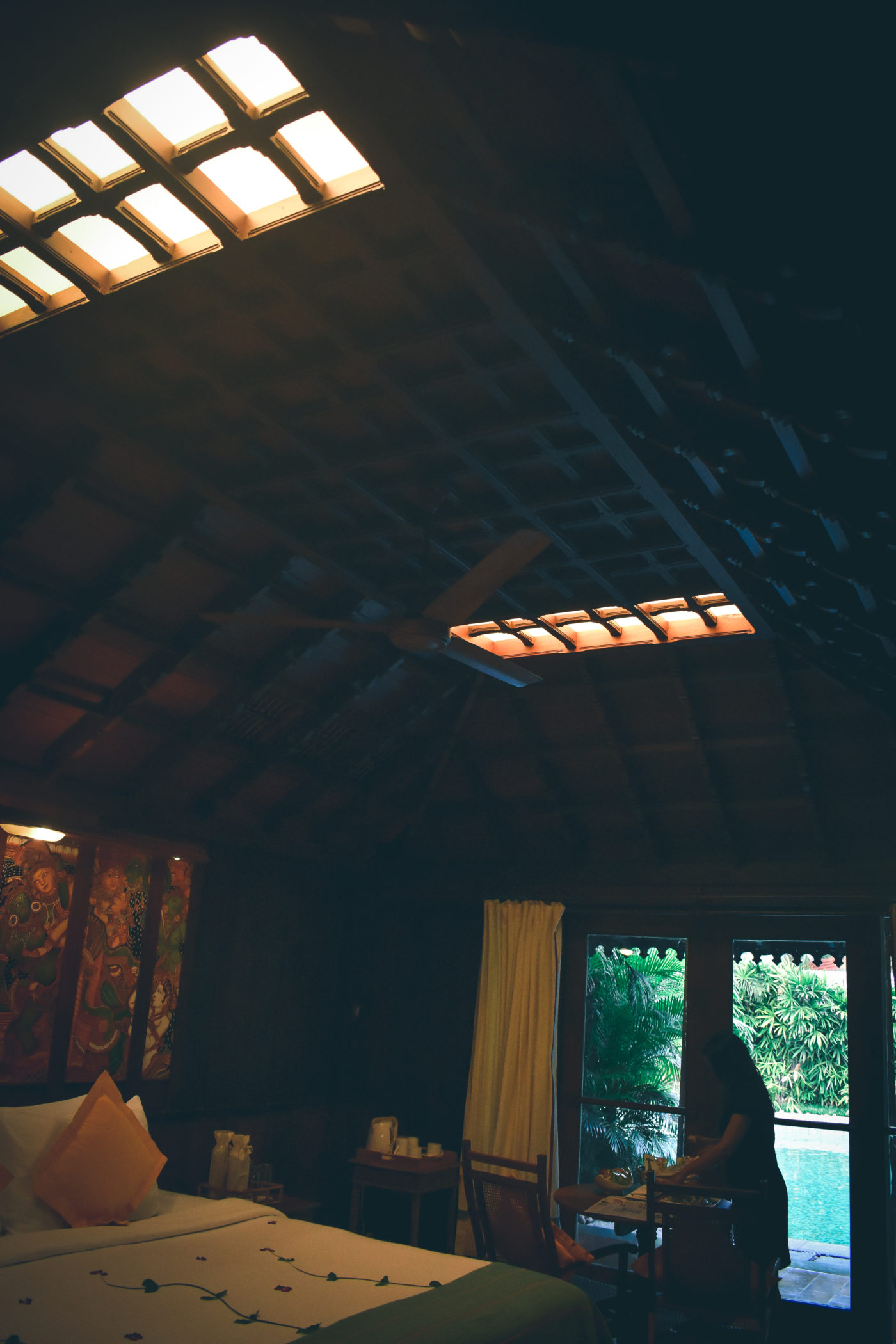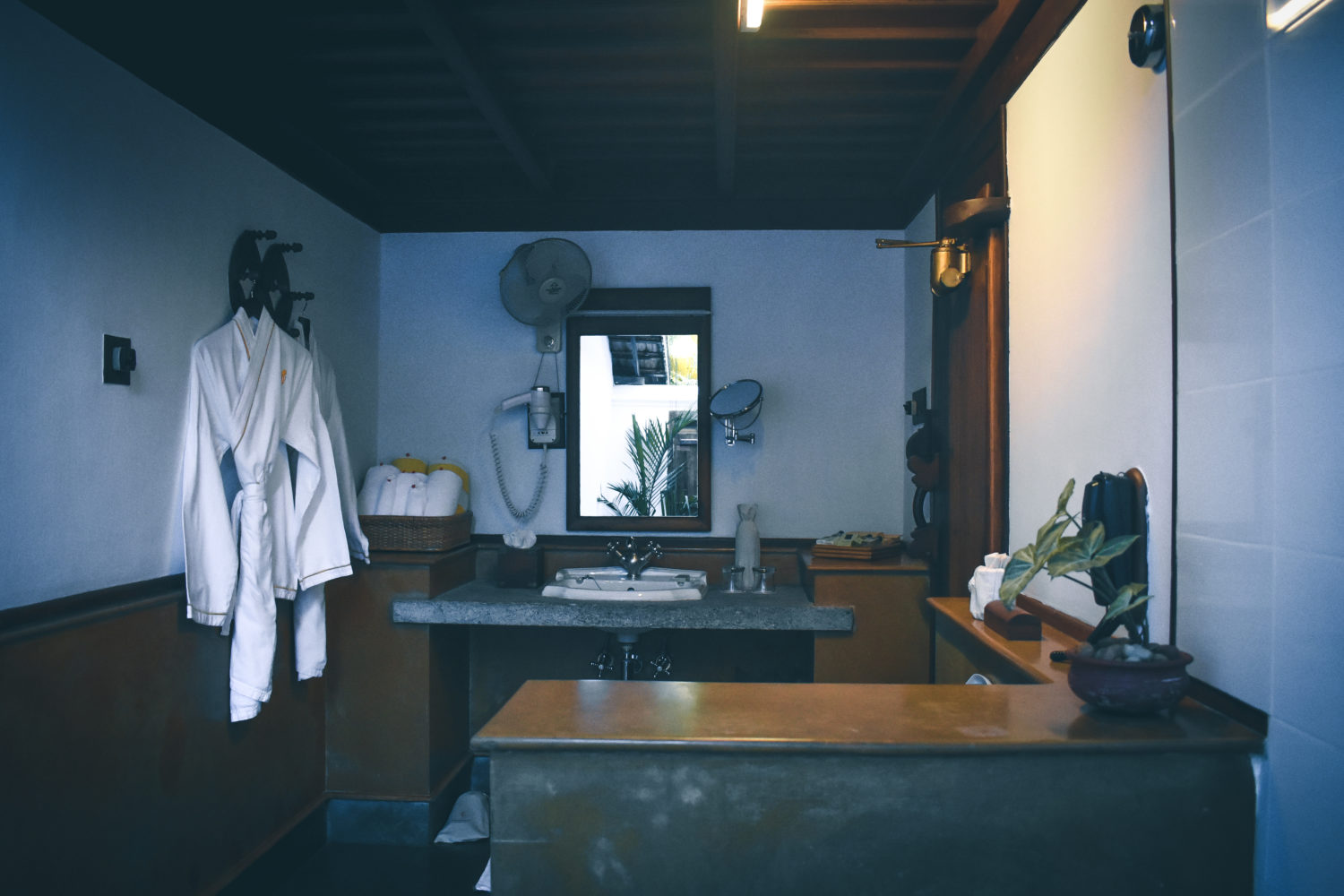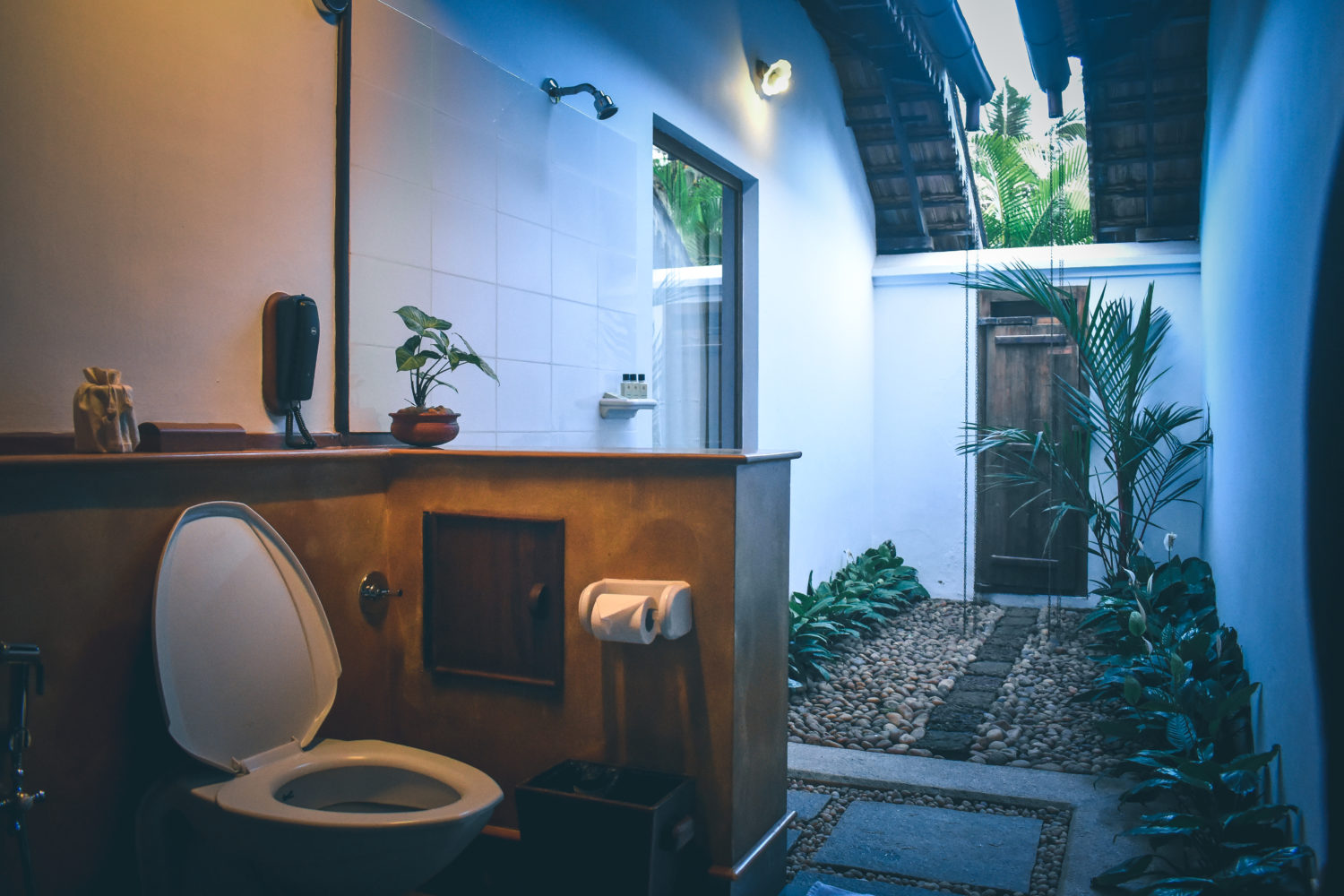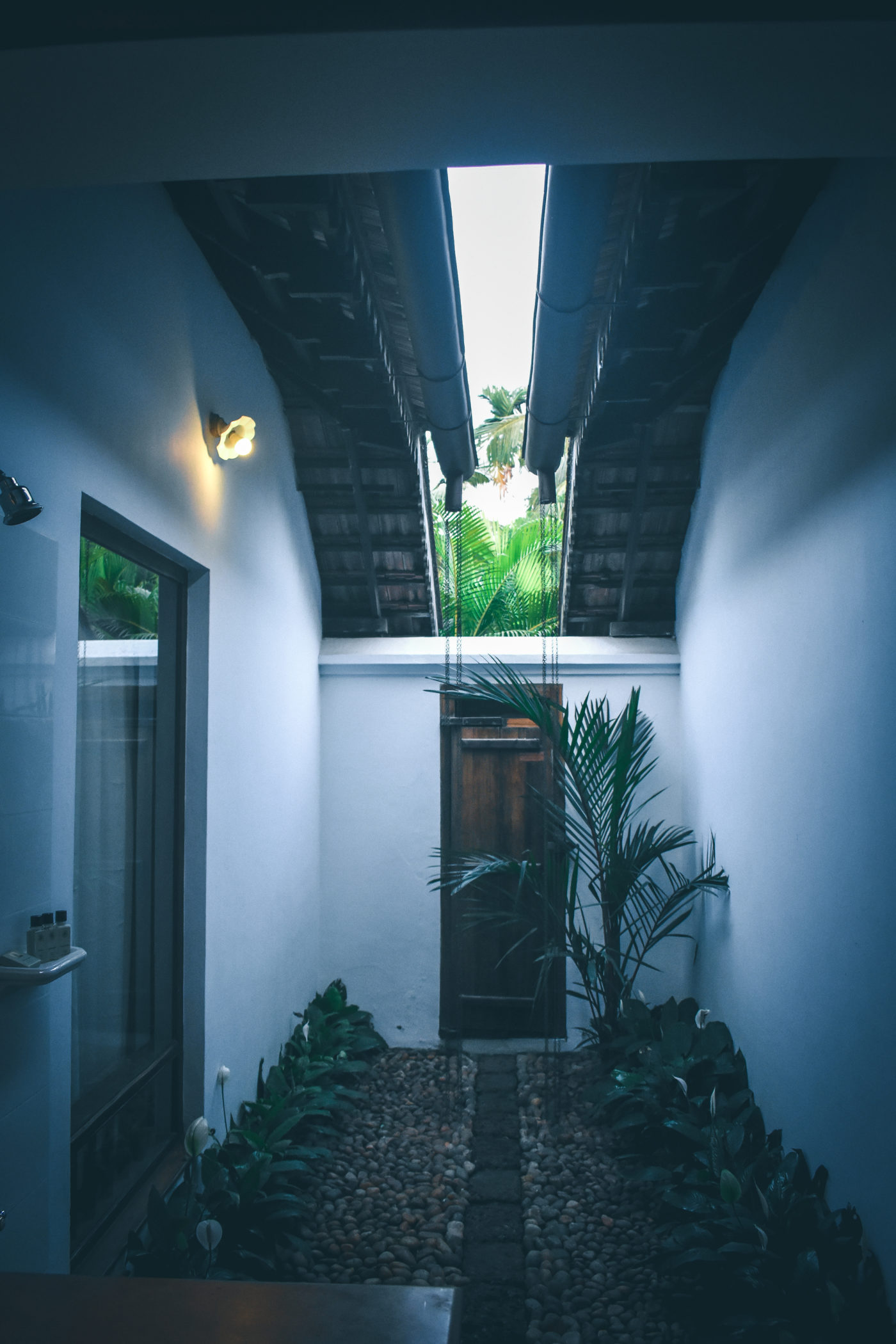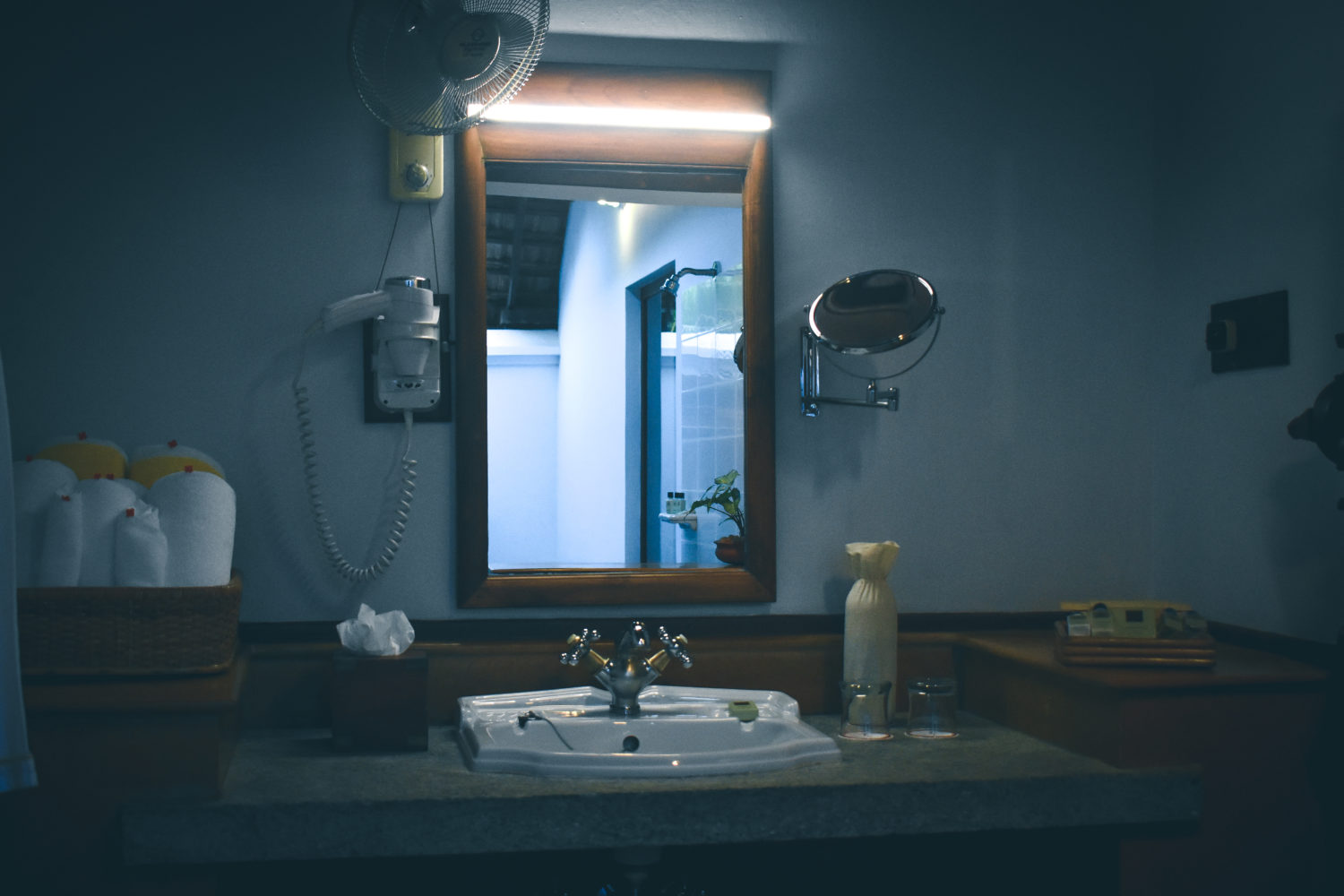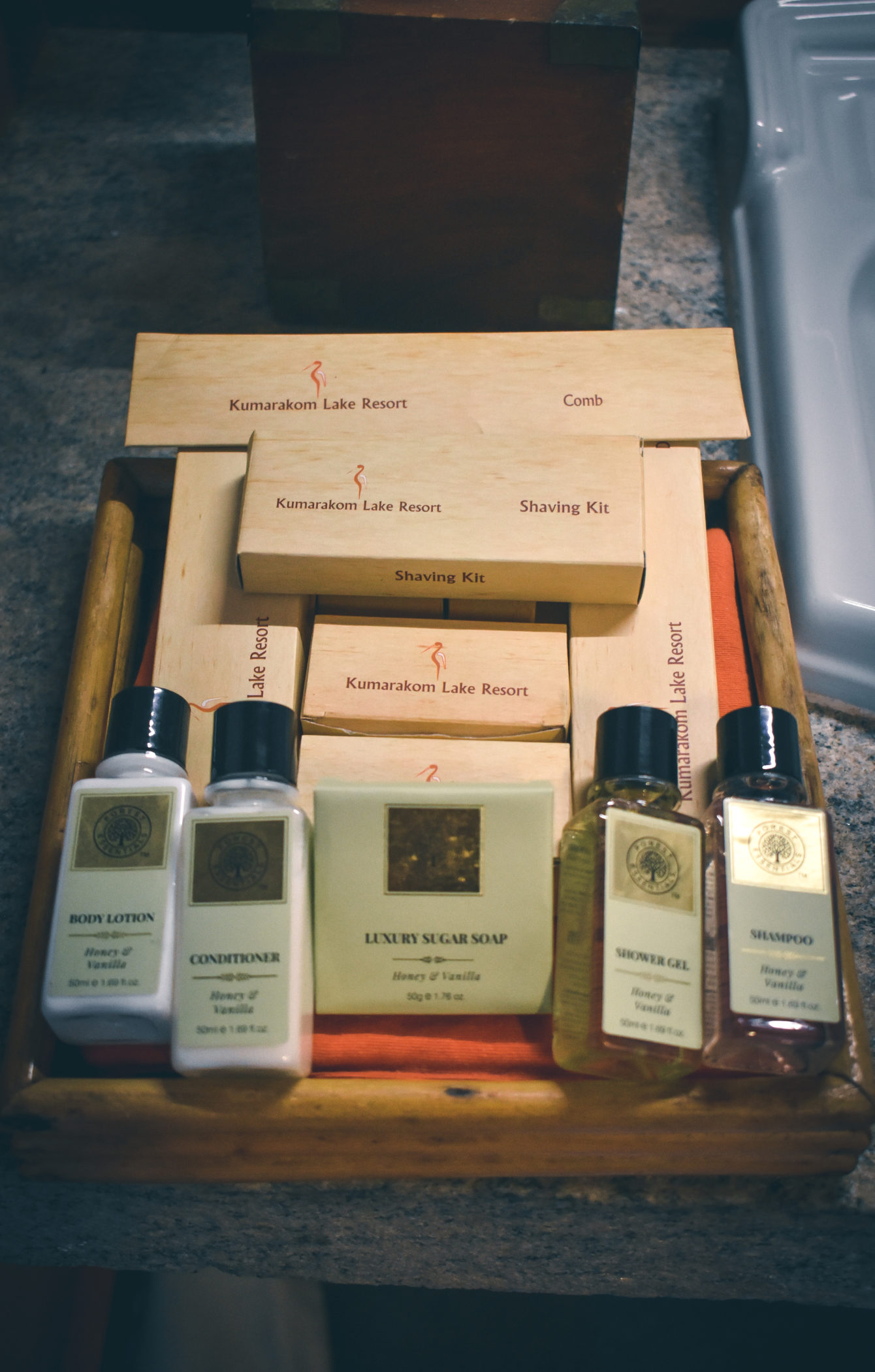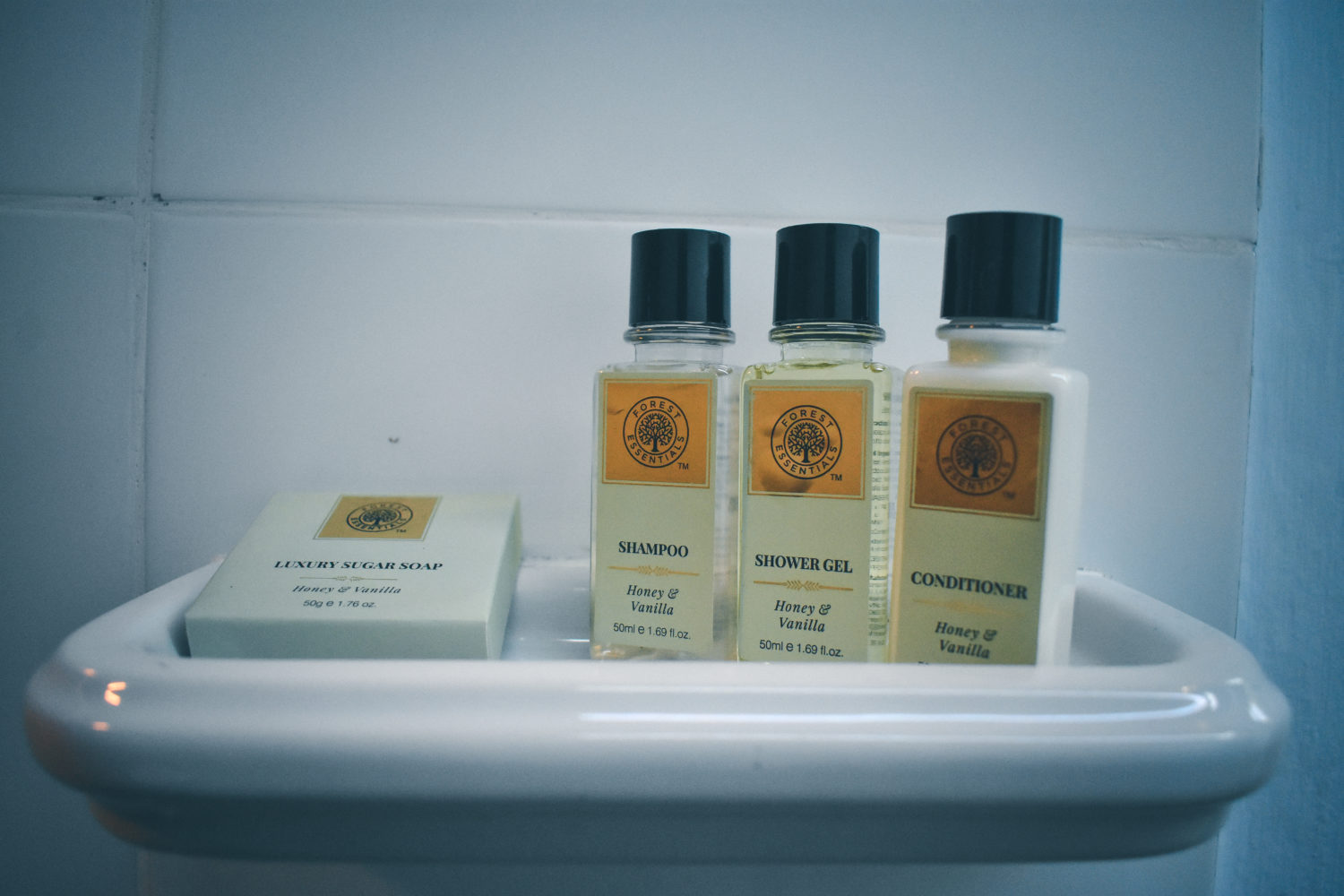 I hastily went through our stuffs and was finally able to locate my id card and headed to the reception. After the formalities were done, we took no time to change into our swimsuits, get a quick shower and get into the pool. I just love swimming and being in water, be it a pool or a beach and I often relate my love for water to my Portuguese Sailor forefathers. I even took extensive swimming lessons for 7 years as a toddler and if I can I will spend the whole day in water. My husband on the other hand has aquaphobia and just hates being in water. It took him real courage to get on the boat at Alleppey and now it was his first time getting in a swimming pool. It took me some patience to lead him to the pool and when he finally got in, his aquaphobia vanished in thin air and he started enjoying as much as I did.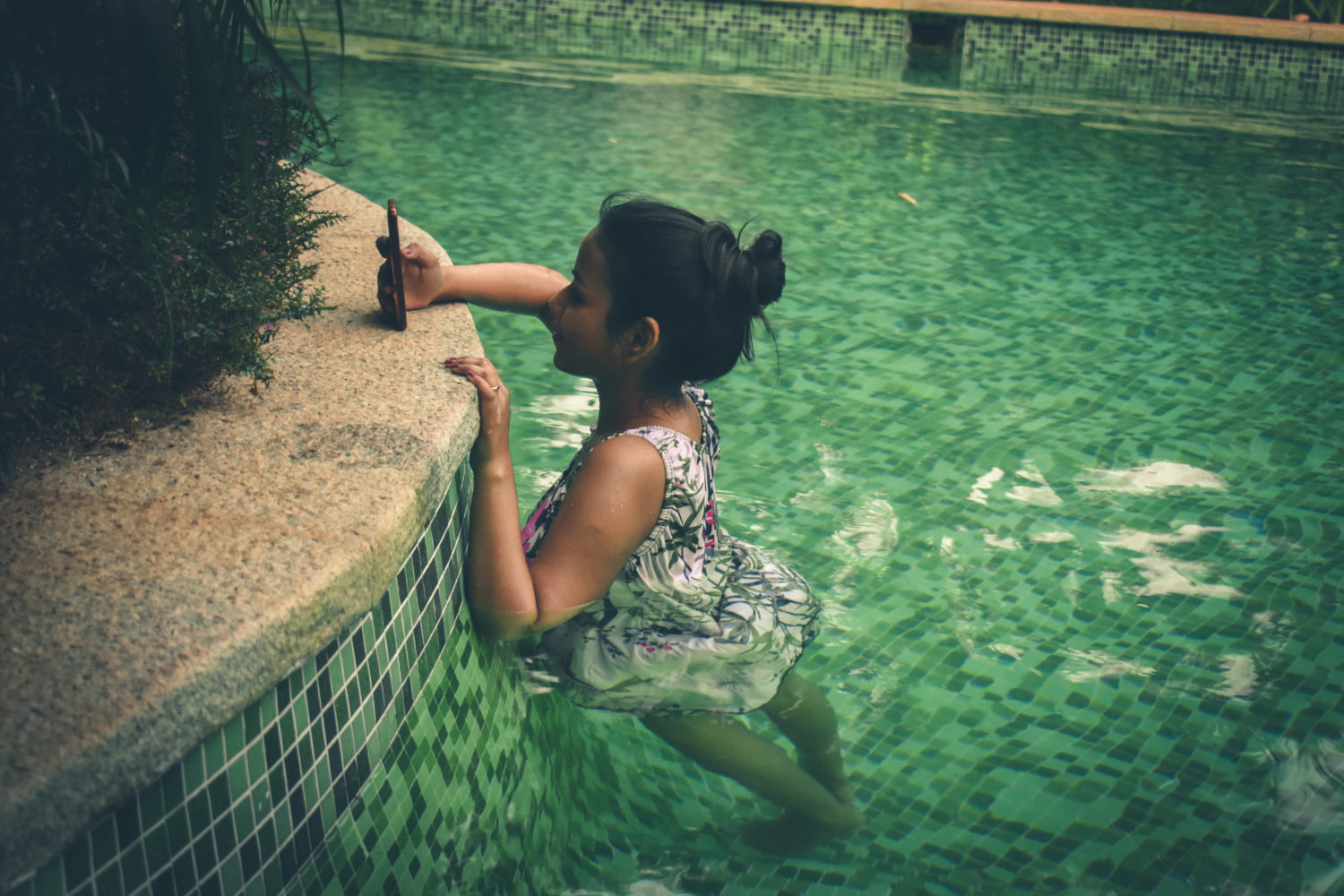 I don't know how time flew away, but before we knew it, it was already dark outside. We got out of the pool, took a shower and relaxed for sometime before heading towards Ettukettu for dinner.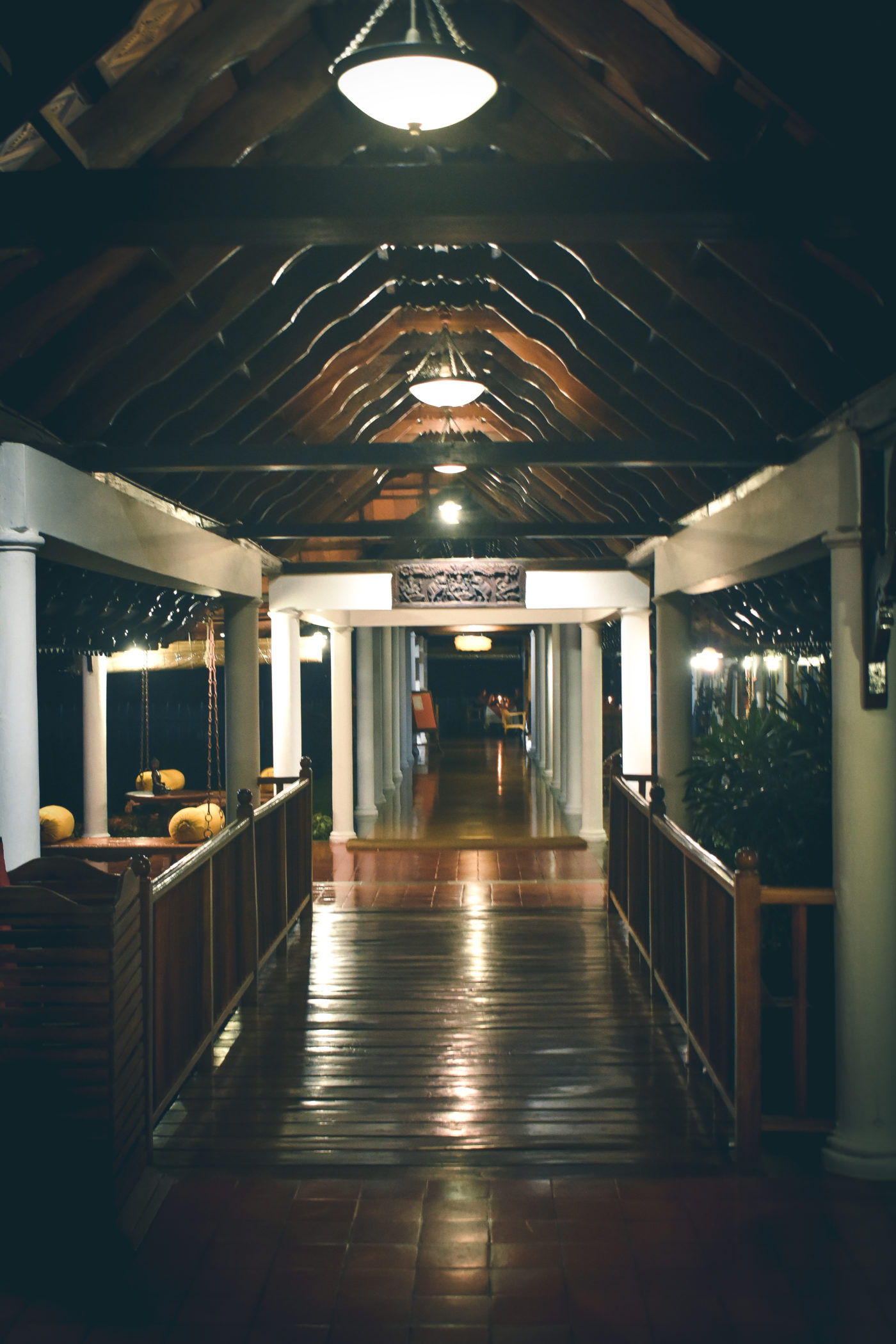 Ettukettu, is their multi-cuisine mansion like restaurant offering their buffet that includes Continental, Chinese, Mughlai, North Indian and traditional Kerala Culinary delicacies. During the dinner time they have musical arrangements that you enjoy while having your dinner. The tables on the outwards overlook the lawn so that's where we usually sat for our meals.  The restaurant has an overwhelming collection of 19 types of pickles. My favourite was the sandwich station with a range of choice that can put popular sandwich chains to shame. The buffet offers an impressive number of gourmet dishes and the chefs from the live counters will prepare you the day's speciality according to your choice. We had some Kerala style dinner and when I entered the dessert section, my eye lit up. For a person born without a sweet tooth, it takes a lot to get excited at the site of dessert, but they had cheesecakes, or I might say options of cheesecake, as well as my favourite Black Current Cheesecake. While I savoured a slice of the Black Current Cheesecakes, Arko went for Crossaint Pudding, Gajar Ka Halwa and some sweets. What's worth noting about the buffet is that the items came with notes if they contain gluten or any ingredients that people are commonly allergic to.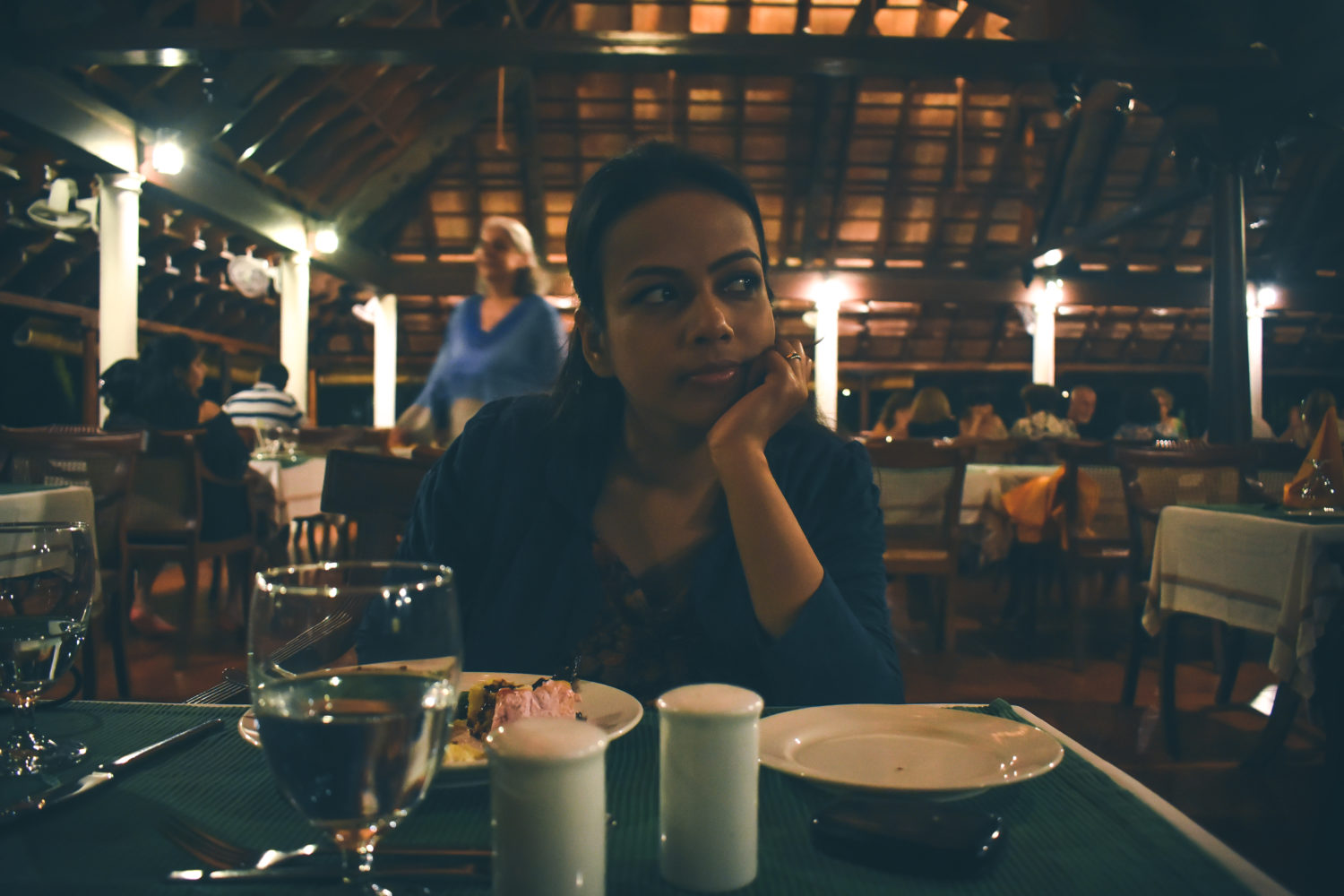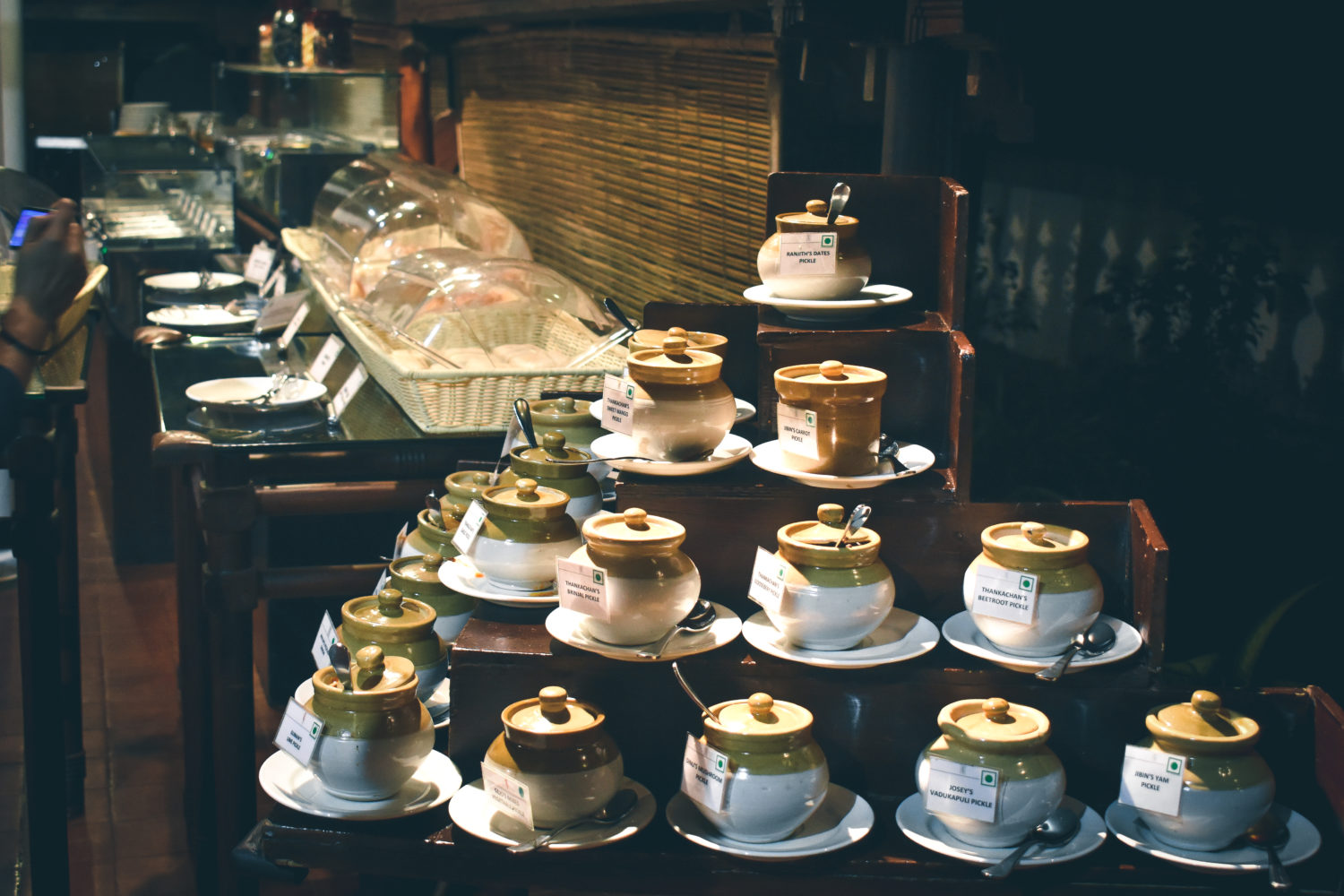 While we were browsing the area post dinner, we met Sanjay Verma, the Resident Manager and had a nice long chat, and that's when I noticed the newspaper cutting with articles about His Royal Highness Prince Charles and The Duchess Of Cornwalls' stay at this very resort. I had no idea!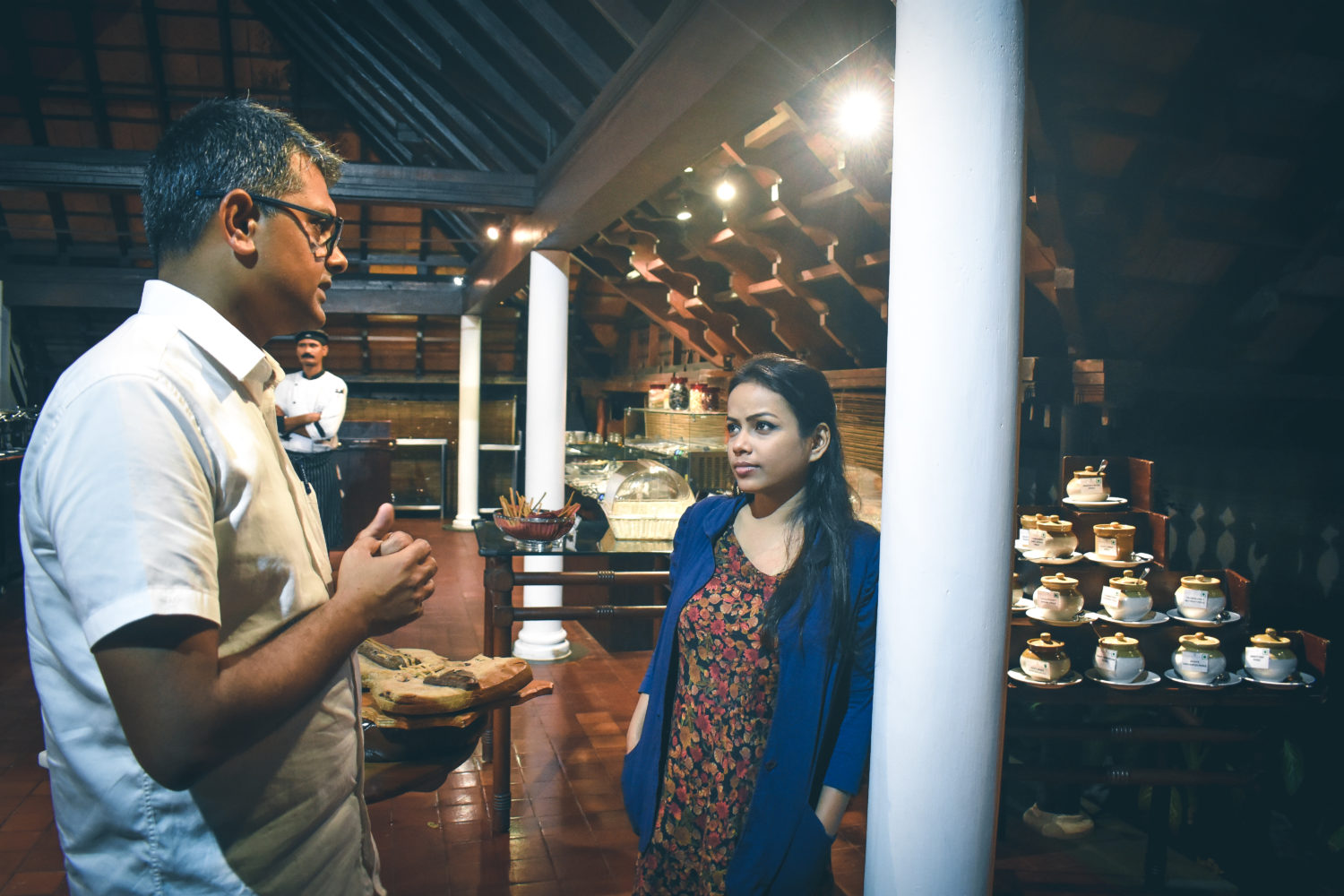 We walked through the property browsing traditional architecture and wooden design, spent some peaceful moments at the lovelyswings and went towards the then closed gift shop. A smiling staff offered to click a picture of us who later introduced us to the Bengali Staffs working at the resort which made us feel right at home. After taking a nice walk at the property we went to our room, transferred the pictures to my laptop, spent some quality time looking at the serene view of the pool and the palm trees and then dozed off.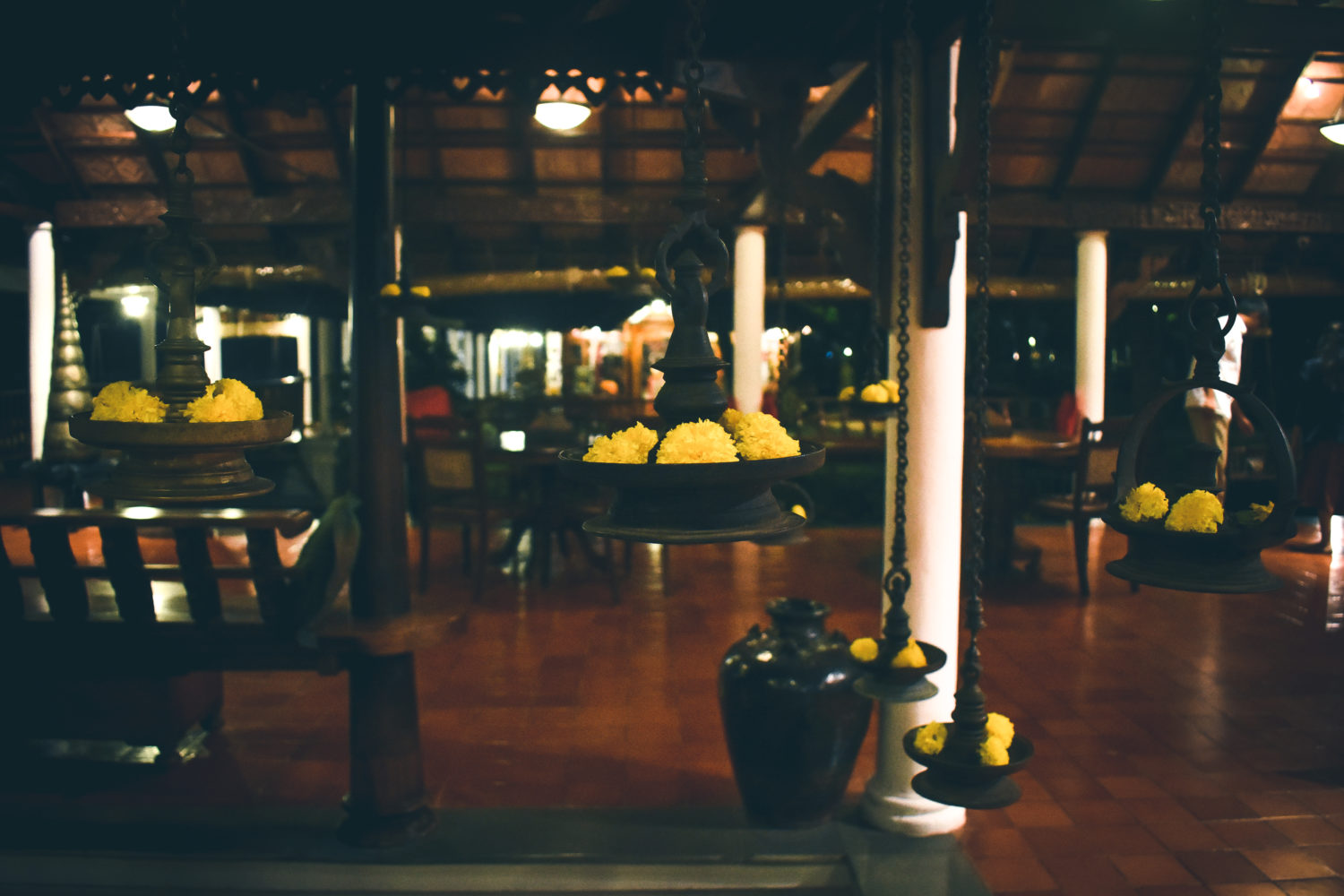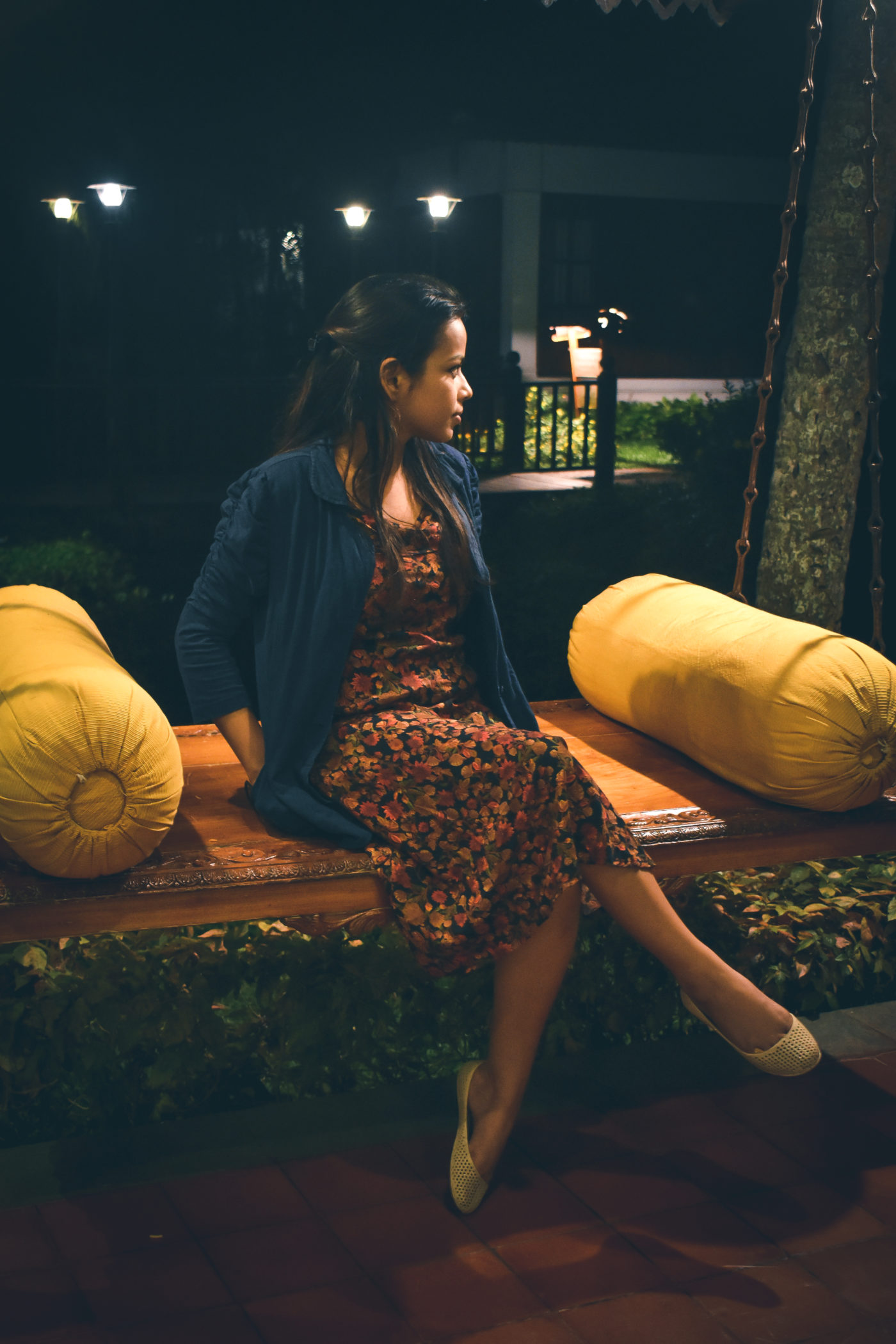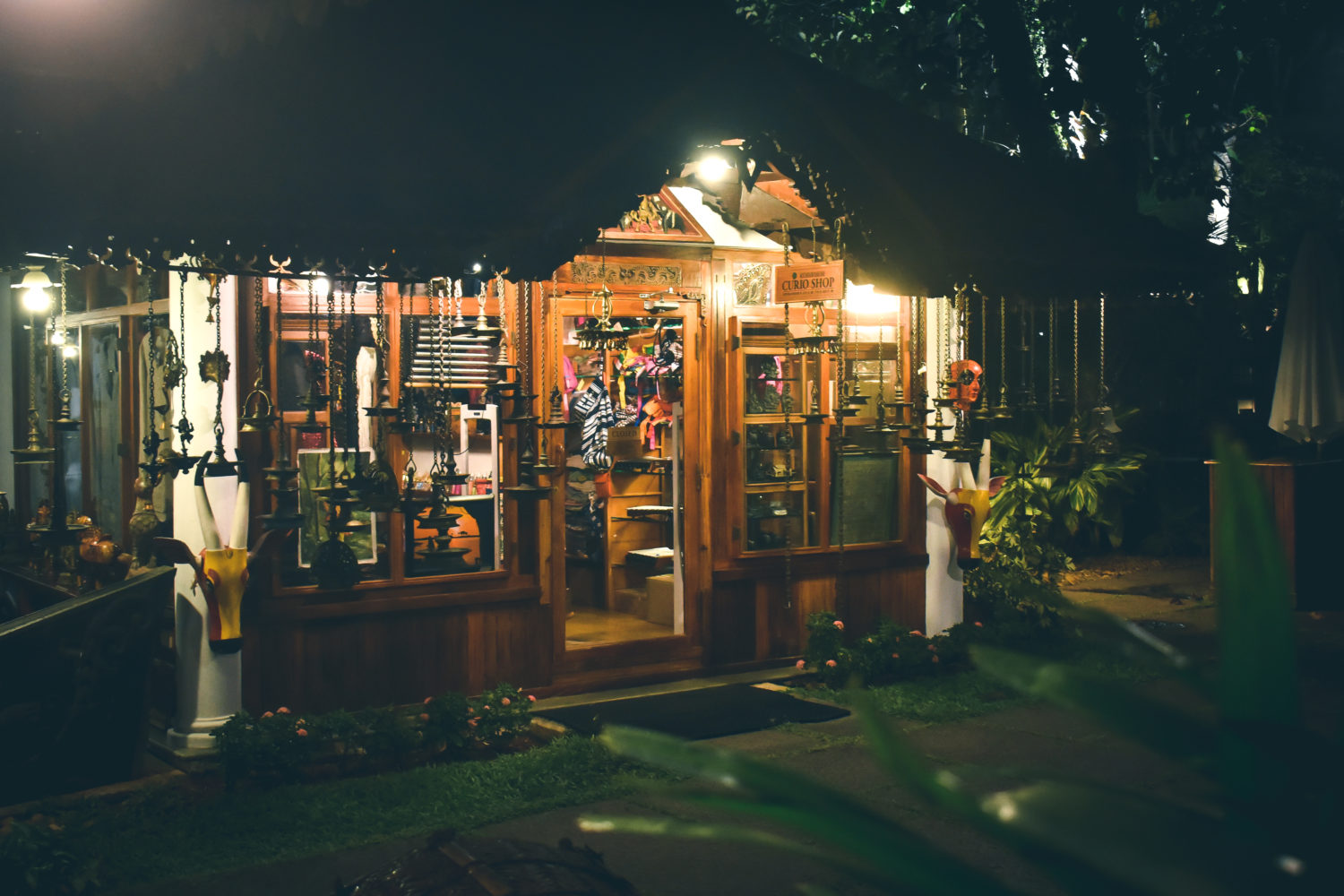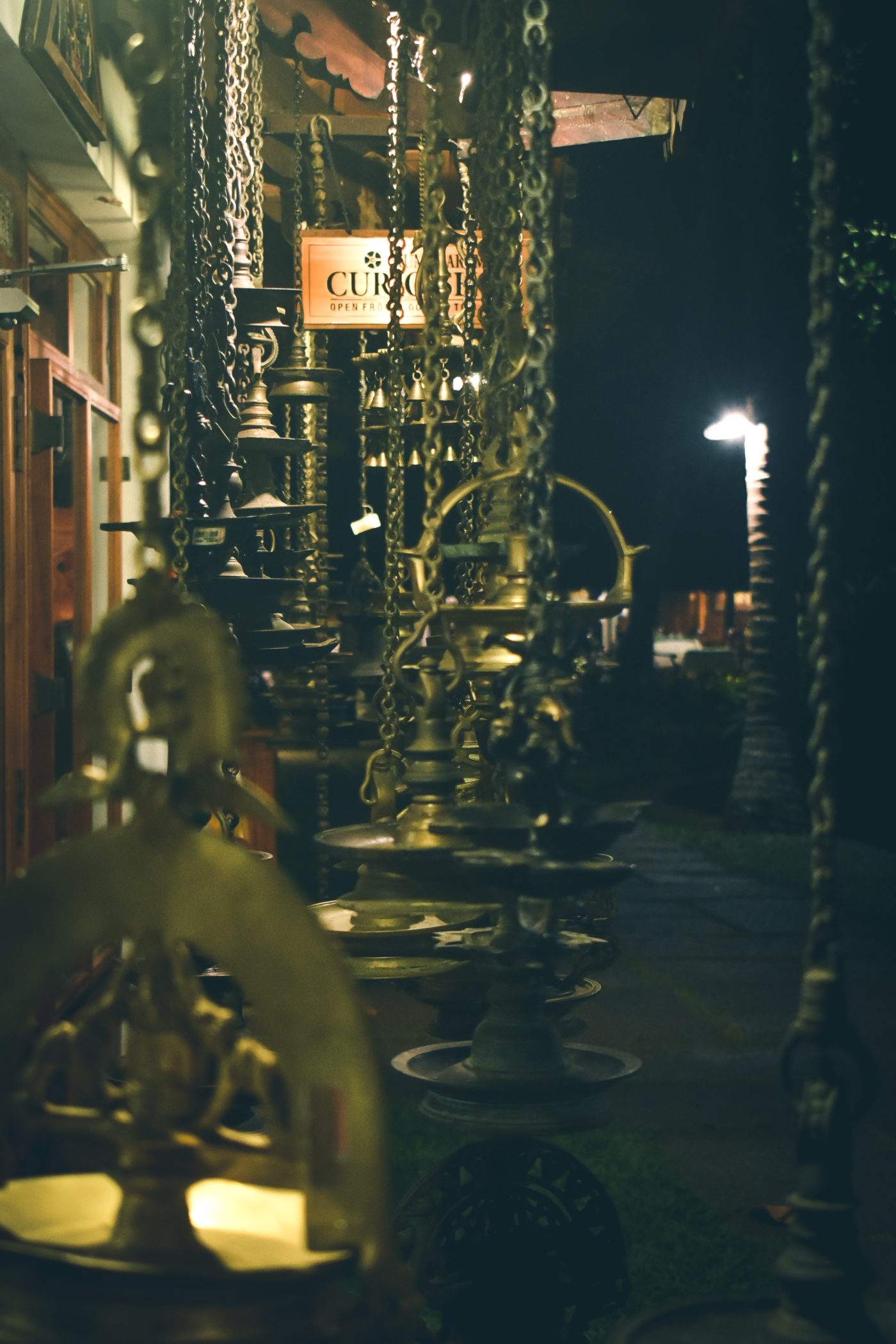 The next morning we woke up and went back to Ettukettu for breakfast. I made myself a sandwich and opted for a yummy cinnamon roll and a donut and he went for stuffed paratha, curry, uttapam, baked beans, sausages and a slice of cake. Breakfast has always been my favourite meal and the options available at Ettukettu made it even extra special.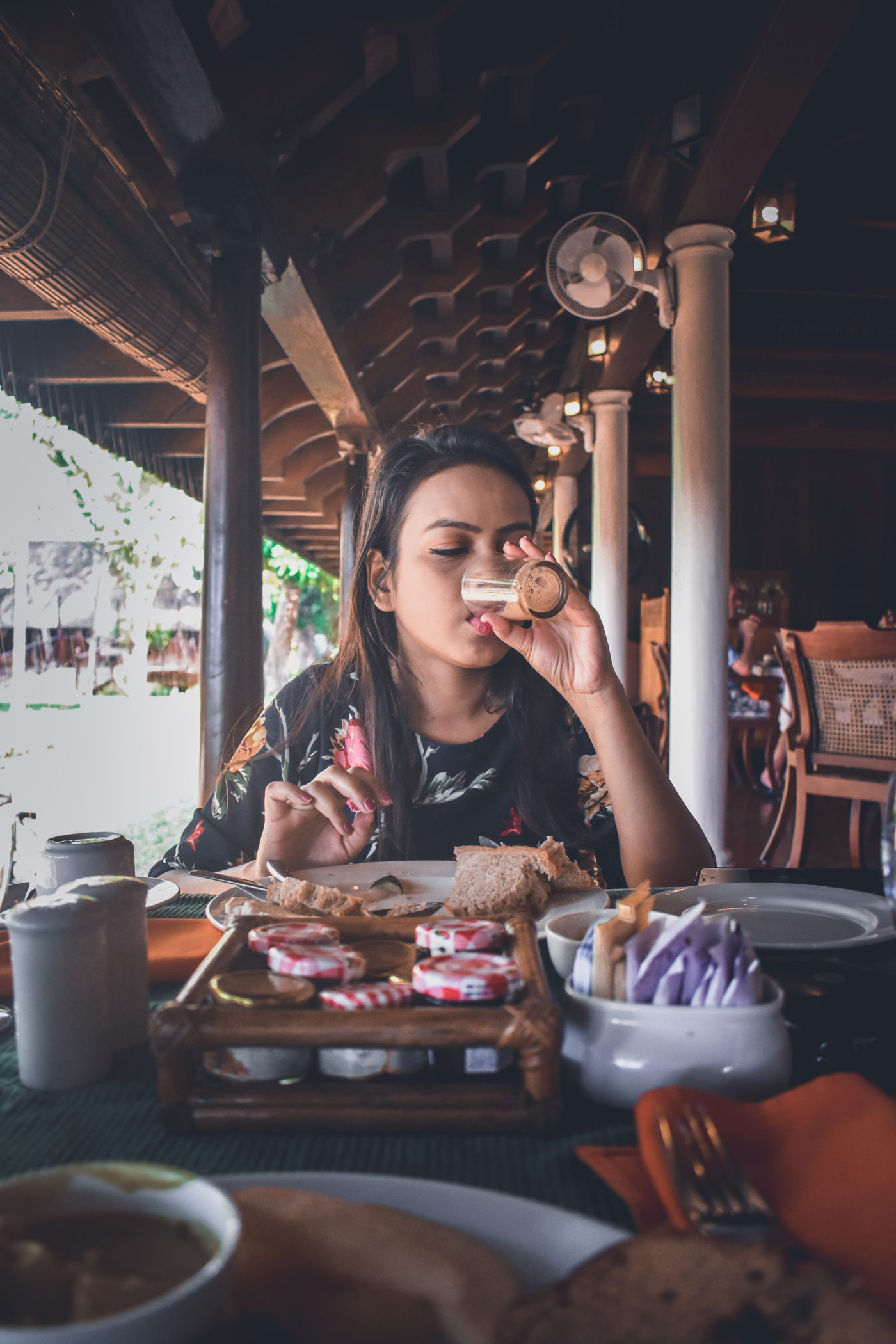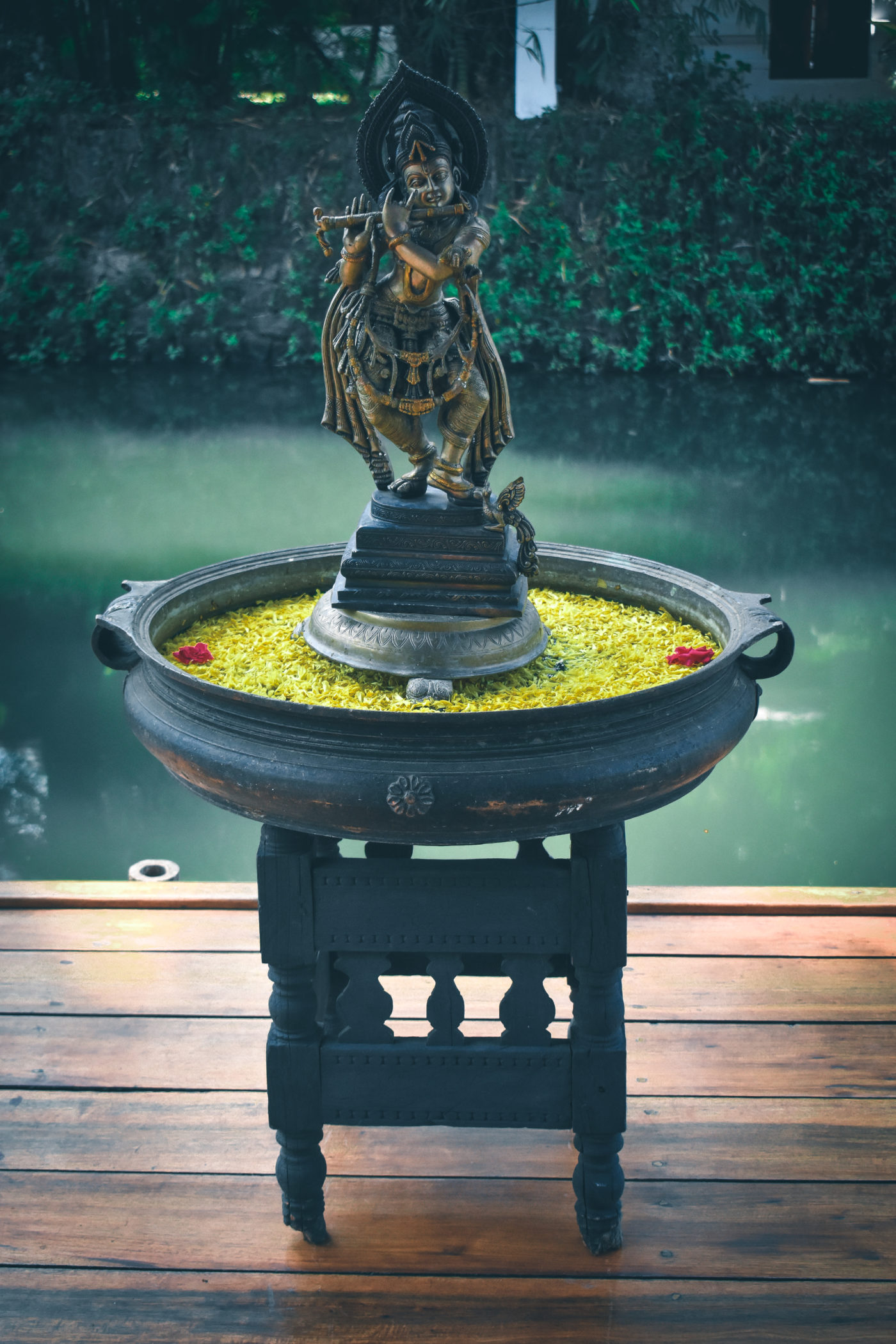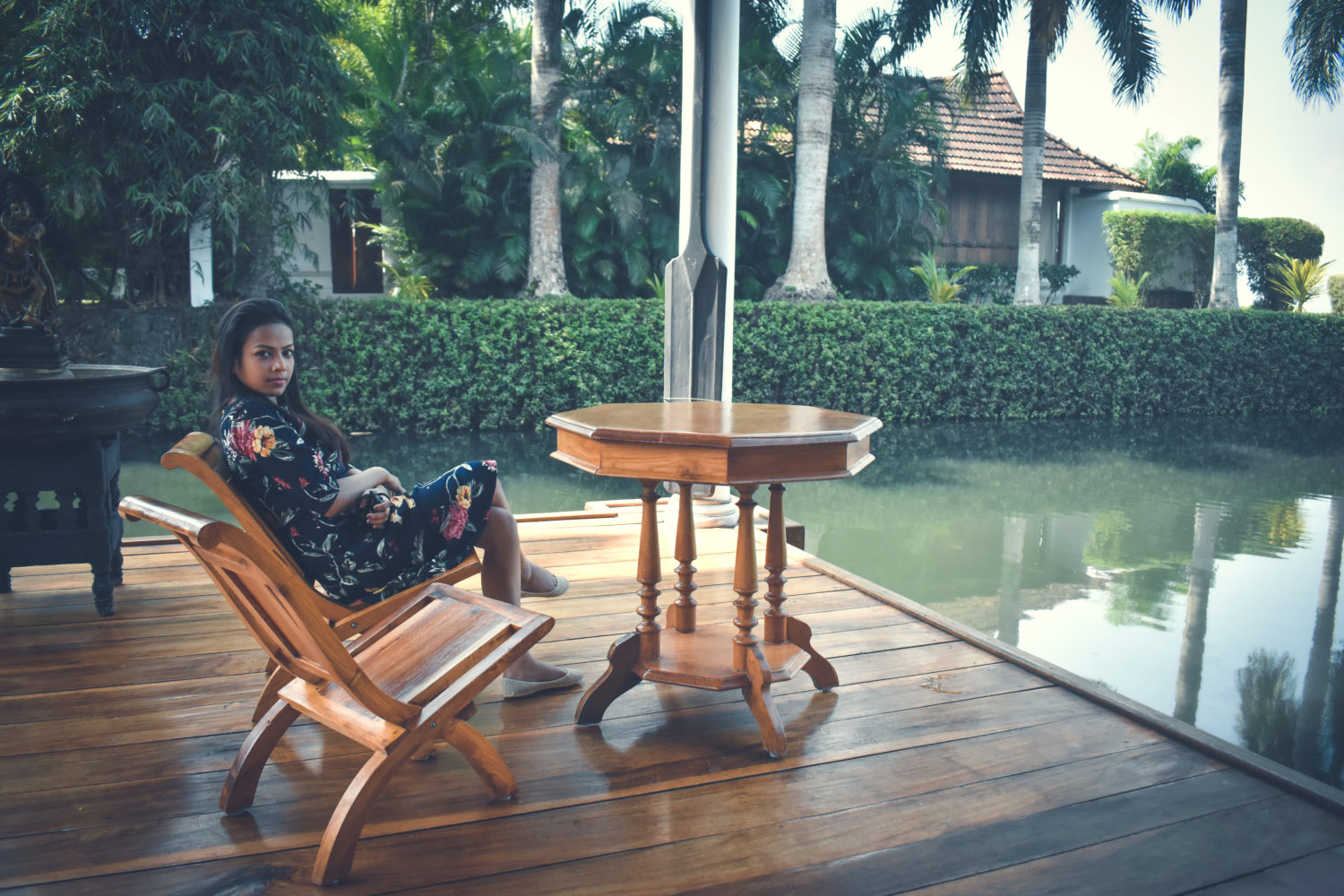 After a hearty breakfast, we went to stroll around the property and get some pictures clicked when we met Mr. Teji K. Jose, The Front Office Manager of the Resort who gave us a property tour of the resort. First we went to the activities centre where they had mat making and pottery classes and some indoor games. Next to the activity area was Ayurvedic Centre. They have a lady Ayurvedic Doctor and a male Ayurvedic doctor who you can consult with while there. They have guests staying for weeks to enjoy of their Ayurvedic package. The wellness building used to be the home of an ancient Auyrvedic physician which they had dismantled, brought to the property and re-constructed there. Needless to say, the whole area was a pure bliss. The spa is situated inside this calm, serene mansion and each room had an enclosed bathing room where guest can enjoy the spa and then take a shower.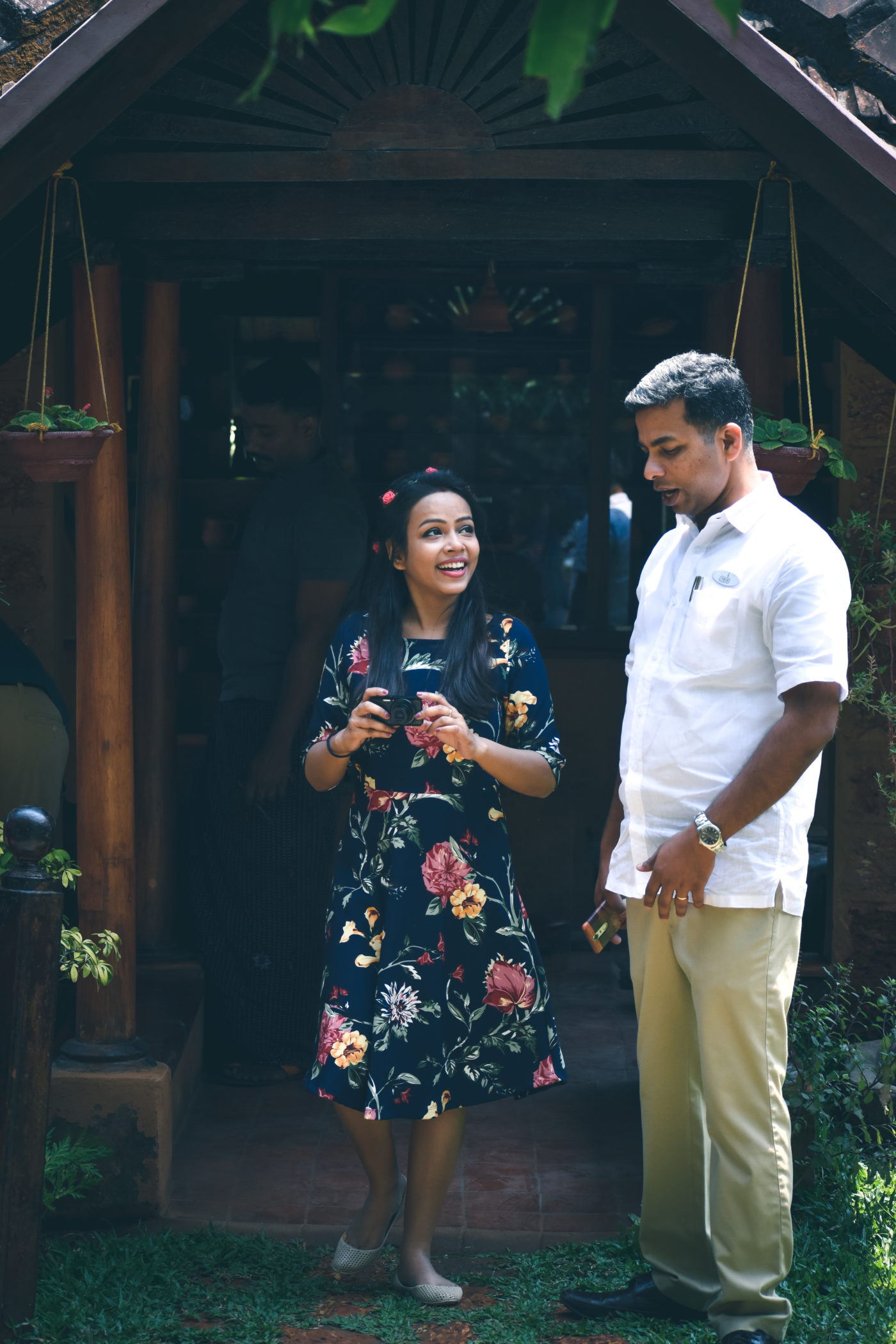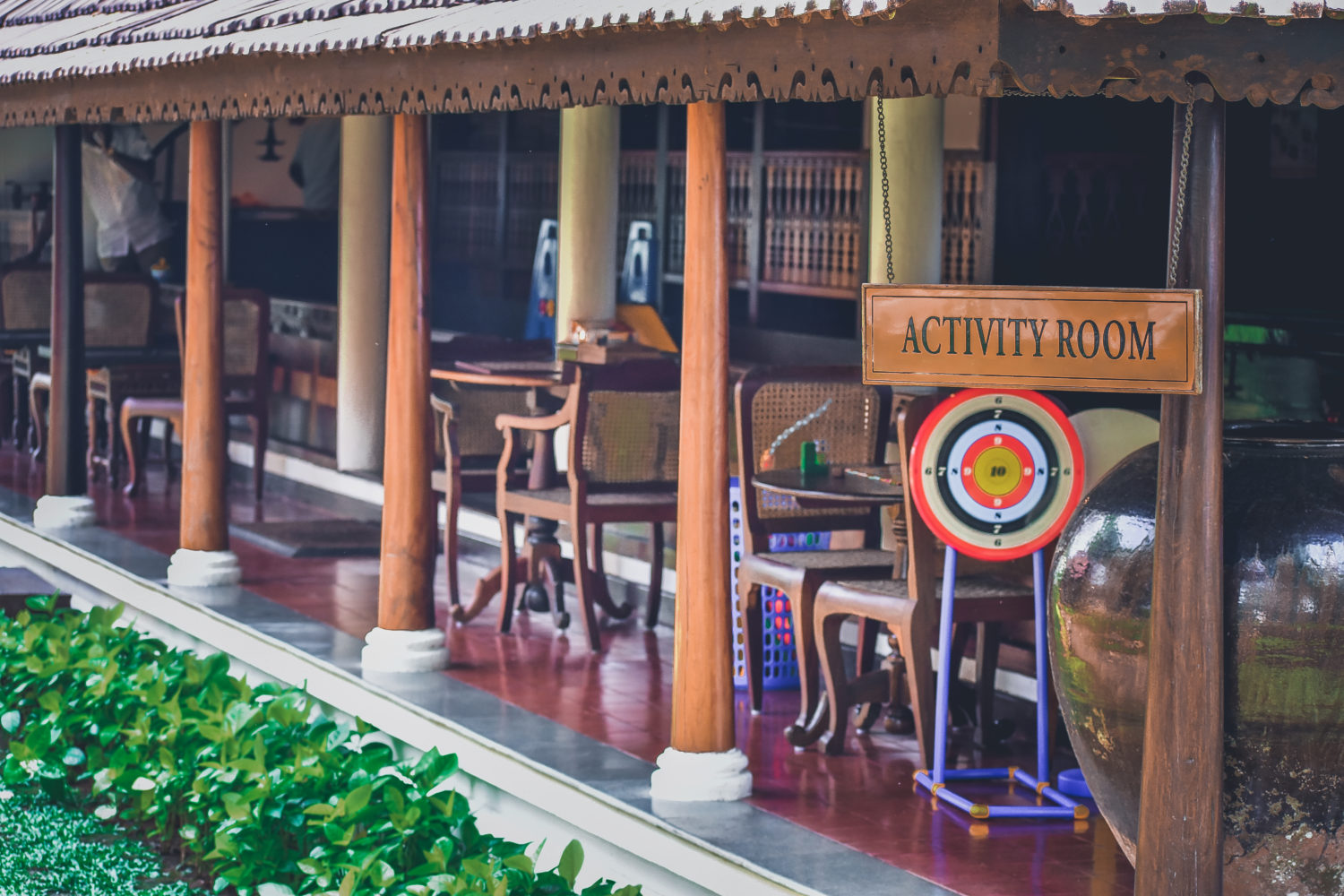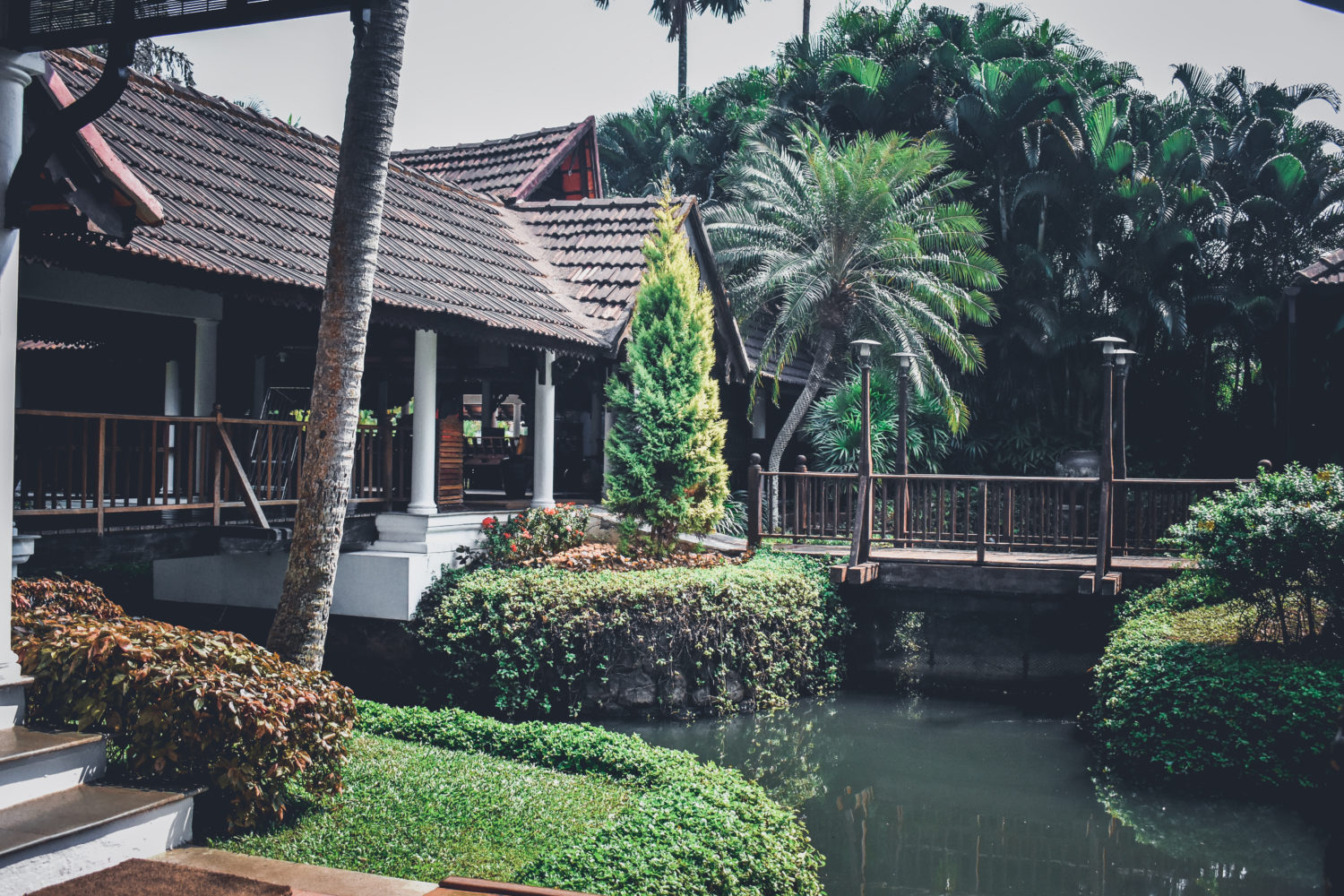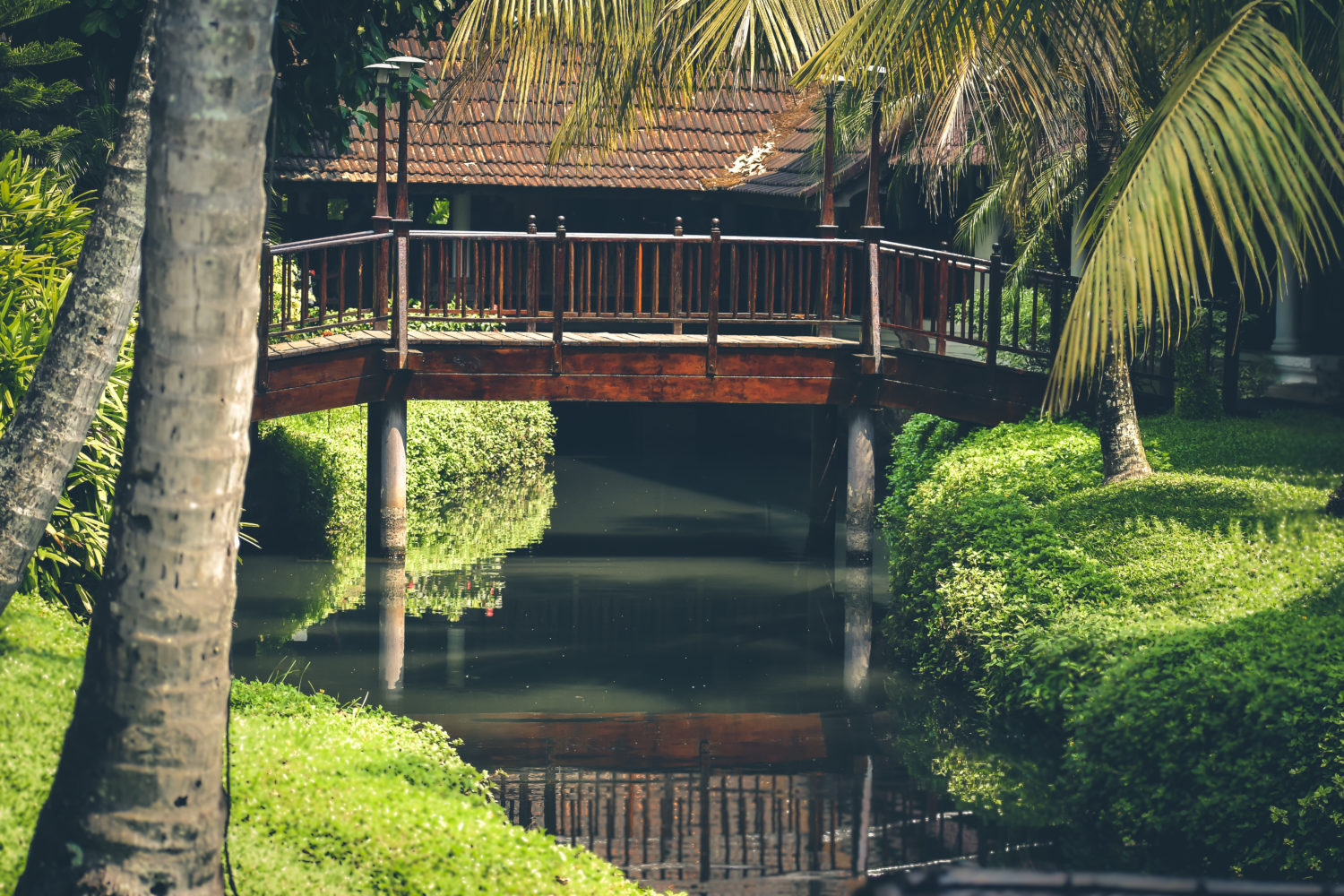 Next we went to take a tour of their spacious Luxury Pavilion Rooms which is their latest addition. Like any other suites of the resort, this one too used to be an ancient house of Kerala which was dismantled and brought here. The suite had a huge bathroom with a Jacuzzi and every corner over the room gave us the glimpse of the rich culture of Kerala.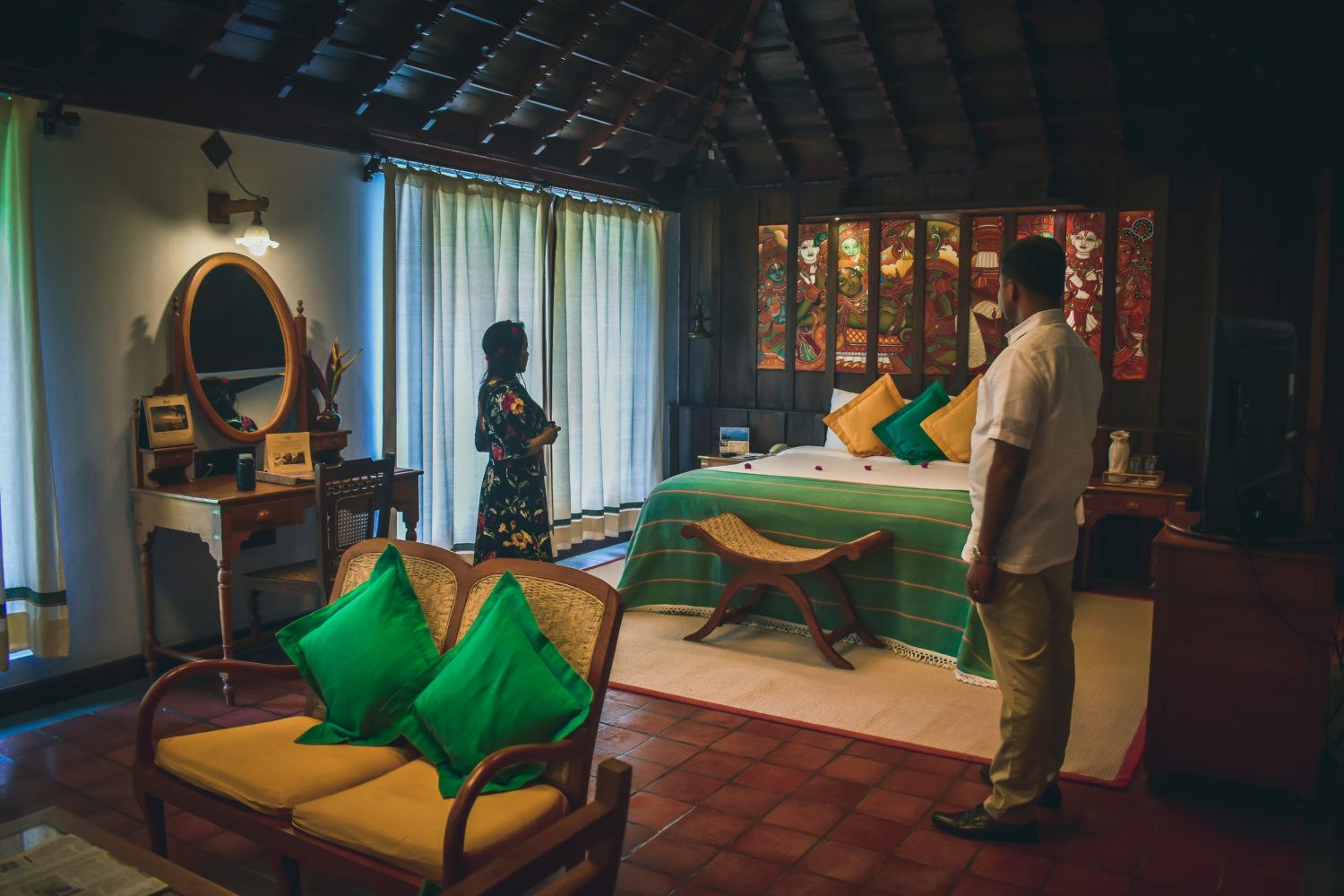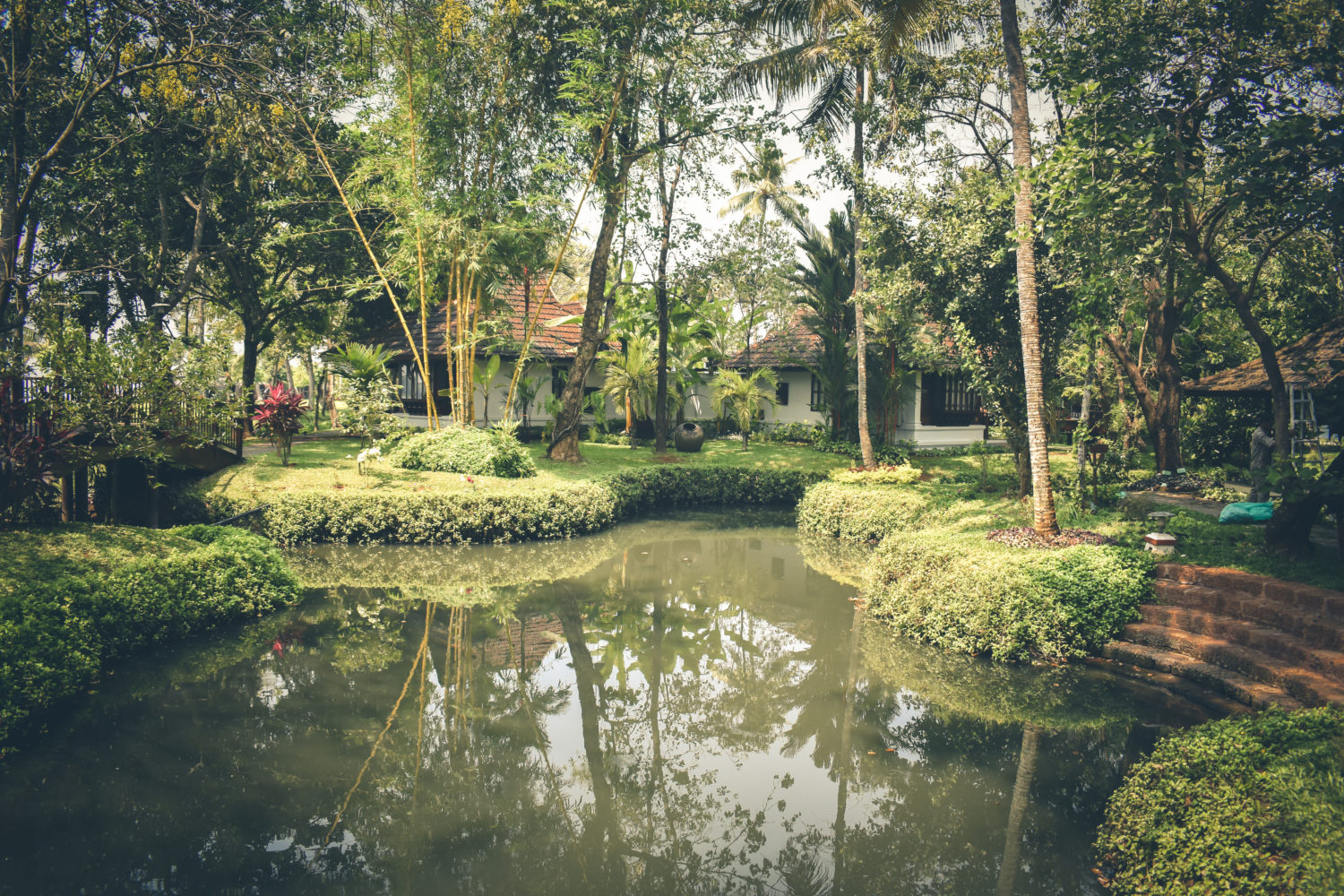 Next stop was Heritage Villas with Pool.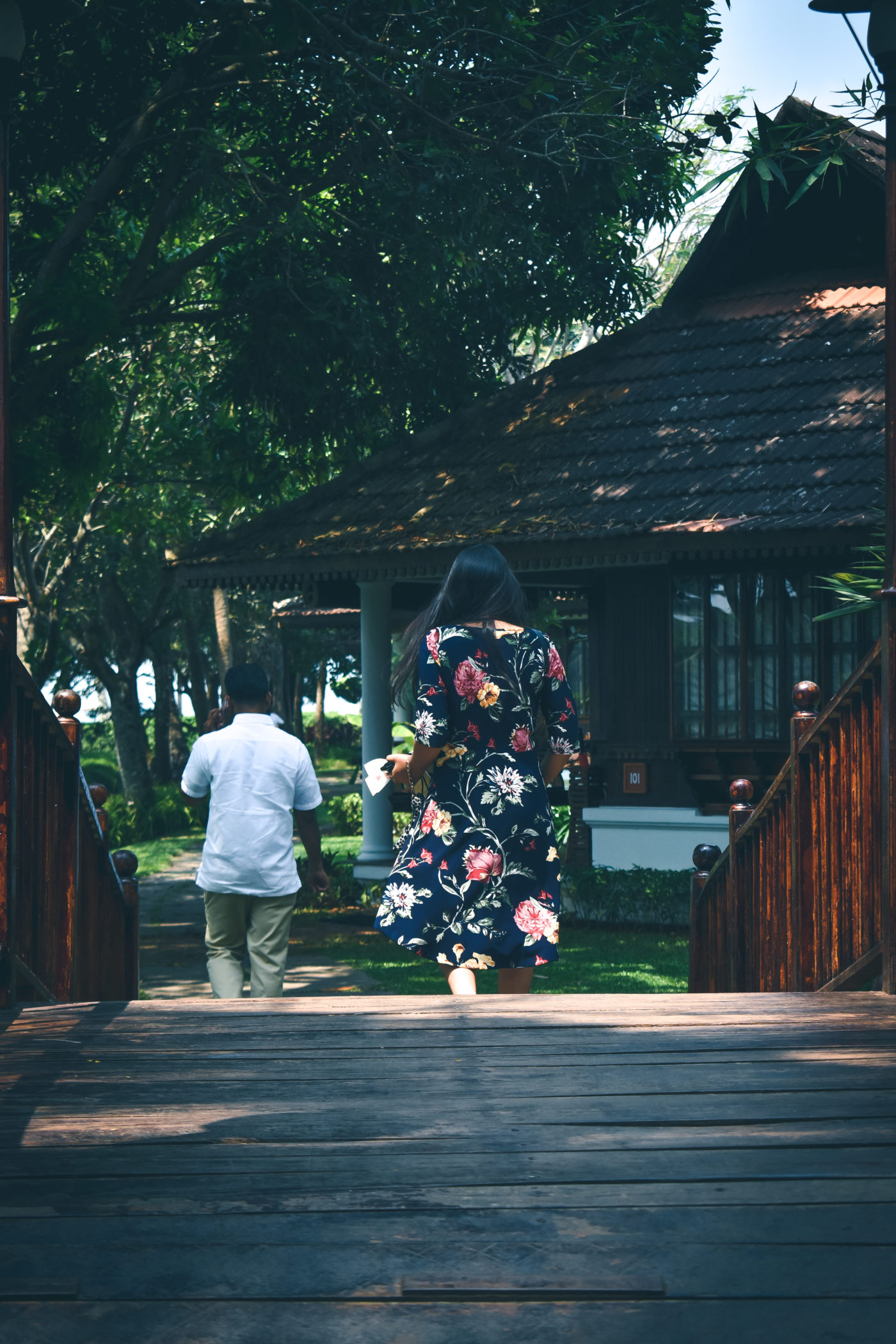 The one that we took a tour of was getting cleaned when we entered. The villas come not only with a private pool but with a Jacuzzi and a private courtyard as well. The villas are close to the infinity pool and you can get a panoramic view of Lake Vembanad from there. The private pool was the most tranquil area I've been in the resort, I don't think I would have come out of that pool very easily had we been staying in that villa, not that our meandering pool was any less alluring, but there was something serene about this pool area that attracted me very much.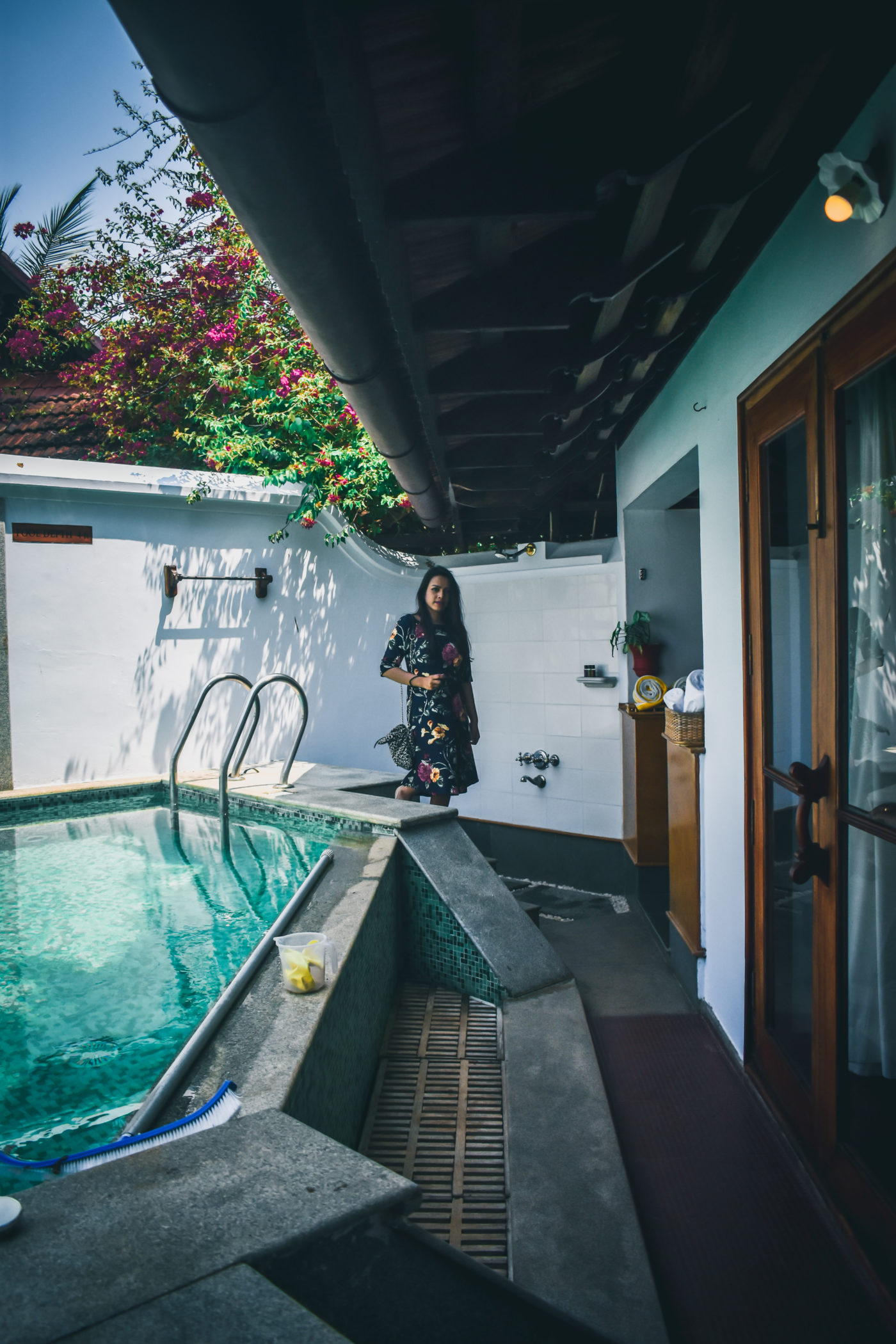 Small canals flow throughout the property and there are small wooden bridge that takes you from one part of the property to the other.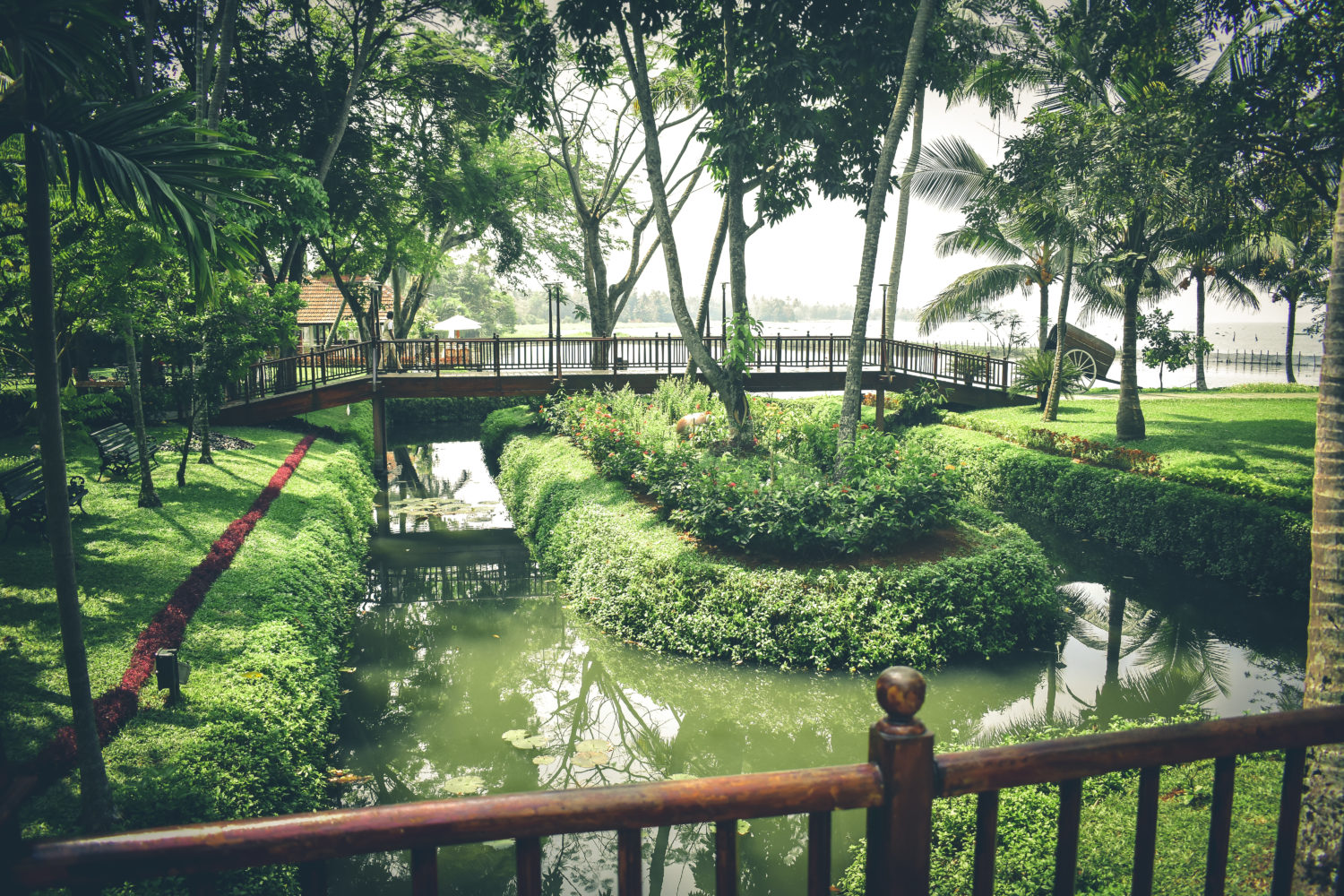 The infinity pool is right next to the Vembanad Lake so you can enjoy the view while swimming.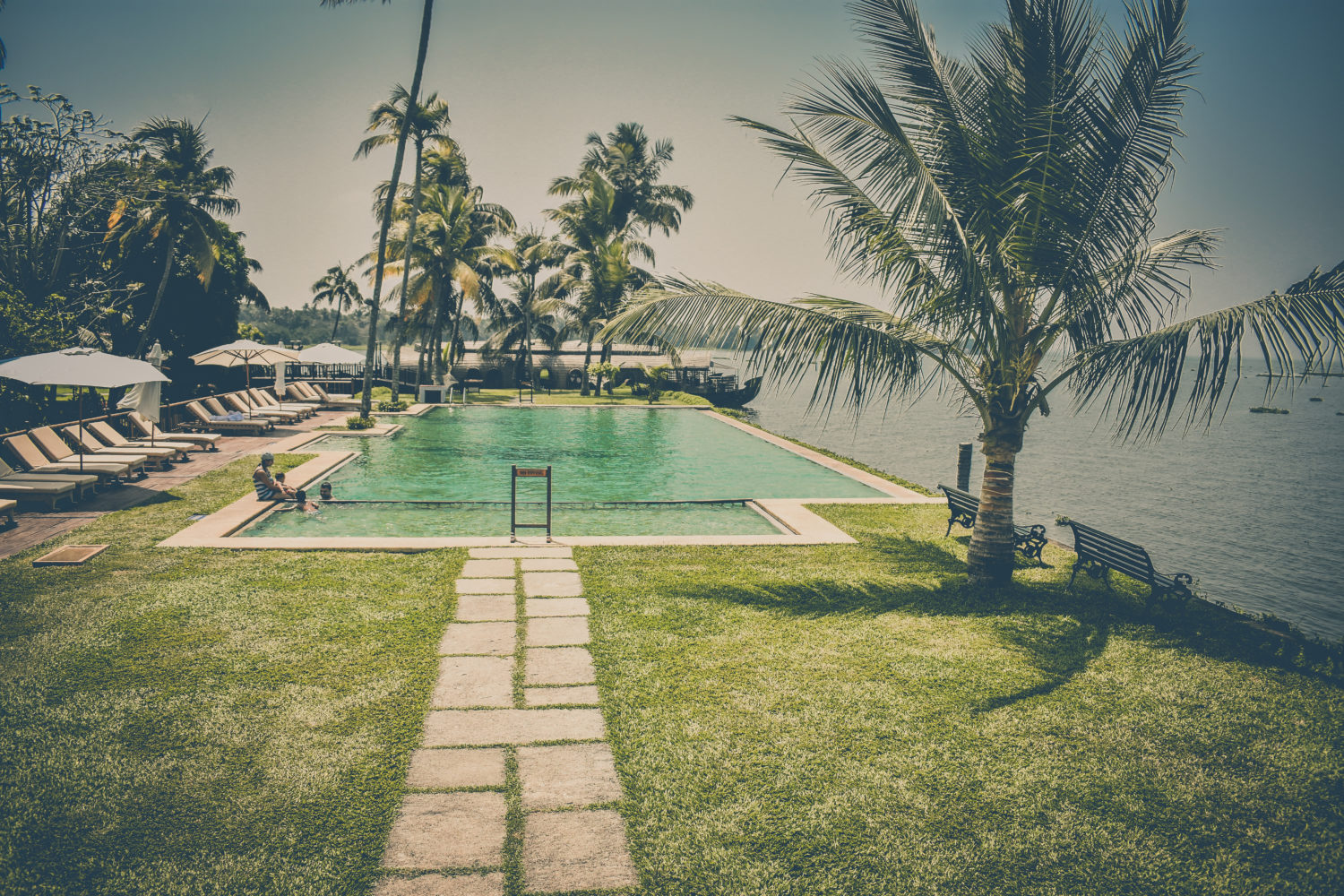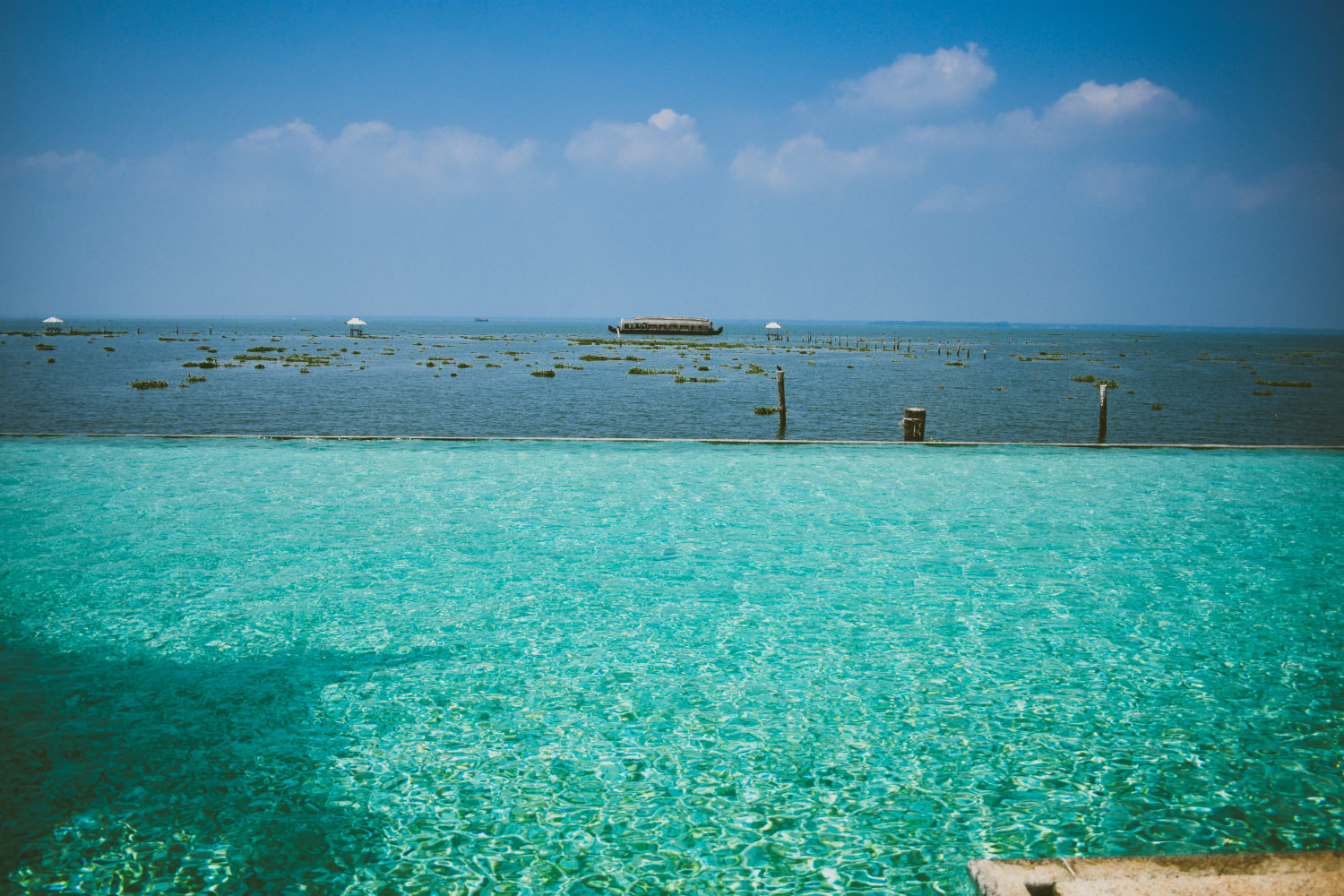 There's also a yoga centre where yoga classes are held and I really wish we stayed longer and attended a couple of classes. At the lake they had 4 houseboats, 3 double bedroom and 1 single bedroom. The houseboat we took a tour of was getting prepared for the guests so it was a quick tour. The front area of the houseboat had a majestic open air setup from where you can sit and enjoy the lake view. Behind the sitting area is the dining space, so yes, you can as well enjoy the view while having your meal. This houseboat was a lot different than the one we saw at Alleppey, especially the sitting area. The rooms were quite similar to the one we were staying at our villa.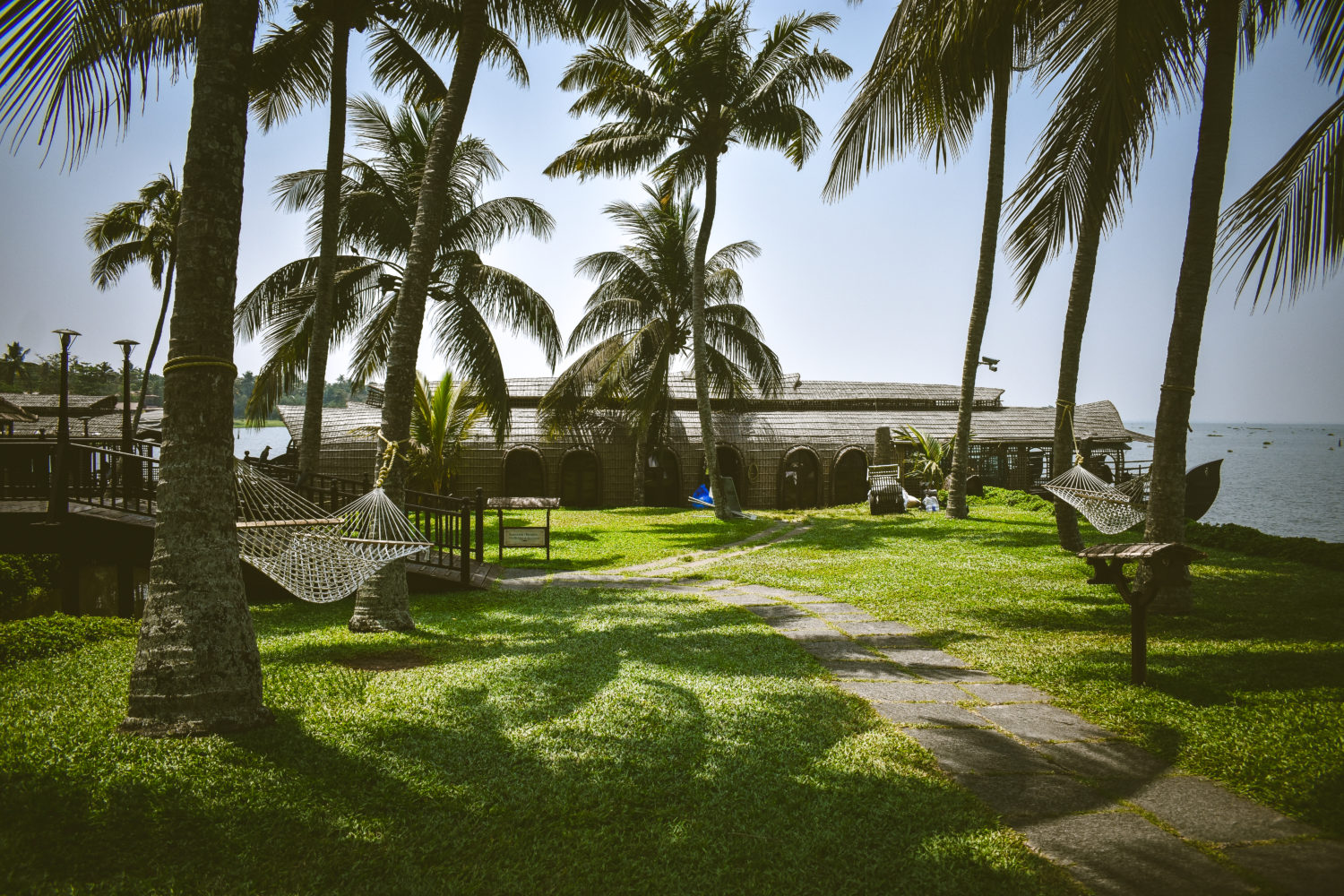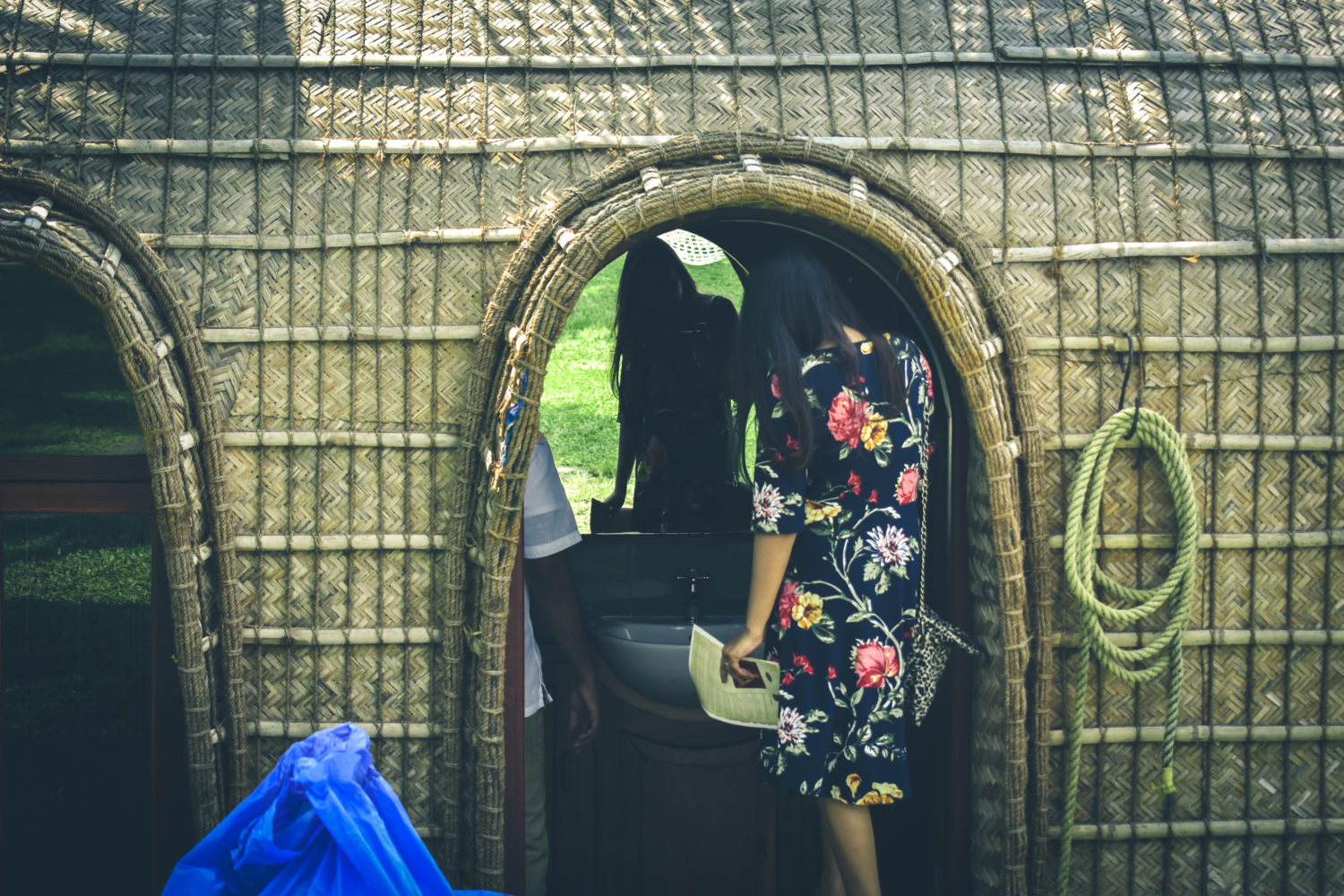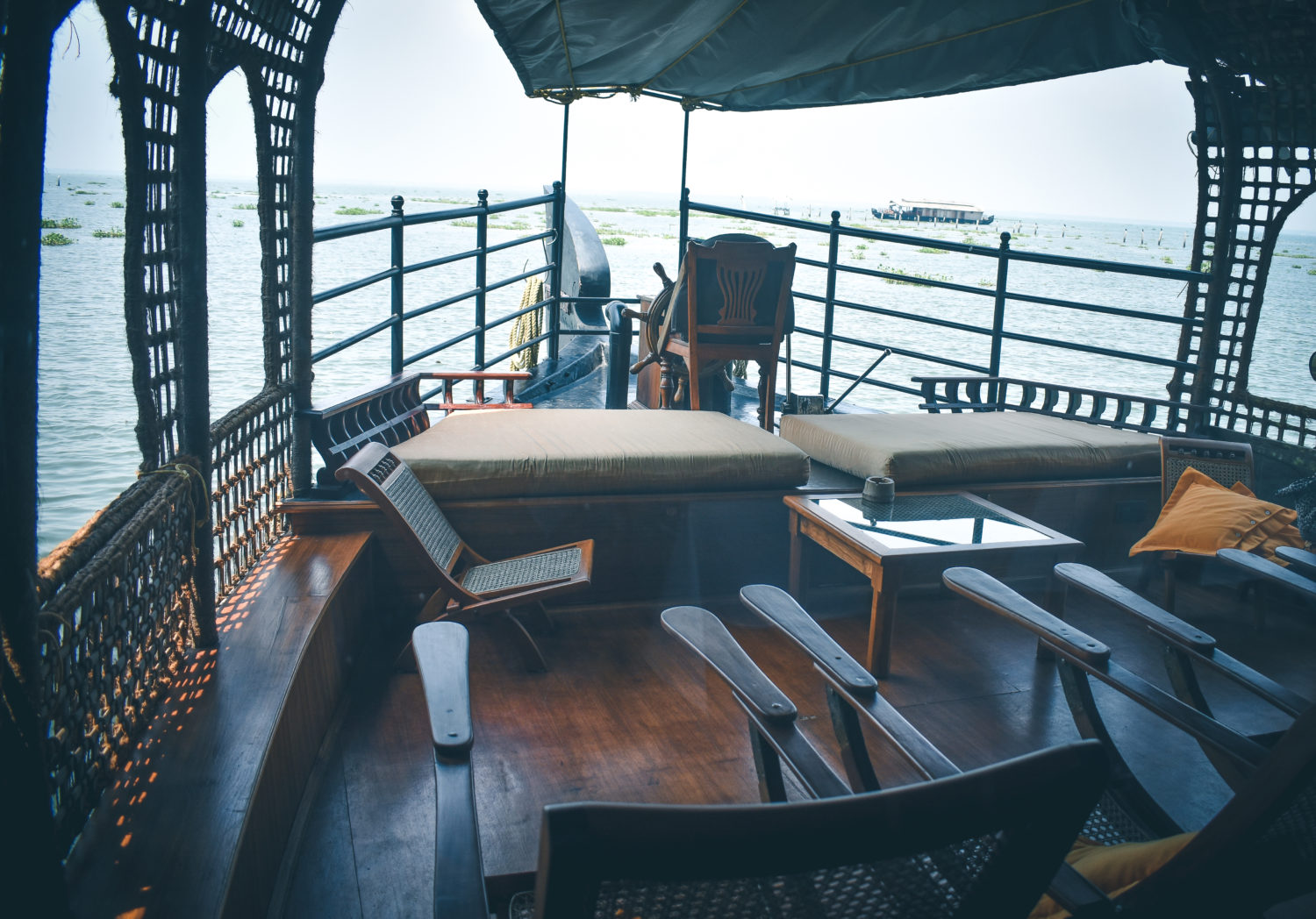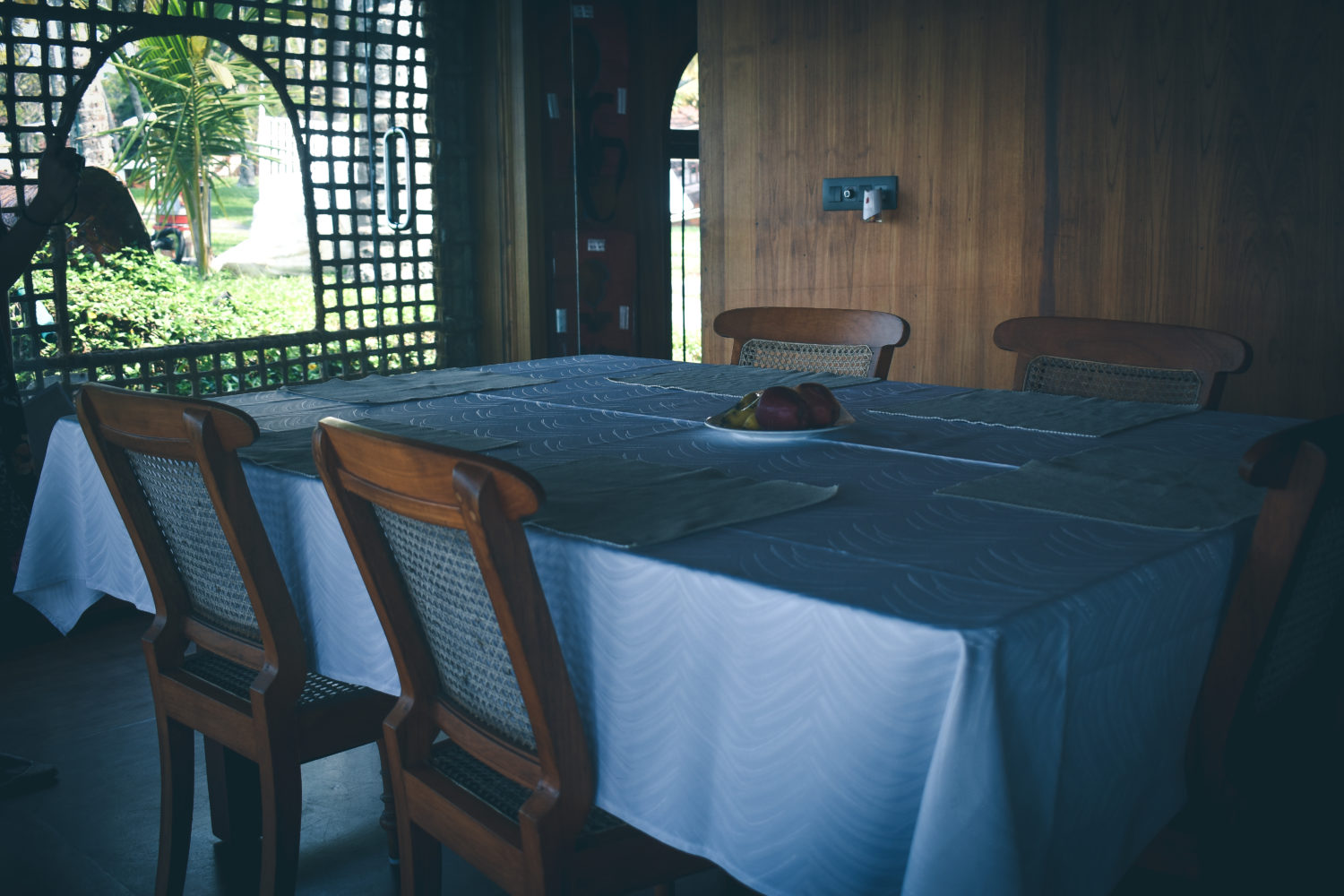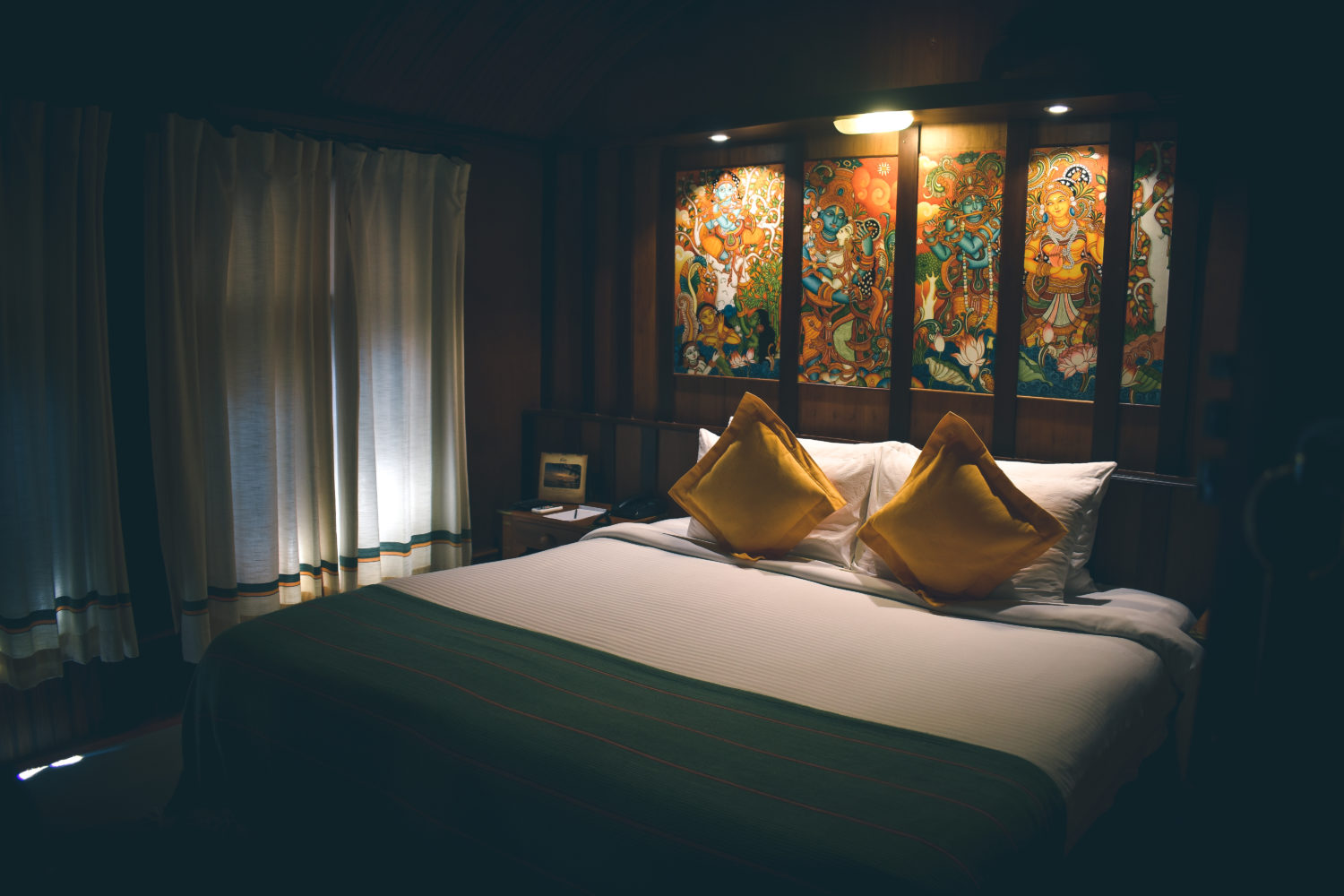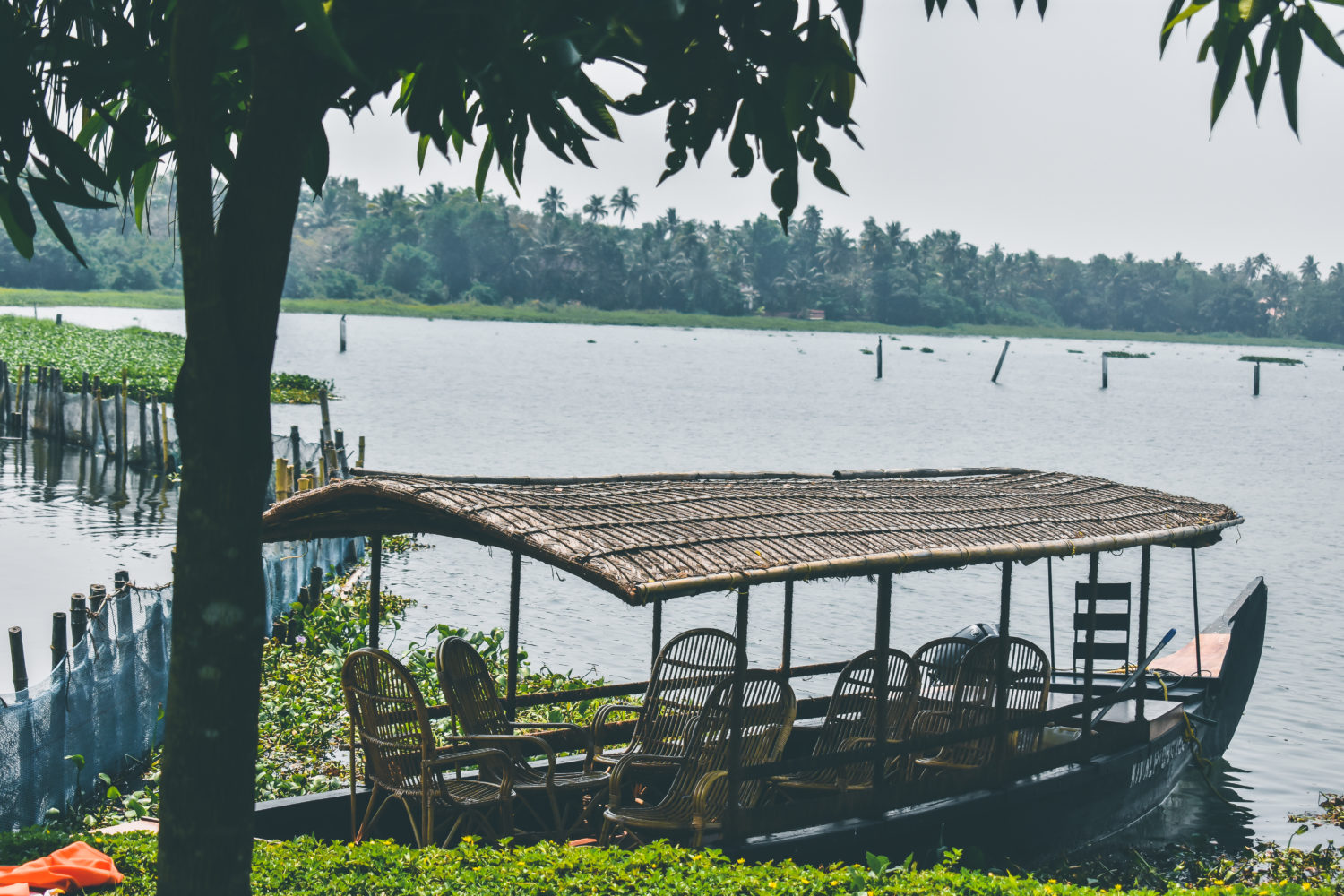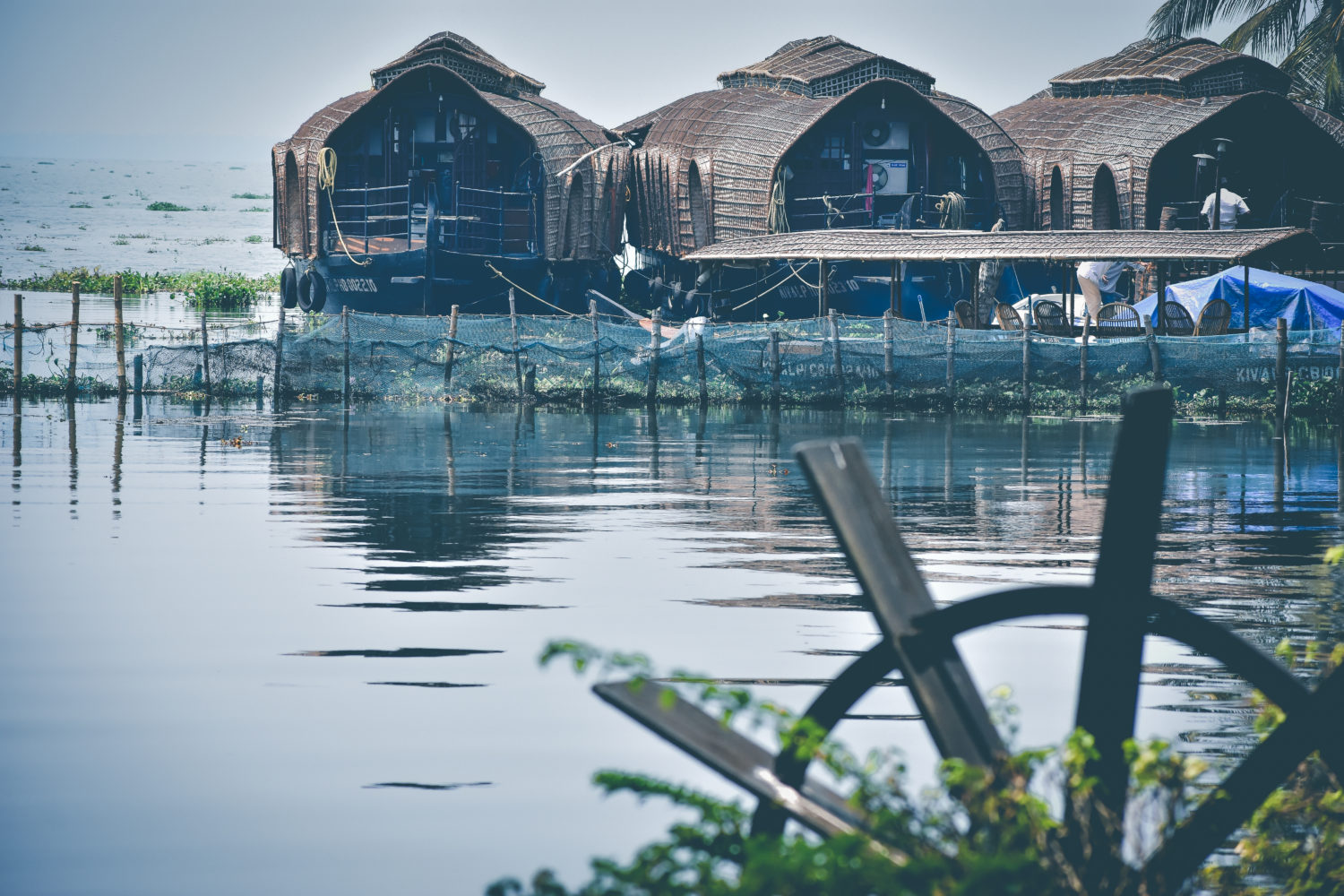 We where then introduced to Kavi, the extremely talented photographer who clicked some amazing pictures of us and asked us to come to Thattukada, before the sunset cruise for a photo session.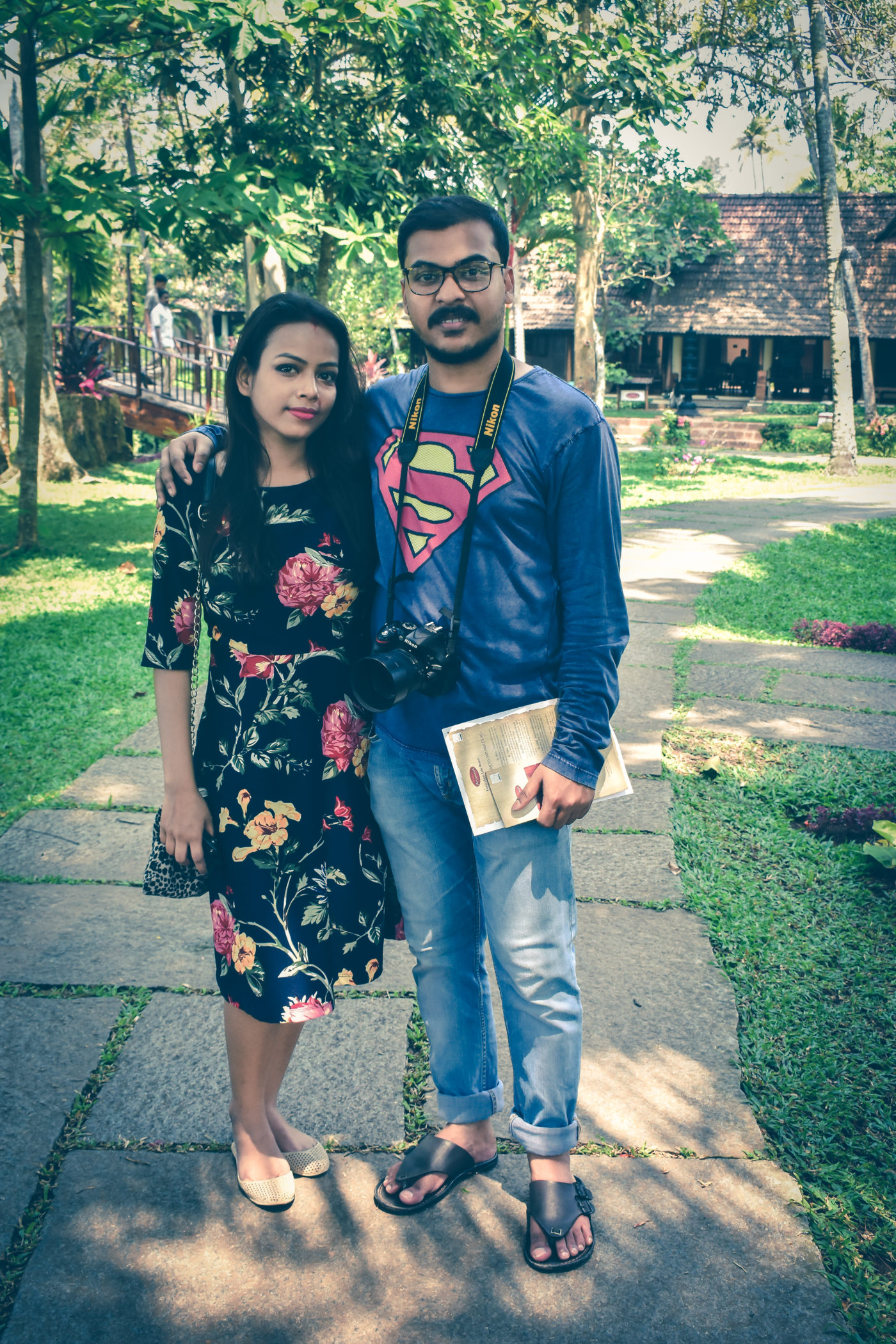 We went back to the activity centre and I took both the pottery class and the mat making class. At the pottery class I chose to make a vase, thinking it would be an amazing gift for my mum, but I was asked to collect it next morning since it needed to be baked and we completely forgot about it. At the mat class I chose to make a coaster and currently it holds my cup of matcha tea that I keep sipping on while writing my articles.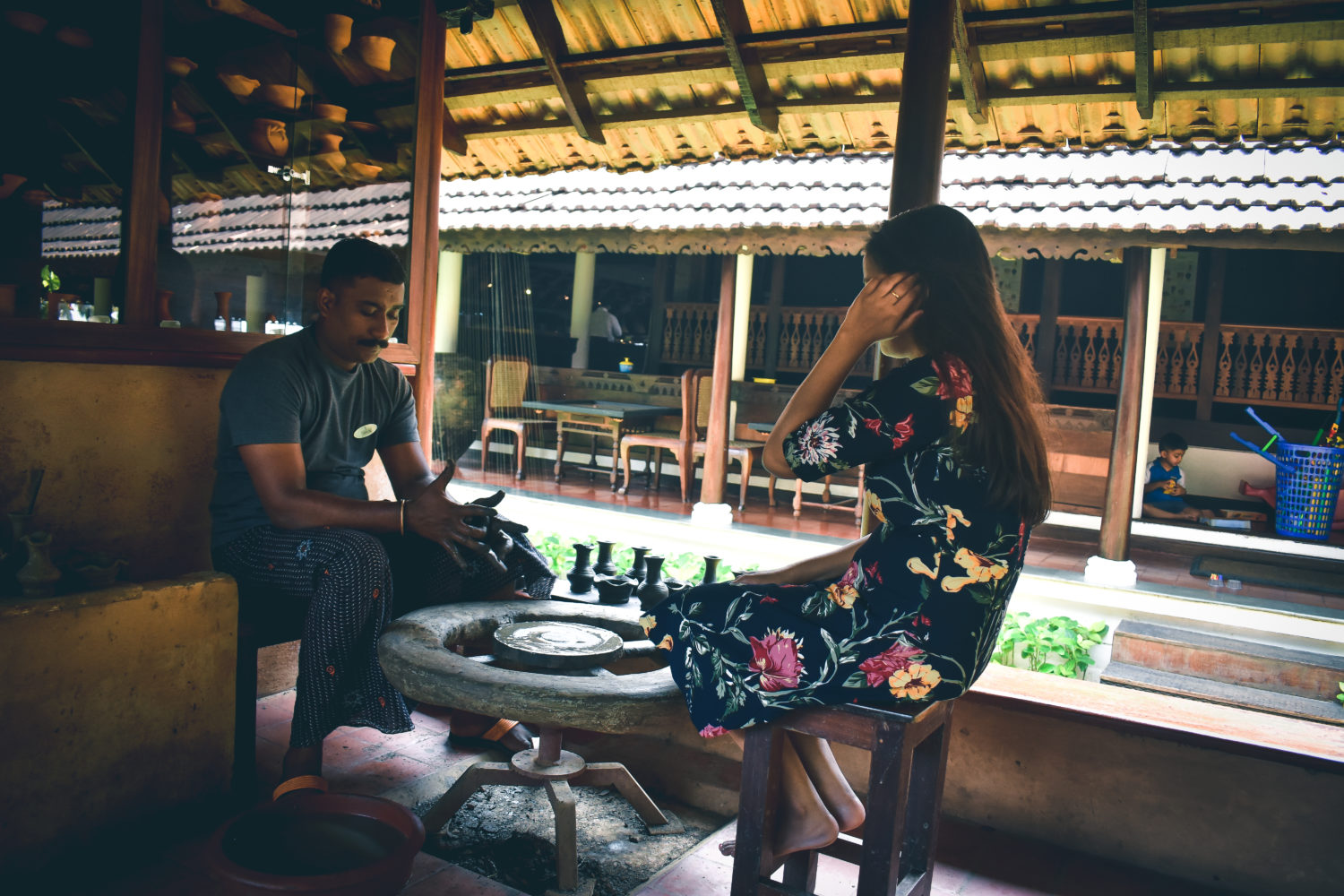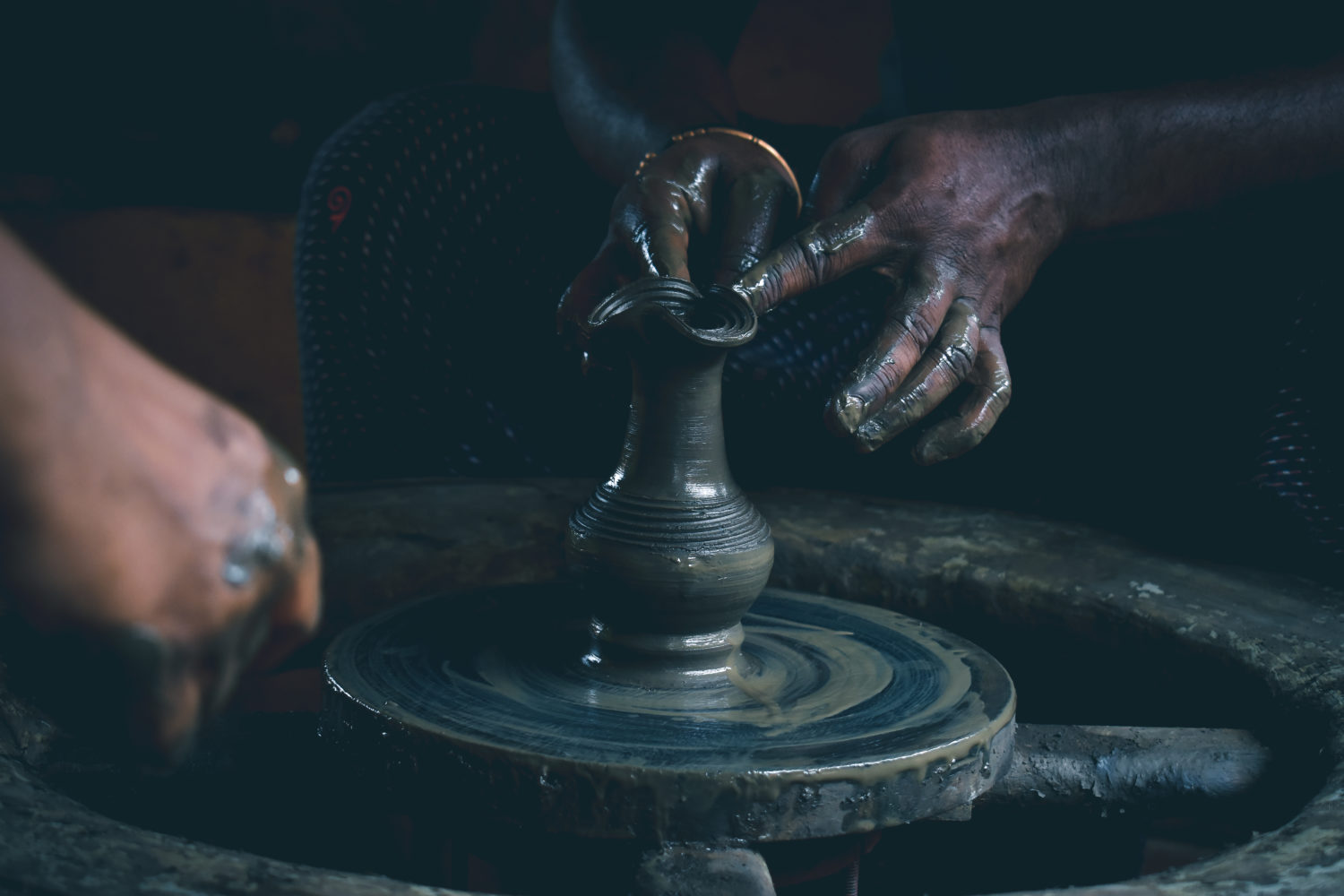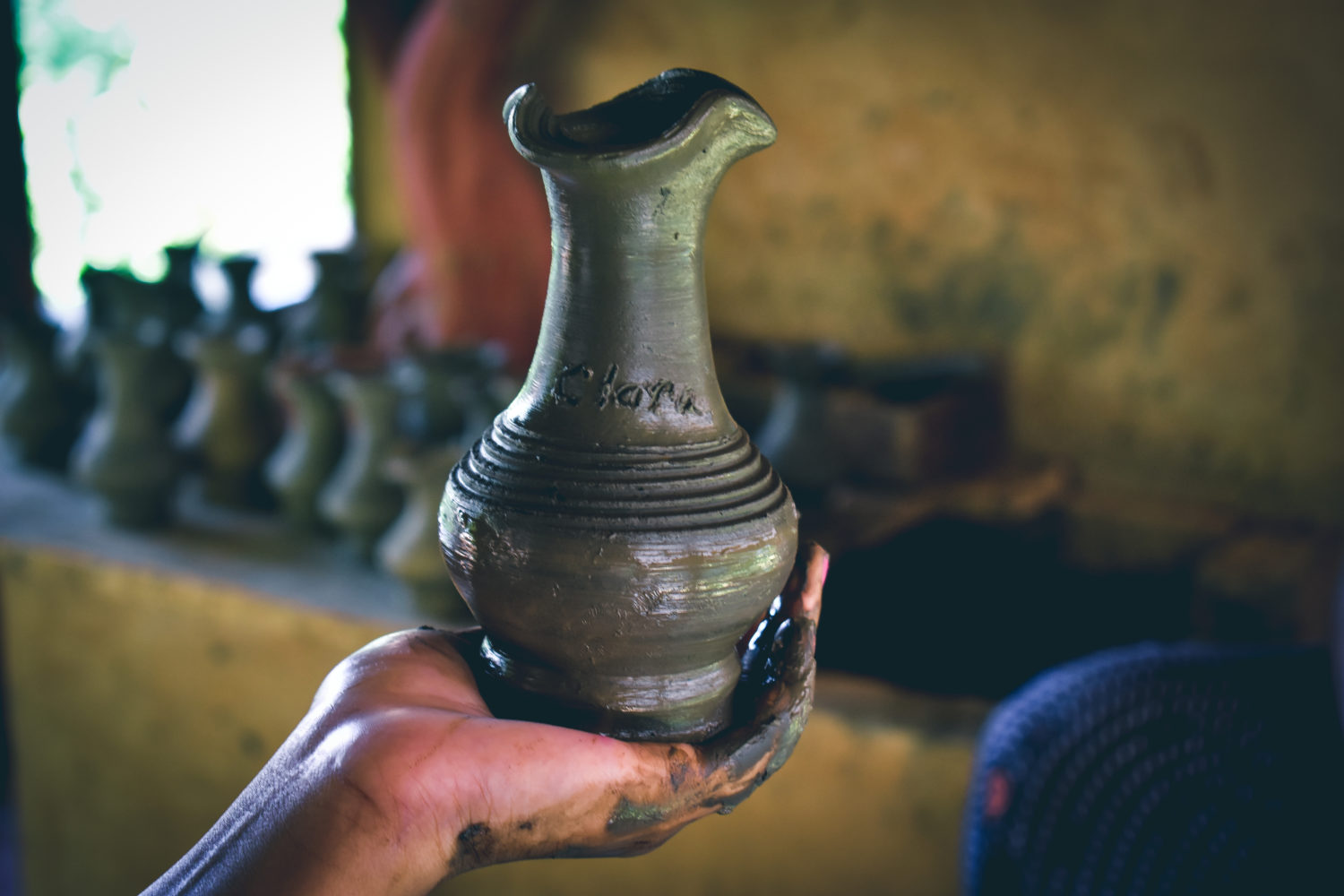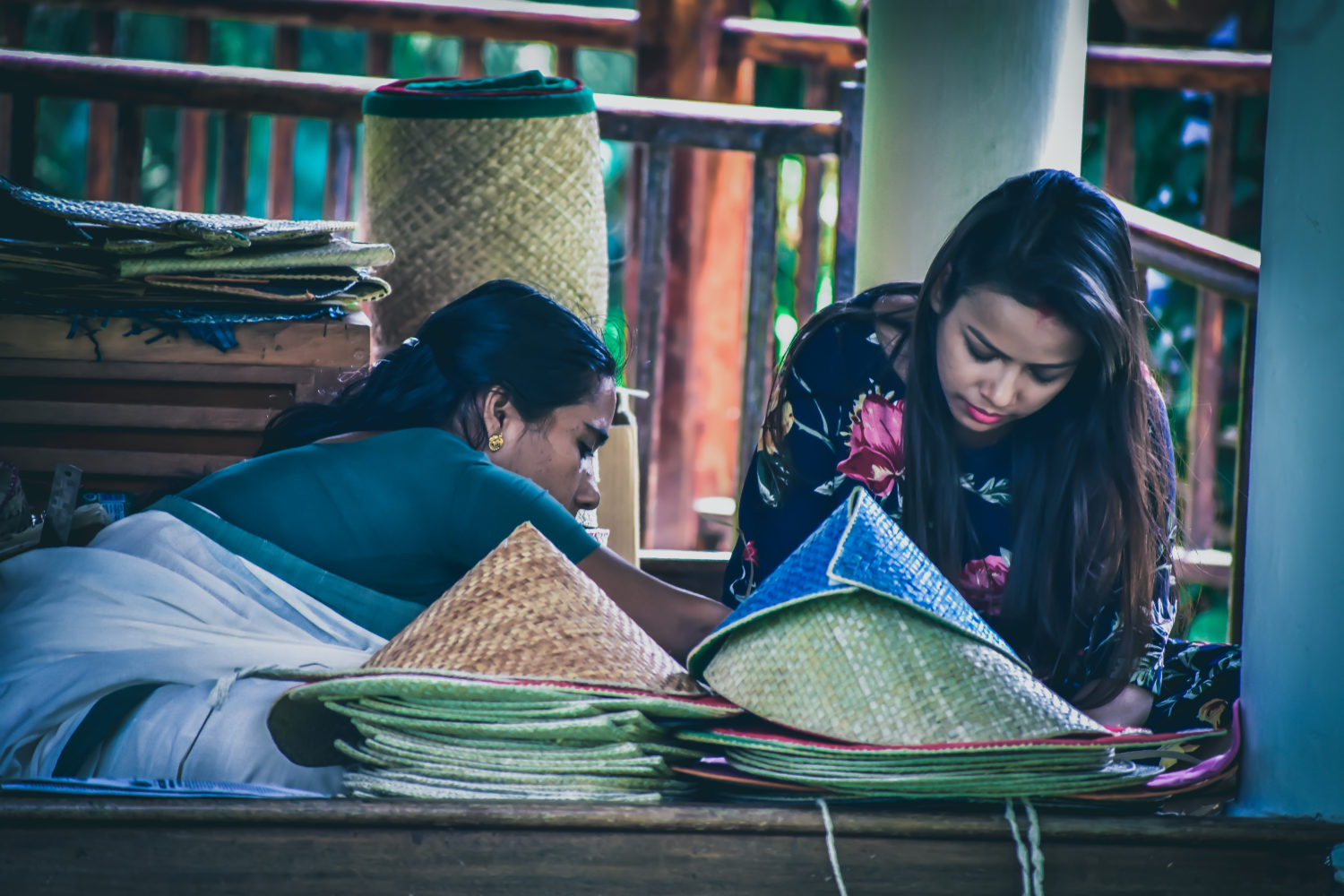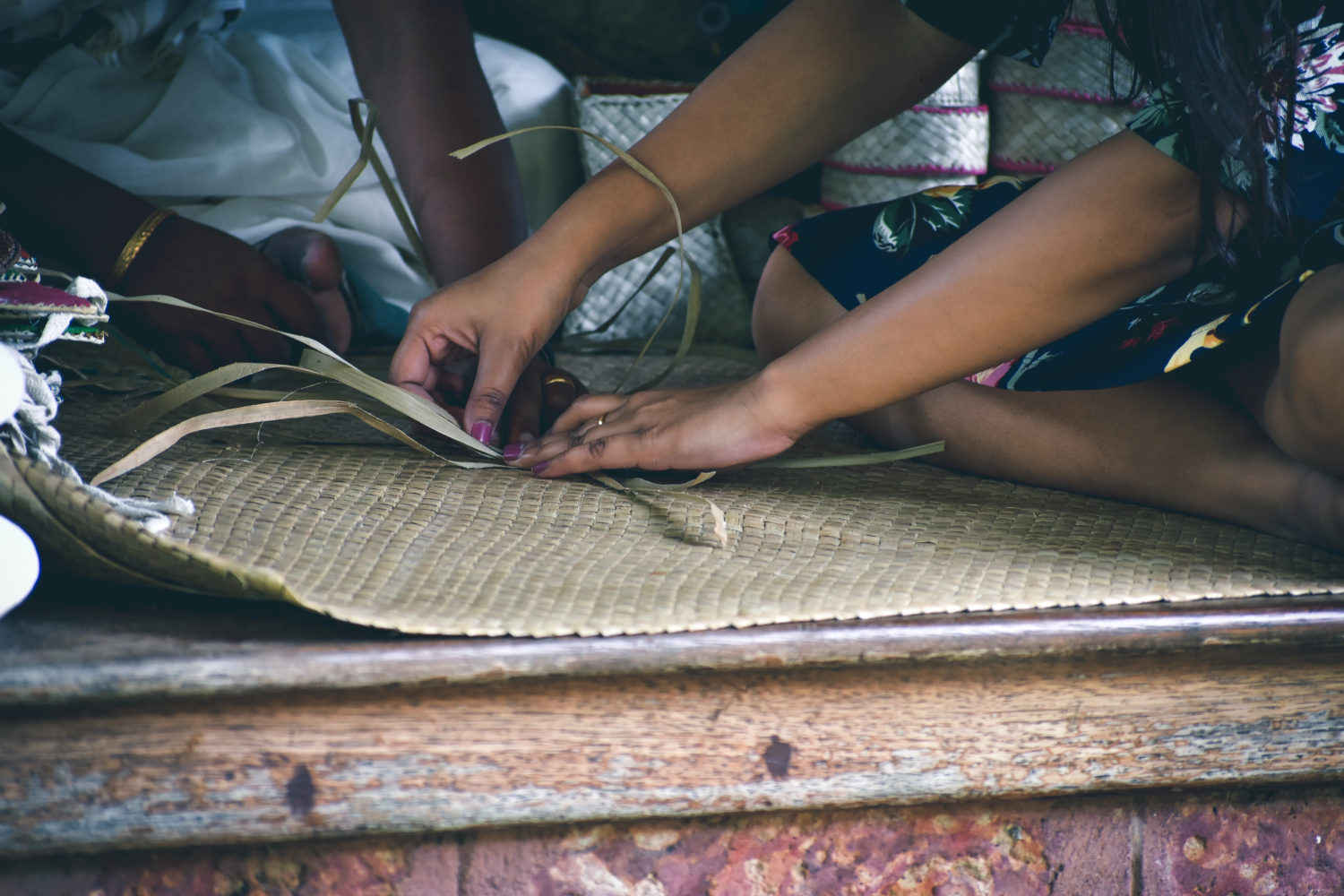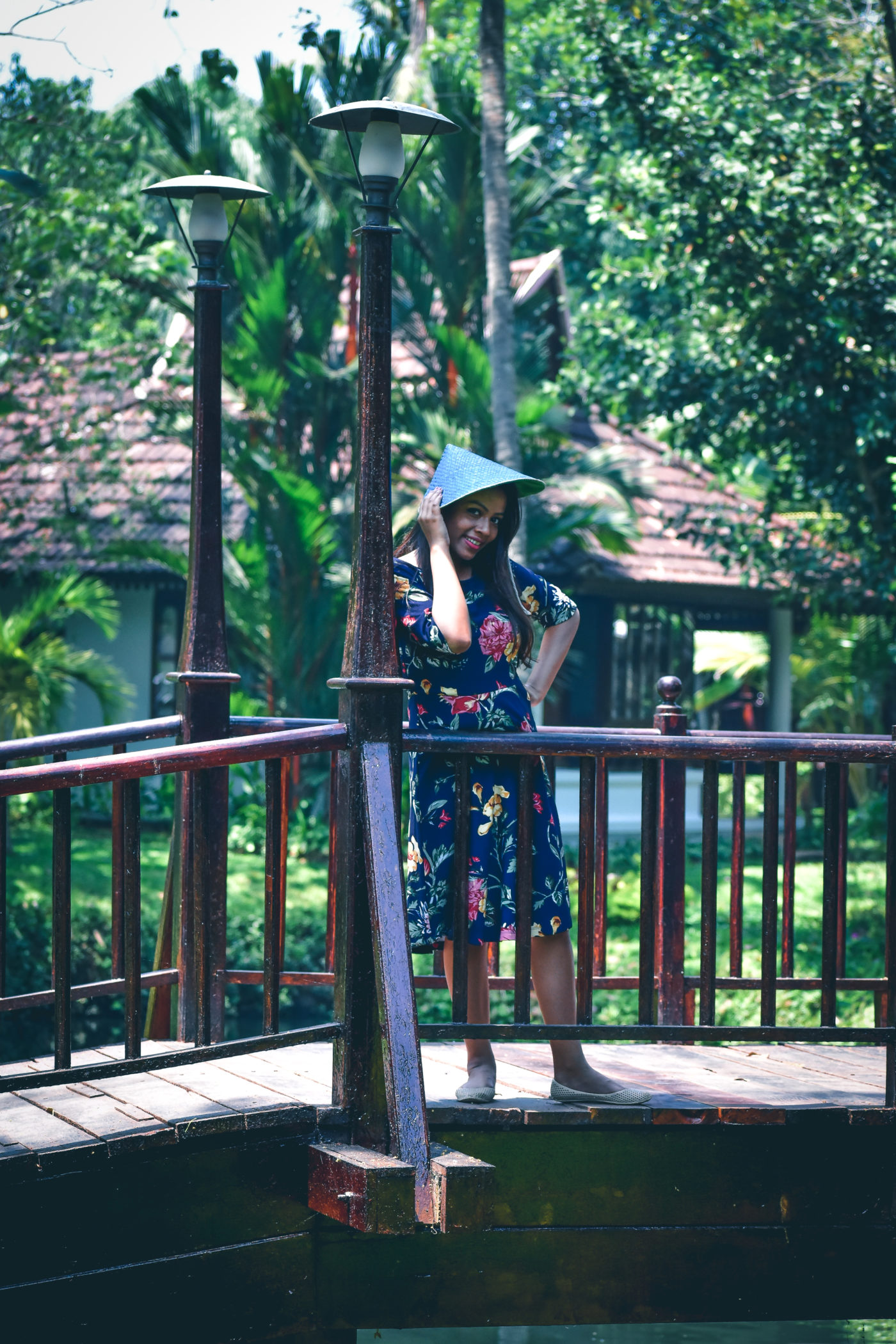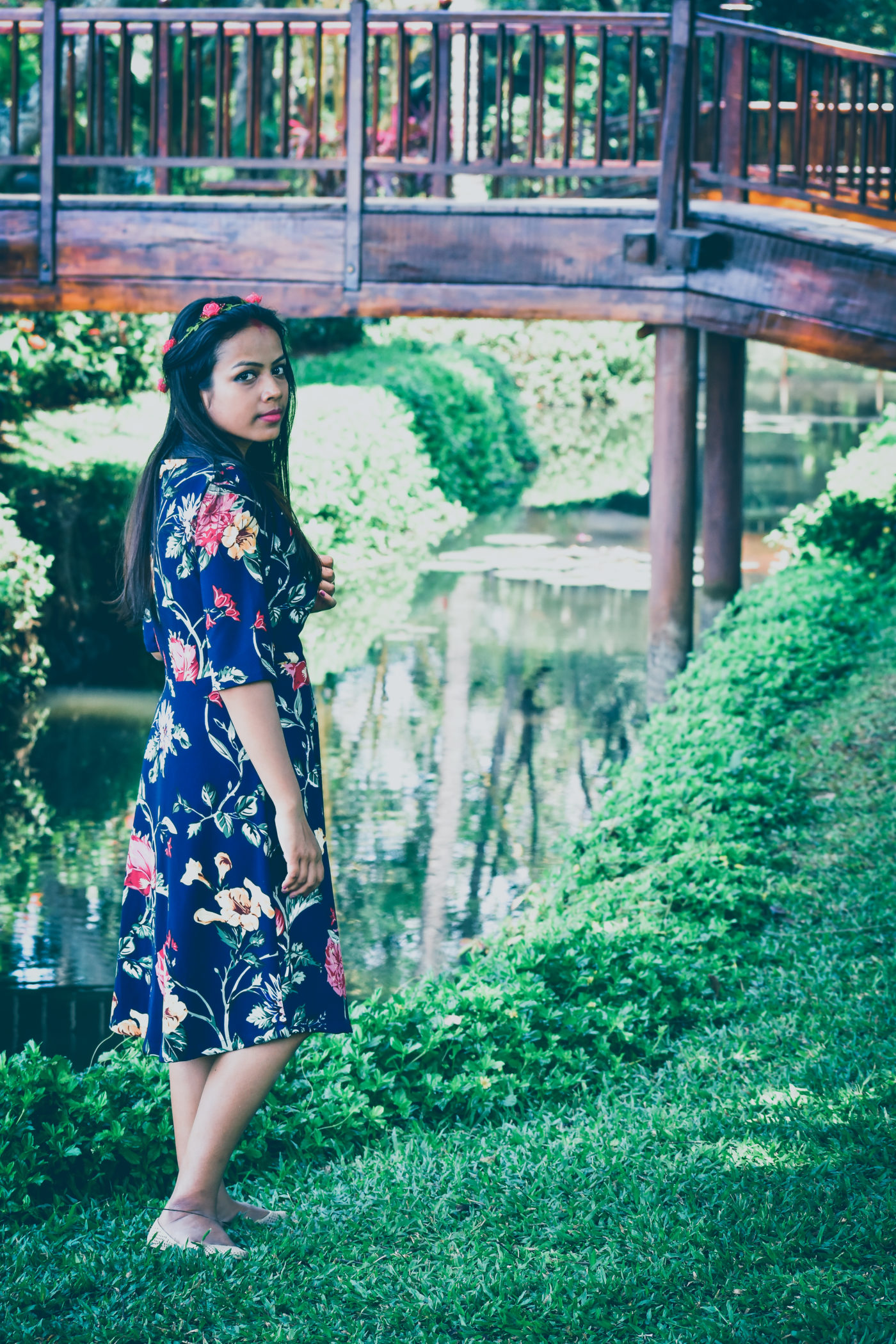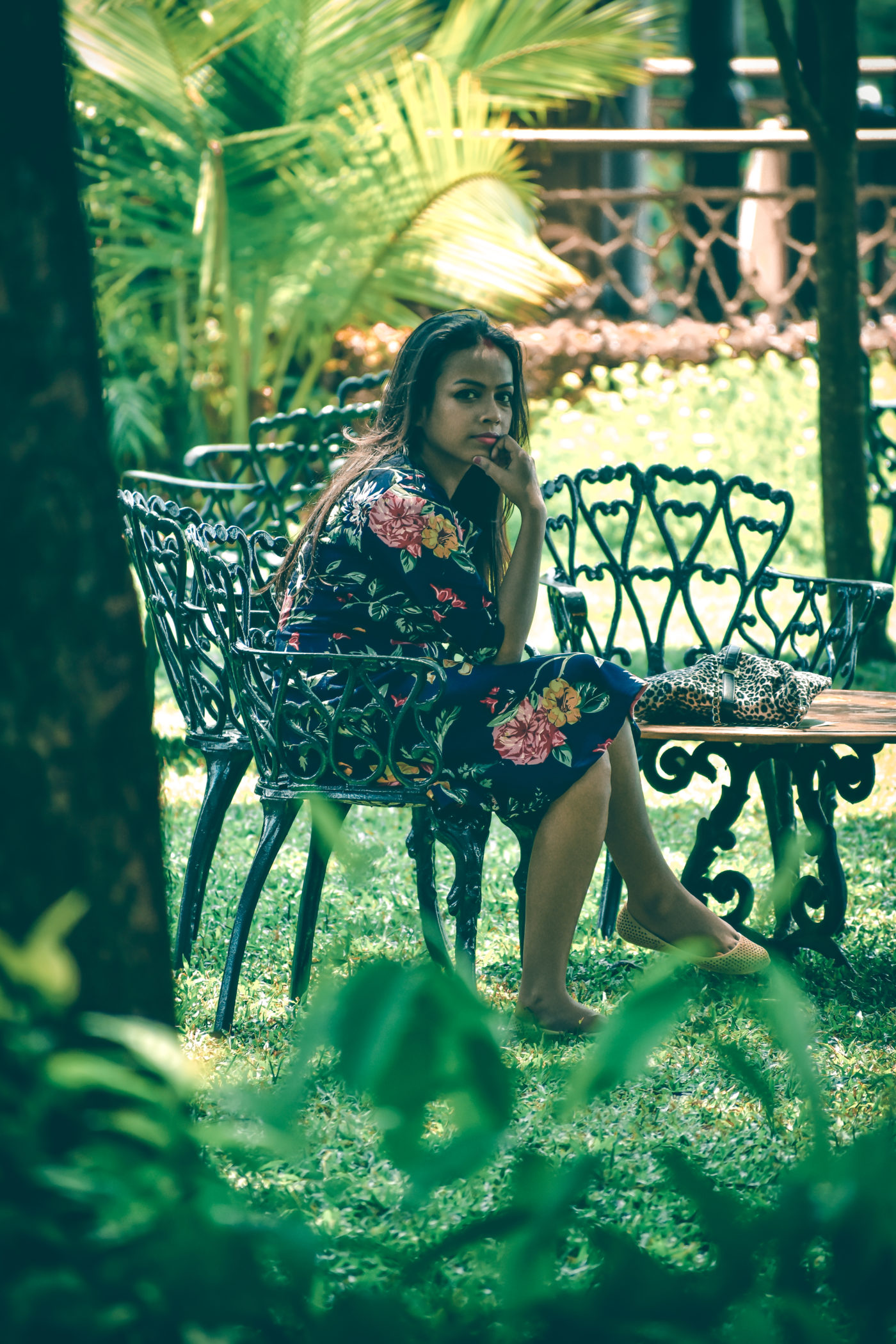 Next we went to the gift shop where they had a huge collection of incenses and gifts inspired by Kerala and its tradition. We got two incense packs, and two packs of sample incense pack. The sample packs had 3 of each varieties of their incenses. The shop smelled so good, we just had to grab the sample packs. I also got a handmade aloe soap and a pack of sandalwood powder.
Coming back to our room, we changed into our bathing suits and spent hours in the swimming pool. Those were one of the most remarkable, and peaceful moments of our life.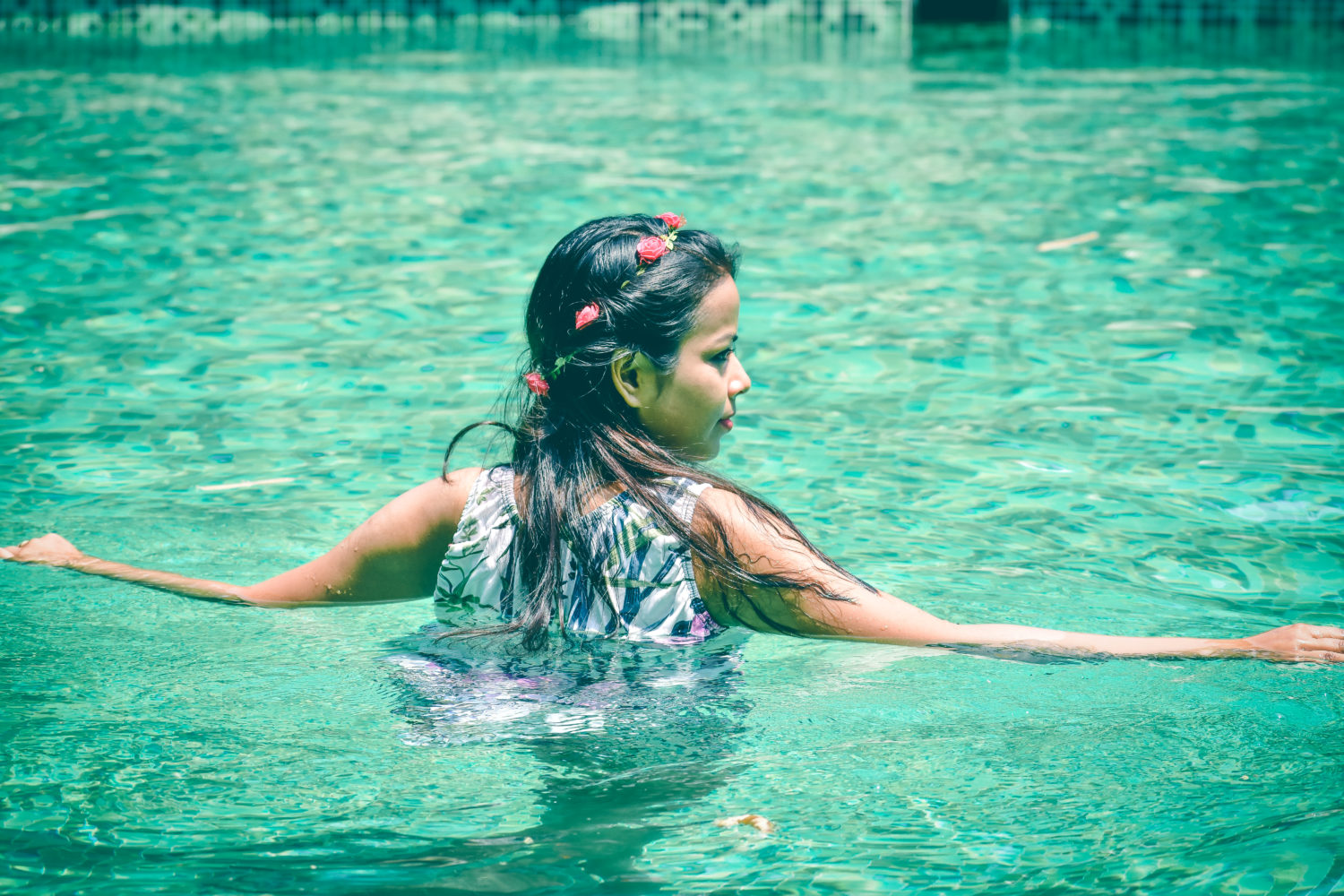 I had a grand lunch that day with a variety of cheese, bread sticks, garlic bread, soup, a lot of salads and a dosa from the live counter. I had a chocolate sweet for dessert and went back to our room to get some rest before the sunset cruise.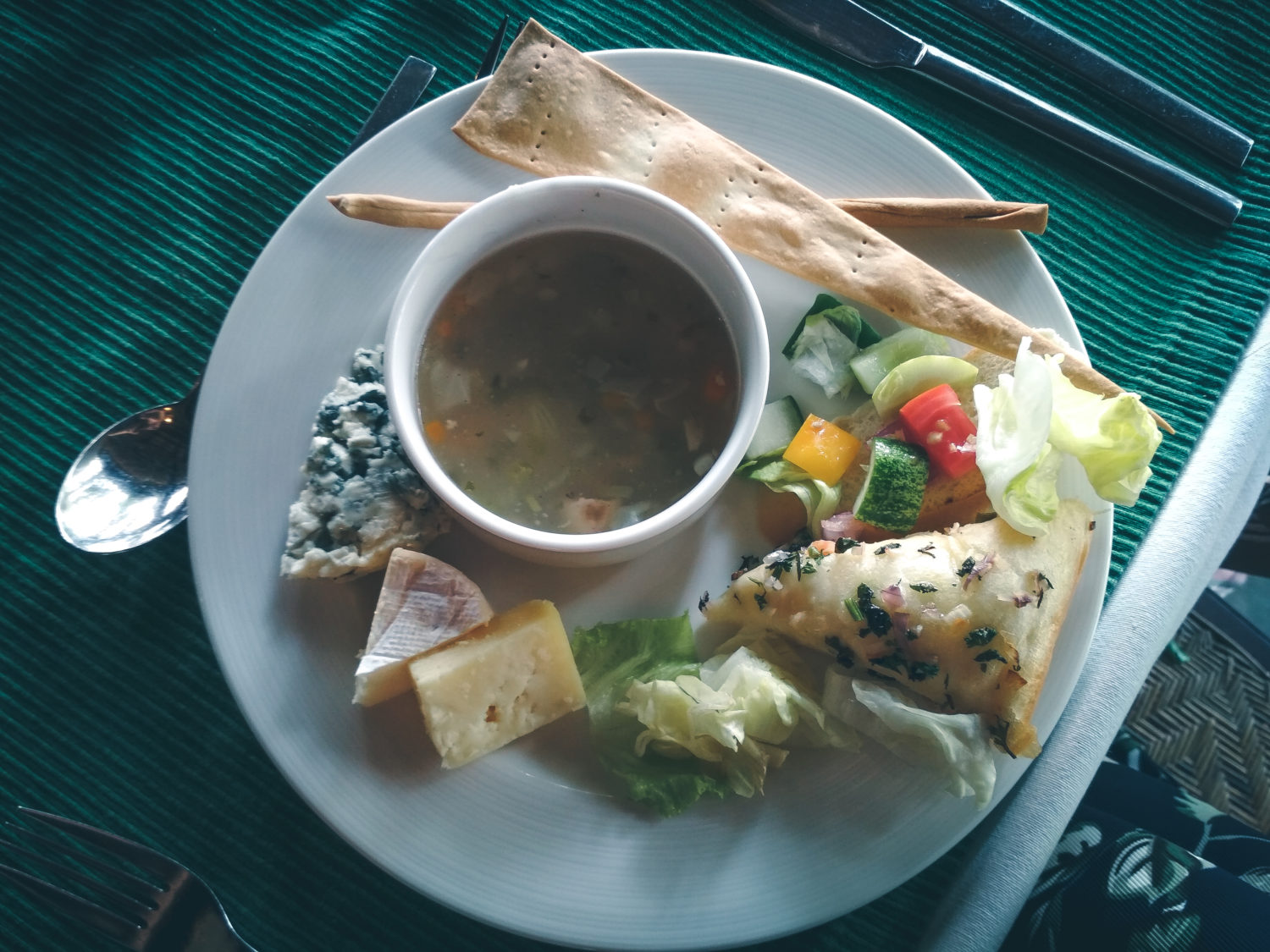 The sunset cruise was a magical experience. We went to Thattukada, the tea shop and had some snacks and tea. For snacks there were stuffed banana fitters, some stuffed snacks that looked like alumonda and some sweets.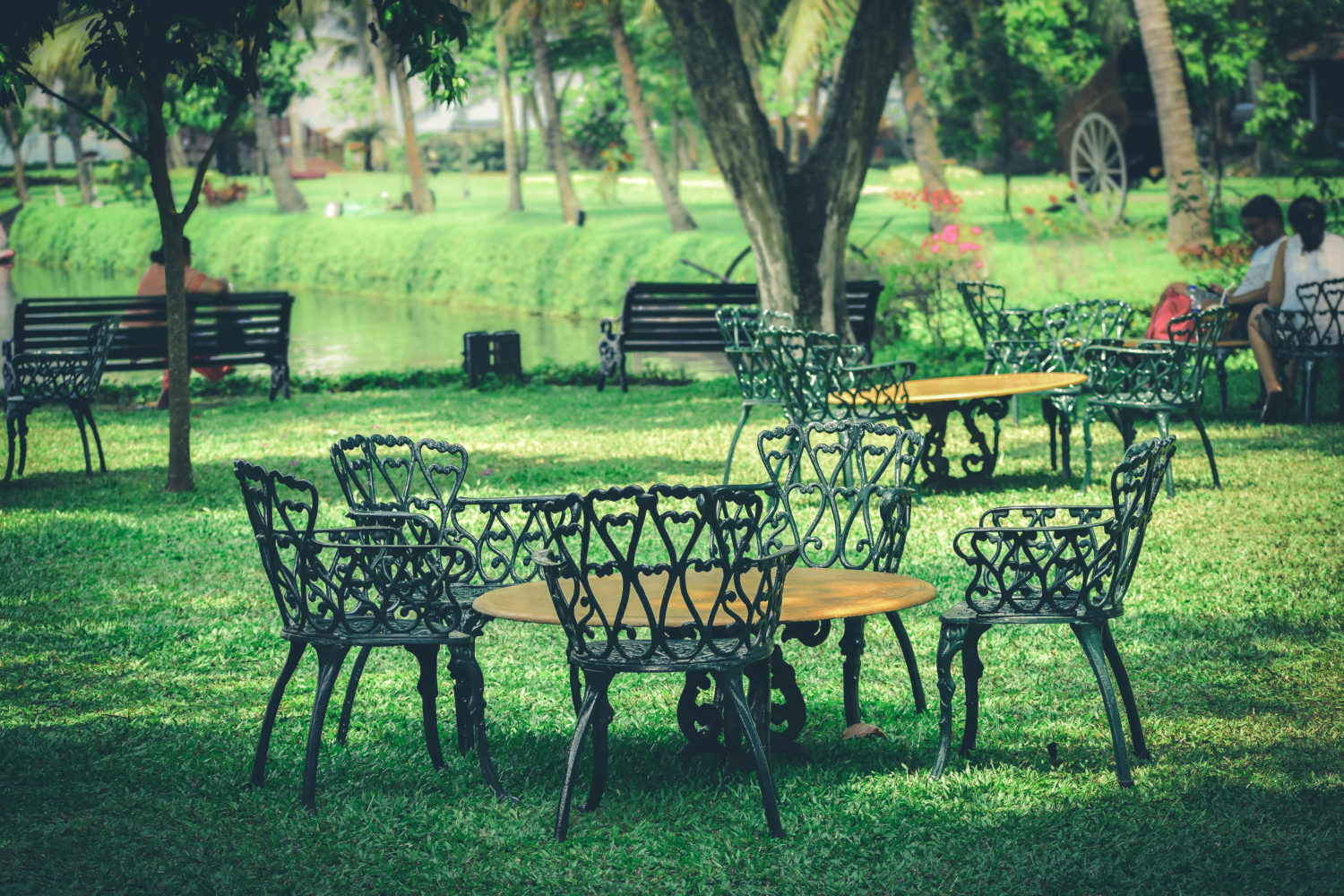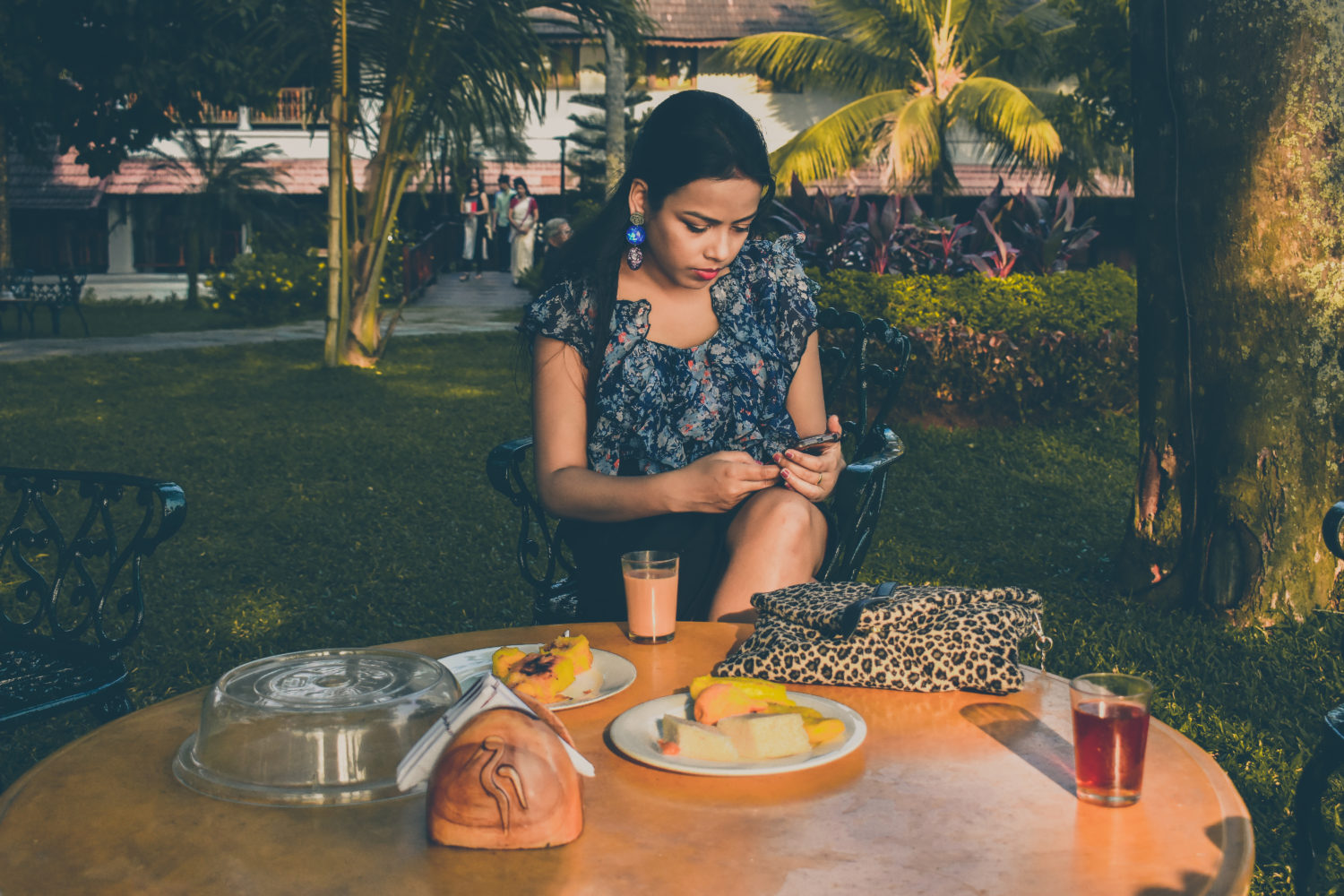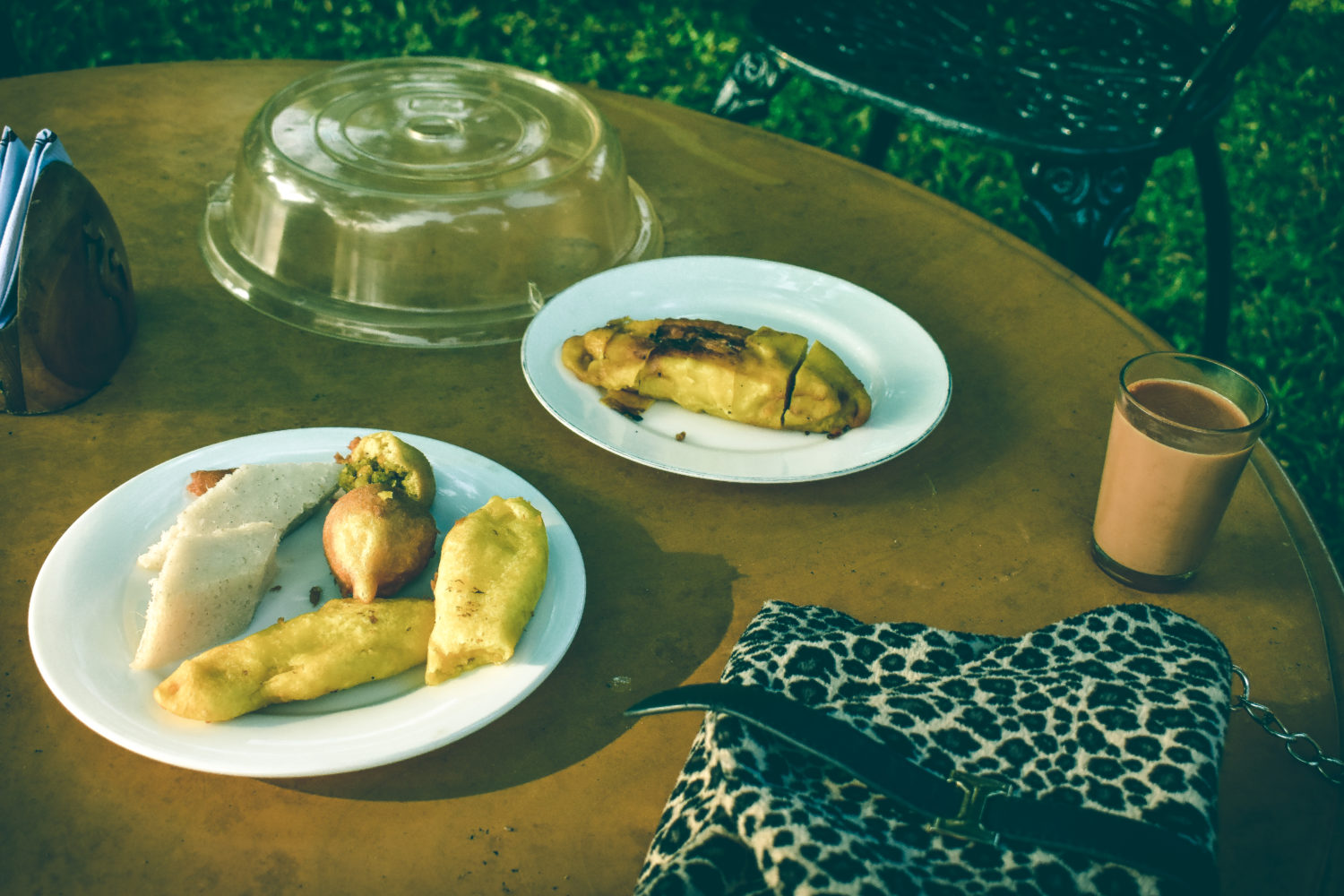 We were little late to arrive and Kavi was already busy clicking pictures of other guests. We went towards the lake for the sunset cruise. The original sunset cruise which is similar to the houseboats with open rooftop was gone for its yearly maintenance, so there was a substitute cruise. We went to the roof and got a pleasant surprise. They had musical arrangements for the sunset! A cruise ride+ sunset+ flute & tabla + evening breeze, can it really get better than this?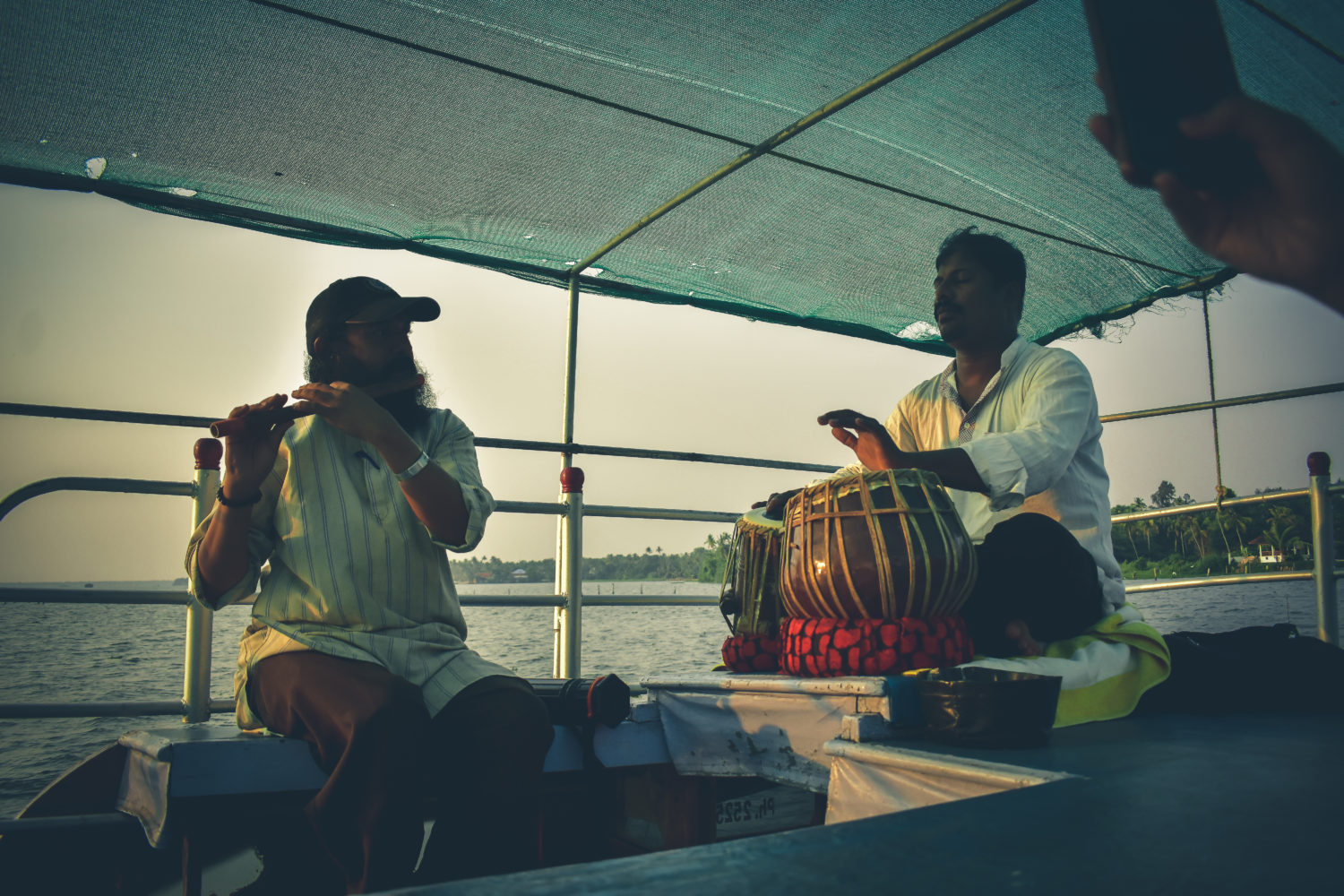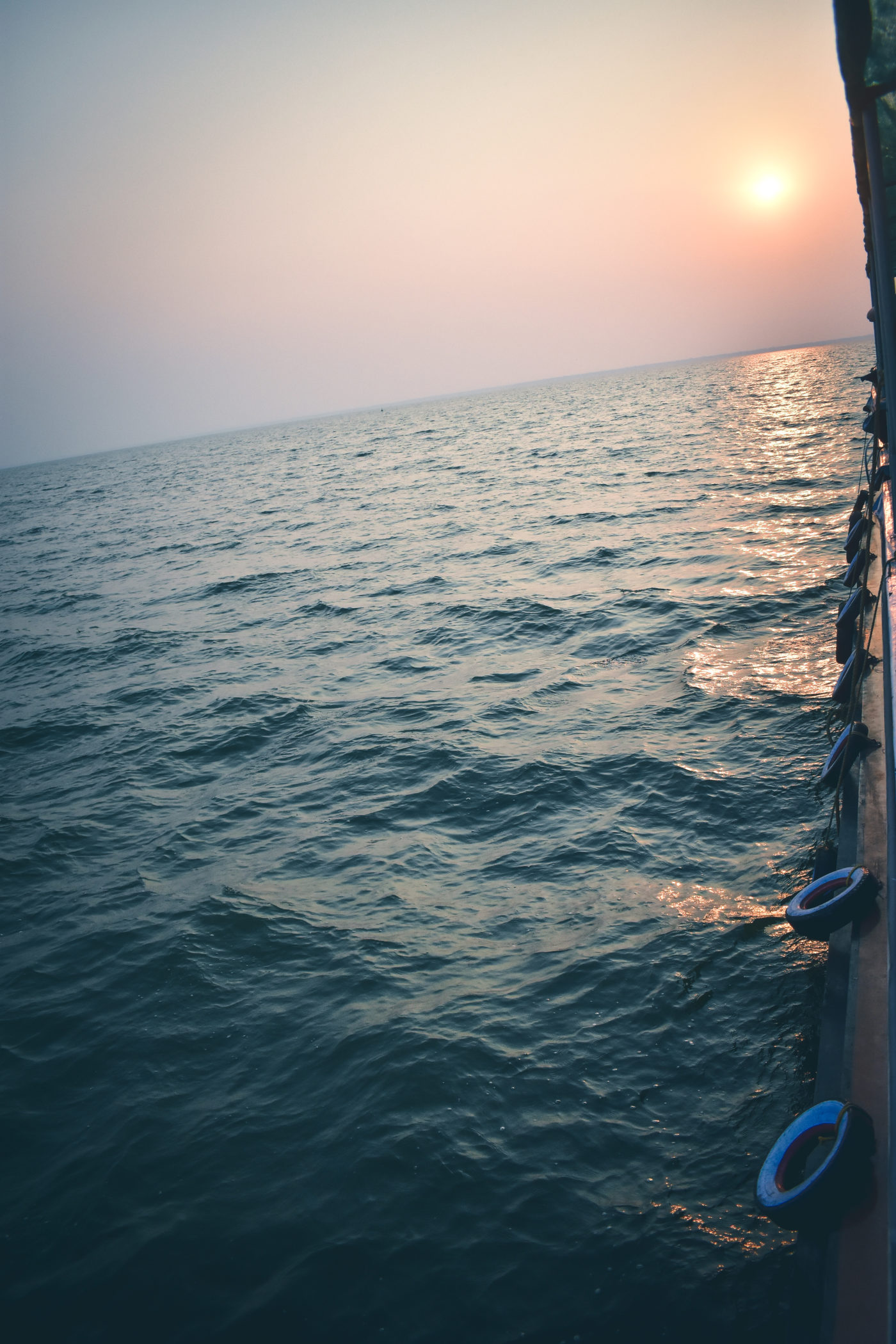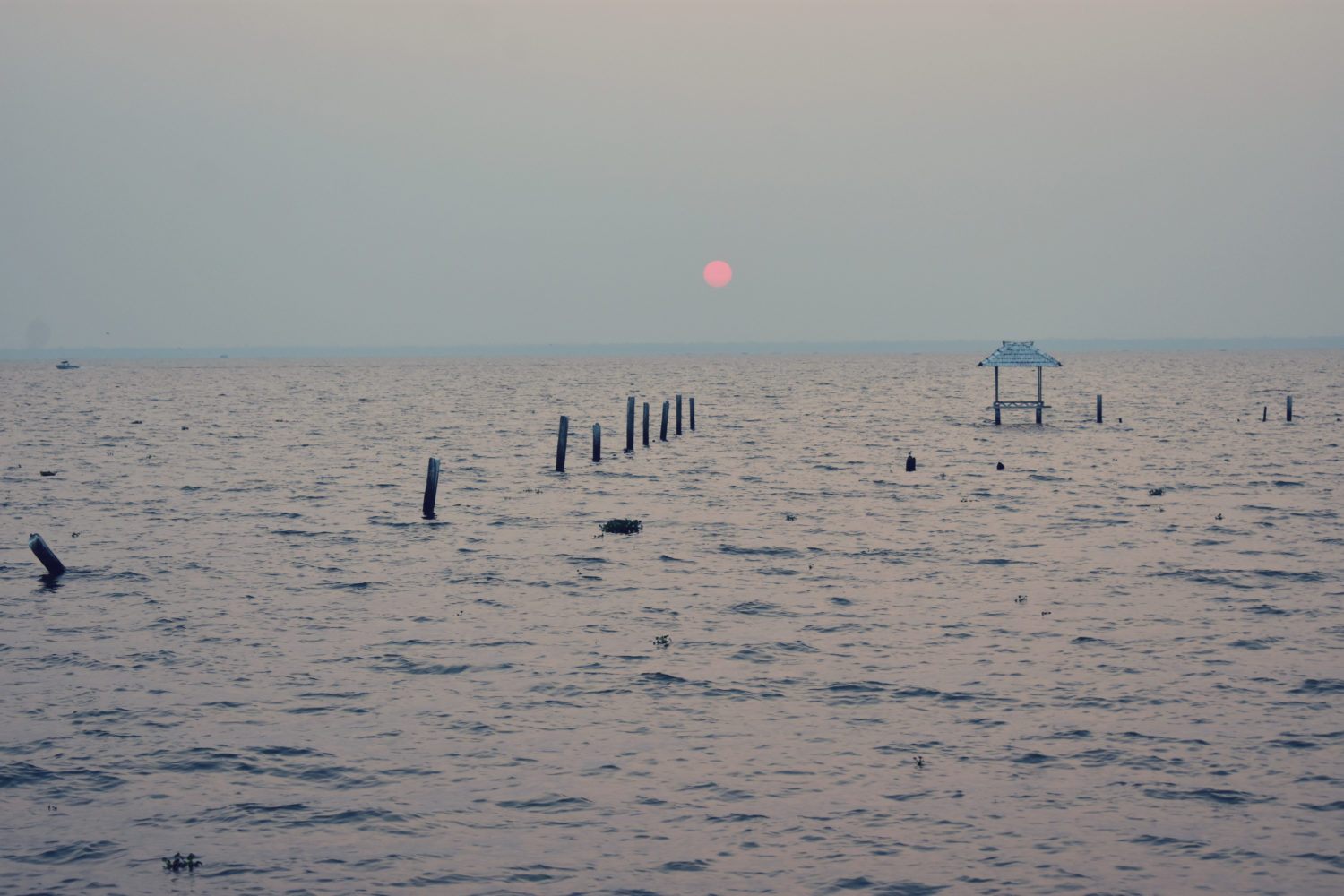 After the sunset cruise we met Kavi and did a little photoshoot at the pool pavilion. He asked us to come again next morning around 9 for another round of photoshoot and we said we definitely will.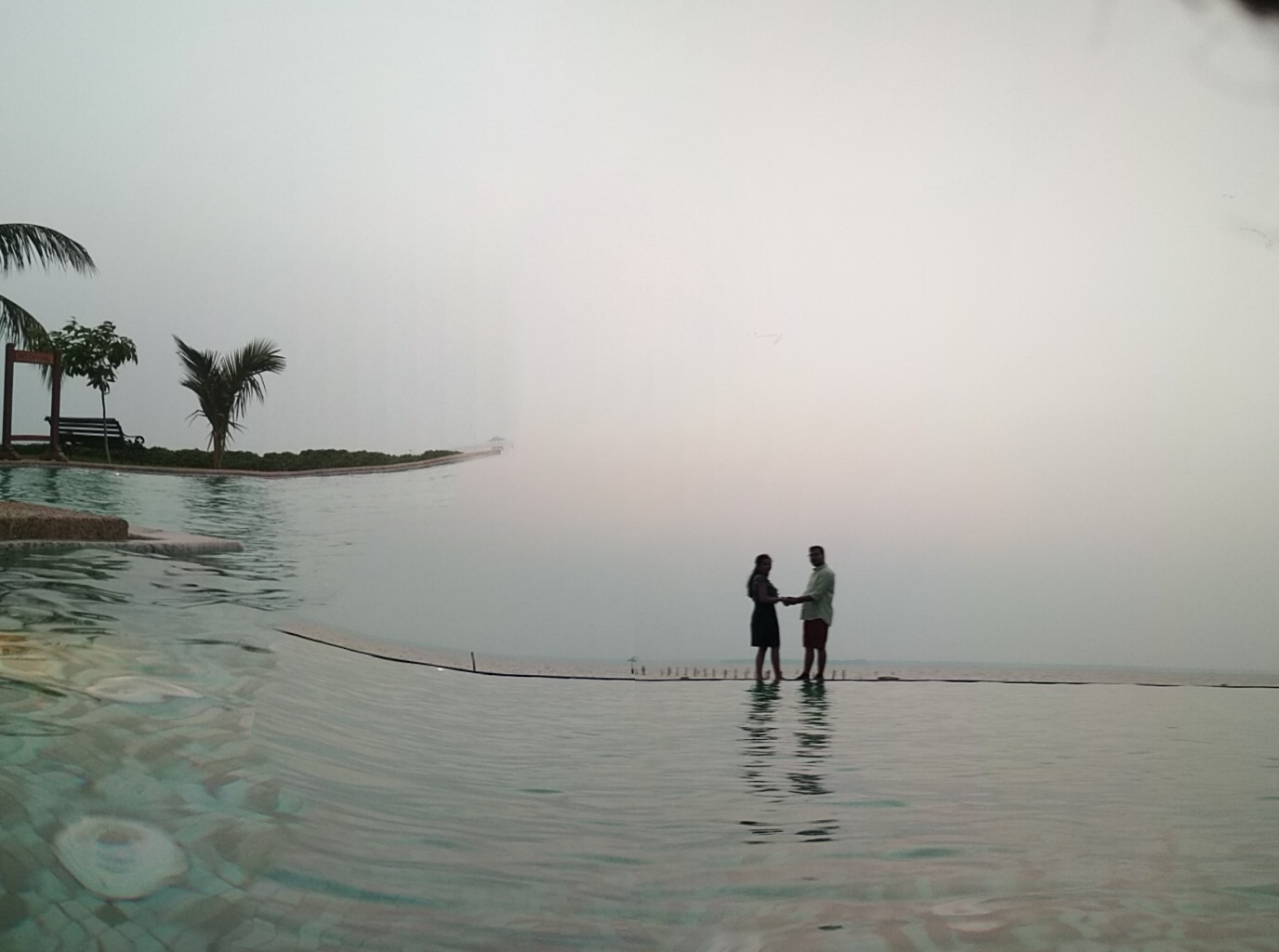 We did not have any more plans for the day as our stay was all about relaxation and spending quality time. We roamed around the majestic property for a long time and as the sun went down the property started looking straight out of a fairy tale. We spent the evening laughing and chatting and strolling around taking mini photoshoot breaks whenever we spotted a nice location to pose at.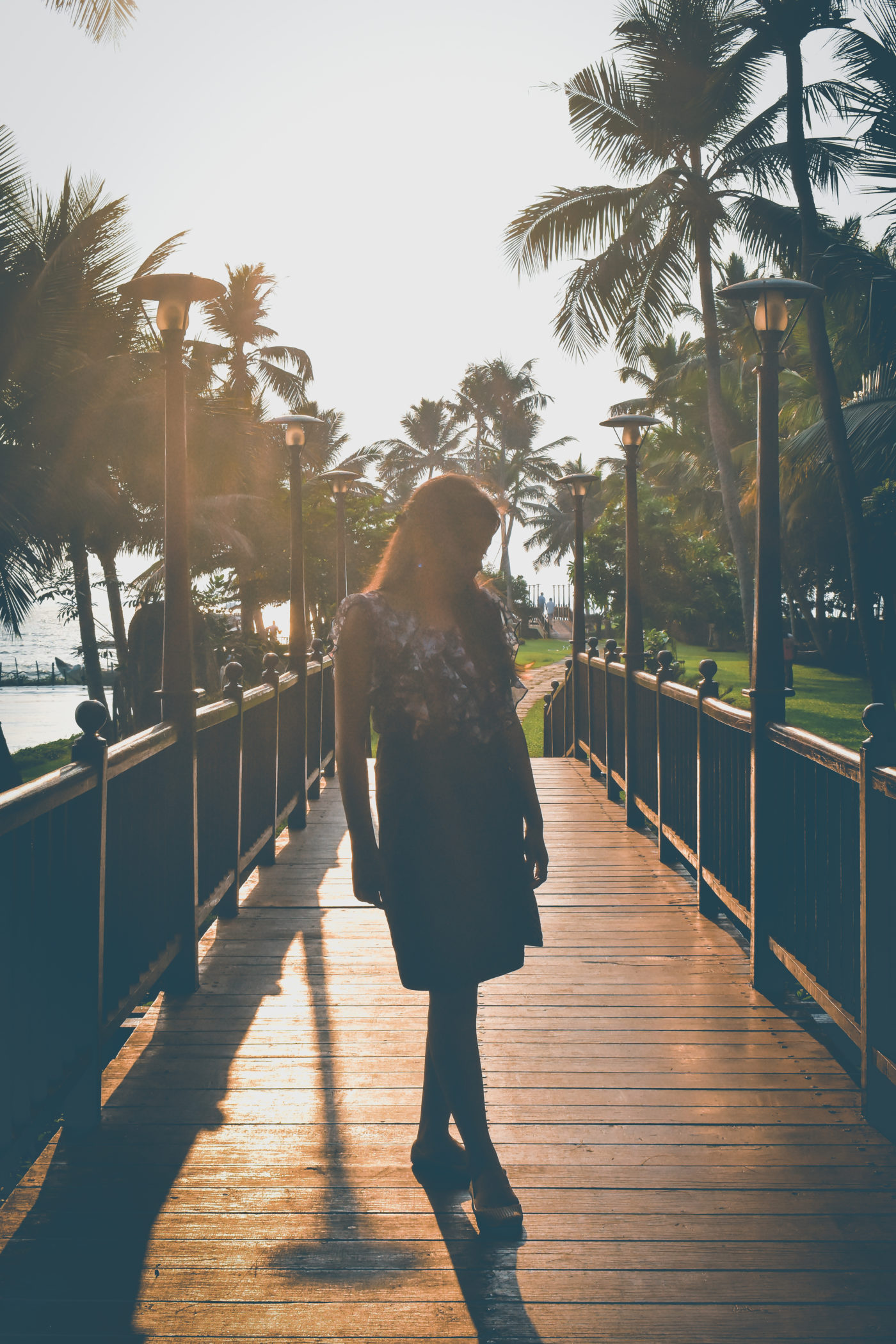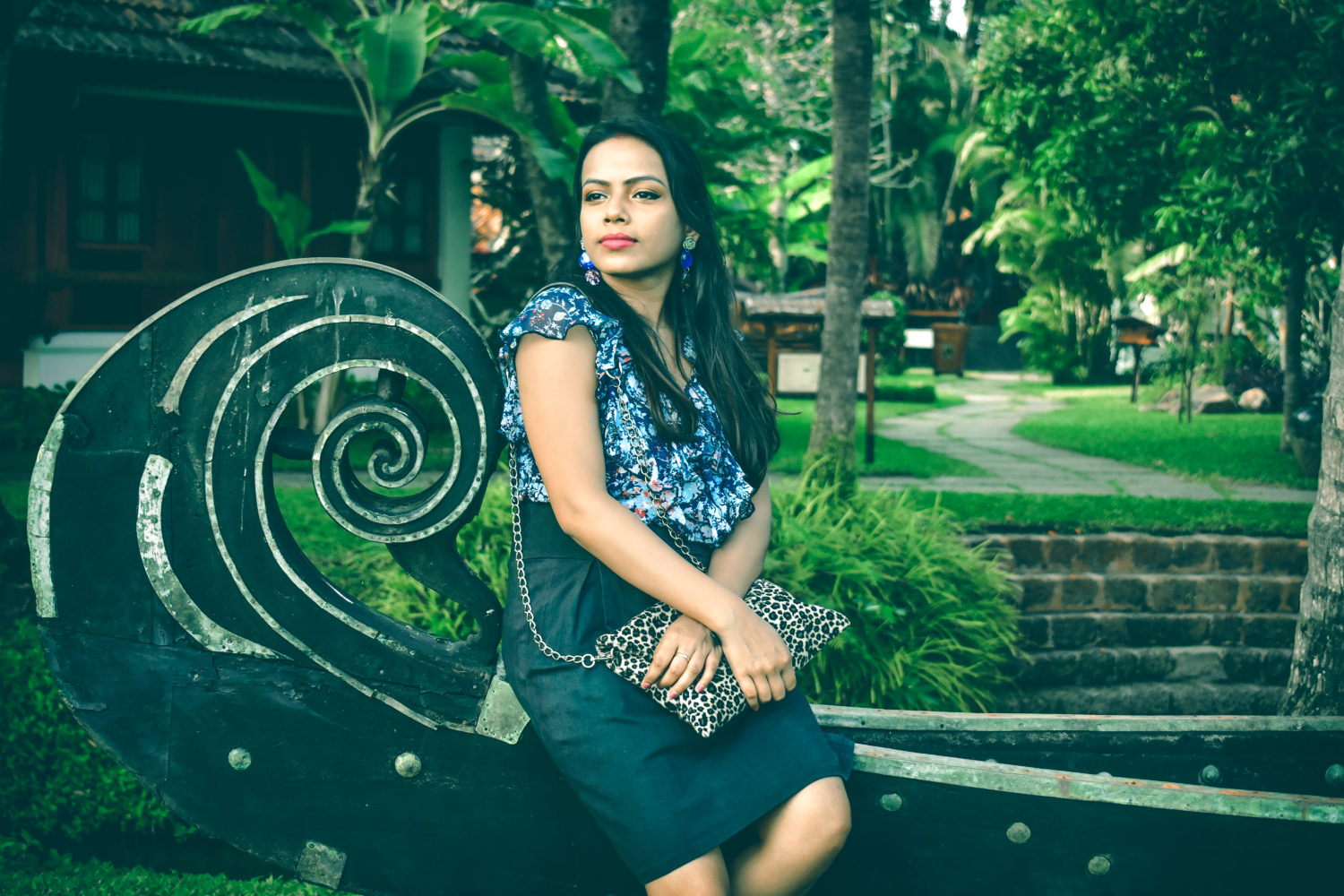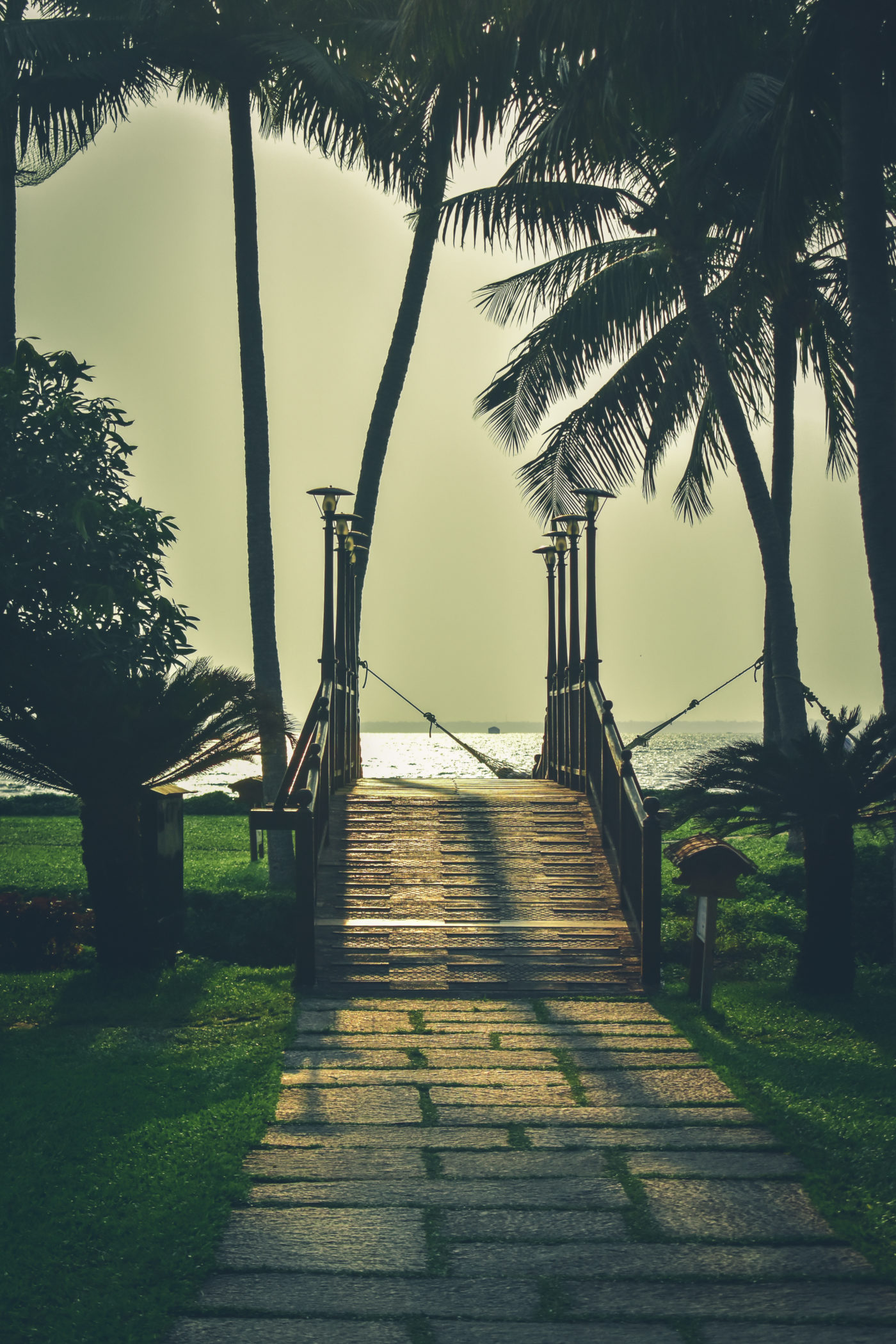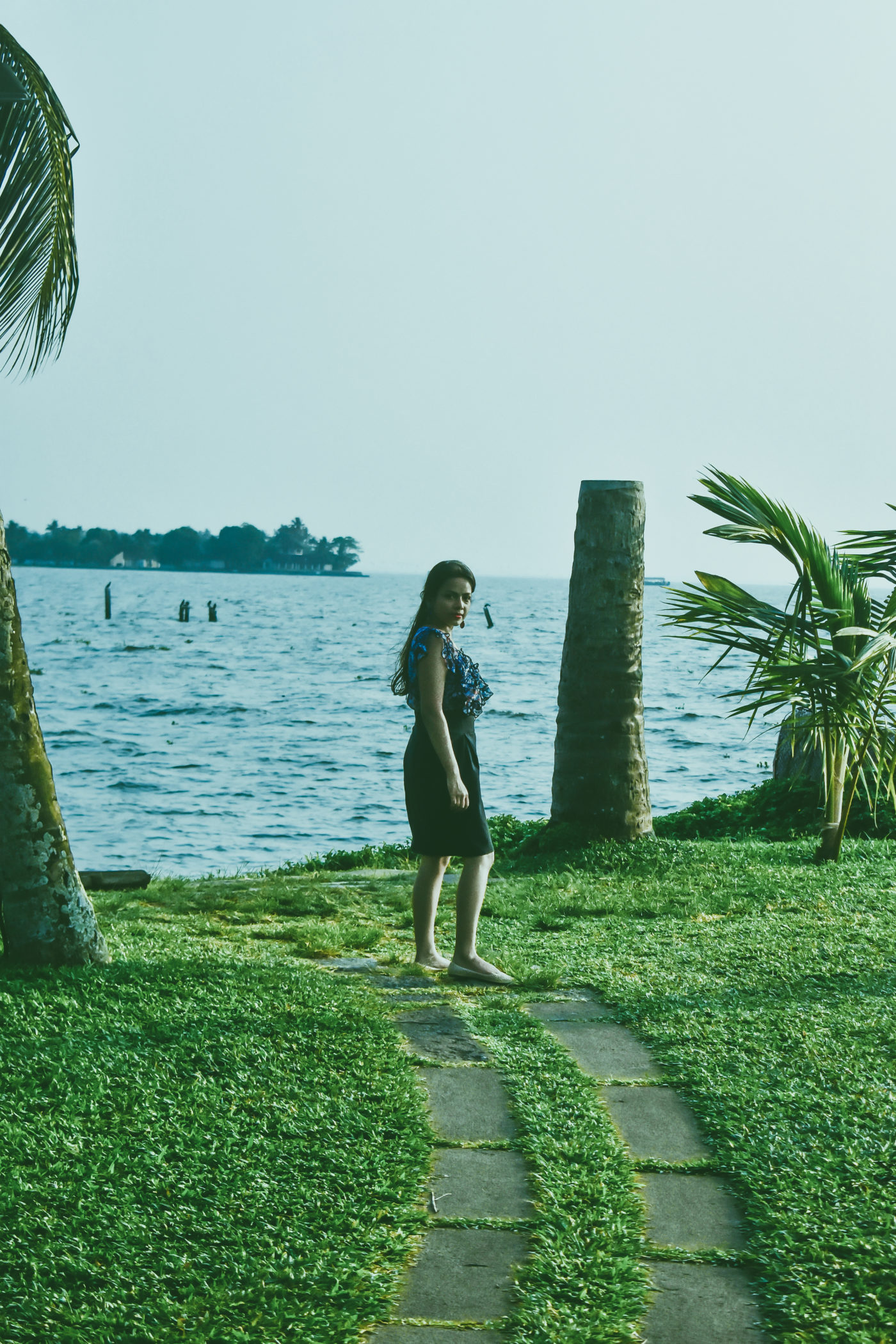 Around 8.30, we went back to the room and watched the TV for some time before going back to Ettukettu for dinner. While I opted for some noodles,rice and veggies, Arko went crazy with the meat options and went with 4 (or probably more) varieties of meat. We went to bed early that night as we were about to go canoeing next morning at 6.
We got up around 5.30 in the morning and had a very little sleep. The resort car dropped us at the point where we started canoeing and we went for a ride worth remembering. Starting from a narrow and a little shabby canal we went towards a broad and comparatively cleaner canal. The reason that the canal was a little dirty at the beginning was because the waste from the paddy field are dumped at the canal every single day and no matter how much effort you put cleaning it, wastes just keep coming every day. We spotted so many different types of birds and trees and I don't remember exactly when and how, but I dozed off, I dozed off real bad. The early morning breeze was too much for me to take, given to the fact that I probably slept 3-4 hrs at night (thanks to my insomnia) and all I remember was him keeping me from falling off the canoe time and time again. I woke up at a much broader canal, or maybe we entered the lake?? I really don't know what happened during those hours but I opened my eyes to a blissful site of a serene canal with trees on the both sides, lotus flowers blooming everywhere, birds chirping, and a pleasant early morning breeze.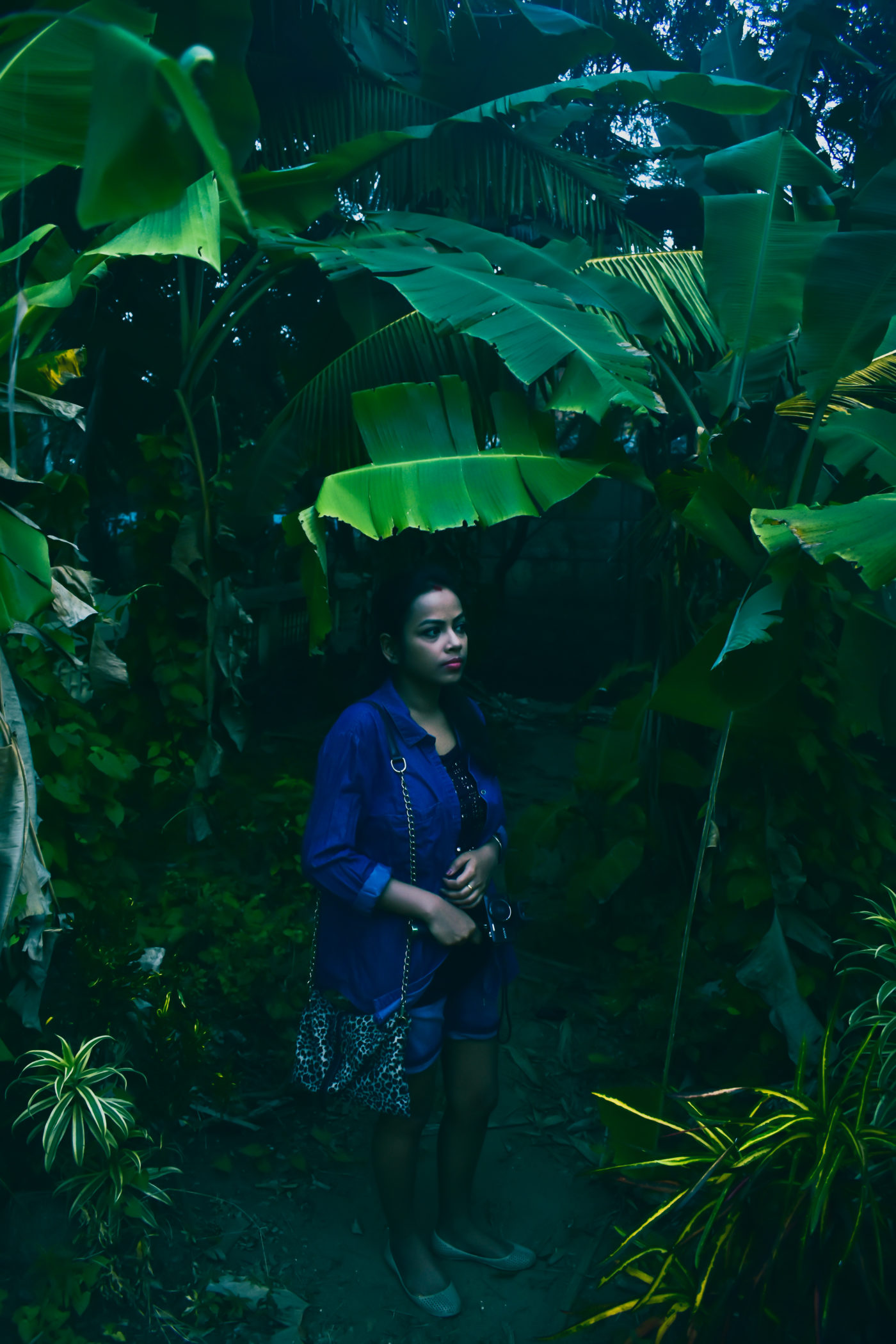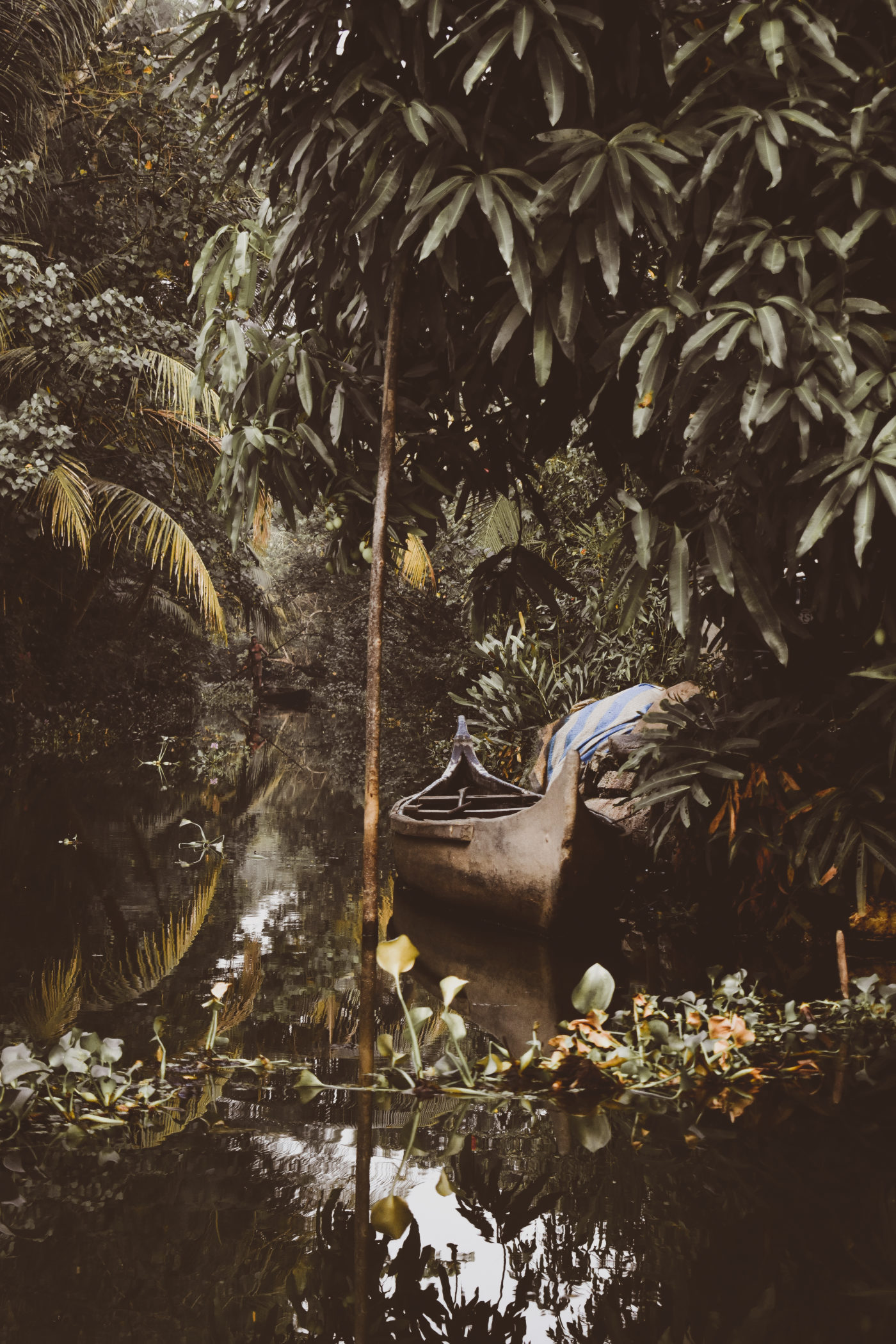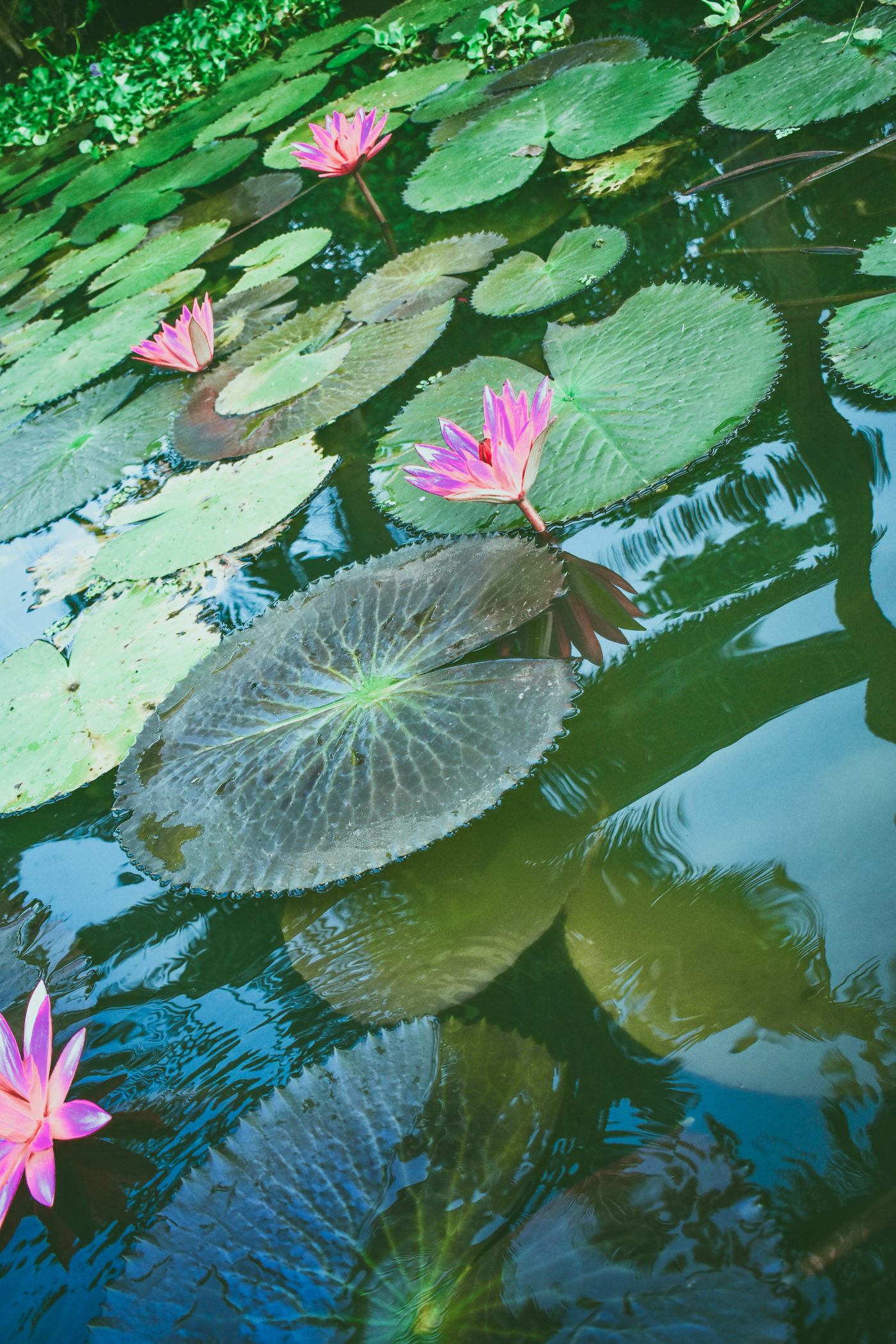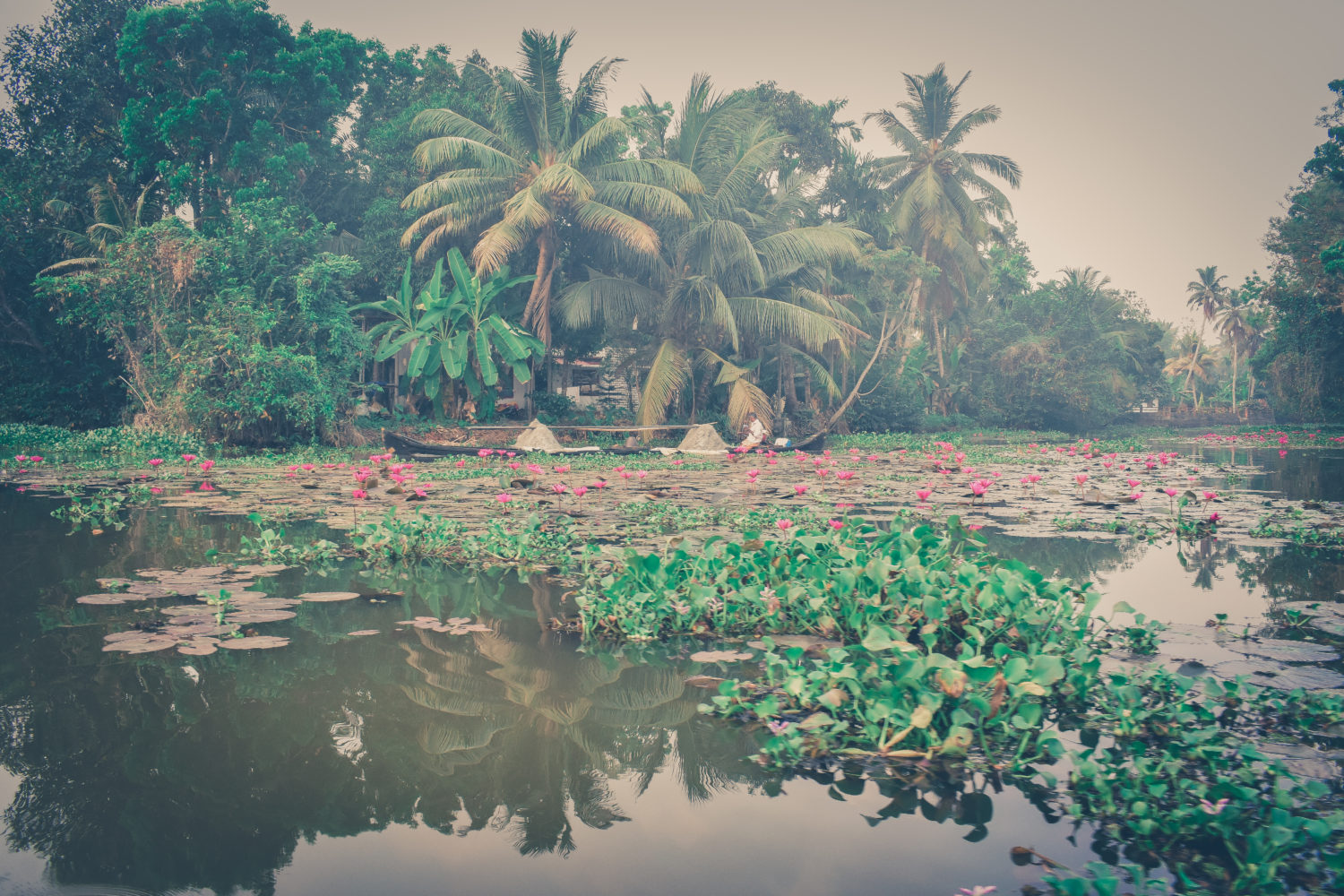 We came back to the resort past 9, and headed straight to breakfast. I had dosa, a piece of stuffed paratha and a glass of pineapple juice and he had a croissant, yogurt, fresh fruit and pineapple juice/

While we were having our breakfast, Kavi waved to us that he's ready when we are. We headed back to the pool pavilion for another round of a couple photo shoot.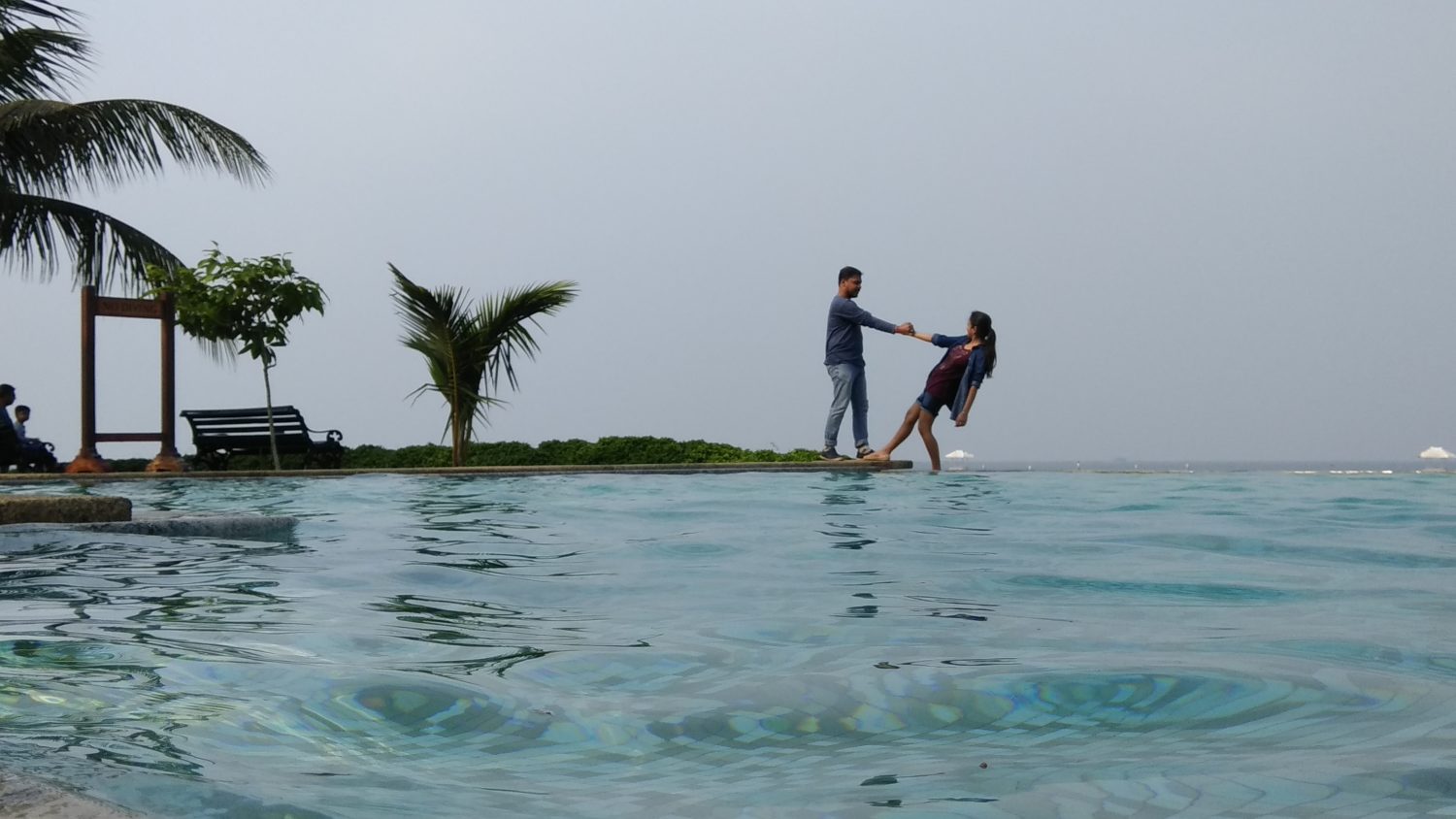 It was our last day at Kumarakom, and we had lunch booked at Vembanad, the seafood bar before heading to Thekkady.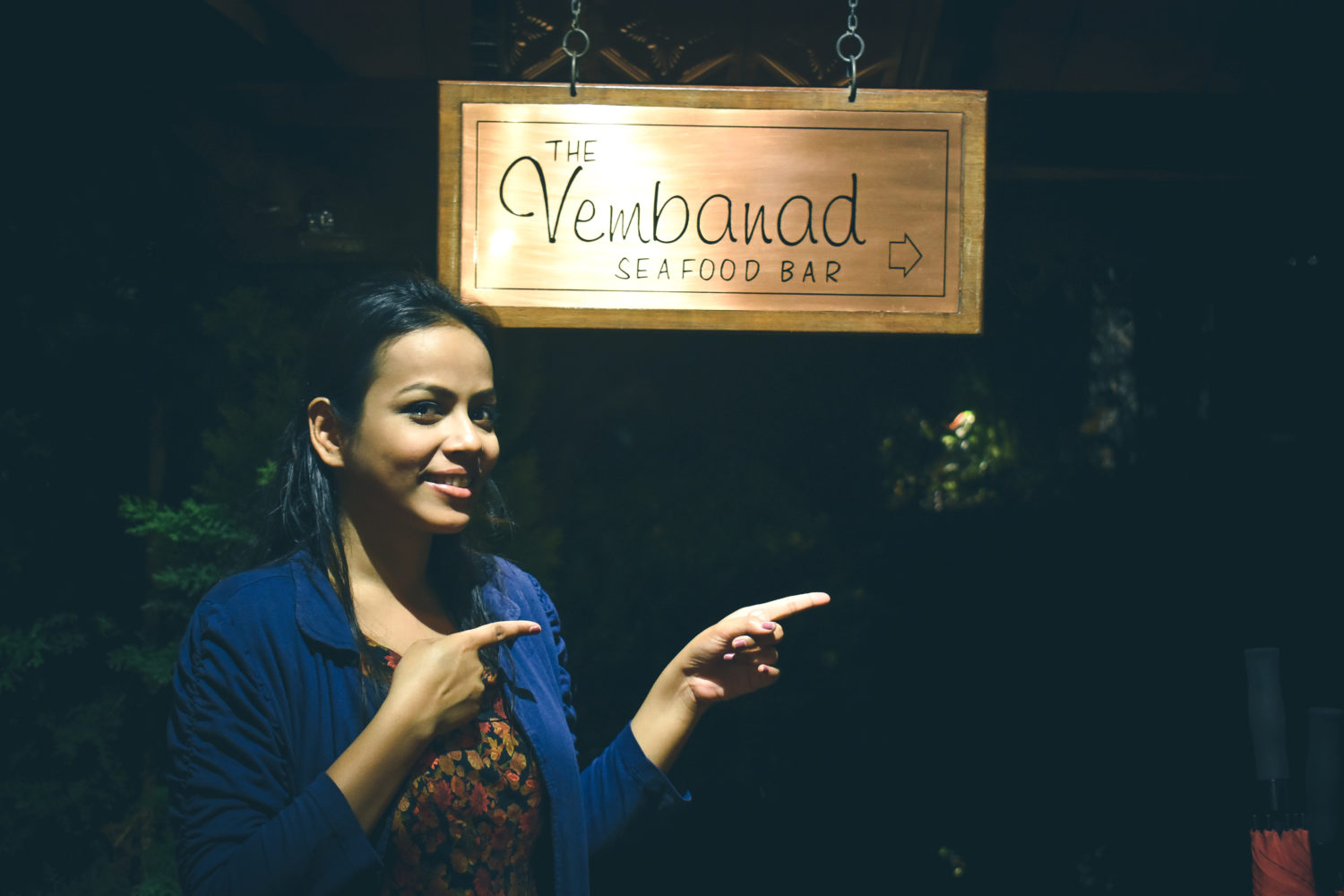 We went back to our villa and went in to the pool for one last time. We did not have much time left, and I desperately needed a nap. Again we lost the track of time, and it wasn't until the phone rang and we were informed that they have found a cab that will take us to Thekkady. We confirmed the booking, took a shower and then a half an hour nap. Once our luggage was packed, we headed towards the seafood restaurant that opens at 12.
The bar is right beside Lake Vembanad which explains why the place is always crowded and fully booked for dinner.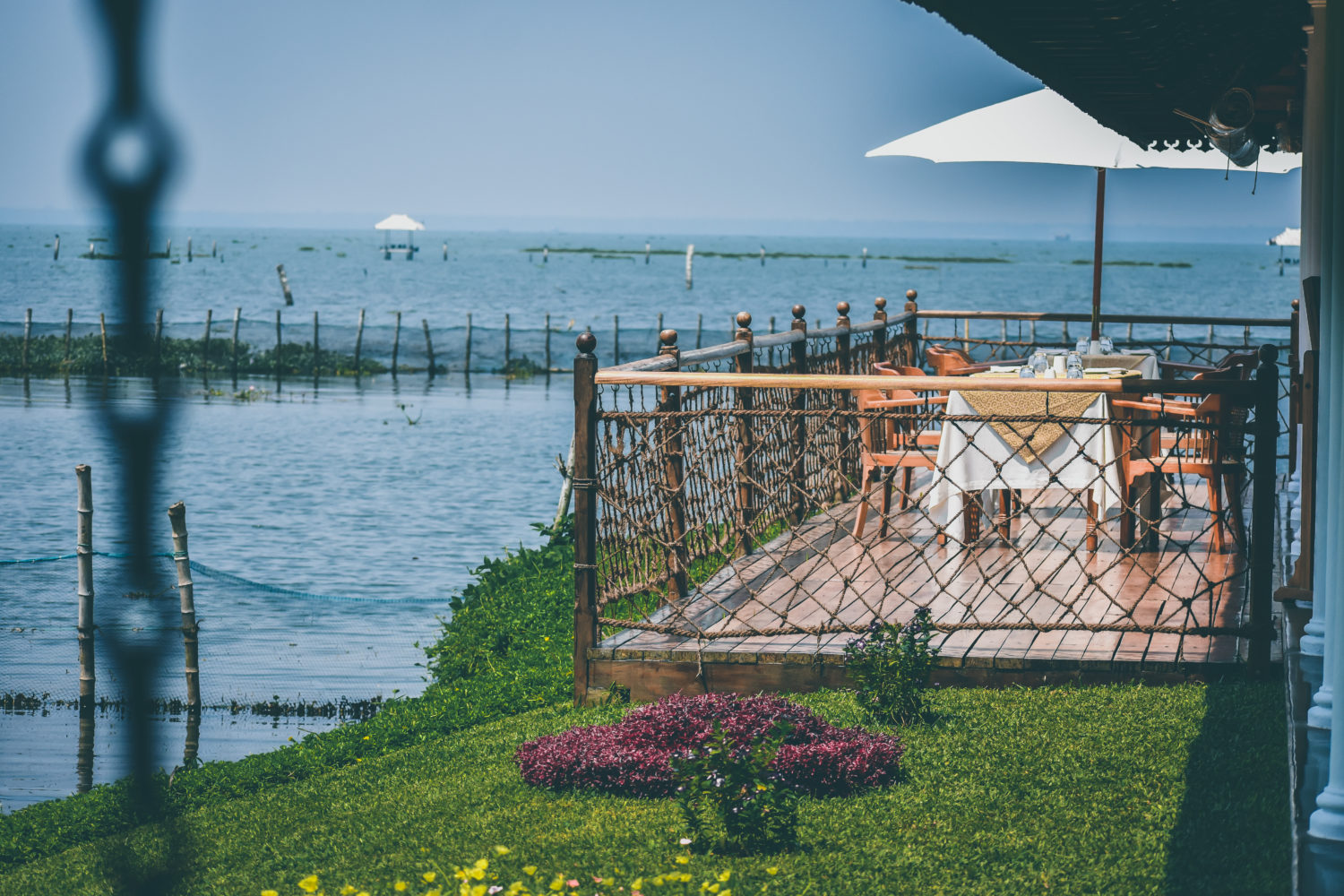 We chose an open air table and the sun was harsh but the wind was pleasant at the same time. We asked the chef for their speciality and we were served the amazing, finger licking Meen Pollichhathu and Konju Roast along with two glasses of Green Cola. Now I can write a whole article on Meen Pollichhattu, it was that good! It is basically Pearl Spot or Seer Fish cooked in coconut milk with spices in Banana leaf and served with Appam. It was heaven. The appam was the best that I've ever tasted. Arko was watching me take my first bite, a little piece of Appam dunk in the Meen Pollichhathu gravy and he saw my eyes light up. Without saying a word he took one bite to taste for himself and I watched his eye lit up as well 😀 . Again, it was that good! I had Mackarel at Andaman Islands, that was good too, but this was different and a lot better. To us, it tasted a lot like our Hilsa, the king of Bengali food, only without the bones.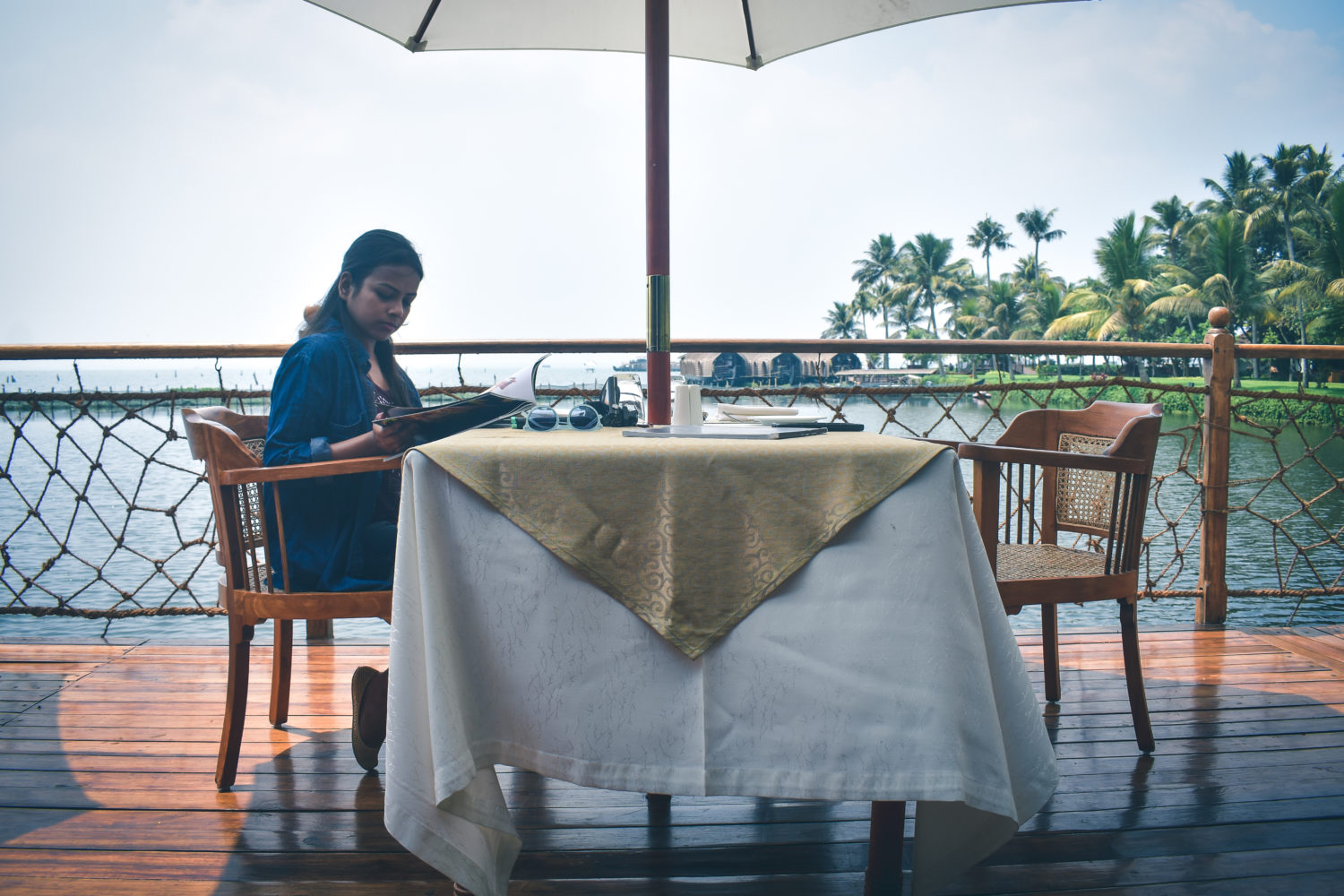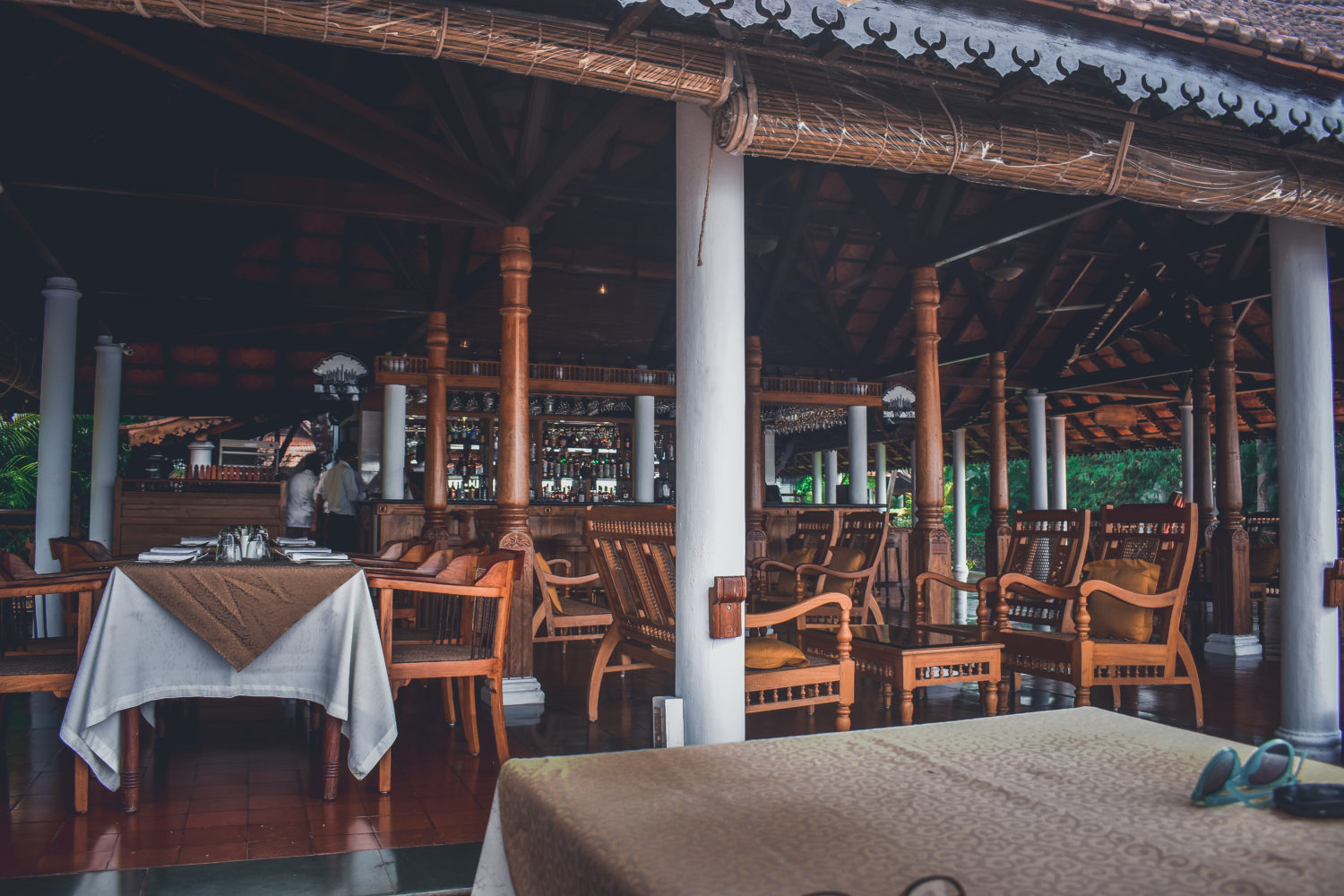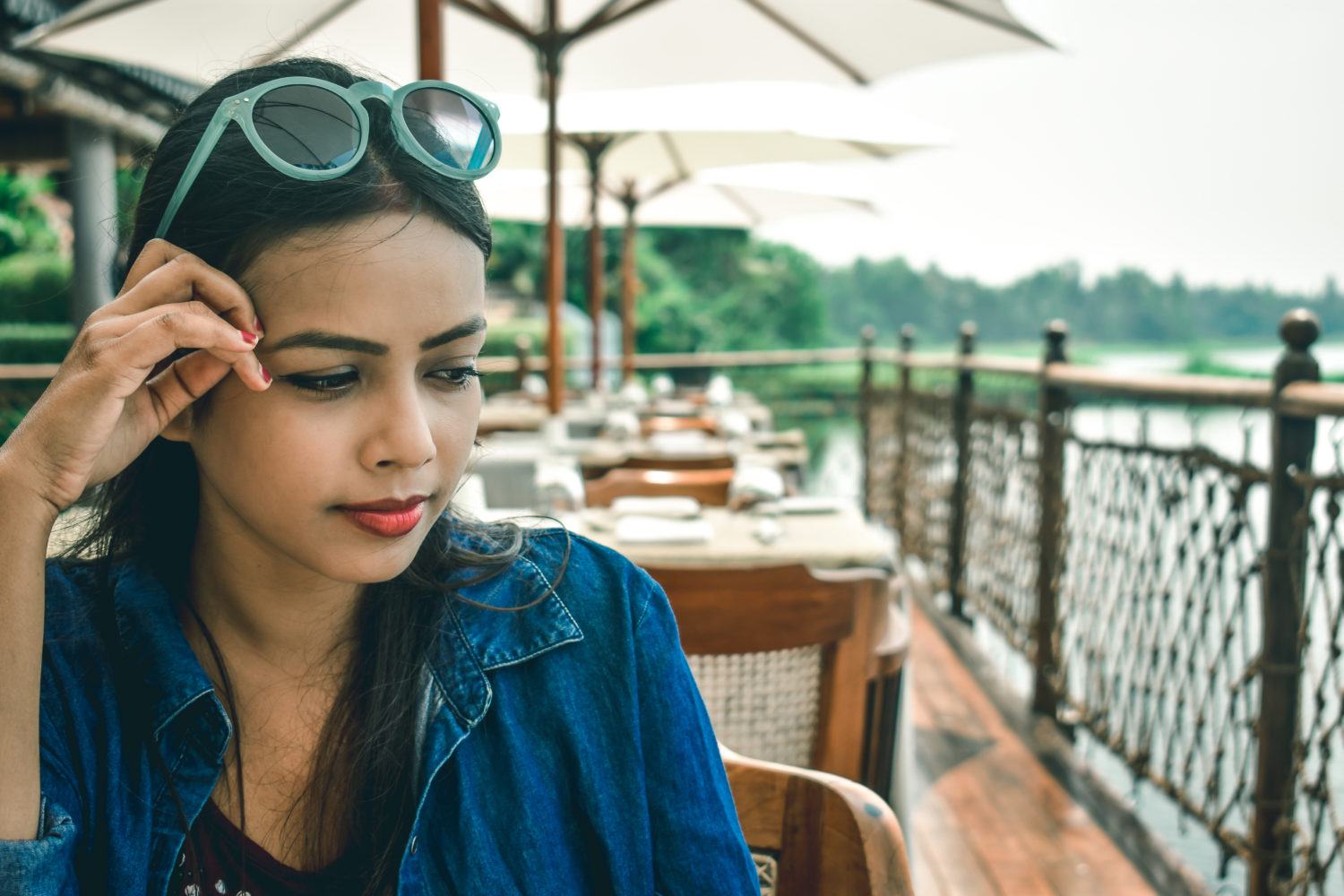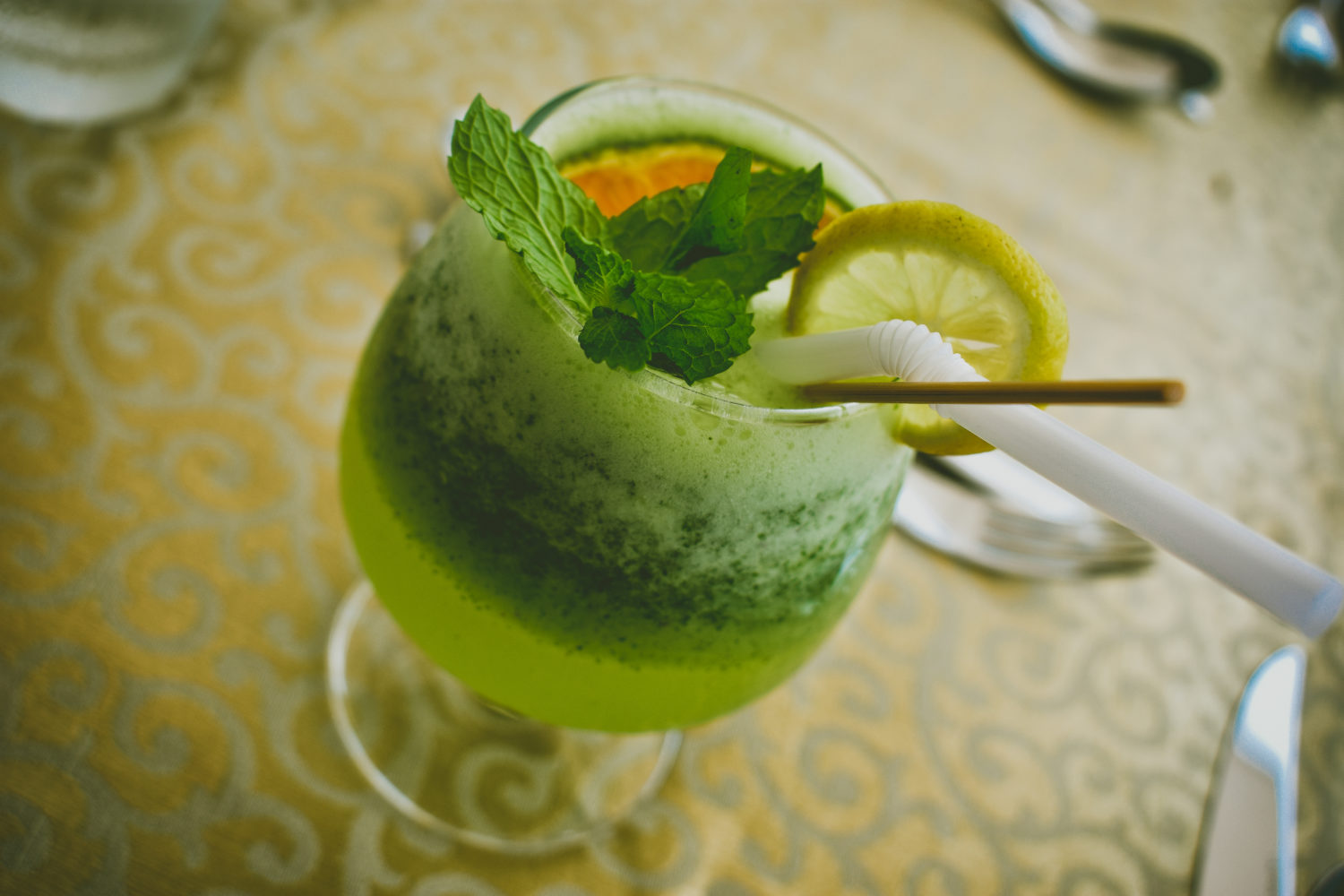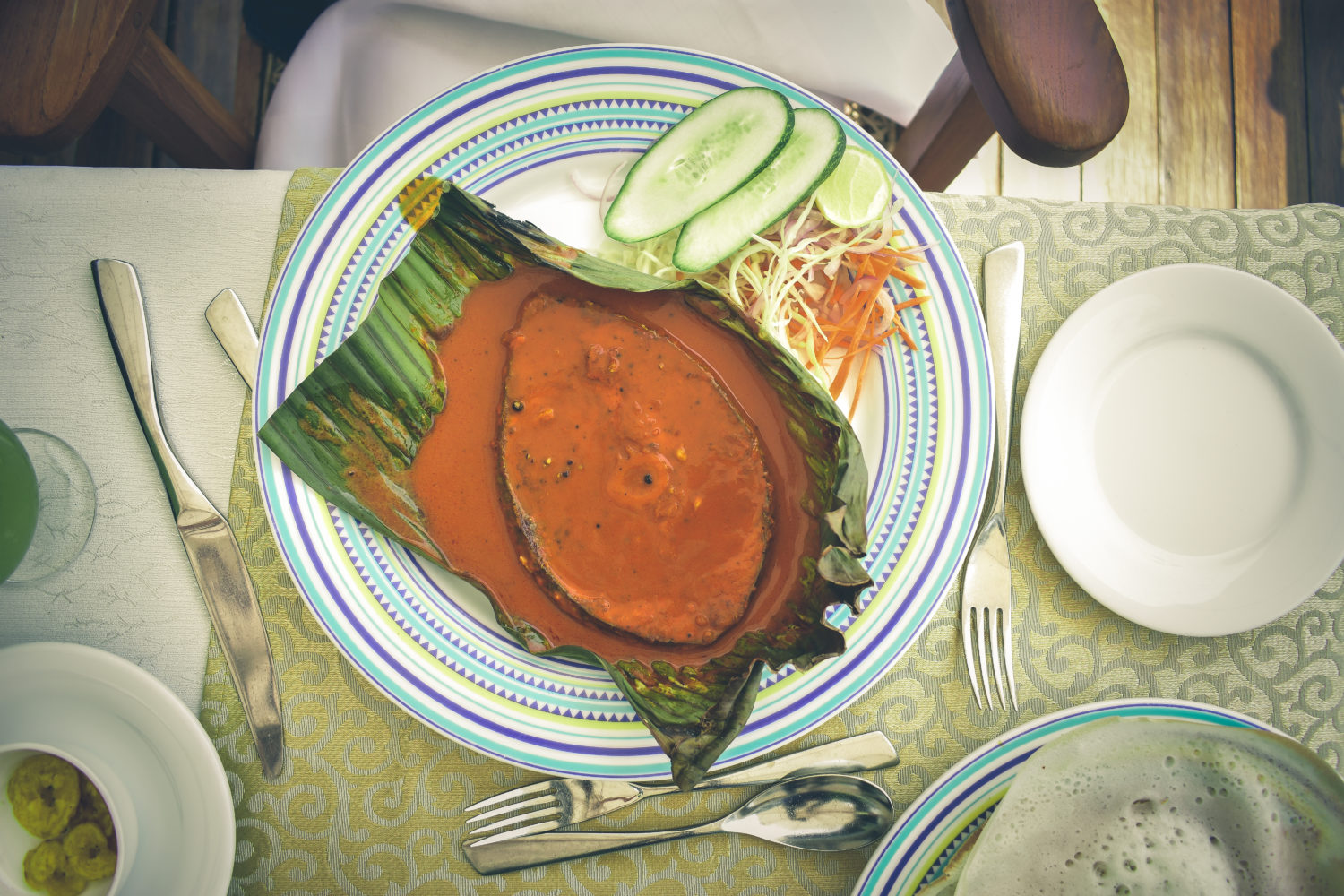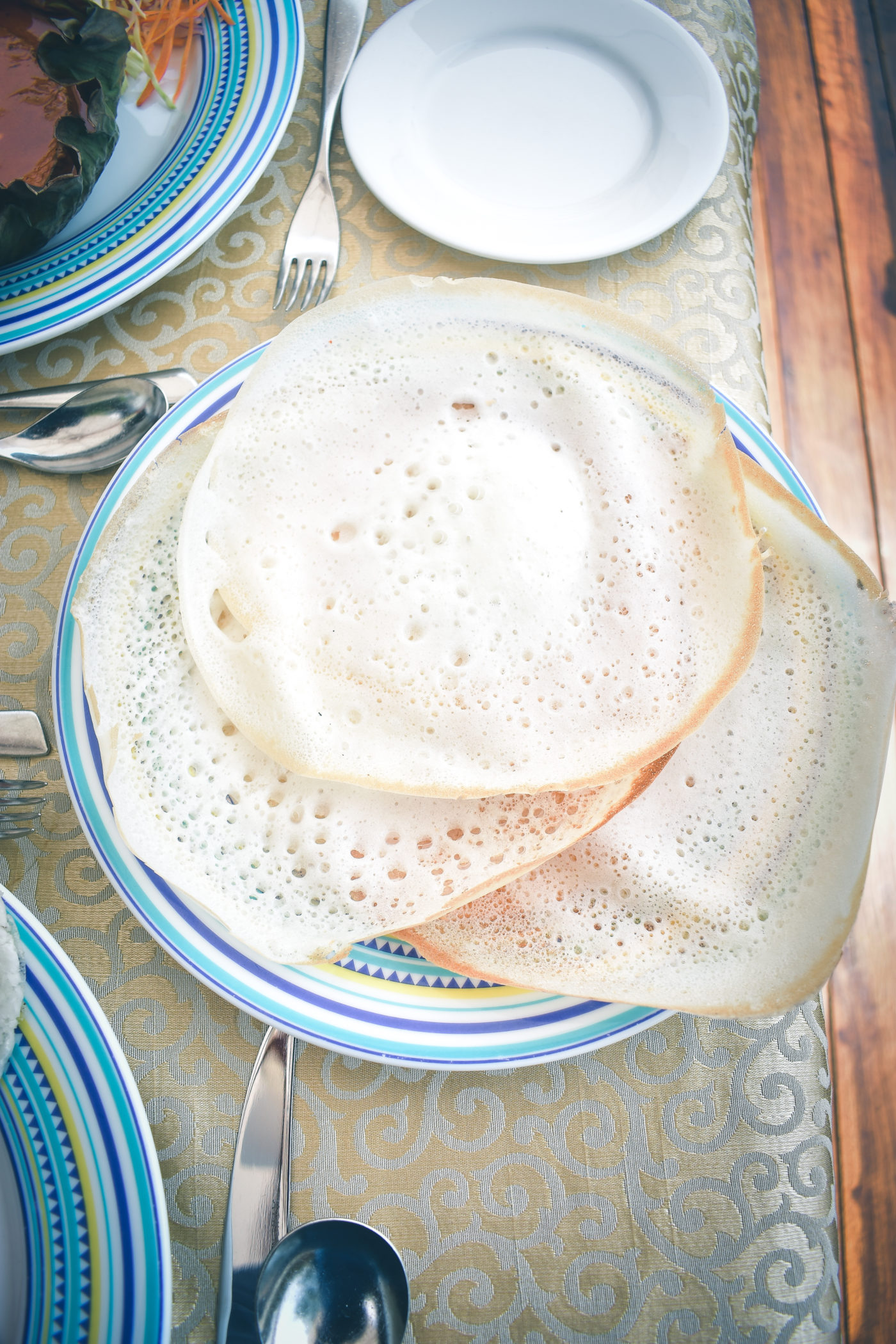 The Konju Roast was black water prawn, prepared in tangy tomato gravy served with Kallappam.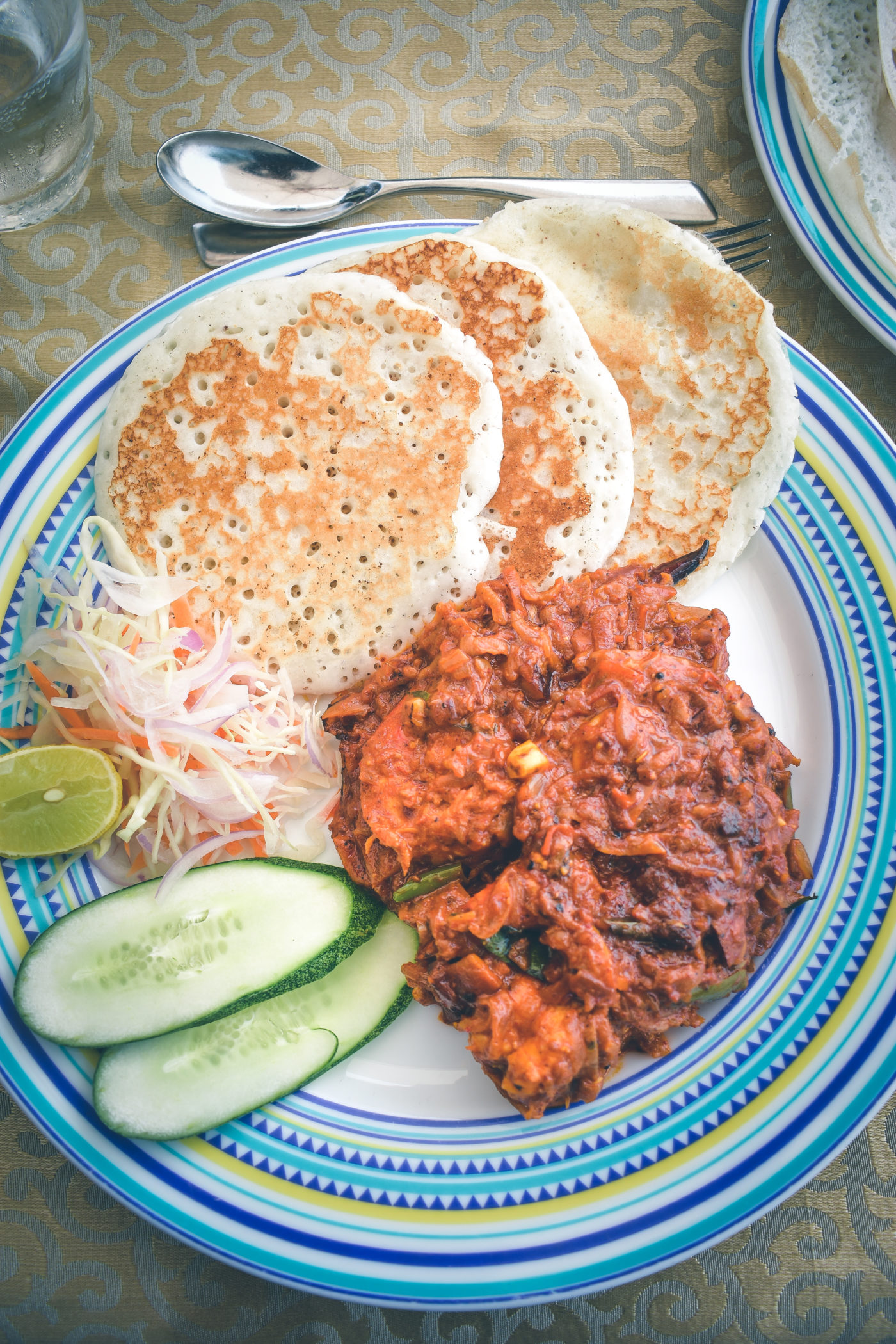 While the appam was thin and crunchy, the kallappam was thick and soft. The Konju Roast was equally good, but as a Bengali, I can relate to this cooking style. While the popular and traditional Bengali style of cooking prawn is cooking them in coconut milk, the preparation with tomato gravy isn't uncommon in Bengal as well. However, there was a huge difference in the flavour. It had an amazing roasted flavour. We finished our meal with Fried Ice Cream, yes, you read that right. Years back I saw a viral video, ice cream being fried and I never really thought I would be tasting one myself. Mr. Sanjay Verma showed up and he turned out to be a big foodie as well. We got along on a long chat regarding food, our food, and how similar are the food habits of Keralites and Bengalies. We got so indulged in our chat that we forgot that our fried ice cream is getting cold, or hot. We sliced through the crispy fried ice cream and the still cold but a little melted ice cream was revealed. If served immediately, the ice cream inside is usually found still frozen, but my bad, I dug in way later than it was served.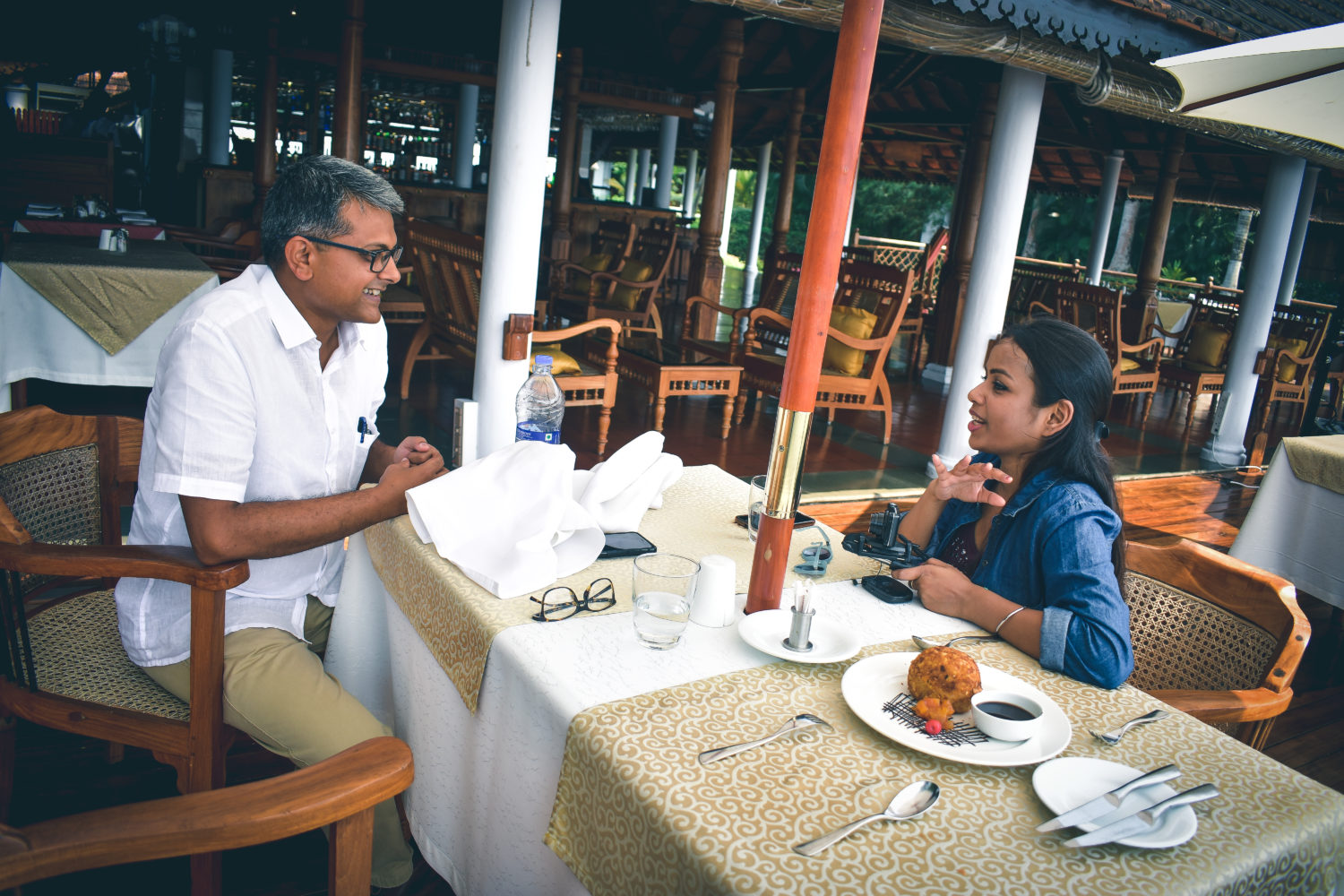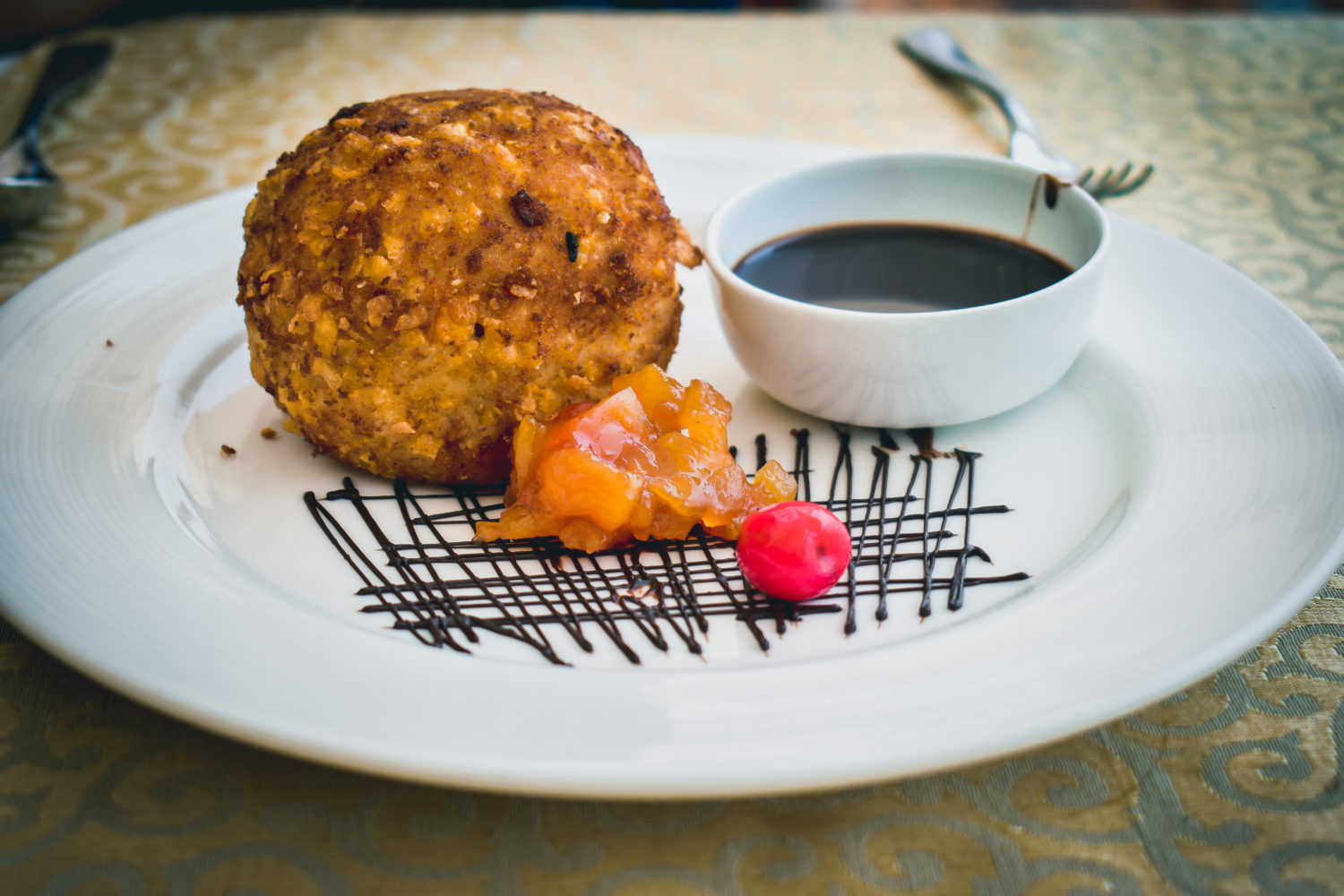 We thanked the chef and left towards our room to pick up our stuff and to reapply my sunblock, it was so hot out there.  Our cab was already waiting for us, so we settled in; it was a long drive to Thekkady. We waved goodbye to the smiling staff that stood there at the gate to see us off.
If you ask me honestly, this stay has to be my most memorable stay while in Kerala. We made memories, a lot of them. It was the most relaxing and refreshing stay I ever had while on a trip. There were guests who come and stay for weeks just for the relaxations and wellness programs, and in just 2 days we got a glimpse of how perfect that can be.
Every corner of the resort gives an aesthetic pleasure to the eyes. And the Meandering Pool Villa is just perfect for honeymooners. I mean if someone I know is looking for a honeymoon spot; I'll suggest them to book a Meandering Pool Villa at Kumarakom Lake Resort. They even have a package for honeymooners that include candlelight dinners and wine. There are a lot of other packages to choose from as well. As for me, I'll just be happy to go back and stay at the Meandering Pool Villa and this time, for a longer duration.
EDIT:  So I lost a dress during the trip, turned out I left it at the Kumarakom Lake Resort. I mailed them about the lost dress and they parceled it at my address. How cool is that?!