Hi there my fellow beauty addicts! Today is the great day when I shall bestow upon you all a review that is exceptionally awaited! Drum roll please!  Presenting the Hada Labo Gokujyun Premium Hyaluronic Acid lotion!!!!  It's going to be a long review so please bear with me. You know if there were only three products that I could save from a burning house, this Hada Labo Gokujyun Premium Hyaluronic Acid lotion would be one of them. Nay, it will be the number one stuff that I will save!
I am a total Japan freak!  Japan is the epitome of perfection for me in most aspects. I used to be sad because Jbeauty is not so easily available like kbeauty. In fact kbeauty is manufactured for international consumers but Jbeauty is only made for domestic consumption. As with everything Japan, these products are impossibly high in terms of quality, safety and user friendliness. Kbeauty has more visual appeal but when it comes to effectiveness, Jbeauty is the winner hands down! After eons of silently obsessing over Jbeauty, I finally found Dokodemo.com one blessed day. I saw almost all raved Jbeauty items on sale there for reasonable prices and the shipping was good too. But one thing broke the deal- they did not declare packages as "Gifts". They stated the real value in Japanese Yen and declared it as "Merchandise" which made me think that I will get slapped with customs big time! So I had given up for a while. But after an illuminating conversation with  a fellow blogger, I got to know that the Indian Customs operates on whim. You can order a $40 lipstick and pay no tax yet a $10 bulky package can earn you 1200 INR tax. So those of you, who want to order from Dokodemo.com , please don't let customs deter you. Every single penny you pay is worth it because Jbeauty is all about functionality and effectiveness with low price tag. One tip that I would like to share with all the readers- please order a smaller product for your first purchase. By doing so you can gauze the temperament of the customs official who handles your parcels and smaller packages ensure no tax in most cases. I do hope you all will give it a try.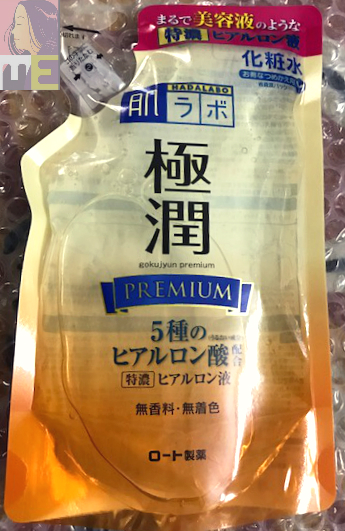 All my life I have suffered from dry skin which somehow lacked life and plumpness. I used to stare in amazement at the beautiful, bouncy skin of other girls. Why could not I have such skin! Well, first of all I do not have dry skin per se, but dehydrated skin. Dry skin lacks both moisture and oil/lipids, whereas dehydrated skin has a dangerous deficiency of water alone. Those of us who have thinner skin will rapidly lose moisture content of the upper layers of the skin. Our skin lacks the magnet to keep water attached to the epidermal layers. That's why we tend to have deflated, dehydrated, dull skin which look similar to 80 year old grandma's. This magnet that we lack is Hyaluronic Acid (HA) which is naturally produced in our body. It is one of the building blocks of skin along with collagen and ceramides. Do you know that Hyaluronic Acid is injected in people's skin to make it appear fuller? In simple terms we call that a filler. Hyaluronic Acid is this natural water magnet that keeps water molecules attached to it and thus helps our skin retain moisture.
Now finally about the product itself, Hada Labo needs no introduction. It's a brand that is synonymous with Jbeauty. Their products are highly functional. No frills, no fancy packaging, no bullshit- this is Hada Labo and they are the best at what they claim- moisturizing! Hada labo Gokujyun lotion is probably the most well known Asian beauty product. And the product that I am going to review is the premium version of it with 5 types of Hyaluronic Acid (HA) molecules. YES, 5 F**KING types!!! The normal Gokujyun lotion has only 3 types of HA and from my nerdy research I found that it is uncomfortably sticky in humid weather. But people use it for its incredible carrier action- it helps a lot of heavy stuff to absorb in a flash. Well, stickiness is not my cup of tea so I opted for the Hada Labo Gokujyun Premium Hyaluronic Acid Lotion. I mean it has 5 types of HA for God's sake and gives a semi matte finish!
Ingredients: Please check this Cosdna link for detailed analysis. The Hada Labo Gokujyun Premium Hyaluronic Acid Lotion does have a short ingredients list. Just look at the concentration of 5 types of HA!!
Price:  530 INR for the actual product and 450 for refill pack. I bought the refill pack- saves a few bucks and weighs less-à savings on shipping fee and lesser chance of getting taxed and environment friendly.
My Experience:
I have only one word to describe it- heavenly! The lotion has actually a serum like consistency. I apply it on a wet face and most of the times in the shower room after bathing. The reason? The more water around the HA the better it works! Do not apply it on a dry face or else you'll have dried up, dull skin.  The Hada Labo Gokujyun Premium Hyaluronic Acid Lotion absorbs fast and is not sticky. It has no fragrance. The moment it touches your face you can actually feel it softening and plumping up. I never understood the meaning of plumping up until I tried the Hada Labo Gokujyun Premium Hyaluronic Acid lotion for myself. The 5 types of HA bind water in different layers of our skin. Regular usage of it makes my skin plump, bouncy and beautifully hydrated (my god I have good skin finally!!!).  I use it 2-3 times depending on the weather. A coin sized application does it. After using it in combination with The Ordinary 100% Plant Derived Squalane, I have stopped using creams. This combination alone can combat dehydration and dullness to the fullest. While the Hada Labo Gokujyun Premium Hyaluronic Acid lotion plumps up skin and infuses it with moisture, The Ordinary 100% Plant Derived Sqaulane locks it in with a satiny glow and softness! Both the products are made of things that our body naturally generates. There is no greasiness or heaviness from this combination. I love the feel of my skin now!!!
As the product came in a refill pouch, I decanted it into my empty Secret Key Milk Brightening Toner bottle. My mom, sis and I have been using it for almost 3 months now. Still there is much product left. I think it would last us another month.  For acne prone skin, it's great! My sis, who is an impossibly hard to please person, said this thing is a 5/5 product. I have never heard her say this for any kbeauty product before. My mom loves it too because it's not greasy or heavy. It gives her skin the helping hand it needs to combat the signs of ageing. In short 75% of my family loves it. So folks this was the review for the legendary Hada Labo Gokujyun Premium Hyaluronic Acid lotion. I hope you like it!
Pros:
The ultimate product for dehydrated skin
Very high quality product which is economical and supremely effective
Great for acne prone skin
Fragrance free
Oh screw this, I love it!!!
Cons:
None, except availability.
Rating : Can I give it 10 out of 5? Lolzzz!
Repurchase:  Gurl, I need me an unlimited supply of this stuff! I have ordered 2 refill packs already!
Availability: Dokodemo.com and in India, an instagram reseller Tuan cosmetics.
P.S.  Would you all like a Dokodemo.com review and how to order? Please comment below to let me know!