DearPacker collaborated with Nykaa and created a range of sheetmasks last year. I placed an immediate order on the day of the launch but never really got around reviewing them. I really liked them and given to the fact that they are always on sale at Nykaa, I placed another huge order right before the wedding when I was sheetmasking everyday. My dedication towards sheetmasking helped me achieve the 'glass skin' effect but again, I never really got around reviewing them except for the charcoal one.
So today I'll be reviewing my utmost favourite mask from the whole range, something I'll repeat purchase even though I personally don't like repurchasing products (as I like experimenting with new products).
Dearpackers Turmeric + Yogurt Home Remedy Mask
MADE EXCLUSIVELY FOR NYKAA BY DEARPACKER
Get younger looking, glowing complexion! Dear Packer Home Remedy face mask is a specially made sheet mask containing turmeric and yogurt extracts that provides moisture and nutrition to tired, dull skin. It helps with skin circulation that normalizes skin turn-over cycle and helps skin to be clearer and cleaner.
Adds moisture and enough hydration to your skin
Keeps the skin soft, smooth and glowing
100 % Pure Cotton- Made Mask Sheets
Special concentrated solution for your face
5 free – No Paraben, No Mineral oil, No Talc, No Triclosan, No Triethanolamine
Key Ingredients: Turmeric and Yogurt extracts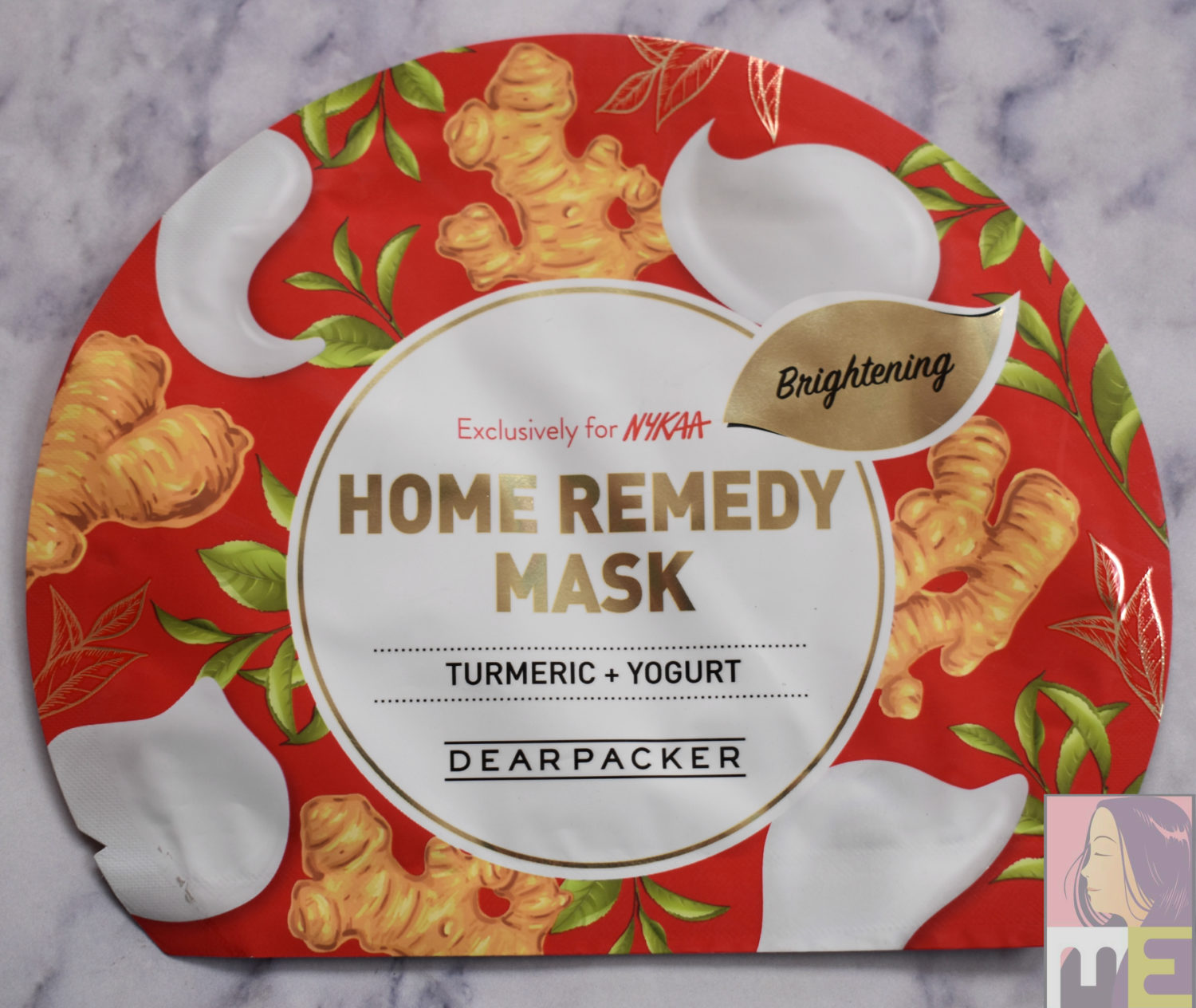 So if you are from India and into skincare, you'll probably know that in this collaboration, Korean brand DearPackers exclusively created a range using Indian Home Remedy A.K.A ancient Indian Beauty Secrets. We've grown up being suggested by our mothers, grandmothers and aunts to use face packs created with besan, multani mitti, curd, or turmeric, these are like the staples in Indian home remedy. Because of the weird fascination Indians have towards fair skin, turmeric and curd is probably the most heard of, especially if you are browner than most Indian, sigh! But to be honest, these are some potent ingredients for DIY skincare which is why a lot of Indian women swears by them. My skin however, does not react very well to powdered turmeric that we get in the market, I get dark, thick and irritated skin even if I mix a pinch of turmeric powder in my besan and tomato de-tan pack. However, whenever I get skin allergy during the allergy season, my mum makes me turmeric paste out of raw turmeric and that seems to work way better for me.
So when I first used the Turmeric + Yogurt Home Remedy mask, 80% of me had high hopes, and 20% didn't know how my skin would react to it, but I went ahead  anyway as I have blind faith in Korean Skincare. I wore the mask on a clean and toned skin and left it on for around 30 minutes. The mask had a good fit (I didn't click a selfie wearing it but the other masks from the range have similar fitting which I'll post in future reviews) and didn't completely dry out in 30 minutes. I removed the mask to reveal a nicely hydrated and super bright skin. The brightening effect was noticeable and lingered for 3-4 days, which is the reason that I repurchased it for my pre-wedding skin regimen.
Overall, I'm extremely satisfied with this mask. This is one of the most effective brightening sheet mask I've ever used. It didn't react to my skin like it does when I use turmeric powder purchased from the market.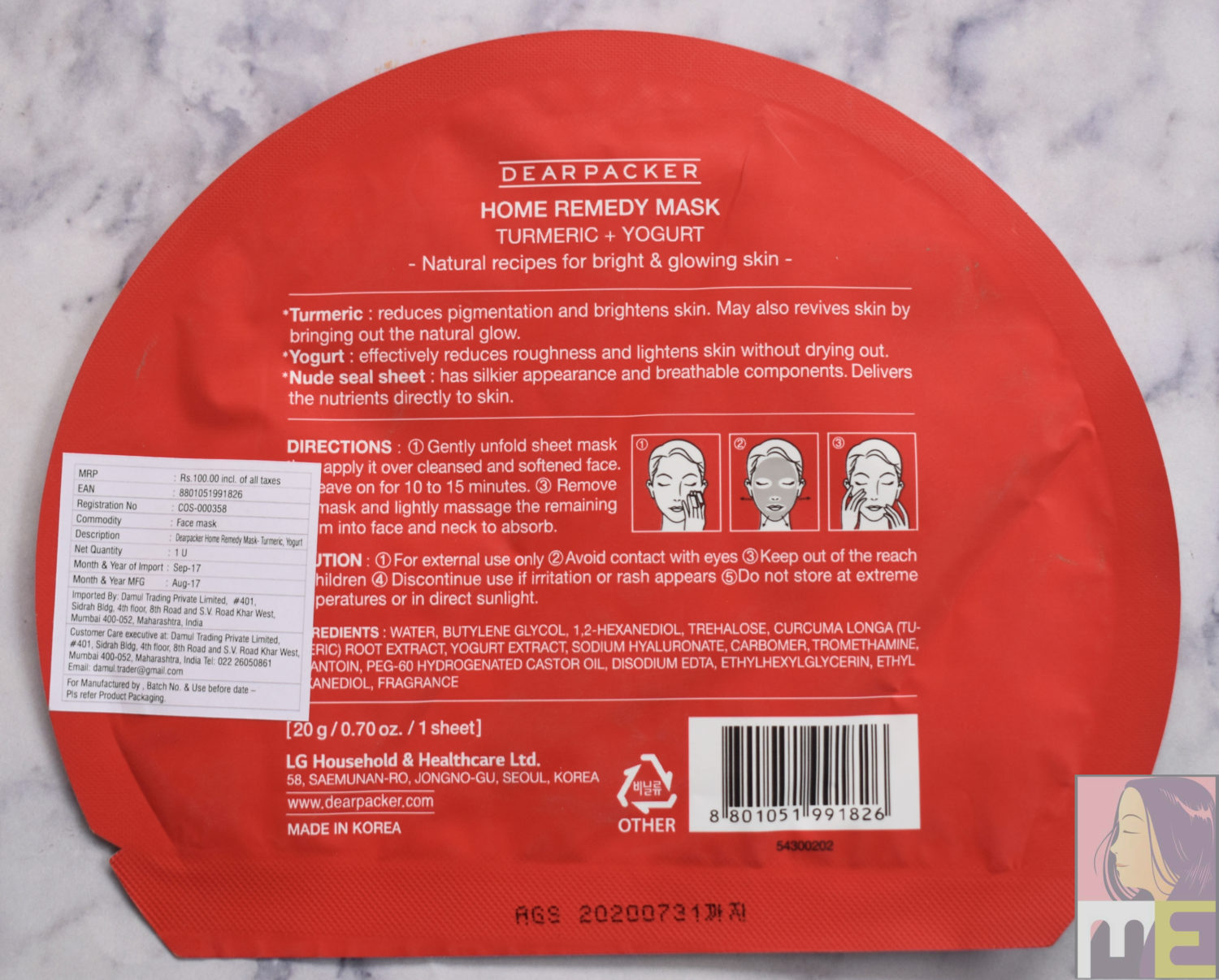 Will I repurchase it?
Yes
Will I recommend it?
Yes
Pros:
Pocket friendly
Easily available in India
Nice Fit
Hydrates the skin
Alcohol Free
Immensely brightens the skin
Cons:
Nothing
Rating:
4.9/5
Where to buy:
Price: Rs 100/- , but it's always on sale on Nykaa, first time I got 7 for 500 and next time I got 10 for 100 which is really cheap.