Vitamin C is known as one of the most potent ingredient for skin, but only if it suits your skin. For detanning to age defying, there are number of benefits you can receive from a product containing vitamin C. However, they are not the best buddies with anyone who has a sensitive skin. Every time I come back from a trip with a badly tanned skin, I use Vita C sheetmasks from different brands that reduces my tan like magic, but most of them also gives me a pimple as a return gift. Which is why I never actually went ahead to order a Vitamin C serum, especially after my sister ordered the Klairs Freshly Juiced Vitamin C and got a bad reaction post usage.
But then I was approached by Vya Naturals asking if I would like to review their Vitamin C serum and I thought it's high time I give Vita C a try. I received the package the afternoon before we left for our trip but I didn't pack it with me since Vitamin C can increase photosensitivity and I couldn't risk it knowing I'll be spending a lot of time under the sun. I came back completely tanned, darker than I've ever been before. Those long hours in the swimming pool really gave us a tanned memory and if you could only see my tan lines!!!
So it was the correct time for me to start using the Vya Vitamin C Serum.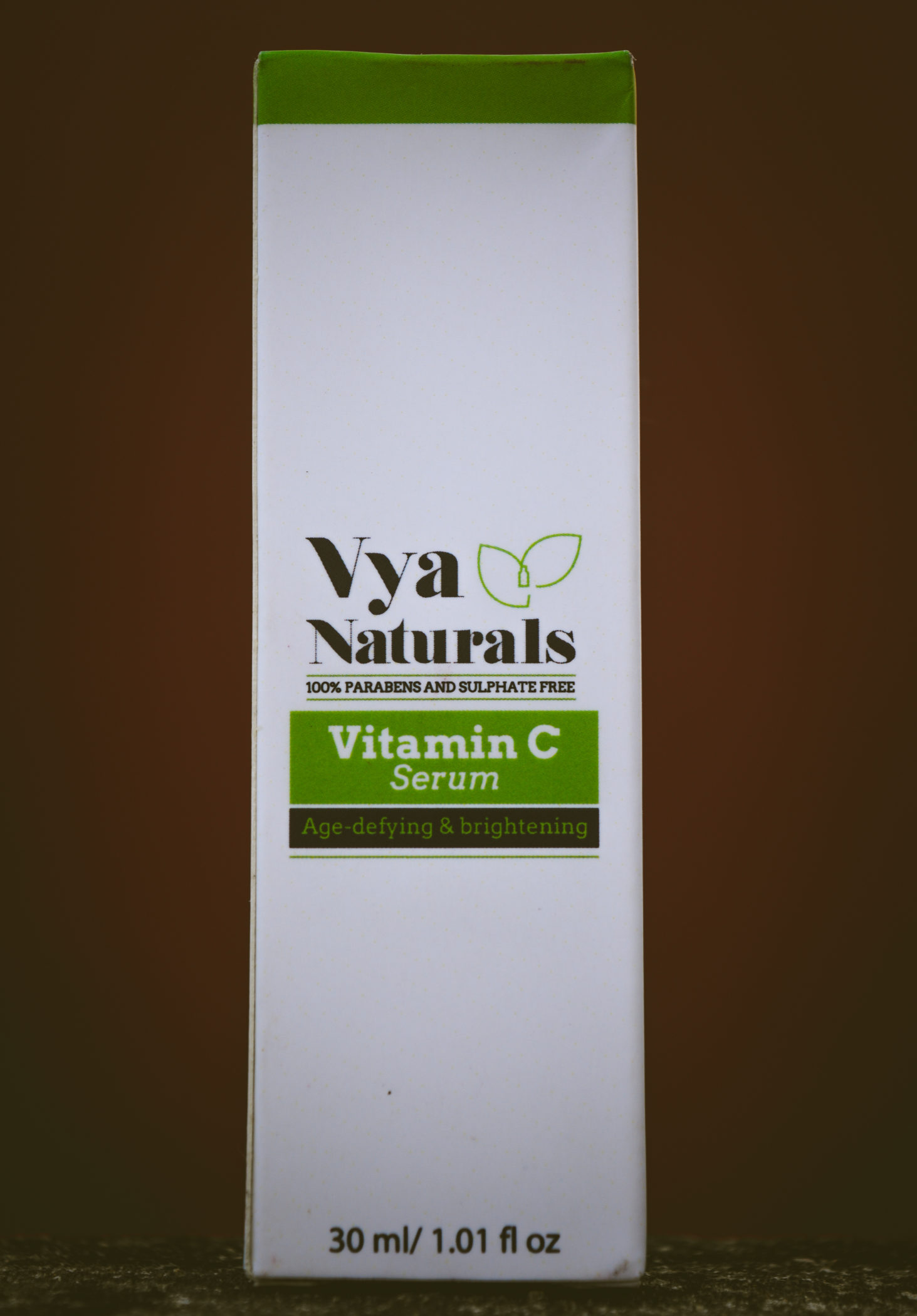 About The Brand: Vya Naturals products are formulated using natural ingredients that are not only safe and non-toxic but also effective. All formulations are original, created by the brand, and tested on people, not animals. Vya Naturals uses therapeutic-grade essential oils, natural plant-based butters, natural clays and plant-based waxes. And they definitely DO NOT use parabens, sulfates, artificial colors, artificial dyes, mineral oils, formaldehyde, animal ingredients, artificial scents, phthalates, chemicals, fillers, mineral oils, or petroleum.
The brand name stands for :-
Vimal (pure)
Yajus (reverence)
Ayush (healthy life)
Vya is reverence for a pure and healthy life.
About The Product: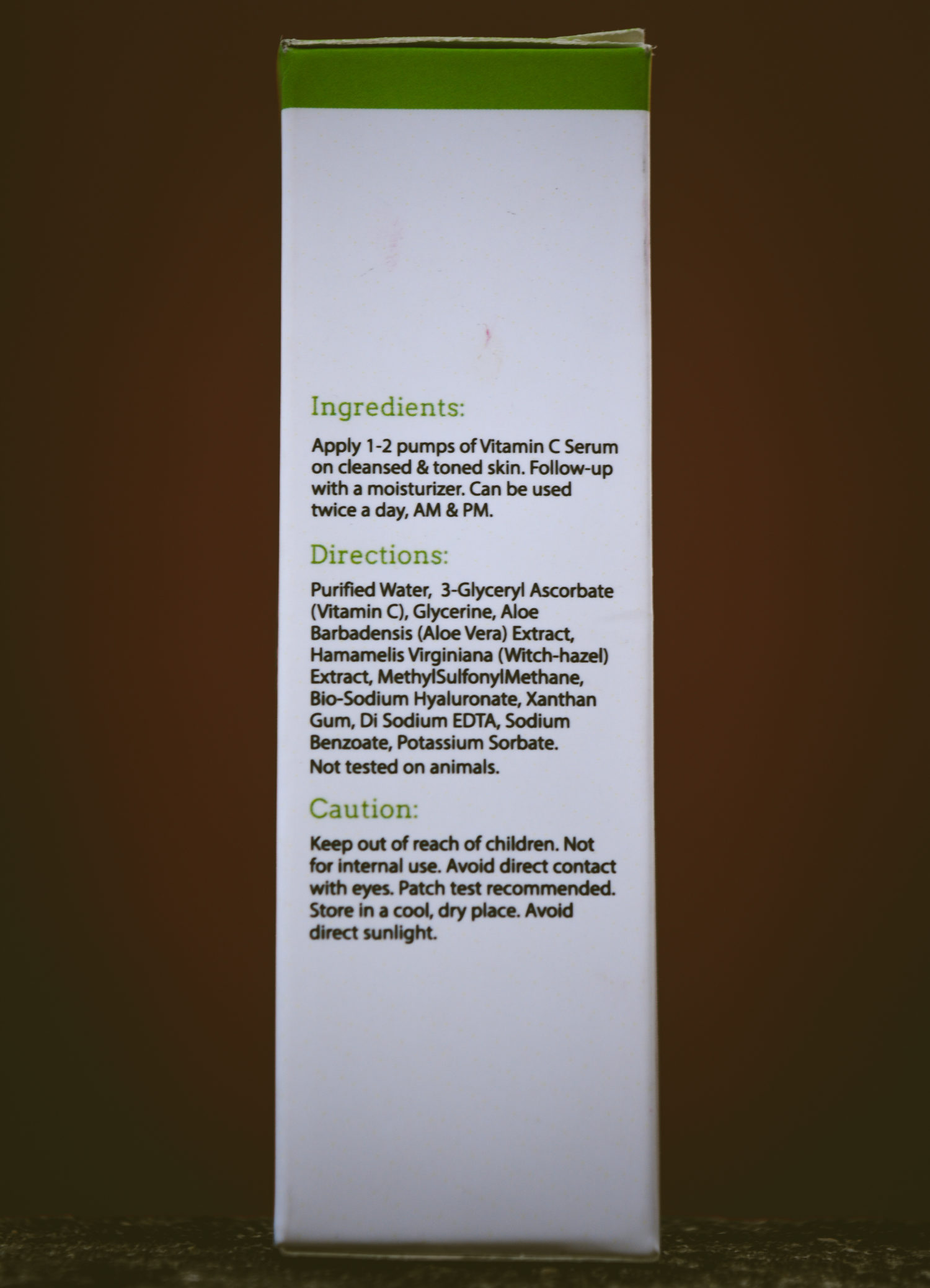 Vya Natural's Anti Aging and Skin Brightening Serum contains 20% Vitamin C to reduce uneven skin tone, dark spots and hyperpigmentation.
Age-Defying and Brightening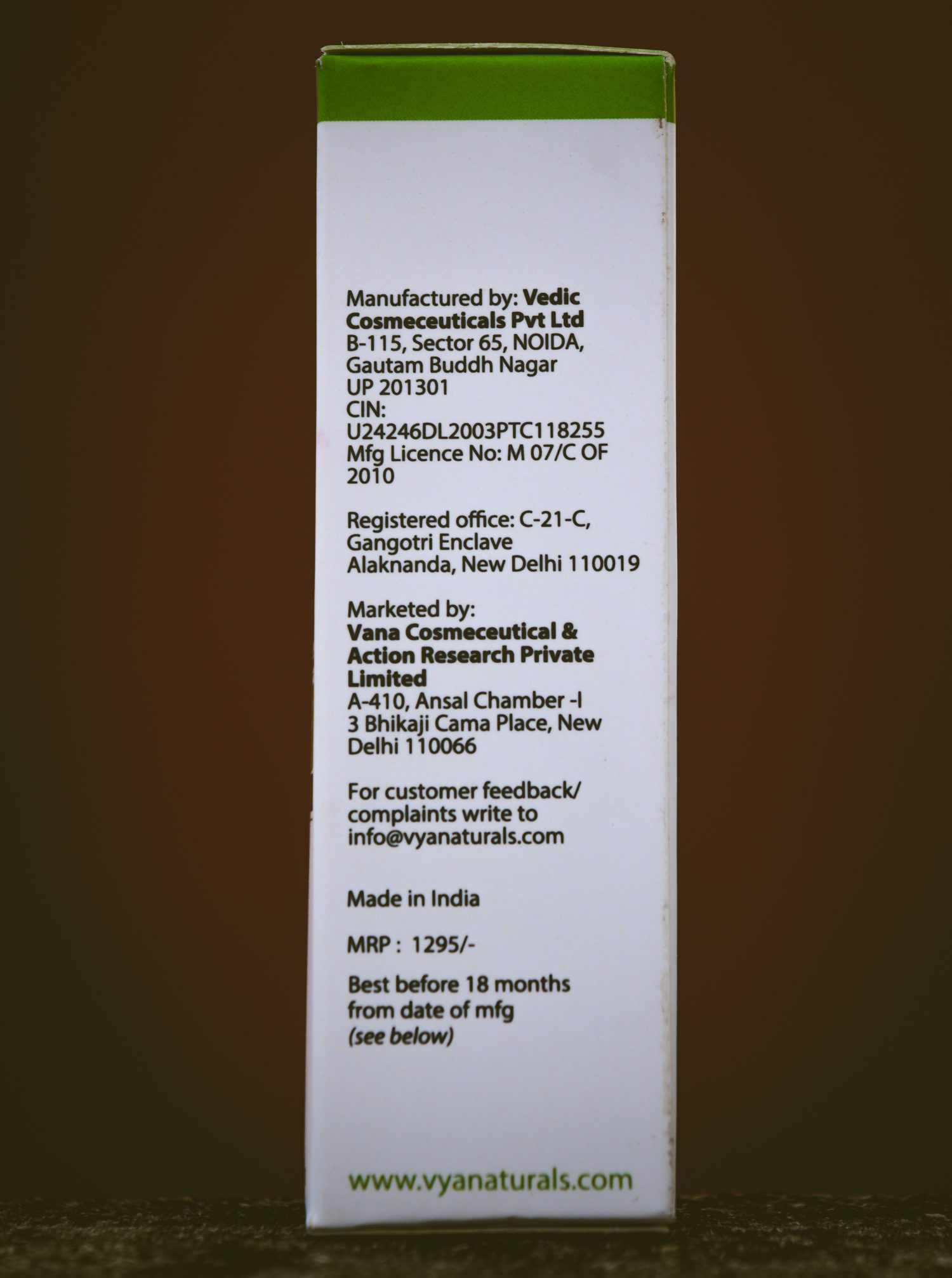 ACHIEVE AGELESS & RADIANT SKIN– Vya Natural's Anti Aging and Skin Brightening Serum contains Vitamin C to reduce uneven skin tone, dark spots and hyperpigmentation. Providing advanced antioxidants to protect against free radical damage. Vya Naturals Vitamin C Serum helps you achieve smooth and clear skin.
BRIGHTER COMPLEXION– Vya Naturals Vitamin C Serum helps the skin while moisturizing with deep hydration. This serum tones and repairs rough, dry, wrinkled, sun damaged skin to keep your face looking soft and glowing.
ADD TO YOUR REGIMEN– Vya Naturals Vitamin C Serum can easily be incorporated in your daily skincare routine. This powerful breakout and anti-aging treatment can be used under a cream, lotion or moisturizer.
PERFECT FOR:All skin types, lines & wrinkles, aging prevention
My Experience: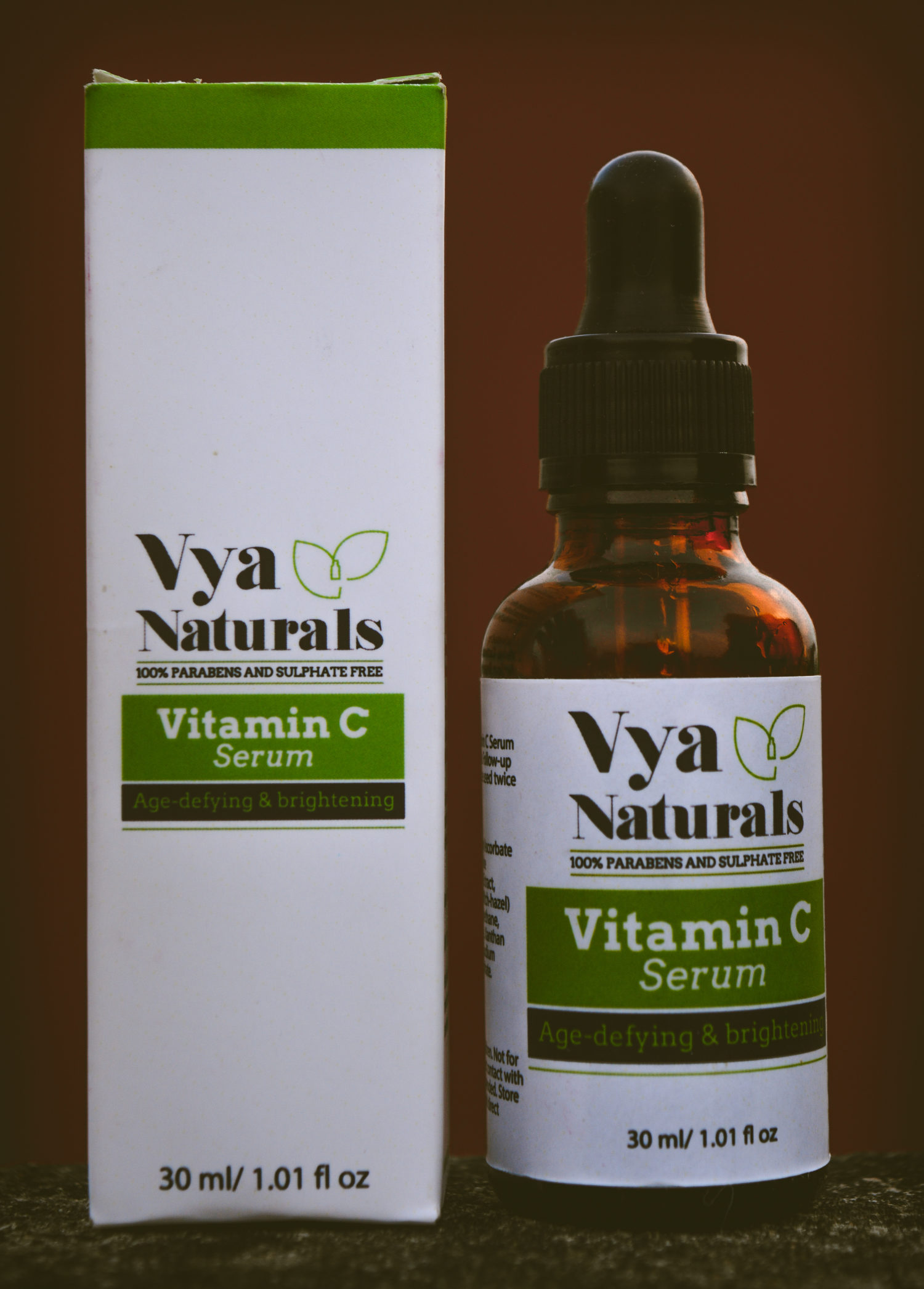 When I started using the Vitamin C serum, I had two skin issues: chicken bumps on my cheeks that I got during my wedding, and severely tanned skin. I started using the Vitamin C from the night we came back home. It comes in a dark glass bottle to protect it from sunlight and with a dropper that dispenses the product in right amount. I started using 2-3 drops of the serum every night. The box says you can use it twice a day, but I'm cursed with a hyper-sensitive skin and didn't want to risk it. The first morning after using the serum, I woke up to a small pimple on my cheeks, but my tan was lighter, just overnight. I continued using the serum even though I kept getting one small pimple every night, and my tan kept getting lighter and lighter. After a week of continuous usage, with a still but less tanned skin and a few pimples, I stopped. My skin wasn't reacting very well to the serum. I gave my skin a rest for a week, and then a week later, gave the serum another chance, sometimes every night, sometimes alternate nights (the way my sister now uses her Klairs Vitamin C). Turned out, my skin behaved way better when used alternate nights, the tan kept fading and no sign of new pimples. After using it on alternate nights for some time, I went back using it every night. Seemed like, my skin adjusted to it by now and I would get fewer pimples (like 1 pimple after 4-5 days of continuous usage) and my skin was almost detanned and a lot brighter. At that point, when my skin was almost but not completely detanned, I got a bad fever and I stopped using it for a couple of weeks. To my disappointment, my skin somehow went dark, not as dark as when we came back from Kerala, but darker than when I stopped using the serum. I mean I tolerated those pimples for the sake of detanning but I lost the brightening effect once I stopped using it.
However, there's one thing that's worth noting. Remember the bumps I talked about? The infection that I probably caught during my wedding makeup? The Vitamin C seemed to shrink them visibly. Yes I was waking up with new pimples every day, but apart from that 1 single pimple, the rest my skin was usually smoother while I was using it. When I was using the serum on alternate days, I would notice shrunk bumps the morning after using the serum. So I guess, with continuous usage, the Vitamin C serum can indeed heal my irritated area. And to be honest, yes I will give this serum another try, because the brightening effect that I achieved while using it was worth the experiment, and since my skin has almost adjusted to it, it doesn't hurt giving it another try. And maybe my brightening effect didn't last long because I didn't use it for a long period of time. But most possibly I'll stick to alternate day usage.
Will I recommend it?
Not sure about sensitive skin beauties, but anyone who doesn't have a sensitive skin and wants a brighter and younger looking skin can try it.
Pros:
Brightens the skin
De-tans
Heals acne scar (did I mention the pimples usually stayed 1-2 day and the scars used to vanish by the next 2 days?)
Paraben free
Fights the aging process
Soothes irritated skin
Cons:
Gave me pimples, but all Vitamin C gives me pimples.
Rating:
4.7/5
Where to Buy:
At a 15% discount right now at https://www.amazon.in/dp/B074N1QTF4
Price:
Rs 1,295 (currently Rs 1095)