I have had my eyes on the fan favourite Klairs Supple Preparation Toner for a very long time now, but given to the fact that I was stocked up on toners, I never really got around ordering one. However, after my sister got this for herself according to my suggestion, she just went on and on and on about how good it worked for her skin, how much she loved it and how she started following the '7 skin method' ever since she started using it. After hearing her rave about it, I suggested it to a lot of people who gave me positive feedbacks and I was thinking of ordering one for myself once I settled down after the wedding.
During early March however, I received an E-mail from Wishtrend announcing that they would launch an unscented version of the cult favourite product on March 15th and if I would like to review it. Well, of course I did, for a person with a hypersensitive skin; I can't really express my love for Klairs products in mere words. I don't know how long my toner was stuck in custom but it came in a disfigured box, exactly like the last PR from Klairs, their Juicyful Vitamin E Mask (that was stuck even longer). I also had to pay a whooping 600 something Rs custom tax (yes for a single toner).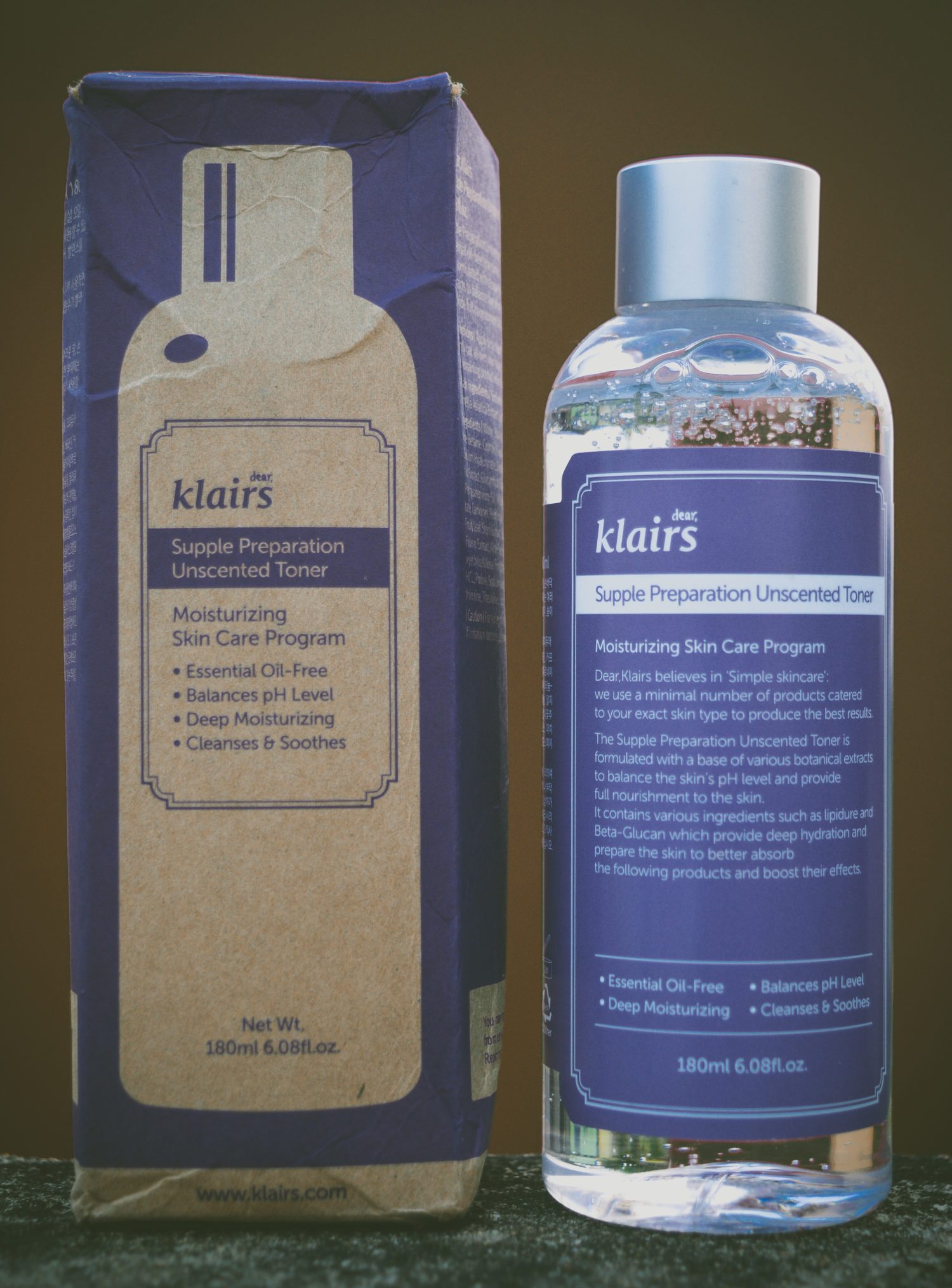 Now let's come down to the review. The Klairs Supple Preparation Unscented Toner is the unscented and essential oil free version of the original toner. Even though the Version 1 has been a big hit and has a really high sale rate, due to the presence of essential oil, a lot of people who's sensitive to essential oil and fragrance were unable to enjoy it. That's what I love about Korean Brands, especially Klairs and Cosrx, they are so mindful of their consumers and answers to their request. The consumers wanted an unscented version, and tada! We have an unscented.
Personally, I'm not allergic to fragrance and I love essential oils, but anyone would love the absence of fragrance in their products. The toner comes in the similar cardboard box like the original version and a similar shaped bottle. While the original bottle is dark in colour to preserve the essential oil, the unscented version comes in a transparent bottle with a violet and silver label which I think looks classy.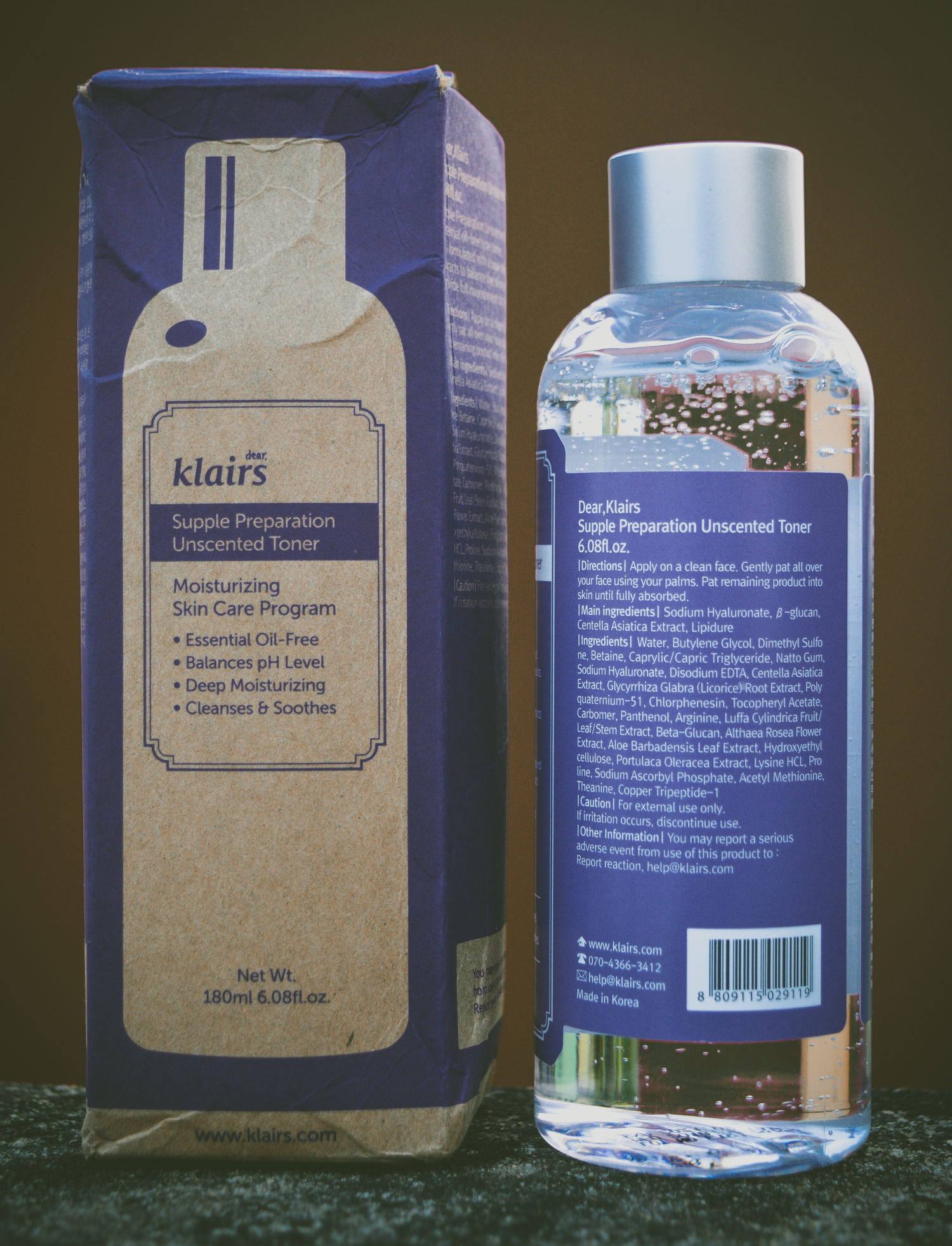 Main Functions and Differences:
✔ Fast absorbing
✔ Lightweight texture
✔ Low irritation
✔ Vegan-friendly
My Experience: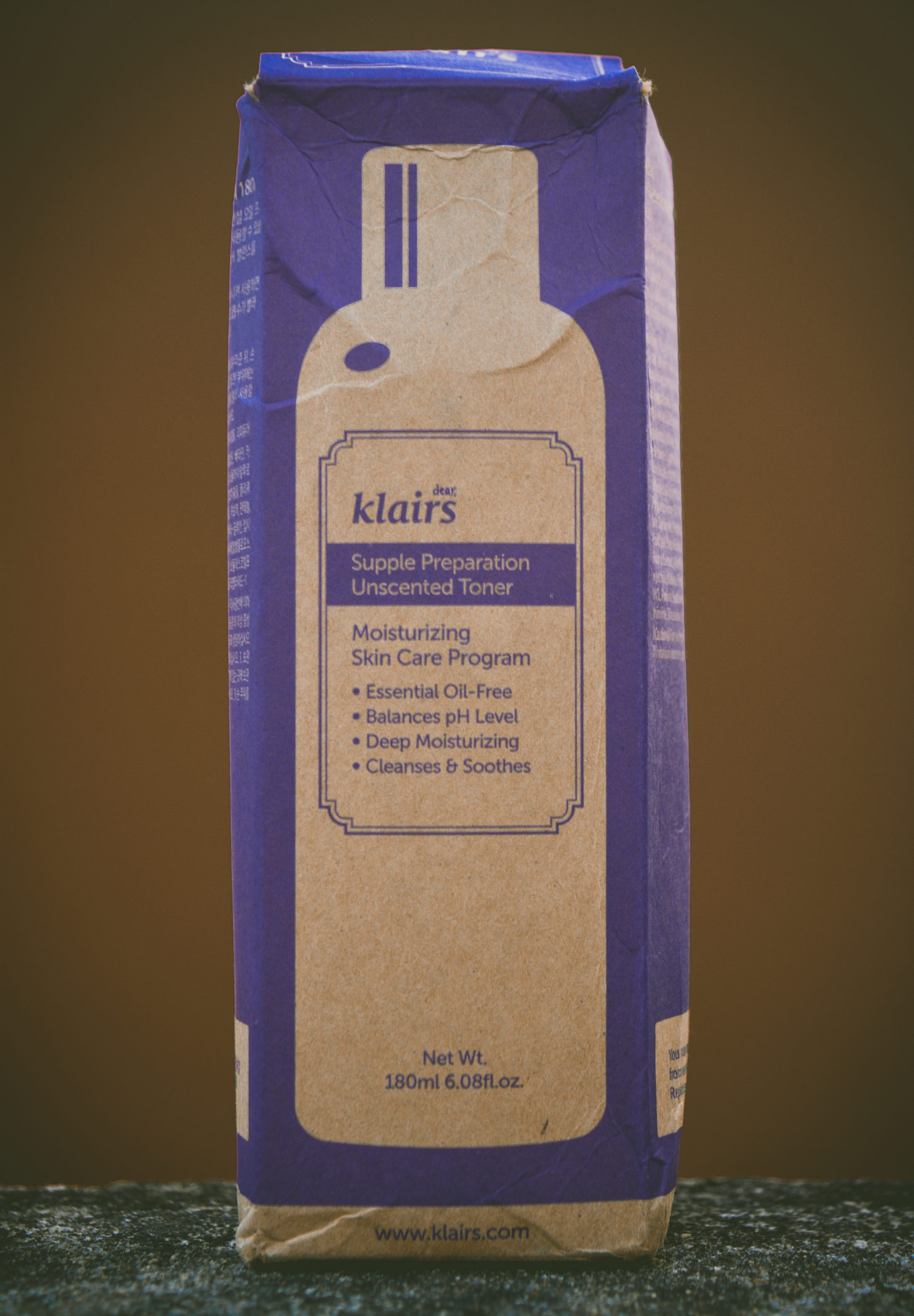 Because I haven't used the original version of the toner, I cannot tell the differences, but what I can tell is how much I love this product. The toner has a thick, water-gel consistency, ideal to be applied with patting, the way I love using my toners. The toner doesn't feel sticky on the face while applied and absorbs really well. I started using the toner right after coming back from my tour and was extremely pleased with how well it hydrated my skin. Even though it has a thick consistency it is lightweight and I could tell why people love using this one for the '7 skin method'. The very first time I applied it, I couldn't resist but follow the '7 skin method' and by the last steps my skin was as hydrated and plump as it has never been before. I woke up the next day with a healthy glow and with regular usage; it also helped soothe an irritated area where I got some bumps after the wedding. Overall, I'm so in love with this toner. Sometimes I also like following the '7 skin method' with a mix of toners, starting with the watery ones and moving on to this one.
For me, toner is a crucial step in my skincare, it not only adjusts the pH of our skin, but with the right toner, I've noticed benefits that goes far beyond just pH adjusting. I've noticed healing a damaged skin, as well as controlling a bad breakout after just introducing the right toner to my regimen. And with the discovery of Klairs Supple Preparation Unscented Toner, I don't think I'll ever have to look elsewhere, especially when my skin is behaving badly. I am someone who likes experimenting with new products and rarely repurchase anything, and this is something I'll repurchase. This is worth every penny and this is unlike any other toner I've ever used. Up until now, any alcohol free toner was good to go for me, but this one put my toner standard up so high.
Pros:
Alcohol and fragrance free
Lightweight and absorbs quickly
Ideal for sensitive skin
Hydrates the skin
Plumps up the skin
Soothes irritated skin
Cons:
Nothing
Rating:
5/5
Where to Buy:
Beautybarn (India)
Price:
$21.99
NOTE:  PR provided by Wishtrend but the opinions are completely honest.