This one's a long due review. Sometimes back Nykaa created quite a storm among Indian K-Beauty lovers when they launched their curation: Dearpackers. But there's more to it, they didn't just launch regular products by DearPackers but worked with them and created Home Remedy range infused with ancient Indian Home Remedy. Being a K-beauty lover who goes out of her way to get her hands on Korean gems that aren't available in India, I was intrigued by this strategy of Nykaa and order 7 sheetmasks at the price of 5 which was very economical for me since I will sheetmask everyday if I can. I'll lose count if I try counting the number of times I had been asked by my Indian readers if this masks where any good. And I was like "yes, out of all the Kbeauty brand that Nykaa has launched, DearPackers is my favourite. "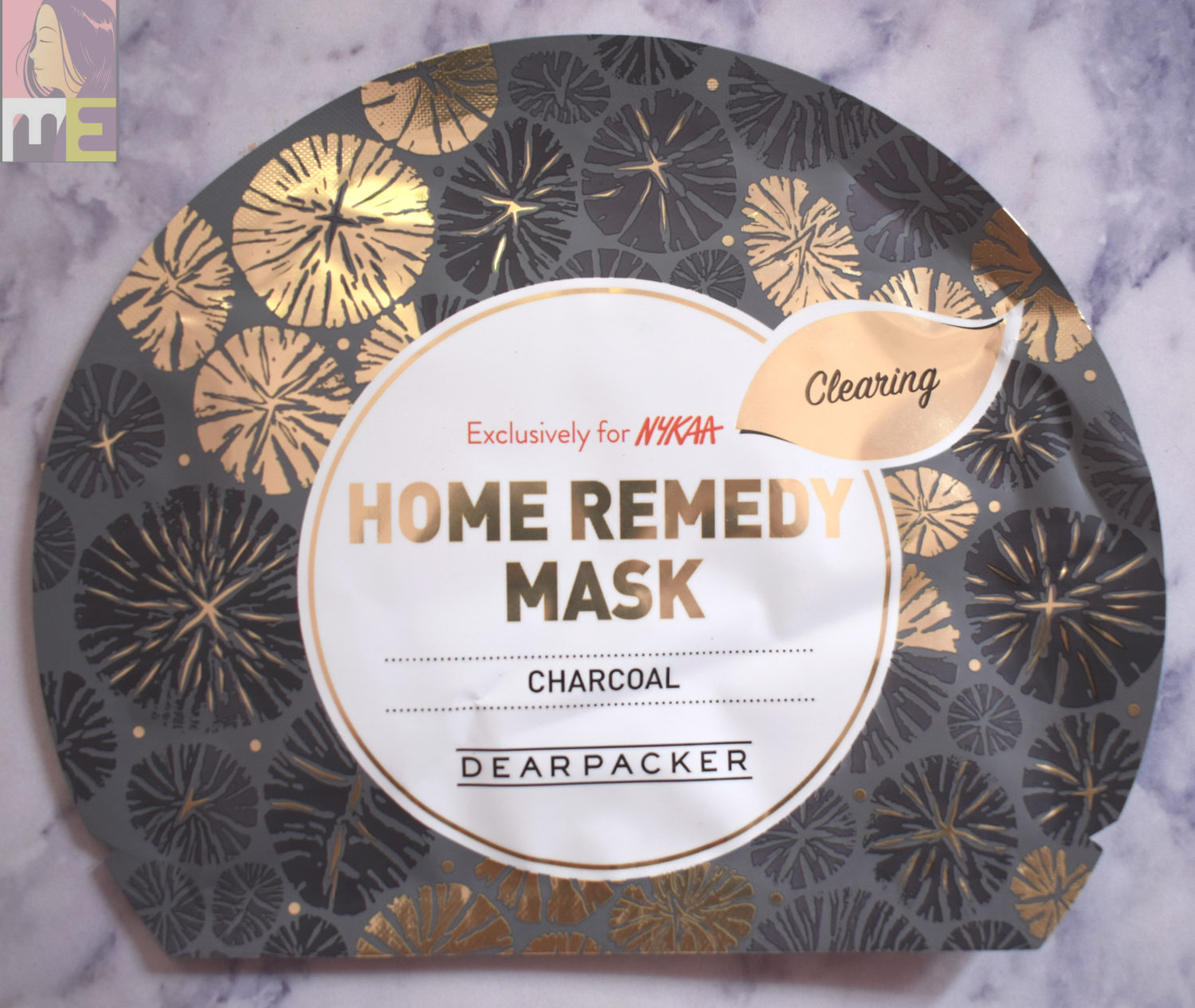 Once I was talking to the Kbeauty legend Jude from Fifty Shades of Snail regarding sheetmasks that I frequently used and she was so intrigued by this idea of combining Indian beauty secrets and Korean technology that she said she'll find a way to get her hands on them and I was like,,, "well yeah, I would love to send you some".
Quick Overview
MADE EXCLUSIVELY FOR NYKAA BY DEARPACKER
Charcoal sheet masks are the perfect solution to get clearer looking skin. This black sheet with charcoal extracts has excellent purification effects on skin. It cleanses the skin and draws impurities out of the pores and tightens them.
Has skin purifying properties of Charcoal
Draws out all impurities and tightens pores
100 % Pure Cotton- Made Mask Sheets
Special concentrated solution for your face
5 free – No Paraben, No Mineral oil, No Talc, No Triclosan, No Triethanolamine
How to use product
Wash your face and soothe it with toner.
Spread the mask sheet evenly over the face.
After 10-20 minutes, remove the mask pack.
Essence is left on your face after taking off the mask, tap your face for allowing the essence to be completely absorbed into your skin.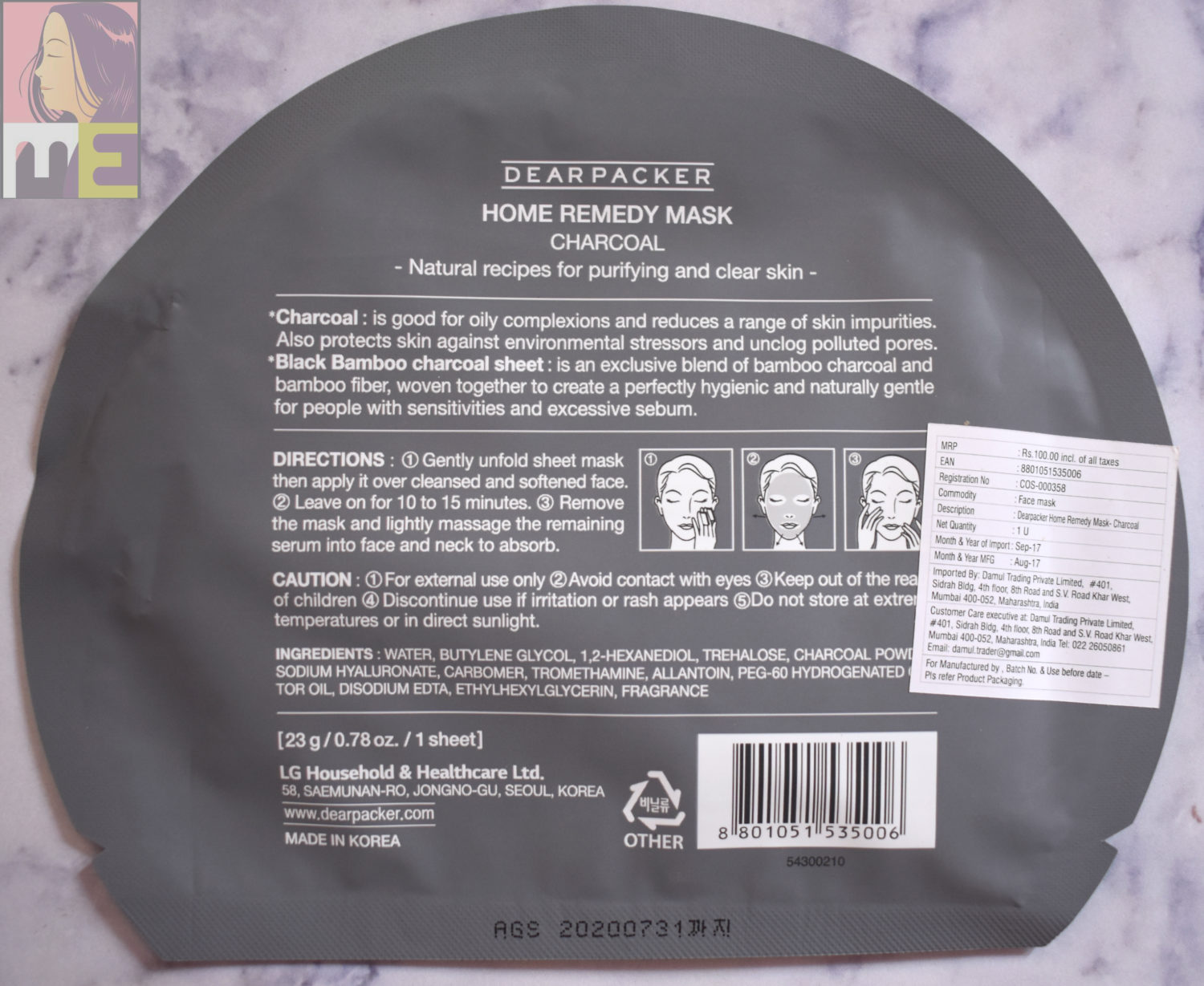 Additional Information: DearPacker is professional Korean brand introducing skin care products that transform your skin giving you beautiful, flawless complexion! Discover the innovative, gorgeous and fun world of Korean beauty with wide selection of cleansers, moisturizers, sheet masks and much more all available at affordable prices only at Nykaa!
My Experience:
You might probably be aware of my hatred towards alcohol in my sheetmasks, and yes, the home remedy masks do contain alcohol but it's not as strong as the TFS masks so I gave them a try and once I did try, it didn't take me long to get over the fact that they contain alcohol.
I don't remember which my first 7 Home Remedy sheetmasks were but it was only a matter of time I placed another order, this time, a pack of 10 for the price of 5. Thanks to Nykaa, they are always on the sale so you'll either get 7 for the price of 5, or 10 for the price of 5 which is very economical for me since I sheetmask everyday.
So I'll start my DearPacker Home Remedy Sheetmask review with the charcoal mask since black masks are always my favourite and also because when I started my pre-wedding skincare routine my sheet masks choices were like: first the detoxifying ones, then the calming ones, then the soothing ones, then the nourishing ones and lastly the brightening ones.
Most charcoal Black masks that I've used are too thick that I feel like my skin is not getting to absorb all the serum, but the home remedy one was a different story. It was also the first black mask that fit my face nicely. If you are not aware of the difference between a black mask and a normal mask, here it goes, the black sheets themselves are infused with charcoal along with the serum which further enhances the detoxifying effect.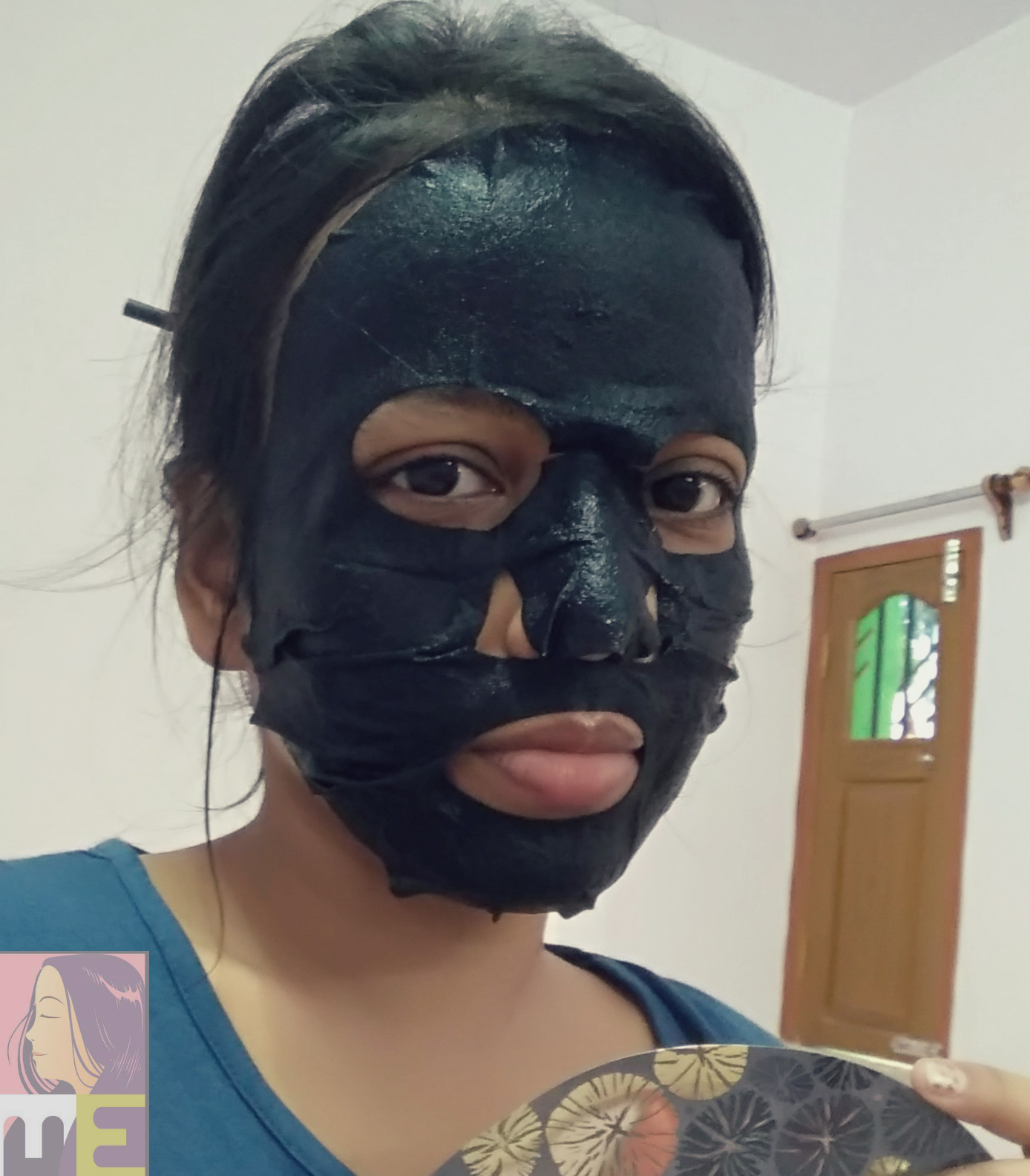 My pre-wedding regimen officially started after I came back from a short beach trip with a dull, dehydrated and irritated skin. I started my pre-wedding regimen with a deep detoxification; detoxifying wash off mask followed by the Dear Packer Charcoal mask. I kept the sheet mask on for 30 minutes, removed and patted the extra essence in and finished it off with a moisturizer. Now I've talked about the importance of following a sheetmask with a moisturizer again and again as it's really important to seal in all the goodness as well as the stickiness.
The initial effect was immense hydration and the next morning I woke up to a clear and bright skin with no trace of the stress my skin has been through just a few days back. I was sooo satisfied with the result and went on with a soothing mask the next day.
I will definitely recommend it to my Indian buddies since I like them better than TFS and It's Skin and even Innisfree when it comes to certain masks. They are also very economical, especially if you get the 10 for 500 deal. The presence of alcohol is certainly a meh but then again the basic range of all the sheetmasks from TFS, It's Skin and Innisfree contains alcohol so I'm all for DearPackers.
Pros:
Pocket friendly
Easily available in India
Nice Fit
Clears and smoothes the skin
Alcohol free
Cons:
Where to buy:
Rating:
4.8/5
I've tried all the sheetmasks from this range as well as some It's Skin masks before they launched at Nykaa so do let me know if there's any sheetmask you would like me to review.