You guys are probably aware of my love for chemical exfoliators, they are gentle on the skin unlike physical exfoliators (scrubs) and are perfect for sensitive skin. My first chemical exfoliator was a Goodal one which works both as a physical exfoliator and a chemical exfoliator and my second chemical exfoliator is Cosrx Bha Power Liquid 4% which helped me get rid of my acne marks and gave me a smooth skin.
Today, I'm going to review my third chemical exfoliator: Cosrx AHA Power Liquid 7% and I guess I've found my Holy Grail exfoliator.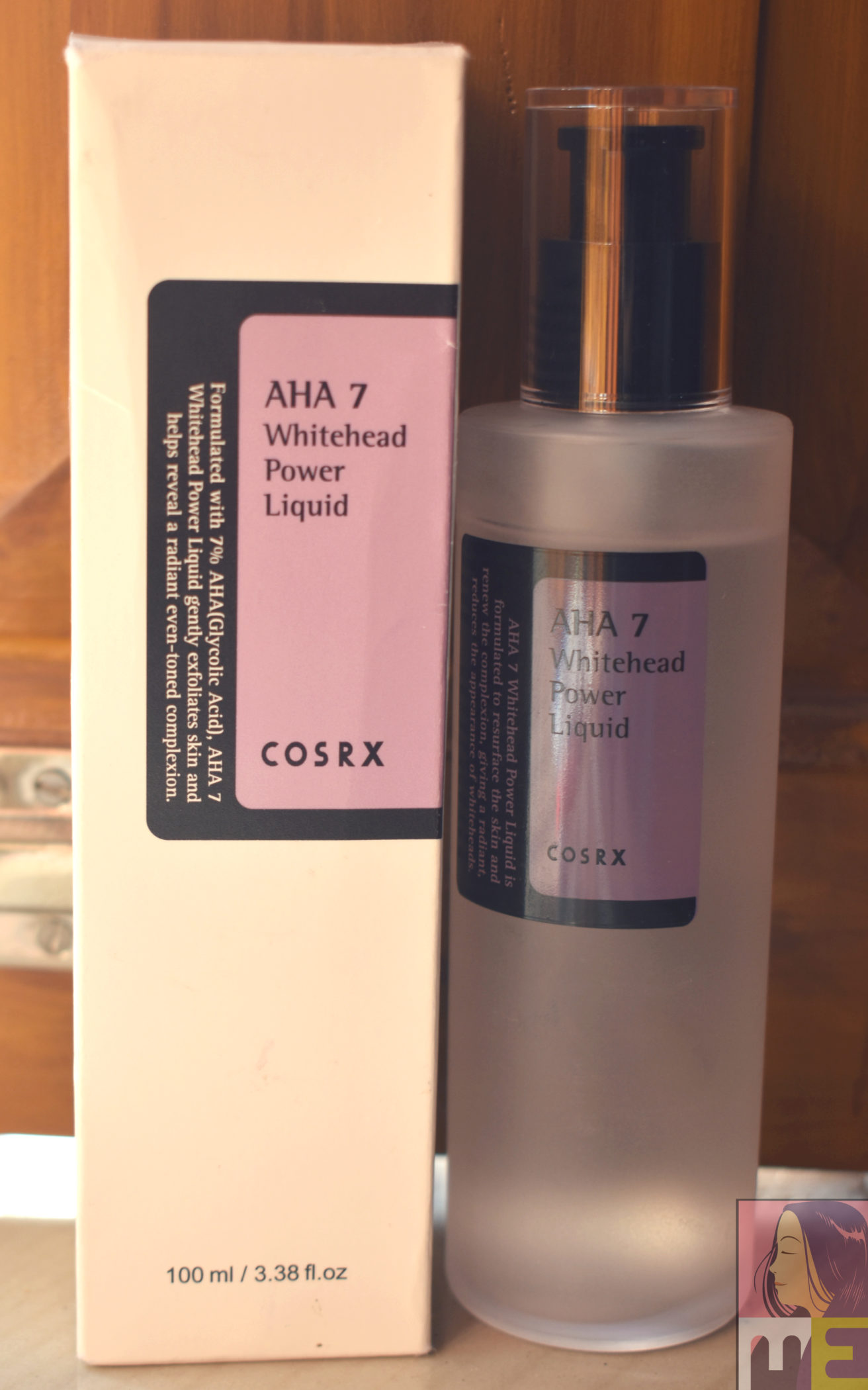 Description:
Formulated with 7% Glycolic Acid(AHA), AHA 7 Whitehead Power Liquid gently exfoliates skin and helps reveal a radiant even-toned complexion.
AHA 7 Whitehead Power Liquid includes Pyrus Malus (Apple) Fruit Water containing natural AHA and Glycolic Acid(AHA) that gently exfoliates and moisturizes skin. Other properties contained in this liquid are vitamins, and natural moisturizing ingredients that can refine without stimulating the skin. Using this helps to improve the appearance of the skin by looking it healthier and more vital. It is gentle enough on irritated and sensitive skin.
HOW TO USE

After cleansing, soak a cotton pad and swipe a thin layer of the liquid over the skin, avoiding the eye and mouth area. Wait atleast 20-30 minutes before applying your next skincare item. For use during the daytime, follow with a broad-spectrum sunscreen rated SPF 30 or greater.
NOTICE
It is suggested to use COSRX's chemical exfoliators with a cotton pad for maximum results.
Initial use of the product may give temporary irritation to the skin
Begin with using the product once a week, and after the skin has adapted to it, increase the usage up to 2 to 3 times a week
On the days you use AHA 7 Whitehead Power Liquid, do not use high concentration of AHA, BHA, retinol, or vitamin C products.
Although product has no added artificial fragrance, it may have some scent from its unique ingredients
INGREDIENTS
Pyrus Malus (Apple) Fruit Water, Butylene Glycol, Glycolic Acid, Niacinamide, Sodium Hydroxide, 1,2-Hexanediol, Panthenol, Sodium Hyaluronate, Xanthan Gum, Ethyl Hexanediol
Pyrus Malus (Apple) Fruit Water 75%
Glycolic Acid(AHA) 7%
My Experience: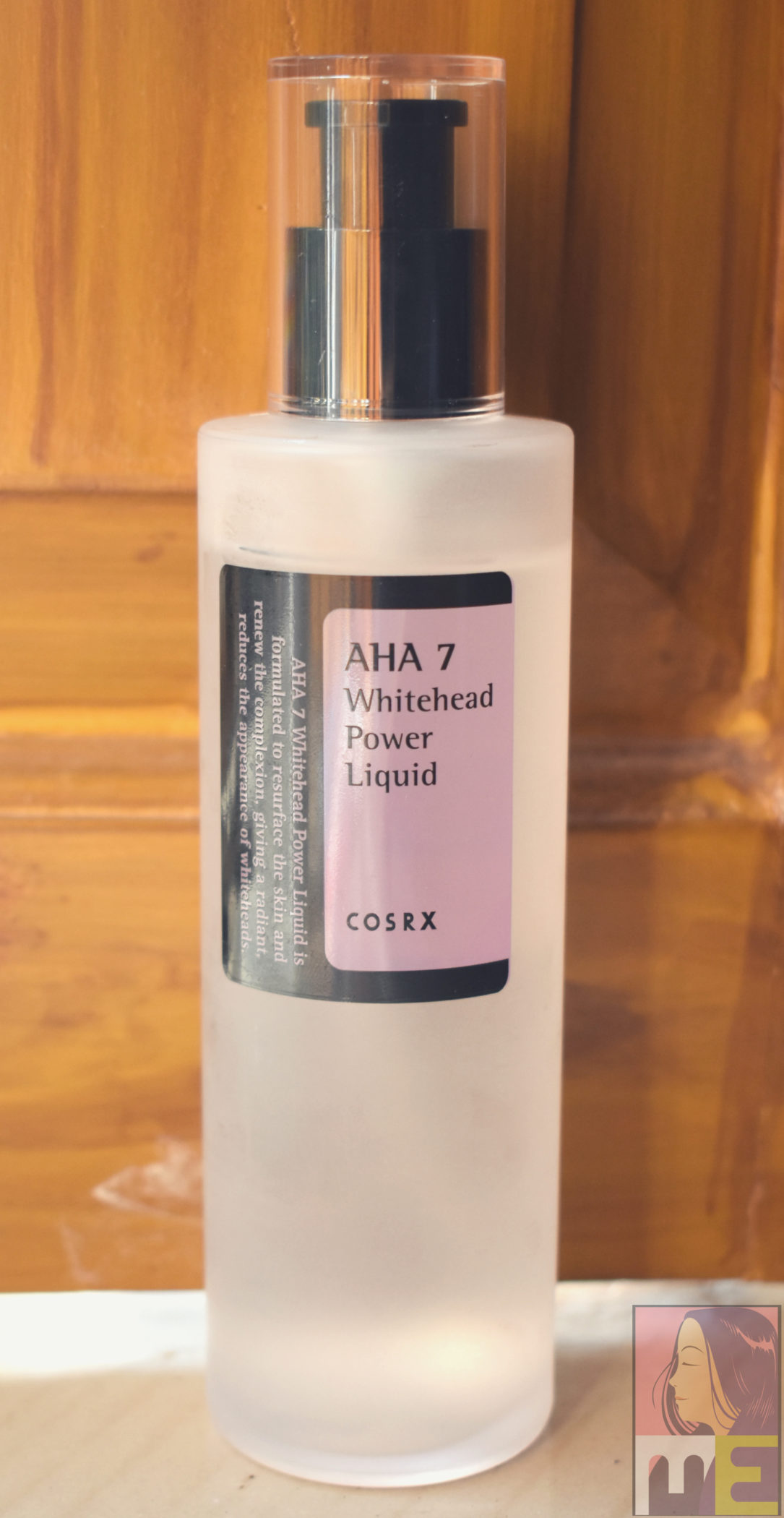 When I first started using the AHA I was already using the BHA twice a week, so I cut short on my BHA usage to once a week and started using the AHA once a week as well. If you've read my review on the BHA, you'll know that I love using it following the temporary pore shrinking method. Now since my sister uses the AHA and does not own a BHA I wanted to test if the AHA works if used during the pore shrinking method instead of the BHA. So I followed the method, switching the BHA with AHA and tada!!! It worked the same; there were a few grits coming out of my skin. What was even better was that the AHA provided an immense brightening effect unlike the BHA which rather makes my skin look a bit dark.
What I'm not sure about is the spot correcting effect. Since I started using the AHA while I was already using the BHA and had no trace of spots on my face (thanks to the BHA), I can't really tell if it works on scars like the BHA does.
I'm currently using the AHA once a week but once I run out of the BHA (a long way to go) I'll be using it twice a week. I avoid using any other exfoliator on days I use the AHA and I always wear a sunscreen if the sun is up to prevent sun damage. Since only a couple of drops are required to follow the method, one bottle is going to last me a long time.
Pros:
Brightens the skin
Gentle on sensitive skin
Little goes a long way
Suits both my sister's oily, acne prone skin as well as my normal, sensitive skin
Value for money
Cons:
Nohthing
Where to buy:

Price:

Rs 1350

Rating:

4.9/5