As soon as the cold breeze hits, most of us turn to expensive skincare products to solve all our winter problems. However, winter care isn't all that simple. Winters require extra pampering and there are a lot of things you will have to do to give your skin the healthy glow that it deserves.
Here, we have curated a list of a few tips that can up your skincare game during the winters!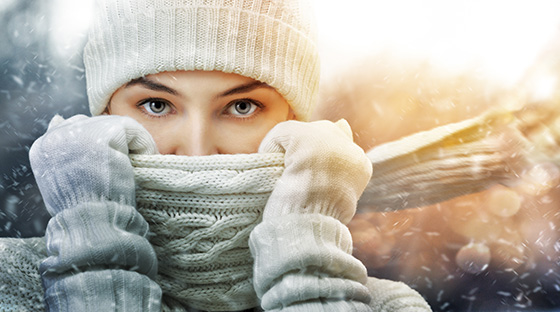 [Image Courtesy:Google]
Determine your skin type
Before we start telling you about our winter care tips, it's very important for you to determine your ideal skin type to get the best out of them.
If you feel like skipping this step because you are already aware of your skin type, think about it again!
During the winters, our skin tends to behave a little differently. Your skin might not feel as oily or dry as it would be during other seasons.
Oily skin type:
When it comes to people with oily skin types, winters might seem like the ideal weather for them. Well, even though that is partially true as oily skin gets a bit drier with the decrease in the humidity, it's still undeniable that excess oil is produced in the skin.
The best way to check how your skin is reacting to the weather is to look at your face in the mirror, first thing in the morning. Make sure while doing so, you avoid the application of any products the night before.
All you need to do is as soon as you wake up, take a tissue and dab it onto your face. If your entire face seems oily and it's all transferred on to the tissue then, you most definitely have an oily skin type. Other than this, if you suffer from acne, black or whiteheads, clogged pores then you may have your cue!
Dry skin type:
Let's just say that, winter isn't a favourite season of most dry skin types.
During the winters, even people with combination skin type suffer from dry skin. On the other hand, those with extremely dry skin end up with flaky and rough skin.
If your skin gets very tight and flaky despite o bathing in moisturizers, you probably are a part of the dry skin family!
Now that you have probably determined your skin type, here are a few tips to add to your daily skincare routine.                                                                                                Topical application tips for dry and oily skin:
1.      Proper moisturization
When we think about winter care, moisturization comes on the top of the list! Doesn't matter what the skin type is, moisturization is much needed when that dry cold weather hits hard.
Oily skin:
Even though most people with oily skin are afraid of breaking out turning their skin worse by moisturizing it, moisturization is one of the basics of getting healthy and glowing skin during the winters.
People with oily skin should use moisturizers that aren't oil based to avoid clogging of pores. There is a wide range of water-based or gel moisturizers available on the market to keep your skin well hydratedwithout making your skin appear greasy.
Dry skin:
People with dry skin need extreme moisturization especially during the winters. People with dry skin should look for moisturizers that are oil based to deeply nourish their face.
Apart from the numerous hydrating moisturizers available in the market, people with dry and flaky skin can oil use natural oils like olive oil or coconut oil for an effective moisturization.
In the midst of all the face moisturization, do not forget to moisturize your entire body to achieve a soft and a healthy glow to it.
2. Proper exfoliation
During the winters, most people skip exfoliation thinking it would only make the skin dry and scaly. However, this is far from the truth.
Well, in the winter months the skin cells tend to shed at a faster rate. Skipping exfoliation can only cause an unwanted layer of dead skin that will prevent your skin from absorbing the goodness of whatever you are applying to your skin making your skin dull and dehydrated.
Thus, you need to exfoliate your face and neck along with other dry areas of your concern at least twice a week using a physical or a chemical exfoliator according to your preferane.
3.      Use essential oils
Oily skin:
Yes! Contrary to the popular belief, you can use oils to feed your skin with healthy goodness without clogging any pores.
Lavender oil, lemon oil, geranium oil, jojoba oil, helichrysum oil and tea tree oil are some of the essential oils that help oily skin types get moisturization at the same time helps battle with acne, black and white headsets. These essential oils are especially great during the winters.
You can use these essential oils by mixing them with carrier oils like grapeseed oil, neem oil or even our beloved olive oil.
Dry skin:
Dry skin and essential oils are a match made in heaven!
Ylang ylang, rosehip oil, patchouli oil, chamomile oil, carrot seed oil are a few essential oils that you can definitely add to your winter care routine.
However, if your dry skin is quite sensitive as well, make sure you do a patch test of the essential oil on the back of your hand first.
4.      Lip care
No matter what your skin type is, during the winters lip care is a must for all. Lips are quite sensitive and tend to get dry and cracked If not moisturized properly. Undeniably, no one wants that!
To get soft and hydrated lips, use thick lip balms that are specially made for winters. If you want, you can even use coconut or olive oil to moisturize your lips. Other than that, make sure you exfoliate your lips 2-3 times a week for best results.
5.      Use the right makeup products
Since during the winters the texture of our skin changes, it's very important to choose the right makeup products to look flawless and not cakey!
In the winter months, you need makeup products that moisturize the skin at the same time, rather than stripping it away from its natural oils.
Let's start! Prep and prime your empty canvas with a moisturizer of your choice first. Foundations are undoubtedly the foundation of most makeup routines. When it comes to foundations, liquid or cream foundations are going to be your best bet. Avoid using compact powdered foundation especially if you come from the dry skin family. If you love using eye shadows, blushes or even contouring use cream based variants of those.
While using lipsticks of any kind, apply a layer of lip balm first and then layer your lipstick on top of it. This will prevent your lips from drying up.
Don't forget to use oil-based makeup removers, to keep your skin from losing its natural oils.
6.      Don't forget the basic CTM routine
We all love the CTM (cleansing, toning, and moisturizing) routine during the summers. However, it's during the winters that we try to avoid cleansing and toning to prevent the skin from drying out.
But, just because the weather has changed doesn't mean that the environmental pollutants have disappeared.
Cleansing:
Try using a sulphate free, low pH cleanser to avoid getting your skin stripped off its natural oil.
Toning:
While choosing the toner, ensure you go for an alcohol-free variant.  Most toners available in the market have ingredients that can further dry out your skin. Use organic or natural toners for best results.
If you do not want to spend anything on purchasing a toner, use rose water, Aloe Vera juice or apple cider vinegar to cleanse pores and hydrate it as well.
Moisturising:
Make sure you use a moisturizer suitable for your skin type from your favourite shopping websites at a discounted rate or a beauty shop near to your house. Well, whatever floats your boat. And, yes! Don't forget to apply the moisturizer for at least 2 times a day.
7.      Protecting the skin
Don't ignore the mighty sunscreen just because of winters!
Believe it or not, the sun can be just as damaging in the winters as it would be during the summers. So, make sure you apply enough sunscreen on your exposed body parts and don't forget to reapply the sunscreen in every 3-4 hours. A sunscreen that is oil based and is above SPF 30 is recommended.
Few Other things to remember!
Drink plenty of water
Drinking at least 8-10 glasses of water every day is going to keep your body and skin hydrated and detoxify at the same time giving your skin a vibrant glow.
Don't underestimate the importance of a good diet
A healthy diet is the key to have a healthy body. During the winters you are more likely to fall ill and a well-balanced diet can prevent that.
Eat plenty of fruits and vegetables for a protein-rich diet.  Eat foods that are especially high in vitamin D like fishes or yogurt.
You should also make sure that you don't overeat and get plenty of exercises.
Avoid hot water baths
Even though a hot shower during the winters sounds heavenly, it can actually dry out the skin making it rough and flaky. So, instead of bathing with hot water, bath with Luke warm water.
Avoid using too many chemicals in the name of winter care
As soon as the cold weather strikes, a lot of people turn to the 'winter care products' that are marketed in every nook a corner.While hunting for winter care products, take a good look at the list of ingredients that are mentioned on the packaging.
If avoiding those and using natural ingredients is an option for you then, turn to your kitchen!
Home remedies for face to battle winters:
Oily skin:
Remedy 1:
For this home remedy, you'll need fuller's earth (Multani mitti), turmeric, apple cider vinegar, honey and rose water. In a bowl, take 2 tablespoons of fuller's earth and add ½ teaspoon of turmeric, 1 tablespoon of apple cider vinegar and 1 tablespoon of honey with a few drops of rose water. Mix all of it well to form a smooth paste. Leave the pack on your face till it dries. Wash off gently and follow up with a lightweight moisturizer. This pack will absorb all the excess oil from your skin to give your skin an amazing glow!
Remedy 2:
In a bowl, take ½ cucumber and grate it. Now, add ½ tablespoon of lemon juice and a table spoon of honey to it. Mix it all together and apply it to the face. Leave it on the face for about 10-15 mins. Wash with lukewarm water for best results.
Remedy 3:
For this last remedy, all you need is papaya and a lemon. Start by mashing a few pieces of ripened papaya and add ½ tablespoon of lemon juice to it. Apply the mixture to the face and leave it on for about 10 minutes. Wash with cold water.
Dry skin:
Remedy 1:
Make a moisturizing face pack using a banana, raw milk, curd, and honey. For this, all you need to do is, in a bowl take half a ripened banana and mash it well. Then, add 2 tablespoons of raw milk, 1 tablespoon of curd and honey and add them to the banana mix. Mix all the ingredients thoroughly. Now, apply the mixture onto the face and leave it on for about 30 minutes. Rinse well with a mild cleanser.
Remedy 2:
In a bowl, take yolk of an egg and add ½ tablespoon of rose water and milk powder with a table spoon of honey and yogurt. Mix it all together and apply it to the face. Leave it on the face for about 20 minutes. Wash it with cold water and a mild cleanser.
Remedy 3:
This last home remedy only has 3 ingredients. All you need here are, 2 tablespoons of chickpea flour (besan), ¼ teaspoon of turmeric and 2-3 tablespoons of raw milk. Mix all the ingredients to form a thick applicable paste. Apply it all over your face and neck and wash it off with lukewarm water after it dries off.
Undeniably, the winter skin care routine can be tricky for many. But if you religiously follow every tip that we have mentioned, you can throw away all your winter problems out of the window.
*Guest Post