Hey guys, sorry for being MIA for a long time. As my wedding is approaching, days are getting busier. However, I'm really trying my very best to showcase my wedding planning and shopping on my blog. As you guys know, Bengali weddings includes a lot of gifts, for the in-laws and stuffs I'll be receiving from both my families, and then there's my Christian wedding which will also includes a lots of gifts for the bridal party. Being a blogger gives me the window to choose the best of everything. Every item is being selectively handpicked by me one by one, which is one of the reasons I started planning my wedding way ahead. So while I was choosing perfumes for gifts I came across a website that sells authentic perfumes from genuine brands. I received some testers from them to choose from and I really wanted to share my experience.
Perfume Addiction is a place where you can get your hands on some handpicked perfume brands and according to their claims, they get their perfumes from the authorized dealers and distributors. They don't sell knock offs, copies, expired, or spoof or fake fragrances.
I really liked their neatly designed website where you can choose your perfume hassle free. There's a tab where you can see the brand names listed in 3 separate catagories- Top Brands, Pocket Friendly Brands and Popular brands. No matter what your budget is, you can conveniently choose the perfect perfume for you. The next two tabs are for men and women section and the last tab is for deodorants, where they again have lists and sub-lists to choose according to budget and gender.
They have a WIDE range of collection varying from Chanel to Skinn by Titan, brands you didn't know were easily available in India, brand names that left me mesmerized. I've received a 20ml tester of Celeste from Skinn by Titan and some tiny viles from Skinn by Titan Nude, Skinn by Titan Rare wilderness, Desert Rose (women) and Skinn by Titan Extreme, Carbon Ajmal (men).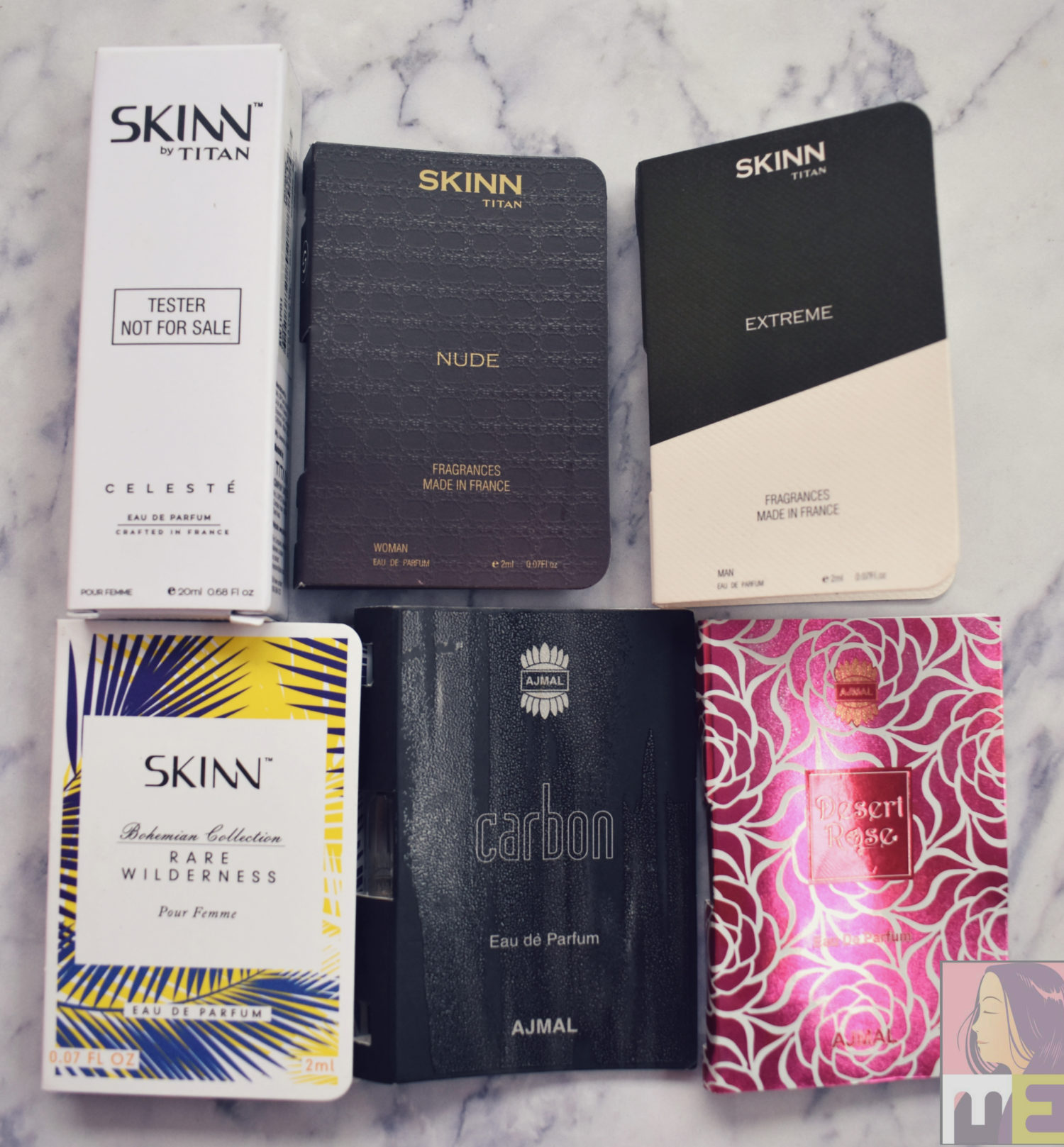 I've tested all the testers and I love to carry them in my wallet as I travel too much, but I've been using the Celeste perfume more than any of the other testers and I am pretty much hooked. The fragrance is sweet, floral, flirty and feminine. I'm not much of a floral perfume person, I'm more of a musky fragrance person, but there is something very sensuous about this particular fragrance.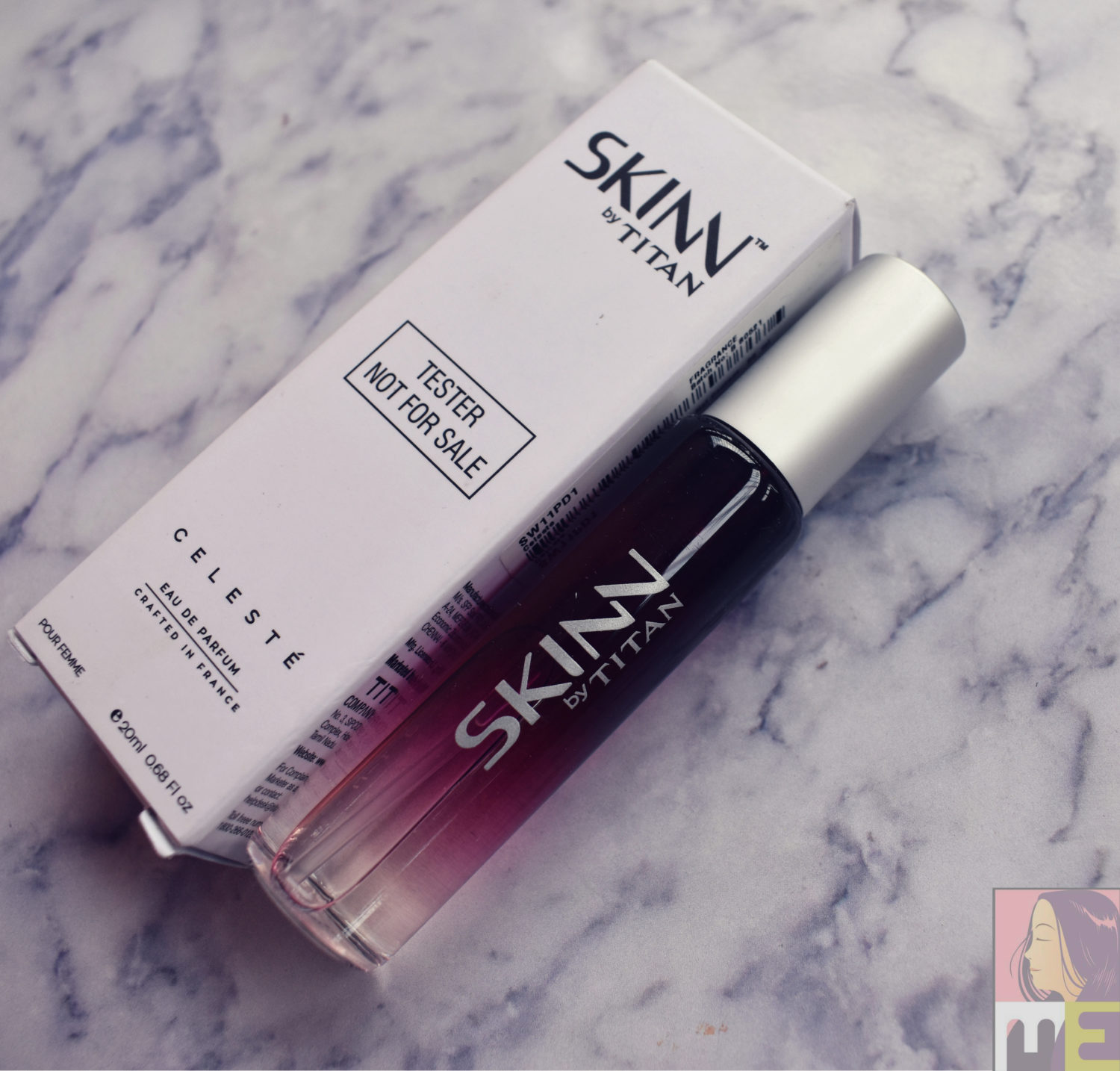 Among the other testers, I'm also loving the Desert Rose Which I love keeping in my wallet. It is an oriental floral fragrance with a unique blend of rose, vanilla and sandalwood.
If you are someone who loves travelling, or you simply want to order testers before purchasing the full-sized products, you can order 20ml testers from their site at reasonable rates. They offer free shipping over 500rs and charge A flat shipping rate of Rs50 for order below 500rs.
Hope you enjoy shopping with them and I'll be back with some amazing buys and will try updating my blog more frequently. Till then… Bye..
XOXO