Do you have dry, flaky skin? Have you had breakouts which don't go away no matter what face wash and cream you use? Do you have dull and easily irritable skin?
Well, this is a common epidemic whose solution lies in the usage of a good moisturizer. You may be applying a moisturizer everyday but if it is not the right moisturizer for you then you're going to have problems. Don't stress out though we'll help you select the correct moisturizer for your skin type among the hundreds available today.
Today, a lot of people don't realize how important a moisturizer is to prevent their skin from breaking out. The power of a good moisturizer is mostly understated but if you choose the best moisturizer for your skin type, you can harness its true potential and make it work wonders on your skin.
A good moisturizer helps prevent breakouts, acts as a good makeup base and helps in removing wrinkles, fine lines and other age marks. It usually leaves your skin smooth and glowing.
The top ten things to look out for while buying a moisturizer are: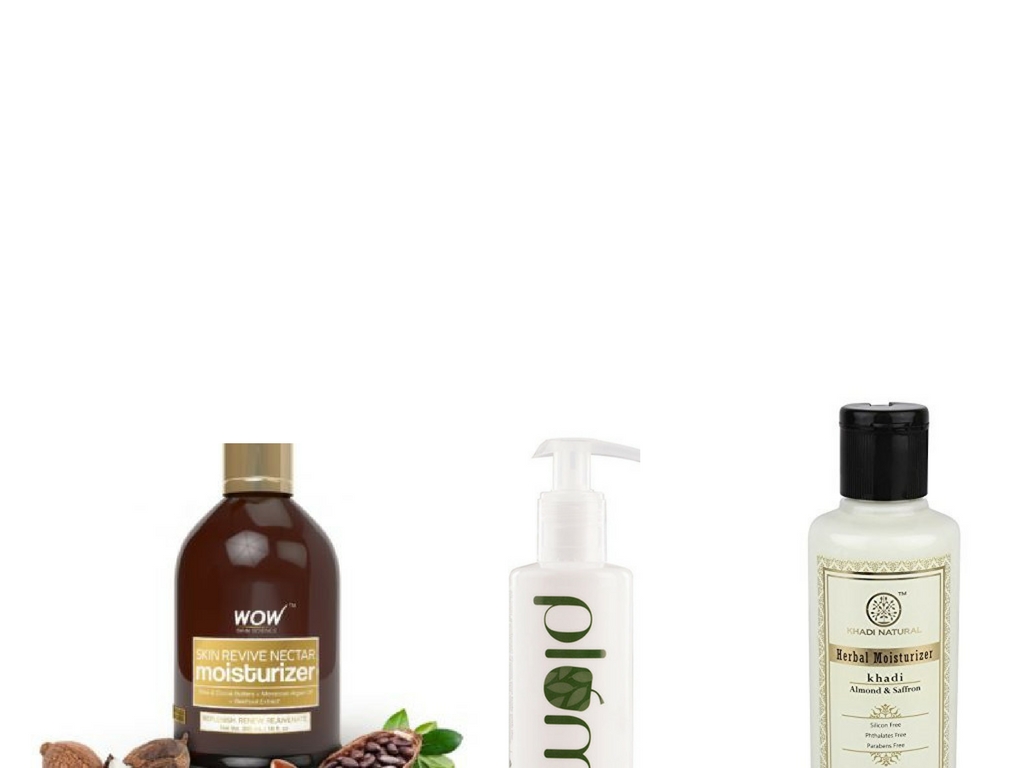 (Image from Hometop)
There are different moisturizers for each skin type: Do you get breakouts in spite of using a moisturizer from a highly recommended brand? That is most probably because the product was not meant for your skin type. Yes, you heard this right. The ingredients in a moisturizer that suit oily skin (like retinol) do not help dry skin. Similarly Petrolatum (which is allegedly beneficial for dry skin) can cause breakouts on oily skin and lead to clogging of pores.
 Avoid Paraben at all costs. Paraben acts as preservatives and are cheap yet toxic. Any sort of Paraben like Methyl Paraben, Ethyl  Paraben, Butyl Paraben, Propyl Paraben, Isobutyl Paraben, Isopropyl Paraben are risky to use because they are the major cause of skin diseases and have been suspected to cause breast cancer. "Paraben is generally added to increase the quantity of the moisturizer", says Dr. Anuj. "It is cheap and used in moisturizers to increase its quantity and thereby make the moisturizer available at a cheaper rate. This is the reason that Paraben free moisturizers are expensive. They don't have Paraben in it."
Mineral oil is harmful: Many a time you may have thought mineral oil helps nourish the skin. The truth is sadly quite the opposite. It is derived from petroleum and does not absorb into the skin. Its molecular size is simply too big. As a result, mineral oils remains on the surface of the skin, making it a reflector of the sun, which can lead to more sun damage and discolouration. It also clogs pores.
Plant-based ingredients are healthy, nourishing and get absorbed in the skin easily. : Plant based ingredients like oat extract, green tea extract and jojoba oil nourish the skin and breathe life into it. These ingredients are safer and a much better alternative compared to the daily toxic chemicals that you use.
A non-comodogenic moisturizer with salicylic acid helps in prevention and disappearance of acne: Salicylic acid opens pores and unclogs it while reducing inflammation of the skin. It is more effective than scrubbing and gentle on the skin. So if your skin is oily and breaks out easily opt for a moisturizer which has Salicyclic acid and is non-comodegenic.
A moisturizer is the first thing you apply before makeup. : This is a familiar tip but many people seldom moisturize their skin before application of makeup. It gives your makeup a glowing and polished finish . Use a light moisturizer which keeps sustains the breathability of the skin yet protects it without clogging your pores.
Isopropyl Myristate and Isopropyl Palmitate are harmful: They are used by companies to get a thick formula. Skin irritation may be one potential concern with isopropyl myristate, especially when used by individuals with sensitive skin, or in areas where the skin is thin (like around the eyes or the lips).Often, such irritation may be the result of isopropyl myristate's ability to increase skin penetration by other chemicals. If these other ingredients happen to be known irritants, the deeper penetration may also cause more severe irritation. This ability to increase skin penetration can become an even bigger problem if the product formula contains known carcinogens or other harmful chemicals. Therefore, when considering personal care items containing isopropyl myristate, it's vital to carefully assess other chemicals present in the formula and whether the increased penetration can cause unexpected side effect
Benzophenone-3, Octyl Methoxy Cinnamate and Oxybenzone are harmful and can irritate the skin. : Dermatologists may or may not mark these ingredients as harmful but they are known to act as carcinogens and are harmful. In today's world where people easily succumb to deadly diseases like cancer, it is very important to avoid risks as far as possible. Use titanium dioxide or a child friendly sunscreen. Oxybenzone harms children's skin and is not a safe chemical.
 Hyaluronic acid, the wonder ingredient: Hyaluronic acid is a good, dependable ingredient that you can use on all skin types. Hyaluronic acid is an integral part of synovial fluid. It holds water, heals sunburns and helps reduce wrinkles. It is a very good anti-aging ingredient and is pretty lightweight during application. A good quality moisturizer surely has a dose of this wonderful ingredient.
There is a vast difference between night creams and day creams: A night cream has a more heavy consistency and is specifically meant for skin repair. A day cream is composed of lighter components and has SPF ingredients in it to prevent damage due to UV rays. You should always use a sun-protecting cream during the day to keep the skin safe from harmful sun-rays.
Today, a lot of people don't realize how important a moisturizer is to prevent the skin from breaking out. You can now make an informed decision when buying a moisturizer. The power of a good moisturizer is mostly understated but if you choose the best moisturizer for your skin type, you can harness its true potential and make it work for you. Stay healthy and choose wisely.
How has your experience been with moisturizers? We want to know? Let us know in the comments section below.
Guest Post by Adeendren Iyan