As you guys know I love travelling with sample sized and trial sized products, some kits that I got from Daisy Skin Fix sometimes back came to my rescue during my recent Durga Pujo trip to Kolkata. Like a vagabond I crashed at a few places throughout the Puja to cover the entire Kolkata and packing bulky products would have been pain considering my lengthy skincare routine. One of those kits was the Cosrx One Step Pimple Clear Kit.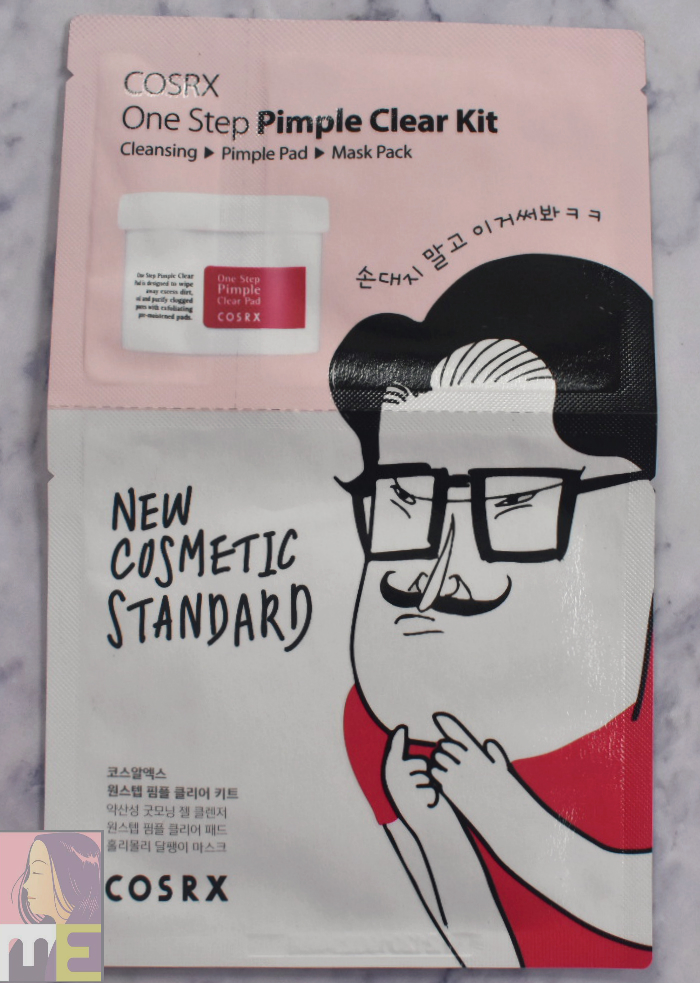 I've heard many ravings of Cosrx, a brand with relatively small and safe ingredient list. I've been meaning to get my hands on their range for sometime but considering most of the ravings come for their products that targets acne, blackheads and whiteheads and I previously haven't faced these issues, while placing the orders I've always said to myself 'maybe next time' and went with my Klairs range exploration that works pretty great on my hyper-sensitive skin. However, when I saw this kit on Daisy Net I thought there's never going to be a better way to introduce my skin to cosrx.
Contains:
Cosrx Low pH Good Morning Gel Cleanser (1.2ml)
One Step Pimple Clear Pad (2 ea)
Holy Moly Snail Sheetmask (1 ea)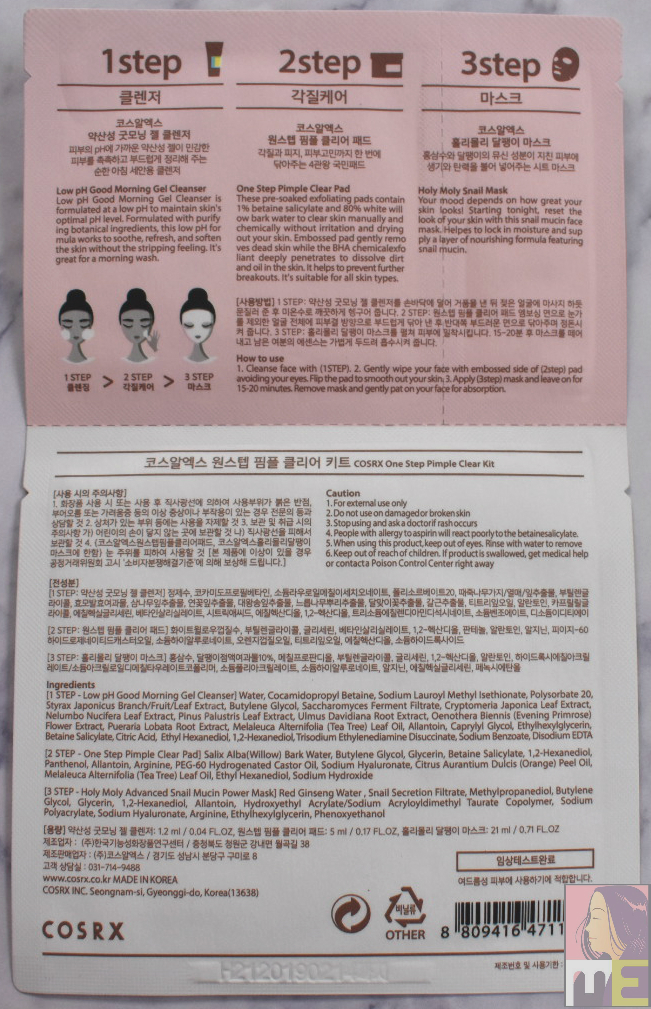 Suggested Use:
Step 1 : Gently massage a small amount of the low pH gel cleanser on wet skin in the morning. Rinse with tepid water.
Step 2 : Swipe the embossing side of the Pimple Clear Pad across the face avoiding eye area after cleansing. SWipe the softer side across the face to pick up the remaining debris.
Step 3 : Apply the Holy Moly face mask and leave for 15 to 20 minutes. Afterwards, remove the maskand pat the remaining essence for better absorption.
My Experience:
Like I said, I used this kit while I was travelling. To be very specific, I used this kit when I was staying with a friend in North Kolkata after spending a few days in South Kolkata. It was probably Panchami, a day my friend Dona and I have pretty much made a tradition to doll up and let our hair down. So as you guys know that I had been suffering from a terrible skin infection for some time and even though my skin recovered, there's a few enlarged pores and there was a single, stubborn acne left behind that would not just go away. Previously when I was suffering from the infection, it used to be a bad cystic acne which would come back no matter I popped it or just let it be. After my infection healed, it was still there, dormant, but there. The pujo hang out (not the mention in the hot, humid weather) and all those makeups triggered it come back with its full glory right when Durga was just about to 'officially' start. So that day I travelled to North Kolkata from South Kolkata, got dressed in about 45 minutes with a full face of makeup (first time ever since I got that infection back in March) and headed out. By the time we came back, my acne was standing with its head held up high, ready to ruin my Durga Puja. In comes this kit to my rescue, or rather my skin's rescue.
1.Cosrx Low pH Good Morning Gel Cleanser
Korean 2nd cleansers usually have a high pH level, it's a hell lot of a task to search for a Korean cleanser with a low pH. That's one reason (along with the great reviews) that I've been eyeing this baby for a while. Unlike the name suggests, it can be used both during the a.m and the p.m routine. Also, it's not actually a 2nd cleanser, but it's more like a single step cleanser that claims to remove the last trace of makeup, dirt and sebum, which makes this kit even more travel friendly. However, given to the fact that I had a full face of make up on and my soul doesn't satisfy without a religious double cleansing, I removed my makeup using my Klairs Cleansing Oil (also a sample sized product I was carrying) and used this cleanser as a second step. The amount of the cleanser in this kit can be used 2-3 times. So to test the single step cleansing claim, I used it without the cleansing oil the second time and my skin was left squeaky clean without being dried out.
Yes, I'm definitely going to purchase the full-sized product, also it does not contain sulphate.
One Step Pimple Clear Pad
Description: Cosrx Pimple Clear Pads are pre-soaked in betaine salicylate (BHA) and willow bark water to chemically exfoliate without drying out your skin. It calms and soothes the skin while the active ingredients penetrate deeply into pores to dissolve oil and dead skin cells, which help in controlling breakouts. It contains 70 pads and not only are they good for the face but also recommended for blemishes on the chest and back.
In short, they are chemical exfoliating pads. I've repeatedly talked about the goodness of chemical exfoliator and how safe they are contrary to the physical scrubs and getting this kit is the best way to find out how your skin reacts to chemical exfoliator. This kit contains 2 pads and I used one and saved the other for the next day. To my surprise it didn't dry out, but then again, I tried not leaving it like that for too long. Like the suggested use recommends, you are supposed to swipe the embossing side on your face first and then the softer side to remove the debris. You do not need to wash your face afterwards.
Holy Moly Snail Sheetmask
After using the exfoliating pad, I used a gel toner which was also a sample sized product I was carrying. Next I put on the Holy Moly Snail Sheetmask and laid flat for 30 minutes. The rayon sheet had a pale peachy colour and fit my face perfectly. It also had a very impressive ingredient list including ginseng and snail mucin together, but I'll talk about that in a solo review of the Holy Moly Snail Sheet Mask.
I patted the extra essence into my face and finished it off with a night cream.
The next morning I woke up with the pimple completely flat (which disappeared the next day and never came back). My skin was smooth, plumped up and if you could see my face you wouldn't believe if I told you what my skin had been through lately.
Overall, this kit has completely won over me. I'm so gonna purchase all the 3 products in full size and I'm also going to get this kit the next time I'm travelling. I'm not writing down the pros and cons as I'll have to write them for 3 different products. But I can tell you that I haven't found any cons in any of the products in the kit and I think it's a great way to explore the brand cosrx, and also if you have never used a chemical exfoliator you can find out if it's working for you by using these exfoliating pads before making a big purchase. It's also a smart thing to pick if you are packing for just one night. You get a cleanser you can use 2-3 times, 2 gentle exfoliating pads (that you can use up to 2-3 times per night and 1-2 times if you are a teenager or have dry skin), and a sheet mask that will rejuvenate your tired and stressed skin.
Will I repurchase?
Like I already said, YES
Will I recommend it?
YES
Where to buy:
Price:
MRP 295 Rs
Rating:
4.9/5