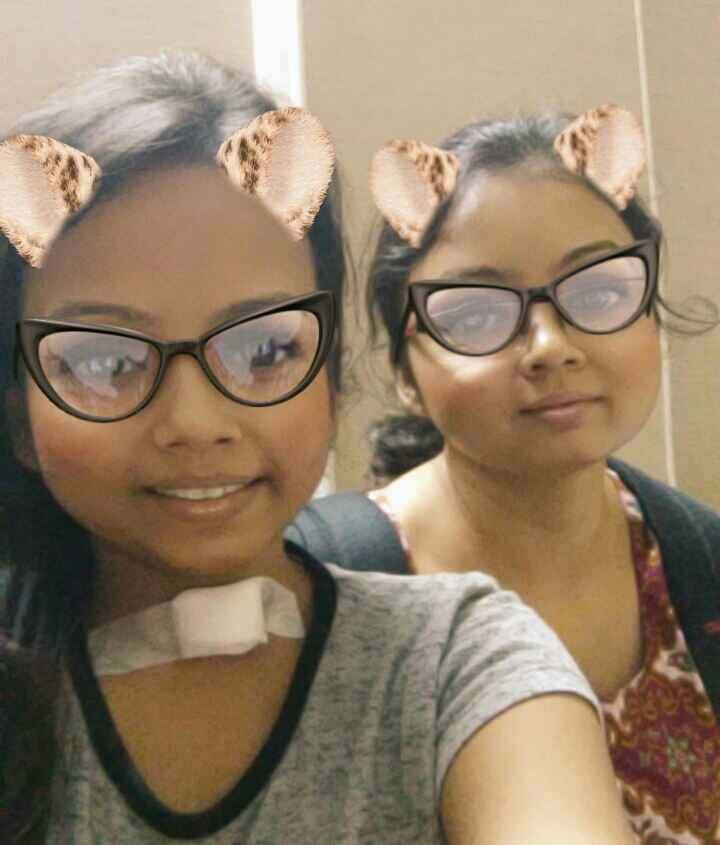 This picture was taken back on the month of May when I had to get a biopsy done. My report came clean and my thyroid tumour turned out benign. My doctor suggested me getting it checked up every 3 months as I didn't want to go through a surgery. There's no medicinal treatment as my thyroid hormone was almost normal, and medicinal treatment will only result in hypothyroid which may increase the risk of the tumour turning malignant. Of course I was glad to get away without the surgery as all the three doctors that I visited in Kolkata suggested that I definitely need a surgery even if my tumour is benign. Long story short, my tumour turned out benign but there's a chance it can turn in to malignant in the future, so I have to get it checked every 3 months (I got my 1st post-biopsy check-up report today and it's normal), there's no medicinal treatment and the doctor only prescribed me Vitamin D and I have no idea what part it plays in my treatment.
Since I've been taking Vitamin D for some time now, I did some research and found out that Vitamin D, if not taken alongside Vitamin K2 can cause a potential risk to our health.
"Vitamin D helps your body to absorb calcium.  Once calcium is absorbed, Vitamin D has no control over where it ends up in your body.  This is where Vitamin K2 comes in.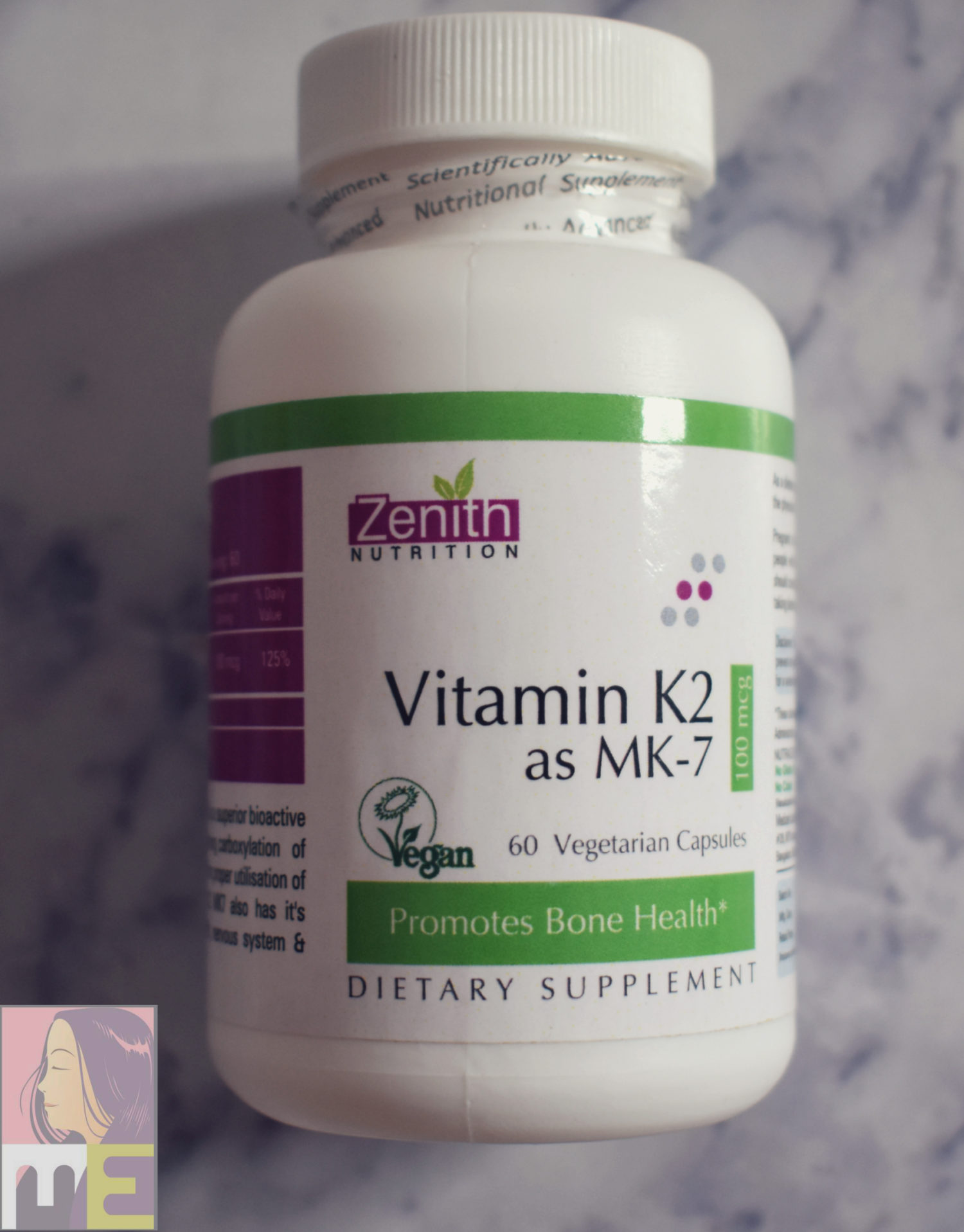 Vitamin K2 activates, or "turns on" a number of different proteins in the body.  Some of these K2 activated proteins guide calcium into our bones and teeth, where calcium belongs.  When these calcium guiding proteins don't their job, its is because there is no Vitamin K2 to turn them on."… "To explain an incredibly complex, an not well understood process which simply, Vitamin D and Vitamin K2 work together as a team.  Vitamin D helps get calcium in the body, K2 "sends" it to the bones.  Both nutrients are essential and beneficial to bone health and cardiovascular health." Source
So while I was doing some more research on Vitamin K2, I found out the biggest source of K2 is Nato (fermented soybean) that Japanese people eat with breakfast and is probably the reason behind their porcelain skin. As you might guess, there was no more convincing needed, I started taking Vitamin K2 as soon as I learned that Nato is rich in it.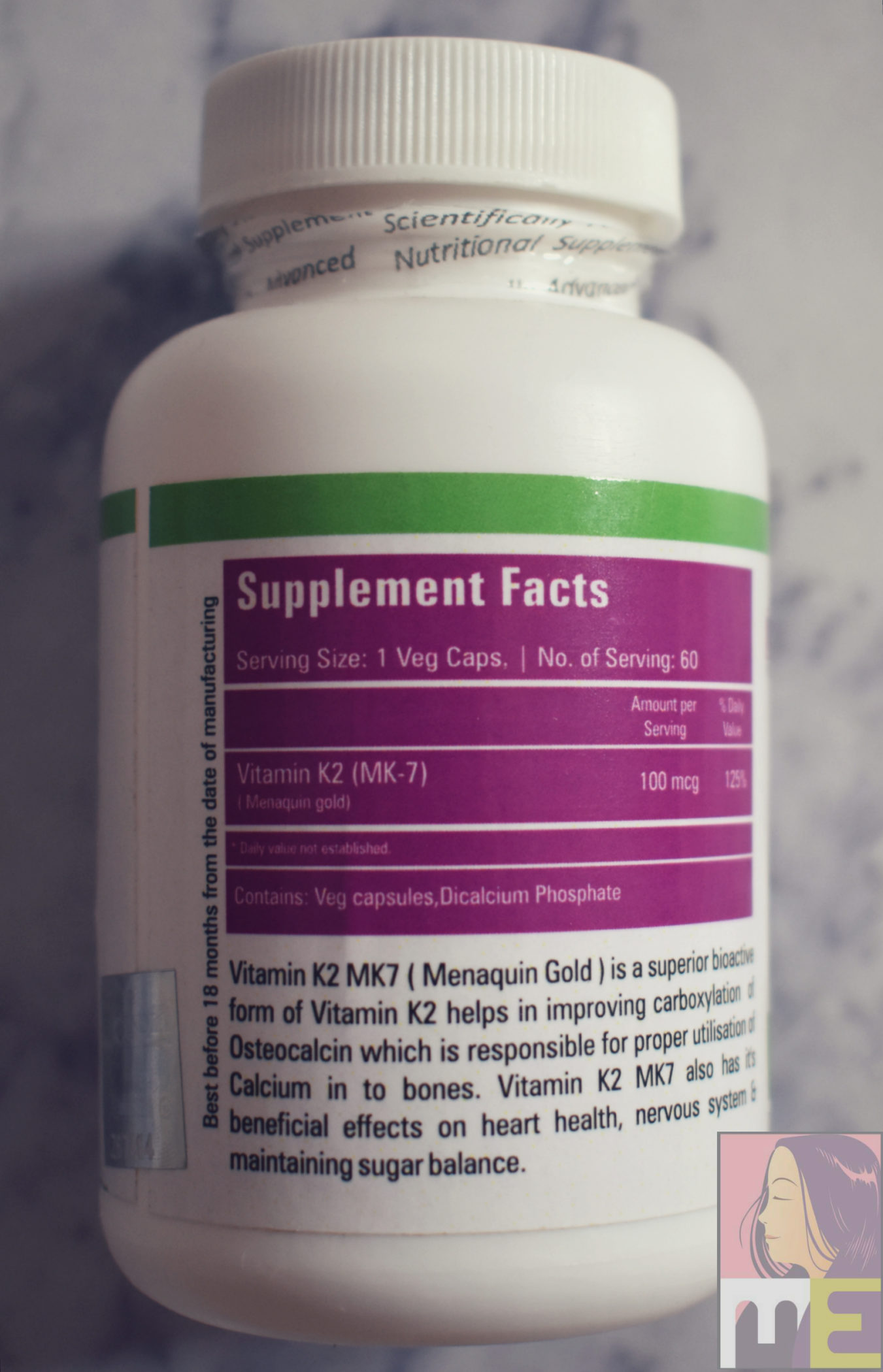 Zenith Nutrition Vitamin K2, MK-7,100MCG:710.
Super Value
Promotes Bone Health
Promotes Arterial Health
Vegetarian/Vegan
Gluten & Wheat Free
Dietary Supplement
Zenith Nutrition Vitamin K2 provides Vitamin K2 in its most biologically active form called Menaquinone-7 (MK-7).
Vitamin K2 plays a critical role in maintaining healthy bone density by facilitating the transport of calcium from the bloodstream into the bone. Vitamin K2 is also required by calcium-regulating proteins in the arteries. Matrix Gla-protein (MGP) is a vitamin K-dependent protein, and it must be carboxylated to function properly.
Poor vitamin K status leads to inactive uncarboxylated MGP (ucMGP), which accumulates at sites of arterial calcification. Since MGP is a potent local inhibitor of arterial calcification, MGP is important in relation to the health of the entire cardiovascular system. Without adequate vitamin K, calcium in the blood can bind to the arterial wall resulting in calcification. As people age, even a subclinical vitamin K deficiency can pose risks to the vascular system. Poor vitamin K status also results in increased circulating levels of undercarboxylated osteocalcin that is shown to be associated with increased bone loss in postmenopausal women.
My experience With Zenith Nutrition K2, Mk-7: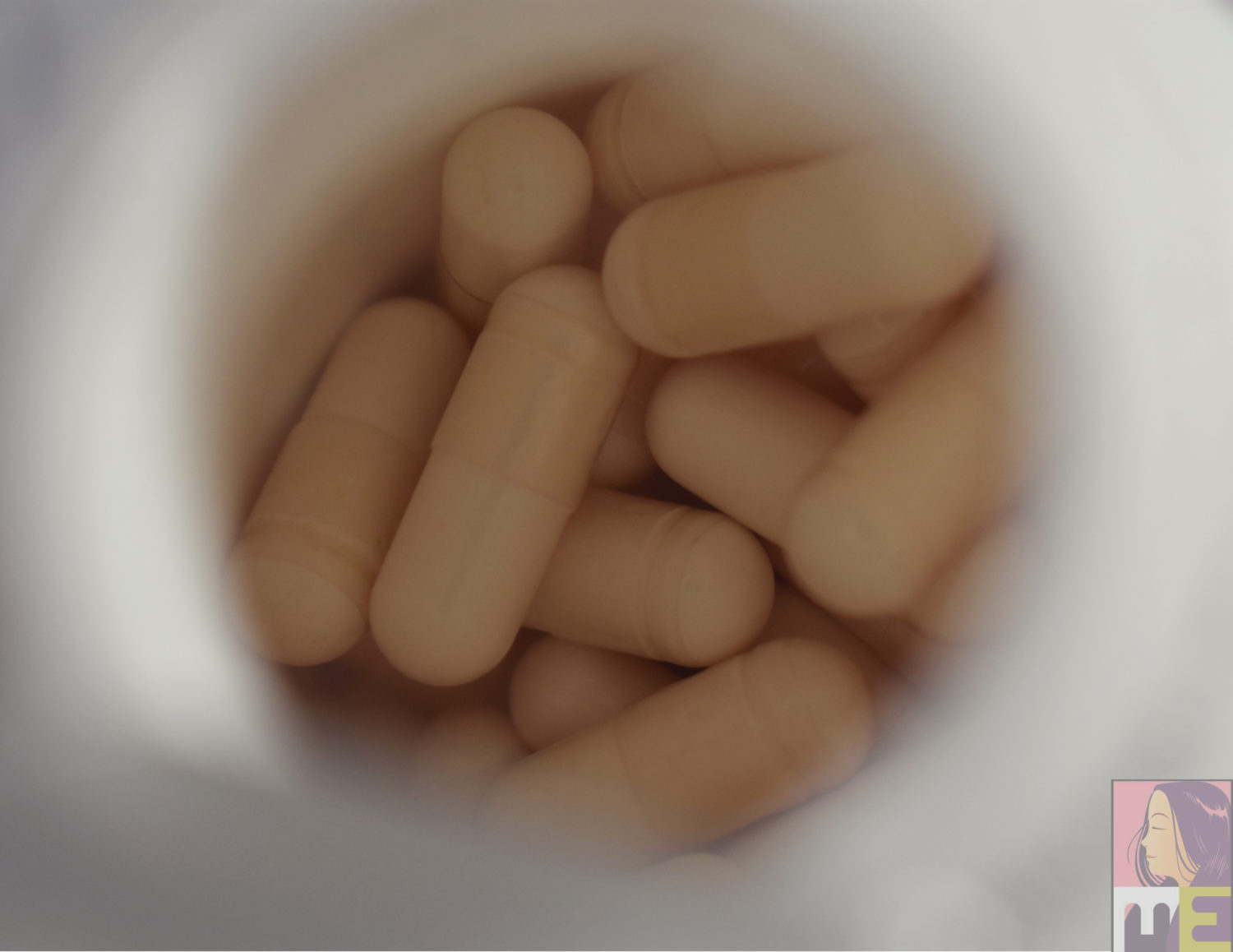 Since it's a dietary supplement, it's really hard to notice any difference in my health. More so, I have no freaking idea why the doctor prescribed me the Vitamin D in the first place, possibly because I mentioned lethargy (it was the time when my uncle expired, sister's fiancé suffered a heart attack, along with a few major and minor accident in the family and I was suffering from severe depression which probably resulted in lethargy). All I know is that my tumour can turn into malignant any time and I read in a number of articles that Vitamin K2, Mk-7 prevents cancer along a list of other benefits including improving insulin sensitivity, preventing varicose veins, improving dental health, brain health and bone health.
Overall, I've been taking the Zenith Nutrition Vitamin K2, Mk-7 for around 3 weeks now and I haven't noticed any side effects, and since I've learned the dangers of taking Vitamin D without taking Vitamin K2, I'll keep taking it as long as I'll be taking the Vitamin D.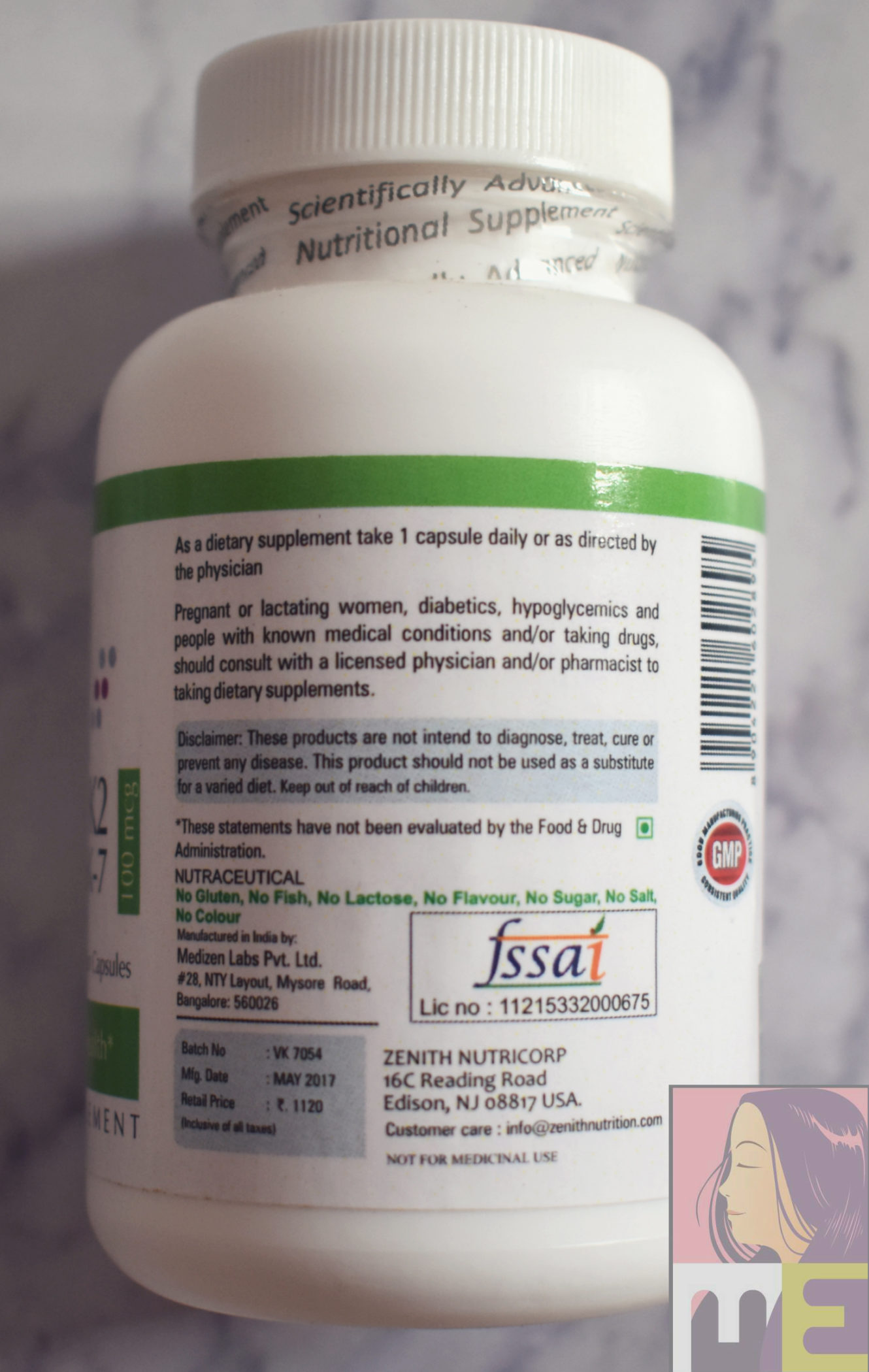 Directions: As a dietary supplement, take 1 capsule daily with meal or as directed by a physician.
Warnings: Pregnant or lactating women, diabetics, hypoglycemics, and people with known medical conditions and/or taking drugs should consult with a licensed physician and/or pharmacist prior to taking dietary supplements.
Disclaimer: These statements have not been evaluated by the FDA. These products are not intended to diagnose, treat, cure, or prevent any disease
 Where to purchase: Official Website, Amazon
Price: Rs 1,120 for 50 capsules