Remember the time when I was suffering from a severe skin infection on my cheeks? I tried so many healing products around that time, rarely any product worked, and whatever product worked, the result was always initial and my skin would go back to being the same in a couple of days. Today I'll be reviewing the product that was my ultimate comfort during the time of my ugly breakout- Missha Herb In Nude Sheet Mask- Purifying Care.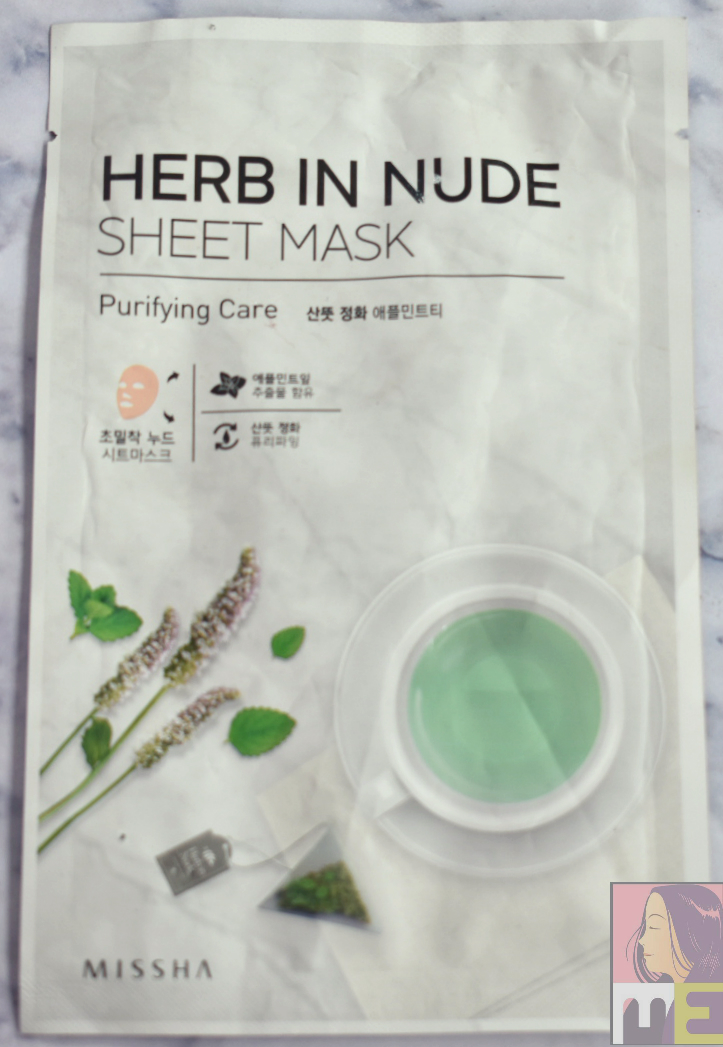 Recommended for:
– Those who want to detoxify their skin
– Those who want to provide the benefits of tea to their face with a daily teatime mask ritual
– Those who want a sheet mask that feels comfortable during application
Ingredients:
Water, Glycerin, Butylene Glycol, 1,2-Hexanediol, PEG-60 Hydrogenated Castor Oil, Hydroxyethylcellulose, Trehalose, Allantoin, Arginine, Carbomer, Glycyrrhiza Glabra (Licorice) Root Extract , Camellia Sinensis Leaf Extract , Zingiber Officinale (Ginger) Root Extract , Schizandra Chinensis Fruit Extract, Coptis Japonica Root Extract, Citrus Grandis (Grapefruit) Seed Extract, Dipotassium Glycyrrhizate, Disodium EDTA, Sodium Hyaluronate, Acorus Calamus Root Extract, Panthenol, Glyceryl Acrylate/Acrylic Acid Copolymer, Mentha Rotundifolia Leaf Extract , PVM/MA Copolymer, Caprylyl Glycol , Perilla Ocymoides Leaf Extract, Fragrance
My experience:
I remember having a high skin temperature on both of my cheeks for around 4 months. It was really, really uncomfortable. Comes this sheet mask, proclaiming 'purification'. I kept it in the freezer for sometime as it was an absolute relief for my skin which was inflamed for a long period of time. The moment I put this mask on my skin, my skin was like 'aahhhh! What a relief!'. I'm telling you, during those few painful months, I've used too many sheet masks after keeping them in the refrigerator, but none was as calming as this one. My skin was calm, relaxed and in every way comfortable for those 30 minutes. It's been months that I've used this sheet mask but I can clearly remember that feeling of absolute relief.
The mask was transparent in colour, which is why the range is called 'Herb In Nude' and the fitting was great as well. I cannot find the sheet mask selfie since I lost all data from my phone but the fitting was really great. The essence was watery since it is a water based mask. After I removed it, my cheeks looked calm and soothed. Unlike the other products that worked during that time, the calming effect of this mask remained for a longer period of time. I was actually planning to buy it in bulks but it wasn't long until I started taking probiotics and my skin recovered. I haven't repurchased it yet, but I will.
Pros:
Calming soothing
Worked really great on my skin while I was suffering from infection
Cons:
Contains alcohol, even though the amount is not very high.
Where to buy:
Rating:
4.8/5