Hey guys, recently I've been getting too many requests to help create skin care routines according to skin type. So much so that I've been finding myself creating a routine for someone every single day, sometimes for 3 people in one day. Do not get me wrong, I love doing it, and I'll still reply to every single one of your queries, but I thought it would be easier for all of us if I created routines according to every skin type. I will be starting with oily acne prone skin, because this is the most requested routine.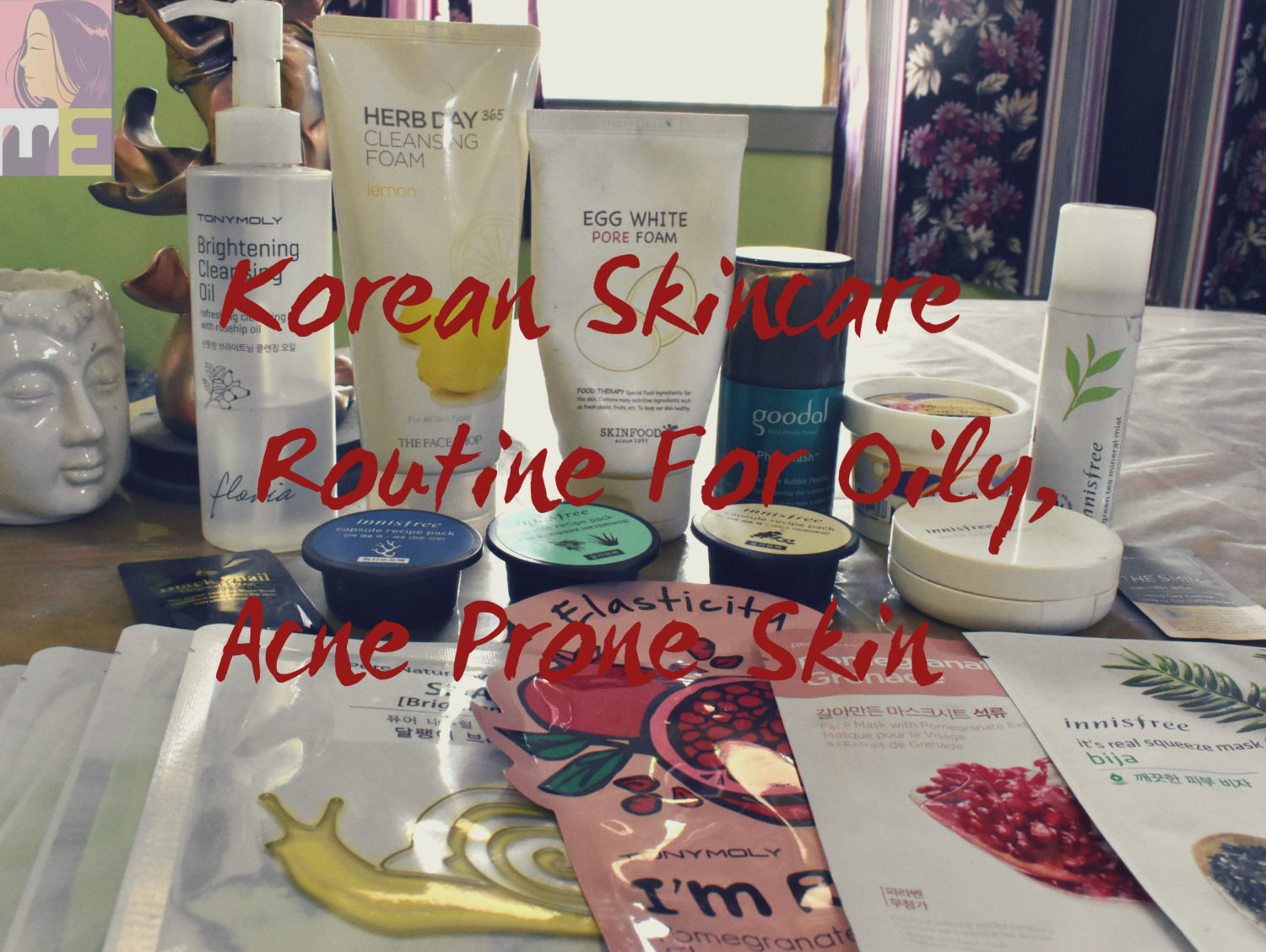 Unlike the popular belief that oil can break out your skin, Korean oil cleansers work like 'fighting oil with oil'. The oil cleansers help get rid of excess sebum and on the plus note: it works like a makeup remover as well. And it gets better. Korean cleansing oils take a white liquidy form when it comes in contact with water, thus you don't have to rub your skin with a cotton pad in order to get rid of your stubborn makeup. As the saying goes, you treat your skin like a flower, not a dirty kitchen pan, well, something like that.
Best oil cleanser for oily Skin:  Klairs Gentle Black Deep Cleansing Oil
If you think that going after a harsh cleanser is a good way of getting rid of excess oil, think again. Using a cleanser containing low pH is really crucial.
COSRX LOW PH GOOD MORNING GEL CLEANSER,
Contrary to what the name suggest, it can be used both during morning and night.
Innisfree Super Volcanic Pore Clay Mask , this is one of my favourite wash off masks, sucks out all the sebum from deep within the pores. You know how important that is for oily skin beauties, right? Can be used 2-3 times a week.
This is one of the most underrated step. Not only does a toner helps balance the pH level of our skin, it also plays a crucial roll in the skincare routine, especially for oily skin beauties. You see excess oil production results in enlarged pores which gets clogged resulting in acne. By using a deep cleansing wash off mask and an exfoliator we are unclogging those pores, and toner helps take care of those pores.
KLAIRS SUPPLE PREPARATION FACIAL TONER is meant for sensitive skin and fights inflammation.
Exfoliating is very important, especially if you have oily and acne prone skin. A lot of people are under the impression that people with acne prone skin should exfoliate less often than people with dry skin. Here's the truth, more oil production means, more sebum and more clogged pores, resulting in acne. To fight the acne, you must unclog the pores, that is why exfoliating is really essential for people with oily skin.
Unlike physical exfoliators (scrubs) , chemical exfoliators are milder and gentler, and they deep clean pores to further fight against acne. Physical exfoliators only slough off the dead skin cells on the surface. Chemical exfoliators goes work deep underneath to deep clean and dissolve any impurities from deep within the pores
COSRX NATURAL SKIN RETURNING BHA A-SOL or COSRX BHA BLACKHEAD POWER LIQUID
*Caution: BHA can sometimes result in initial breakout since it goes deep within the pores and literally push out any bacteria hidden beneath, it's called purging. So if the BHA is breaking you out, don't be alarmed, it will calm down in a few days.
A lot of people with oily skin have the idea that they don't need moisturization. Truth is, if you deprive your skin of the moisturization, your skin will compensate with producing more oil than needed. Result: break out.
COSRX ADVANCED SNAIL 96 MUCIN POWER ESSENCE
This is one power packed step and you need to choose one that doesn't clog pores.
MIZON SNAIL REPAIR INTENSIVE AMPOULE
Choosing a sheet mask according to your skin is very important. If you have an oily skin and you use a super moisturizing mask, your skin is doomed.
COSRX HOLY MOLY SNAIL MASK which also comes in a kit, or sheet mask containing tea tree oil from your preferred brand. Once or twice a week.
Flashback to the part where I said you require a moisturizer as much as dry skin beauties does. But using mild, and preferably gel based moisturizer is really important. You can use a single moisturizer during your morning or night time regimen, or you can use a moisturizer during the morning and night cream during the night.
Moisturizer: MIZON SNAIL RECOVERY GEL , – can be used both during day and night
Night Cream: KLAIRS MIDNIGHT BLUE CALMING CREAM
Once you've reached +25, you must use an eye cream before the damage is already done. Using a lightweight eye cream is preferable.
Missha Super Aqua Ultra Water-Full Clear Cream
KLAIRS MID-DAY BLUE SUN LOTION or a cushion compact according to your choice.
Lastly, I would suggest not trying too many new products at once. The safest way to build a new routine is by not experimenting with more than 1 product in two weeks. That way, you can you can also be sure which one of the new product is responsible for which particular result. Also, do check out the ingredient list before ordering as there might me ingredients that you are sensitive to.
That's it. That's the routine for oily, acne prone skin. If you have any queries, or if you have any specific routine request, do let me know.
Till then, bye.