Recently I came across one of the top Korean Sheet Mask brands that has been never before tried by me. Leaders is a brand that is dedicated towards only sheet mask. You know when a brand specializes in one particular thing; they are bound to be good.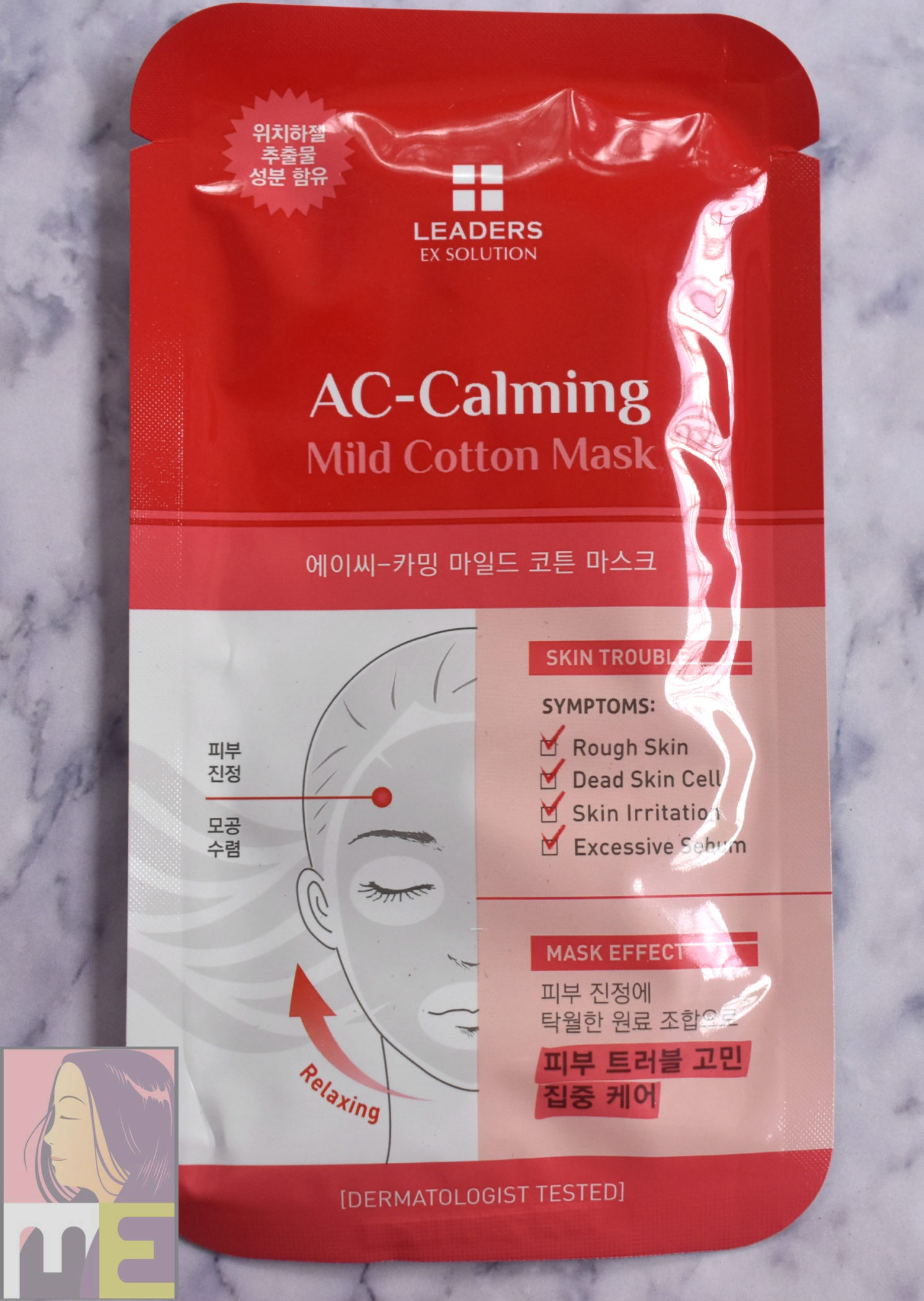 About Leaders:
Leaders was founded by top dermatologists from South Korea's #1 university, Seoul National University. Patients from Leaders clinics yearned for at-home remedies to treat their skin after receiving one of the many procedures offered at Leaders' high-end medi-spas. In response, Leaders Insolution was launched in 2004. Leaders dermatology specialists formulated safe and potent ingredients in an effort to help patients with their skin problems. They deeply understood the importance of beautiful skin and its impact on their patients' self confidence. Leaders Cosmetics is fully committed to bringing out the best in our customers and restoring their skin to its most beautiful potential.
Description:
LEADERS EX Solution AC Calming Mild Cotton Mask is great for sensitive,oily to normal skin. This sheet mask is also great for acne skin which has natural ingredients such as witch hazel extract and chamomile extract to calm the reddish or acne prone sensitive oily skin.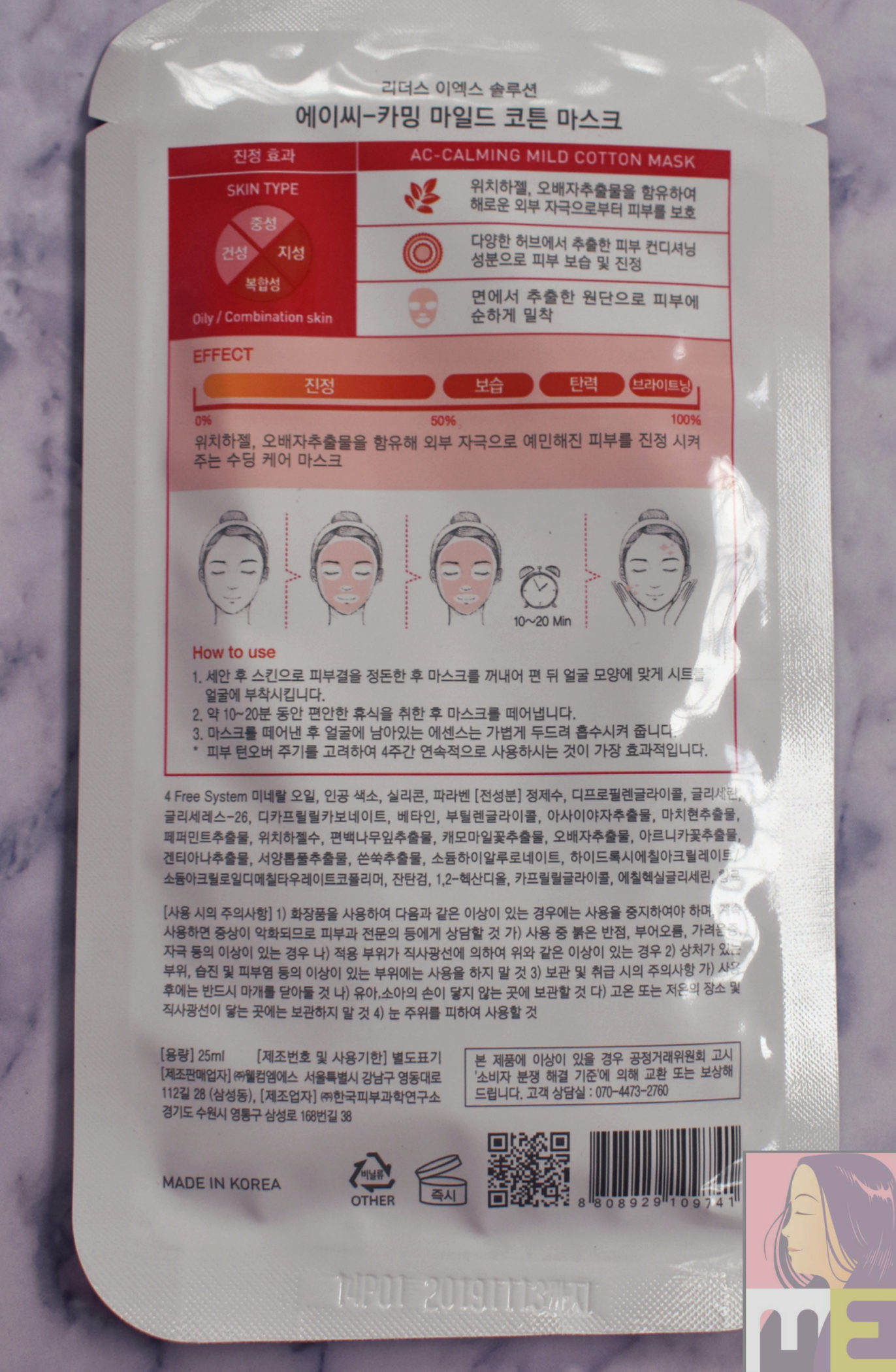 Benefits : 
Help normalize the sensitive skin
Neutralize the reddish skin
Calms the acne
Sebum Control
Helps reduce pore size
Key Ingredients : witch hazel extract, chamomile extract
Normal to oily skin, sensitive skin type ( Dermatologist Tested )
My Experience With LEADERS Ex Solution AC Calming Mild Cotton Mask
Those countless of moments that spent on trying to hunt down the full ingredient list in English, phew! I did found the key ingredients though- witch hazel and chamomile extract, but I have no idea if it contains alcohol. However, given to the fact that they probably won't put alcohol in a sheet mask meant for sensitive skin, I'll love to believe its alcohol free,
I applied the sheet mask after double cleansing, exfoliating and toning my face. The cotton sheet was a bit thicker than usual and had a perfect fitting with a very few air pockets. The sheet was indeed calming and I skipped the part where I put my sheet mask into the refrigerator half an hour before I apply it because as I completely forgot. I was amazed with the calming sensation it provided without keeping it in the freezer for a while and I wished that I had this when I was suffering from skin infection. The sheet mask was still wet when I removed it after 40 minutes, probably because the sheet was thicker and I love when the sheets don't dry out quickly.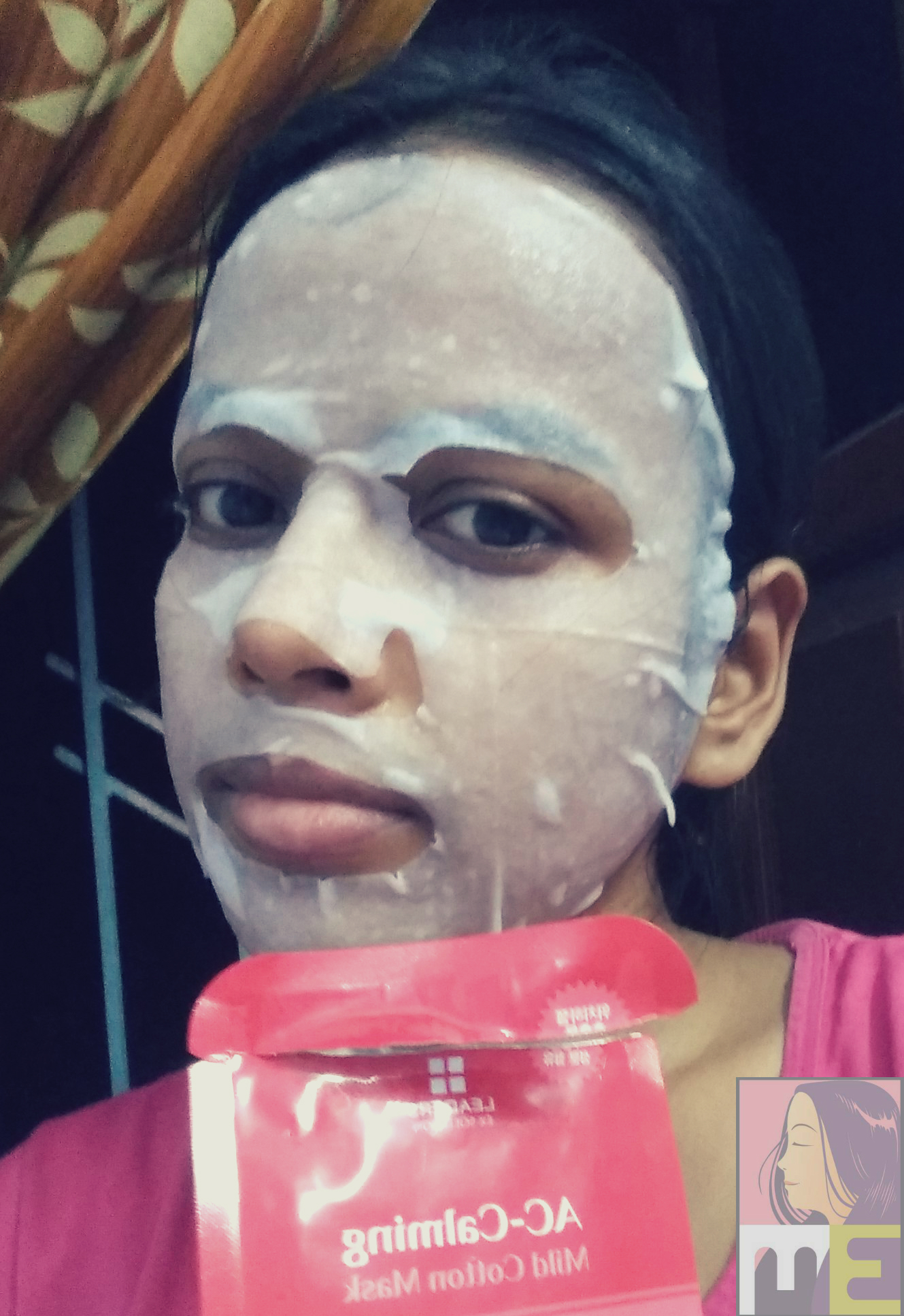 My skin was immensely hydrated and the two mini bumps that were left as traces of my previous skin infection looked a bit shrunk. The following morning I woke up with a very hydrated, even and brightened skin tone. The brightness lingered around 2-3 days and the hydration lasted a bit longer.
Overall, I really, loved the sheet mask and I'm looking forward to explore more of their range. The fact that I can't read their ingredient list is a bit frustrating since I'm unaware what I'm putting on my face. However, knowing that it's created by a bunch of amazing *(Korean) dermatologists is quite comforting.
Pros:
Calms the skin
Hydrates
Brightens
Affordable
Cons:
Ingredient list is in Korean
Price:
Rs100
Where to buy:
*The reason that I mention *Korean dermatologists is because as the saying goes, an average Korean women knows about skin and ingredients better that the dermatologists from any other country. Needless to say their dermatologists have to be damn good.
*PR sample, but my opinions are completely honest.