In the world of fabrics, there are always a few which can be categorized as a masculine or a feminine one, based on the touch and texture of its surface. Silk has always aspired to be the feminist's choice and lately been absorbed in all facets of her life. Becoming a part of the modern women's work wear has been one of its many accomplishments. But, it hasn't been easy because silk can be misjudged to be a casual cloth, when it possesses many other qualities. Ombré Lane acknowledges those qualities in their collection.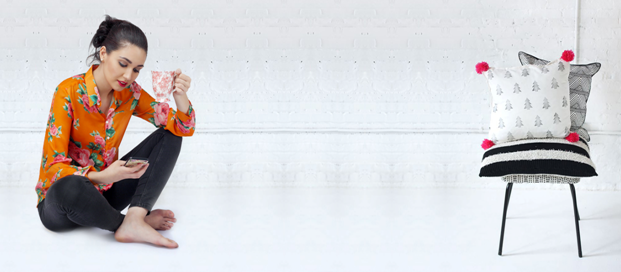 To help this fabric adjust to the modern woman's requirement, Ombré Lane, has selected the printed orange shirt from their collection and has a few suggestions about styling it for different instances in your life:
The Formal Boss Lady
Explore this fabric's potential by wearing it down to those business meetings. Pair it up with subtle coloured ankle or pleated pants and let the silk do all the talking. The fluid and fitted look of this shirt would adorn every body shape and leave you with an elegant feel. Add on pointed shoes of your favourite heel height or even ballet flats, whichever says comfort and accessorize it with stud earrings matching those pants. A quick bun hairstyle would leave the silk in the limelight and tie your look with grace.
The Casual Chic
Silk's fluidity makes it effortlessly float between the different aspects of your life. You have a whole range of options to pair this shirt for a casual look. You can either couple it up with a pair of tights and throw on a cape or if you prefer something more relaxed, pair the top with a flared neutral skirt that would flow with the silk and create a complete feminine look. Pair it up with a wedge heel or a block one, fashion an open hair look and an elegant bracelet and slay that Friday look!
The Work to Wine
Transform this top for your evening rendezvous plan with your friends or colleagues by combining it with a pair of skinny denims, tucked in and a chic pair of ankle boots to complete that look. Fold up the sleeves and an open collar to make it casual, while adding a single pendant chain around your neck.  Add on a high ponytail hairstyle and you're ready for that social gathering.
Style this fabric through simple techniques and let it grab the attention it deserves, while it will boost your graceful yet feminine look. A silk shirt, whether printed or plain, will swiftly become a part of your feminine yet versatile collection. Experiment with different looks by trying various permutation and combination, till you find the one that describes you the best!
Guest Post by Mahima Bhagoliwal