Lets be honest, I am the last person that should be doing a haul right now. Not only because I'm on a tight budget, but also because I tried making myself feel bad and made a list out of all the products that are sitting in my dresser, cabinet,  rack and my table that haven't been reviewed and am not finished with the list yet but it has already crossed 60. There are also empty bottles that I haven't reviewed and I keep telling myself to review them before I forget how they worked. So the reason that I made the list was to make myself feel bad about my shopping frenzy and vow not to purchase any more things until am done with at least 40 products from the list. You know when I made that list? More than 3 months back. You know how many times I went overboard with shopping after making that list? More than 20 times. By now my unreviewed product list has possibly crossed hundred and I cannot be more ashamed.
So today I'll be sharing with you guys one of those shameful acts of mine. Last month my boyfriend and I went to the theatre with plans of watching SpiderMan Homecoming. Usually one of us visits the other's place first then we head out together, but that very day I was coming from the North most of Kolkata and he from our usual South. We planned to meet at the mall itself. However, he was a bit late. Upon reaching the mall I gave him a call and he's then location was about 5-6 minutes away. I kept avoiding all the stores, telling myself "You've got everything you need". And then I remembered the Fab India store in the mall and decided to 'just look' at their clutch collection as I will be needing one about 6 months later. I went in; I looked through and across the clutch collection straight towards the personal care section." I'll just browse" I told myself. You know how bad their paraben free, SLS free, alcohol free products lure me? Bad, real bad.
A part of me wished my boy friend would be here soon and drag me out of the store, the other part of me wanted him reach the mall after I get to browse some more. Then my eyes caught the travel-size kits. Now a lot of you might know my cravings for deluxe and sample sized products. I'm sucker for them and since I travel too much they come in real handy. The next day I was going on a trip so I told myself "nothing wrong with getting a travel-sized kit, I'll need them". But I had everything one can need in a 3 day trip in travel sized packaging. I had already done a freaking post on travel packing and my sample/trial sized collection before that trip, what else could I have possibly needed? My bags were already packed.
But the shameless person that I am, I got myself a Neem & Tulsi toner as I just recovered from a terrible skin infection and I needed backup just in case the pimples come back. A travel sized shampoo and conditioner because the sachets that I packed weren't just enough (for a 3 day trip), and a mini bar soap because they are freaking cute and that's the only type that I haven't tried. I know it's such a small haul, but I'm proud that I didn't go bonkers and avoided the temptation of buying the travel-sized products. But trust me, I am going back again, I'm going back as soon as I cross off most of the products off my 'to review' list and the travel sized kits will be mine. I might even plan entire trips just as an excuse to get those adorable kits, you never know.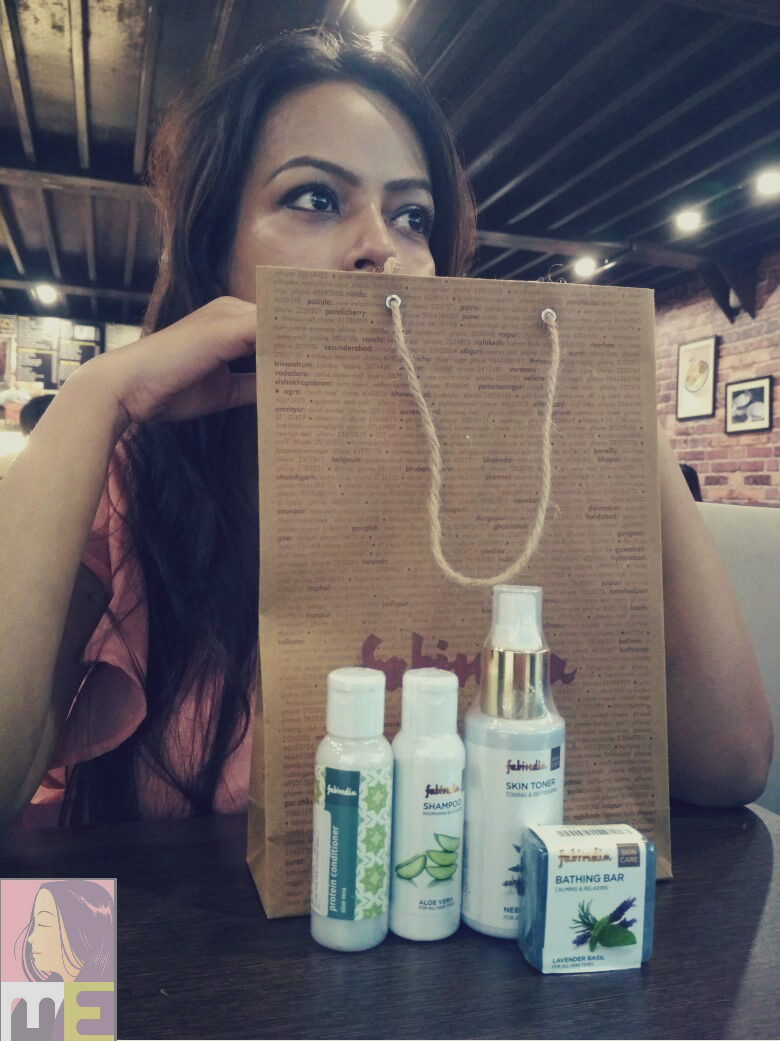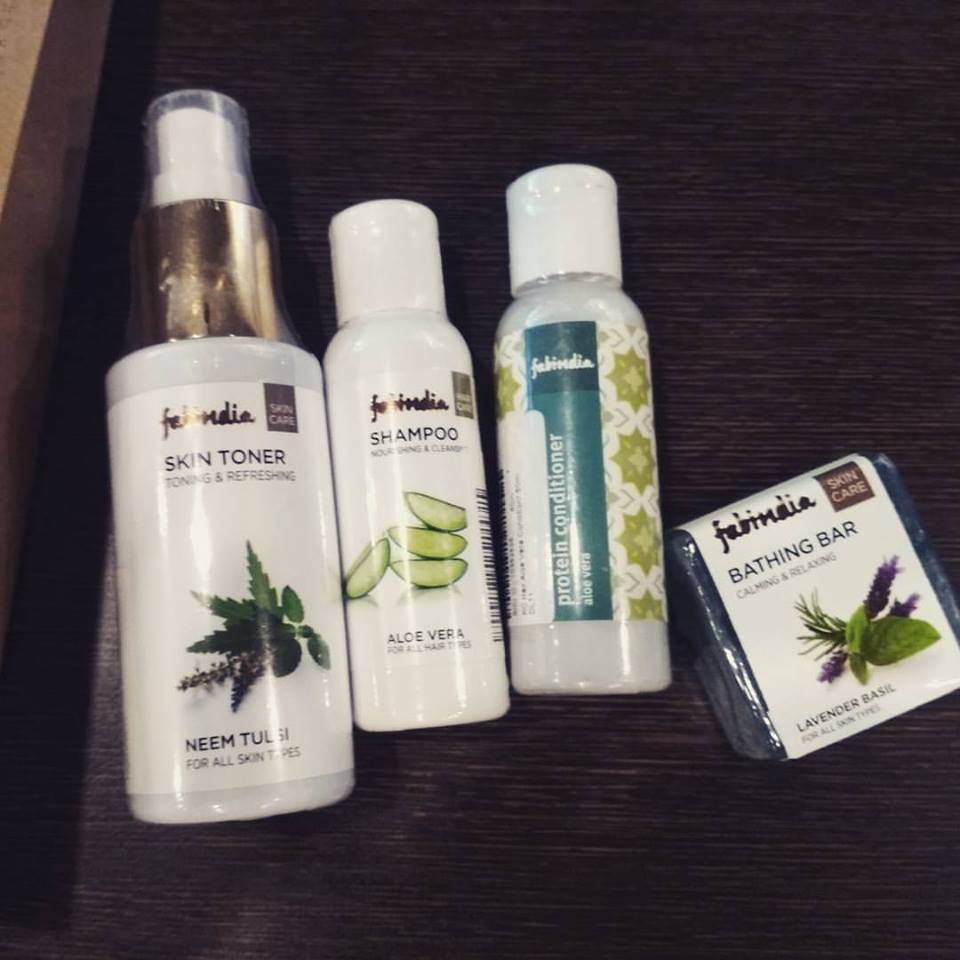 Fab India Toner Neem & Tulsi: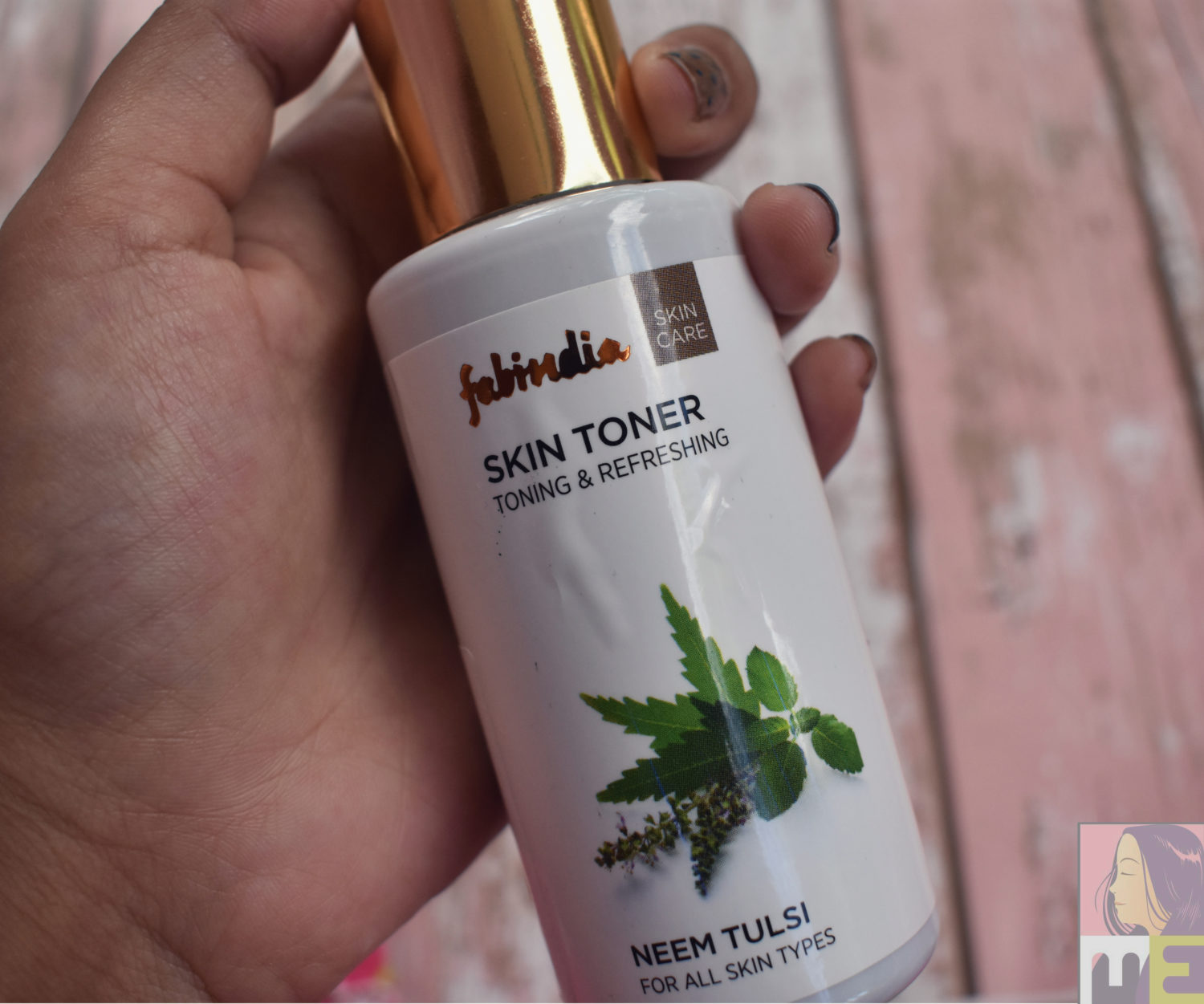 It's a tough job to look for an alcohol free toner and once I find one, I get it. This one has Neem & Tulsi and since I suffered from a terrible infection, I developed a love for products containing anti-bacterial properties. This one has impressed me so far and I suggested their Tea Tree Oil toner to my sister who has an oily skin.
Review will be up soon.
Fab India Shampoo Aloe Vera:
I have used this probably 2 times and saving it for my next trip.
Fab India Protein Conditioner:
I have previously used their silk protein cream and it didn't suit my skin very well. But the conditioner is a different story. Apart from the fact that it contains alcohol, I pretty much like it.
Fab India Bathing Bar-Lavender Basil:
I did click a picture of it before I unpacked it in the hotel room but I lost all my phone data and I can't find it anywhere. It's a soothing, relaxing soap bar. I think I share the love of their soap bars with many people here.
That's it, that's all I got from Fab India.  Fortunately I've behaved a lot better on August and have shed cash on only things that I need and on gifts. Hopefully I'll behave well on the coming month as well while crossing off most of the products on that list so that I can resume with my hauls.
Till then,
Bye
XOXO