When it comes to footwear, comfort is always considered first. Spruce up your casual collection with new vibrant women's slippers. The latest selection of men's sneakers also introduces bold new design combinations and retro classics, giving shoe aficionados an unlimited number of choices.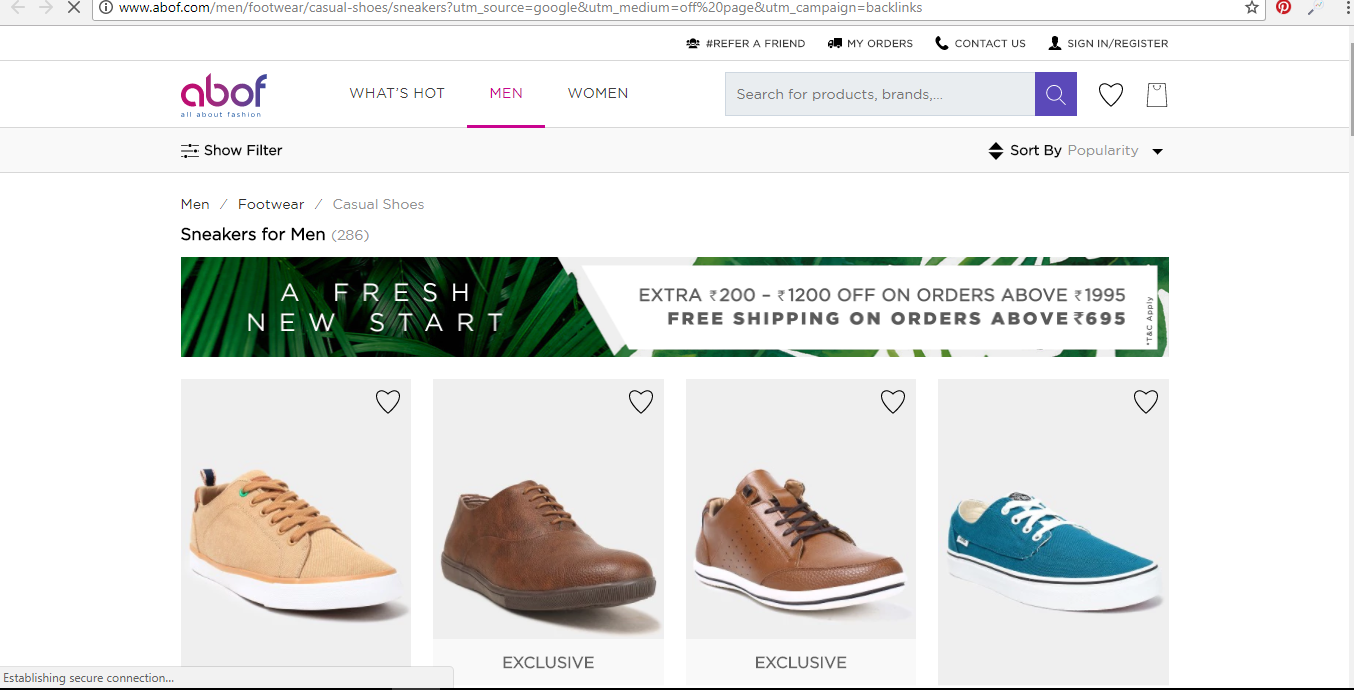 Women's Slippers
Adorn your feet with some vibrant peppy colours that will add a spark to your casual wear. The latest collections of slippers for women reinvent old tropes with a wide selection of tones, prints and designs. Whether you are relaxing at home in front of the telly or waltzing down to the local juice joint to catch up with friends, nothing speaks comfort more than a casual pair of slip-ons. This versatile footwear can also be a catalyst for your wardrobe and worn with different combos.
A beach vacation is what we all dream about all the time. Enjoy your seaside getaways in style with bright tropical colours and prints from Lavie. Wear some ethnic inspired pieces by abof Women, a perfect pairing with your shorts or skirts. Nude and dark toned flats can be worn with traditional garb or casual bottoms. The newest slippers blend the elements of a sandal with the comfortable aesthetics of slip-ons, offering you more style choices. Other brands to look out for include Skechers, Wet Blue, 20Dresses, Catwalk and Reebok.
Men's Casual Footwear – The Latest Styles
The white sneaker is arguably an essential piece of casual footwear in today's trending outfits. Wear a pair of white ones with your joggers and tee or pull it off with a smart casual ensemble. Other eclectic and bright toned choices include United Colors of Benetton. Some of the popular colours in the UCB casual shoes inventory include red and lime green. The turquoise blue mesh slip-ons are a centrepiece attraction and very comfortable too. Pick up some enterprising high-tops in dark tones by Knotty Derby for that understated touch. Wear them with a pair of light khaki trousers and checked casual shirt, perfect for a casual occasion or afternoon getaway. From plain to stripes, you can choose from myriad designs from the latest range by abof Men, the in-house brand of one of India's leading fashion sites. Vans are known for their signature designs, sturdy and unique. Green and printed canvas will go well with your denim or shorts. Jute slip-ons are comfortable and stylish too. Add some semi-formal vibes with pieces from Carlton London and Buckaroo.
Try out some experiments with your casual shoes and sneakers. Wear light shirts layered with a blazer and dark denims for a chic and comfortable style statement. Puma's high tops never go out of style, and you can check out some of the more urbane designs by Woodland too. Other brands to look out for include Fila, Lee Cooper and the North Star line by Bata.
Browse through the latest collections, inspired by trends around the globe. Fashion shopping is more about discovering new looks Get personalised content delivered at a click, and enjoy recommendations and style tips based on your preferences when you go online-shopping!
Guest Post By Vijay B