It's that time of the month when I clear out some clutter from my dresser and my bathroom cabinet. This month the number of empty bottles are less than usual as I've been asked by my derma only to use prescription products and I'm partially following his advice, and secondly because I was on a trip this month and as you guys know I took sample-sized products with me that I threw away when empty, also I used 2 sheet masks that I threw away as well, -Tonymoly Pomegranate Mask and Innisfree Skin Clinic Madecassoside Mask.
So here are all the empties I had with me by the end of July: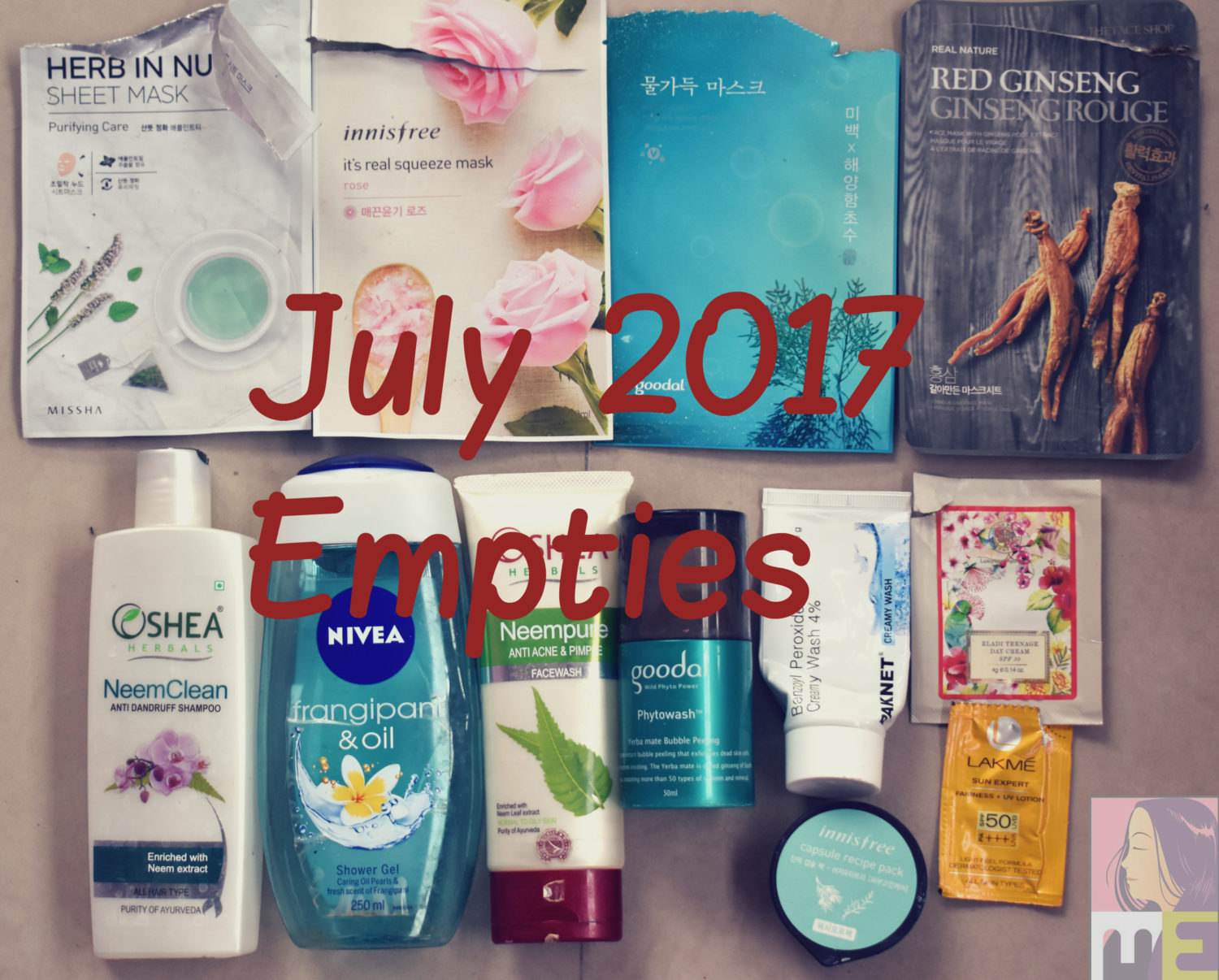 Missha Herb In Nude Sheet Mask (Purifying Care)
I absolutely, absolutely LOVED this one. I used it before I started taking probiotics when I was still suffering from the skin infection. This sheet mask helped calm down my skin and it was an absolute relief. After trying this sheet mask out, I really wanted to purchase the whole range. However, I've little faith in our custom service as this came to my doorstep with at list 8 staples, 4 at really unnecessary spots, one of which at the middle that poked two holes in my sheet mask. I usually throw away sheet masks with holes as they seem unhygienic to me, but the Herb In Nude Sheet Mask was so tempting and the sheet was still drenched with so much serum that I didn't have the heart to throw it away. The review will be up soon.
I've raved about it before on my blog and gifted it to multiple people I personally know and bought it on bulks.
Even though it didn't really provide much brightening effect on my severely tanned skin, I'm impressed with the hydration it provided.
Not a big fan of TFS but gave the brand a second chance when the brand launched in Nykaa and is still disappointed.
Oshea Neem Clean Anti-Dandruff Shampoo:
I got this from a local dealer while I was suffering from a terrible hair loss that lasted around 8 months. Even though I do not have dandruff issues, it did control my hair fall.
Nivia Frangipani & Oil Shower Gel:
This had a twin and both had been idly sitting on my cabinet half empty for some time. Both of them are finally emptied just because I started doing the empties post.
Did didn't help much with my PMS acnes
This is one of my favourite exfoliators of all time. I'm too attached to it to even throw away the empty bottle.
Benzoyl Peroxide Creamy Wash 4%:
So glad it's finished. The derma prescribed it to me for two months and I've already finished one last month and am not planning on buying it again.
Forest Essential Kumkumadi Day Cream With SPF30:
This one has been a life savoir during my recent trip. I love layering my sunscreens, first this, then a sunscreen with SPF 50 and then a compact with SPF15 (and I still got tanned). It's a wonderful Day Cream, perfect especially for teenagers.
Innisfree Capsule Recipe Pack Bija & Tea Tree:
Since Bija is known as an anti-irritant and Tea Tree is known for healing pimples, I really hoped this will help calm down my skin while I was suffering from skin infection, but it didn't.
Finding an Indian physical sunscreen with SPF 50 is like hitting a jackpot. There's a reason these two empty samples got their way back home.
So these are all the products that I finished this month, hopefully next month the clutter will get cleared some more. Till then, bye…