The first time I came to know about the amazing benefits of Apple Cider Vinegar was from a video by Michelle Phan. I've read more and more about the benefits ever since then. Recently after I started suffering from skin infection, I was Googling home remedies and ACV topped the list of each article.
Fortunately enough, I was sent a bottle from Zenith nutrition for review exactly around the time when I needed one. I did some more research and turned out that the goodness doesn't only limit itself with its anti-bacterial and weightloss benefits, but the list is actually pretty huge (read: 20 Unique Apple Cider Vinegar Uses and Benefits)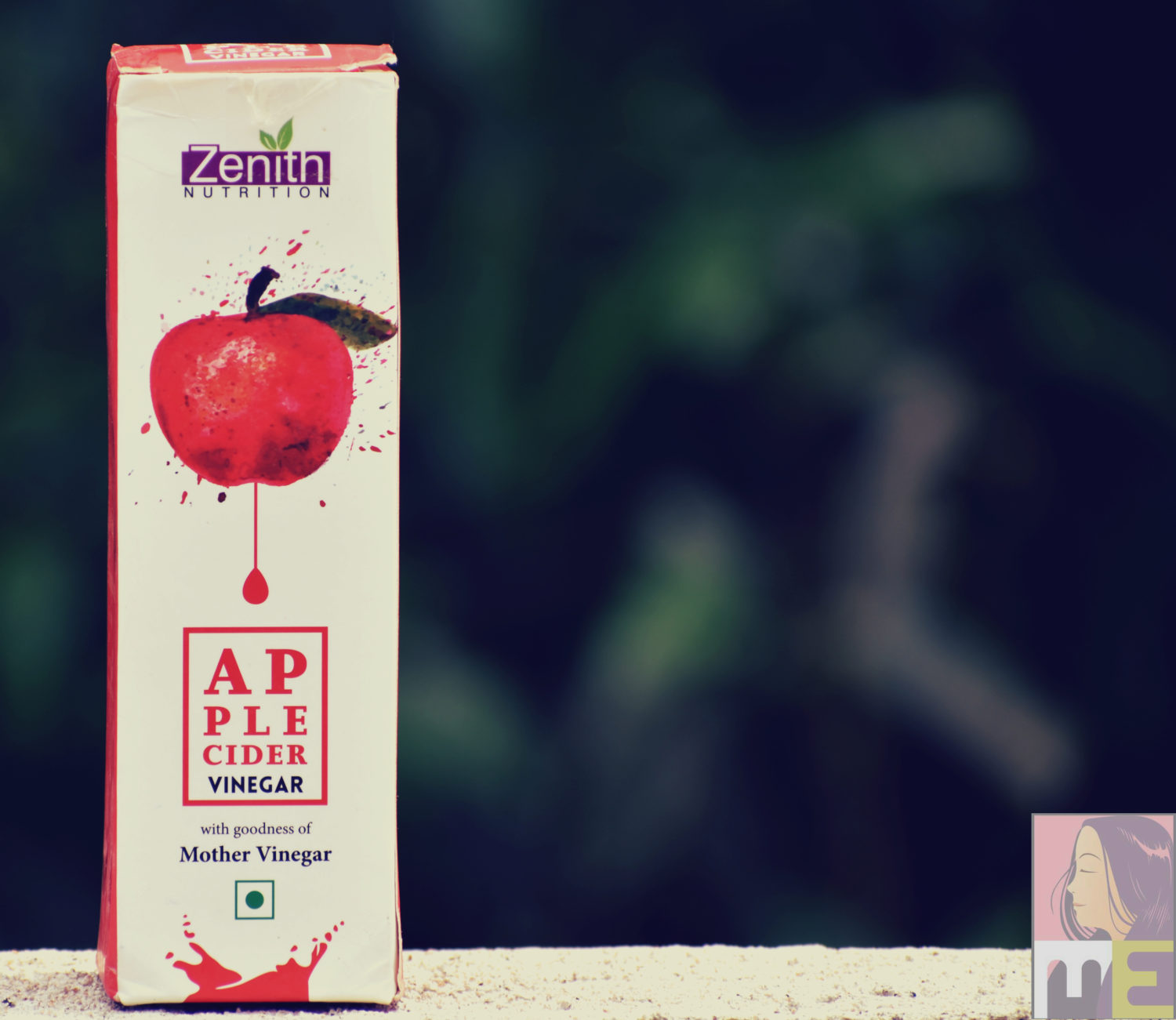 Zenith Nutrition Apple Cider Vinegar (Unpasteurized)
Unfiltered & Unpasteurized
With Mother of Vinegar that occurs naturally as strand-like chains of connected protein molecules
Processed from Natural Himalayan Apple Juice
Fermented with scientifically optimized process
Rich in enzymes & potassium
Helps control weight and promotes digestion & ph Balance
Relieves muscle pain from exercise
Helps maintain healthy skin and helps promote youthful, healthy bodies 
Zenith Nutrition Apple Cider Vinegar is made from delicious & healthy apples. Apple Cider Vinegar has been highly regarded throughout history. In 400 B.C. the great Hippocrates, Father of Medicine, used it for its amazing health qualities and now you can enjoy it on a daily basis
It's a wholesome way to add delicious flavor to salads, veggies, most foods, and even sprinkle over popcorn.
Internal Benefits:Rich in enzymes & potassium Support a healthy immune system, Helps control weight, Promotes digestion & pH Balance, Helps soothe dry throats, Helps remove body sludge toxins.
External Benefits: Helps maintain healthy skin, Helps promote youthful, healthy bodies, Soothes irritated skin, Relieves muscle pain from exercise.
The presence of the mother shows that the best part of the apple has not been destroyed. Vinegars containing the mother contain enzymes and minerals that other vinegars may not contain due to overprocessing, filtration and overheating. 
Ingredients: Apple Juice fermented to 5% acidity.
How to Use: Mix 1 – 2 teaspoons of Apple Cider Vinegar in a glass of water and consume on empty stomach every morning or use it as salad dressing.
Caution: Do not consume pure vinegar directly, always dilute with water.
For best result store in a cool and dark place away from direct sunlight.
Do not buy if bottle is puffed or seal is broken.
Keep the bottle tightly closed.
Use regularly for better results.
Keep out of reach of children.
Suitable for all ages.
Colour and taste of the vinegar tends to change naturally on seasonal basis but the product efficiency remains unchanged.
Vinegar contains suspended mother settles at bottom, Shake well before use.
My Experience: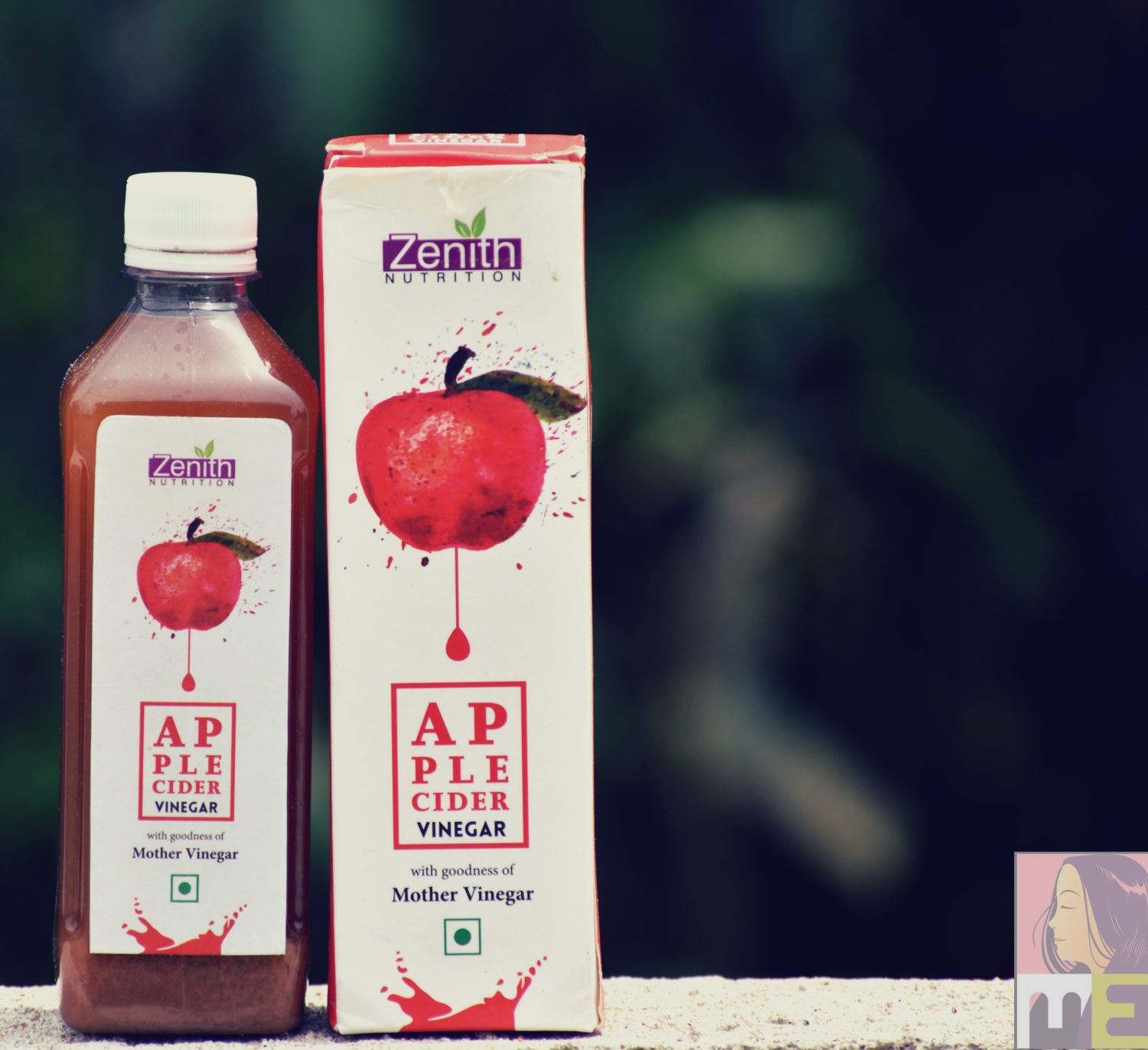 My first impression after receiving the ACV bottle was that the packaging looks a lot more attractive than the usual ACV bottles. And the sturdy plastic bottle is really convenient for use.
The most popular way of consuming ACV is diluting 2 spoon of ACV in a cup of water and drinking it in empty stomach. I tried and almost failed. It tasted pretty horrific so I started using it as a salad dressing instead.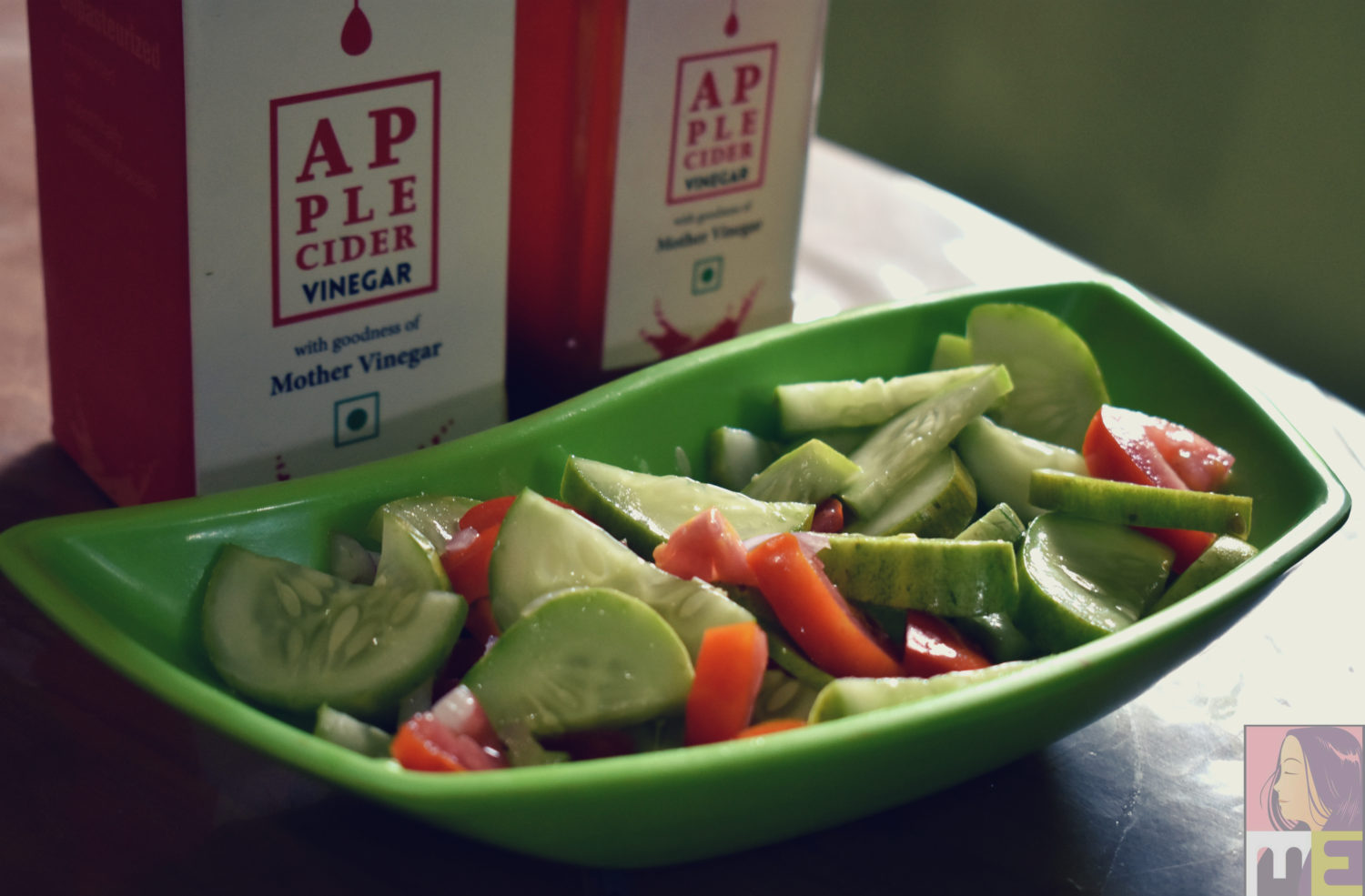 Some of my favourite ways of consuming ACV are mixing a tablespoon of ACV with Olive oil and topping my cucumber salad with it, using it to marinade chicken and drizzling a spoon full of ACV on top of my noodle.
Of course consuming it with water is much more beneficial and I would cheer for anybody who can do it. On the other hand, I really love the tangy taste if used as a salad or noodle dressing.
I was also looking forward to dilute it with water and apply on my cheeks where I got the infection, but I trying the Zenith Probiotics (review and a story coming up soon) which kindda cleared away the infection. Because I was testing the probiotic along with it, I didn't want to use any home remedy to my infection for that time being as I wouldn't know which one worked. But even if my skin gets cleared (*touchwood) am really looking forward to use diluted ACV as a toner once in a while.
Overall, I'm really pleased with the Zenith ACV so far and glad that it's so easily available in India in a pocket friendly rate. We are a household that has white vinegar in the kitchen all the time, but am trying to get my mum used to the apple cider vinegar instead of the white one.
PRICE – Rs 331/- for 500 ml.
Where to get: