Hey guys, it's already the 18th of the month and I received My Envy Box June Edition yesterday which I ordered around the 2nd or 3rd of the month. This month's box comes in the print that will soothe your eyes in this scorching summer and will remind you of your last trip to the beach.
So here's everything that was inside the box: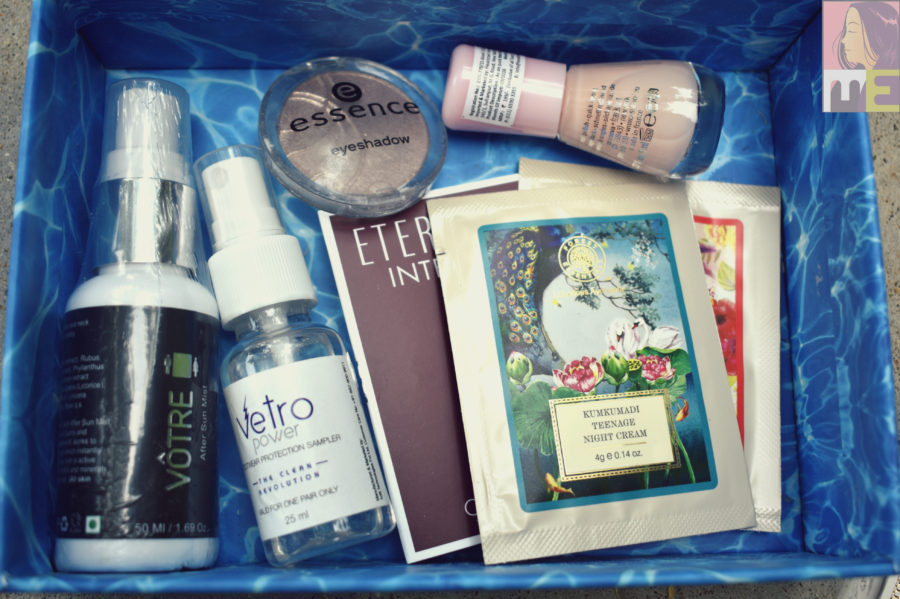 Votre Power- Footwear Protection: Rs 600 for 25ml
It's supposed to clean your footwear with its powerful Nanotechnology enabled protective coating. This sample sized spray  is enough for one pair of shoes and I'll probably use it on my beloved boots.
Forest Essential-Eladi Teenage Day Cream And Night Cream: Rs 264 for gms each
Am deeply and madly in love with these samples already.
Votre- After Sun Mist: 500 for 50ml
If you already don't know, am sucker for mists, I love keeping them in my hand bags and occasionally spray on my face whenever my skin feels dry or my skin asks for refreshment. This is an excellent mist for those who stays under the sun for a long hour. I've been staying indoors these days and I wish I knew about this mist during my working days. Nothing like going into the office under the scorching sun, and spraying it all over the face and neck once you enter. Working ladies, keep a note.
Essence- Nail Paint: Rs 199 for 100ml
I got it in a pretty pink shade.
Calvin Klein- Eternity Intense Fragrance: 1 vile
Words cannot express how sensual and flirtatious the fragrance is.
Essence- Eye Shadow: Rs 199 for 2.5gms
I got it in the shade Party All Night which is a shimmery bronze colour.
Overall, I pretty much like the stuffs inside this month's box. There are 2 full-sized makeup products but my heart fell for the sample sized Forest Essential products which I should have saved for my next trip, but I already started using them. The box's overall worth is above 2k which makes it more than just worth it.
If you haven't ordered this month's box yet, get now from here: http://www.myenvybox.com/products/luxury-beauty-box–1-month–june/pages/home