Ever since I started doing empties post, the clutter in my dresser and cabinet started becoming a little bit decent. I haven't really noticed before that I had so many bottles with little bit products left inside, waiting to be used up and thrown away. Last month I haven't finished many products but I eliminated a LOT of products that have crossed the expiry date, so much so that I was wondering if I should do a post with products I haven't been able to finish up.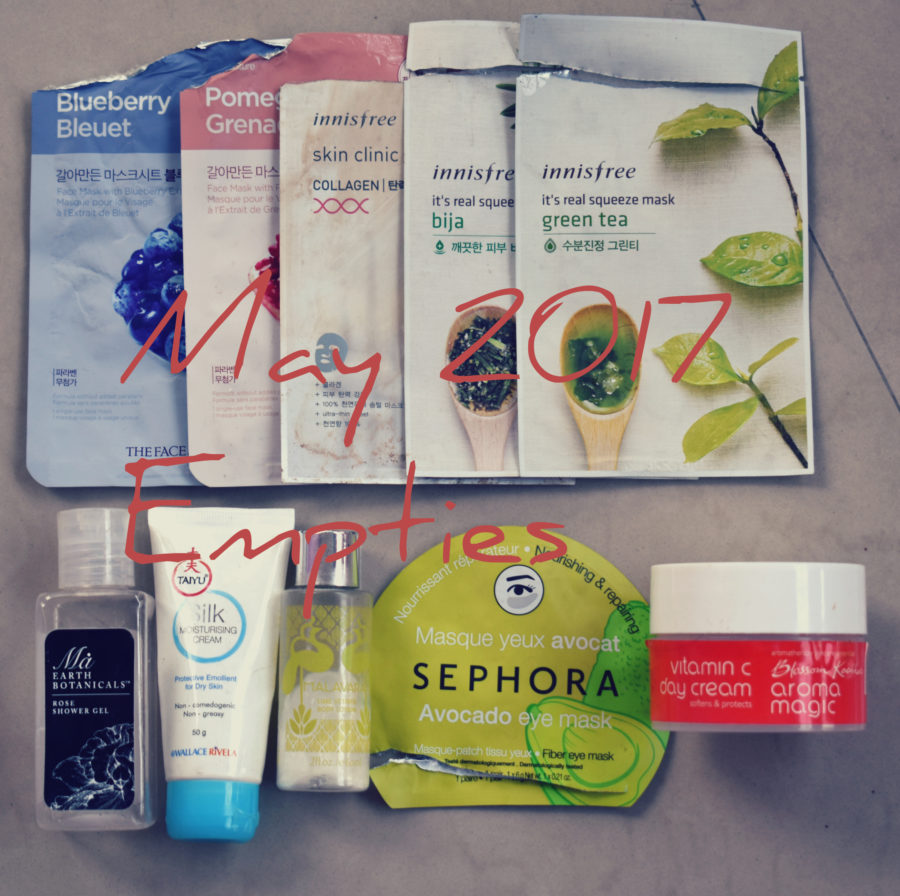 So here's everything I finished up this month:
The Face Shop Real Nature Blueberry Mask Sheet: It calmed down my irritated skin for a couple of days and looked promising to me. However, I might not repeat purchase because of the presence of alcohol in the ingredient list. Review coming up in a few days.
The Face Shop Real Nature Pomegranate Mask Sheet: The best TFS product I have ever tried.
Innisfree Skin Clinic Mask Collagen: Since I don't indulge in an anti-aging routine yet, I love pampering my skin with collagen and pomegranate masks once in a while and this one has made its own place in my routine.
Innisfree It's Real Squeeze Mask Bija: Bija is known for healing irritated skin and true to its claim, it calmed and soothed my chicken bumps and a few more of these are in transit to be delivered.
Innisfree It's Real Squeeze Mask Green Tea: A repeat purchase that will be purchased again, in fact a few more is already in transit. I have used this mask many times and the most remarkable effect was when I came back from Delhi with a terribly dehydrated skin during the winter.
Ma Earth Botanicals Rose Shower Gel: It was indeed a good shower gel but the fact that it claimed to be SLS free but had SLS in the ingredient list annoyed me too much.
Lotus Professional Clarifying and Soothing Toner: I had two bottles of these and finished the other one a couple of months back.
Taiyu Silk Cream: I have got so many tubes of these scattered everywhere that I'll probably add one tube with my empties post each month.
Malavara Body Lotion: This is one expensive body lotion that I tried only because I got it with my Fab Bag . It's good for the summer time, especially for oily and combination skin beauties but I'm definitely not going to purchase.
Sephora Avocado Eye Mask: A meh experience. I can get better eye masks for a better price from the Korean beauty stores.
Blossom Kochhar Aroma Magic Vitamin C Day Cream: I love Aroma Magic products and it was no different.
I also finished up some hair products last month but I forgot to include them with my May Empties. I would have clicked the picture again if I had the time, but since I'll be leaving for Bangalore in a few hours and just let them sit on the cabinet and rule the clutter for another month. 😀