Hey guys, I haven't been active in a while. My uncle expired a week ago after fighting for his life for 1 month and 4 days and then 5days after he expired, my sister's fiancé suffered a major heart attack and is still in the hospitable.  Things aren't going very well around here and we have pretty much turned insane after everything we have been through.
I legitimately touched my camera after 1 and a half month today because the only way I could go back to being sane is by working. So I decided to do an empty post which resulted in clearing out a lot of clutter around my dresser which has been looking like a dumpster ever since I came back from Bangalore. Most of the empty bottles are from March as I haven't indulged in skincare since April. My skin is in such a terrible condition that my boy friend jokes that if any of my reader meets me on the street, they'll end up unfollowing me after seeing my skin condition. I'll hopefully resume my skincare routine in a week or two, but until then, I'll share my empty bottle with you guys right now.
I've finished and thrown away a lot of samples as I was on a trip for a couple of weeks on March, so I'm going on without them anyway.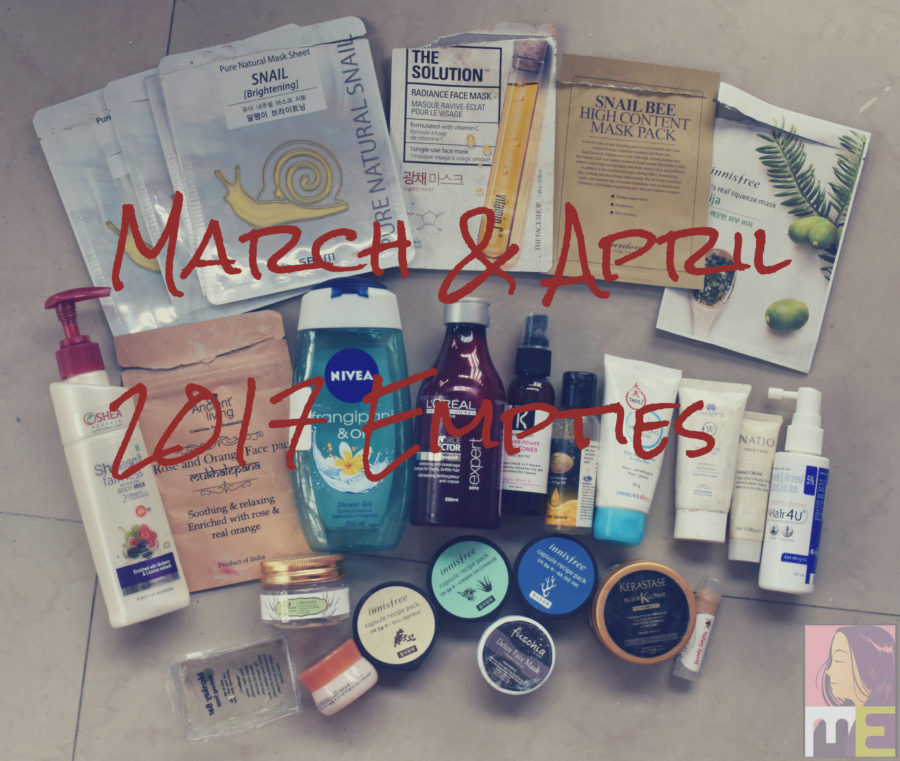 I got 6 of them from Daisy Skin Fix and took 2 with me on my trip and threw away the packaging. These masks  didn't do wonder any to my skin so am probably not going to re-purchase.
Am not a huge TFS fan and I like the Innisfree Vita C mask much better than this one.
Got this from Cosmetic-Love and am absolutely in love. I used it sometime after coming back from my trip and it healed the chicken skin that Bangalore gave me to some extent. I regret just getting one and probably going to re-purchase in bulk.
Innisfree It's Real Squeeze Mask Bija:
This one's a great choice to heal irritated skin and also easily available in India (Nykaa). Totally worth re-ordering.
Received two of this as PR samples and gave one to my boyfriend's mother. Both the bottles are empty and now both of us want another bottle each.
Ancient Living Rose and Orange Face Pack:
This one's yet to review. I received it as a gift from Ancient Living and loved it. Though it didn't do any extra-ordinary job on my skin, just a mix of multani mitti, rose and orange peel powder, a well known and much loved blend by us Indians. Because I have a combination skin, I never really used multanni mitti face packs, but this one helped me during my PMS days when my skin suffers oil breakout.
Nivia Frangipini & Oil Body Wash:
I have exactly 6 body washes sitting in my cabinet after getting rid of this bottle. I have written this many times that I am huge on toiletries. Most of the bottles are half way down and I use them according to my mood. So now that I need some space on my cabinet I decided to finish the bottles one by one, the decision that had me start doing empty post in the first place.
L'Oreal Force Vector Shampoo:
I LOVED this shampoo and it broke my heart a little when the bottle was finished. L
Kronokare Flower Power Face Toner:
I have somewhat bitter sweet feelings about this one. On one hand I'm glad that it doesn't contain alcohol, on the other I'm not very satisfied that the nozzle sprays super fine particles that spreads to an area bigger than my face. Upon spraying 2-3 times, I feel unsatisfied because it's too fine that I don't feel the toner touching my skin, so I desperately spray a few more times until my skin feels the toner and that's how I ended up finishing the whole bottle in a couple of weeks.
I'm not much of a 'hair-oiling' person but that one time I decided to take better care of my hair and now I have 7 different hair oils (including one huge bottle of organic coconut oil brought from the country side) sitting in my dresser. So I decided to finish them up one after another, and started with my favourite one. This one's totally worth repurchasing, but first, let me empty the clutter gradually.
Taiyu Silk Moisturizing Cream:
My night time favourite. It works great on both my skin and my sister's skin and the best part? Since we get it from the pharmacy, we ask our parents to get them, and they get them in bulk for us. 😀
A physical sunscreen that has been my skin saviour for a long time. I would have repurchased if it was SPF 50.
Natio Meditate Handcream:
It has a pleasant fragrance and hydrates the hands without making them greasy.
Got this from the pharmacy while I was suffering from a major hair loss problem. I'll probably repurchase as I have lost too much hair and this one promises re-growth.
Soapaholic Mokey Bar soap:
Even though I am not a Bar Soap person, I loved this one. If there's a shower gel with the exact same ingredients, I'll probably get hooked.
Just Herbs Aloe Massage Gel:
I religiously used it on my irritated skin and I doubt it did anything -_-
This one's already a re-purchase and I won't ever get tired of re-ordering this. It helps brighten the skin and plump it up at the same time.
Helps calm irritated skin, so probably going to repurchase.
This one's an interesting product. It warms up on the skin upon application and works both as a mild exfoliator and a wash-off mask.
I LOVE charcoal face masks and it's my second favourite charcoal Face Mask so far.
KERASTASE K Ultime Masque:
I'm really low-key when it comes to hair care and it took me too much time to finish this sample no matter how soft my hair felt post showering.
This has to be the best Lip Butter I've ever used and my heart really broke when I used it for the last time. I got two other flavours from their Holiday Edition which I gave away to my cousin sister and my sister-in-law who loved the lip butters as much as I did.
So, these are everything I finished up in the last two months and I'm glad that there's some extra space in my dresser and cabinet now that am done with the bottles. Hopefully there's going to be a little more space at the beginning of next month when I upload my May empties.
Till then…
Bye,
XOXO