We all have days when we feel low, when we lack inspiration to keep us going throughout the day. Since our surroundings affect a lot on our mood and our mental health it's very crucial to create a warm and cozy atmosphere at our home, especially for people like me who works from home.
Yes, there are days when I want to do nothing but lay idle, totally ignoring the fact that I have plenty of work to do, there are days when I get depressed over absolutely nothing and there are days when I find no inspiration to keep me going. Sometimes, just sometimes that's excusable, often times not. To fight my desire to stay in the bed all day and do nothing I try creating an ambiance in my home that can lift up my mood. Writing takes so much patience, and your mind needs to be not just in a better place, but in the best place. My surroundings reflect in my mood and my mood reflects in my writing, so in order to get inspiration from my surroundings, I always try creating the perfect ambience where I can feel better even during days when I feel low.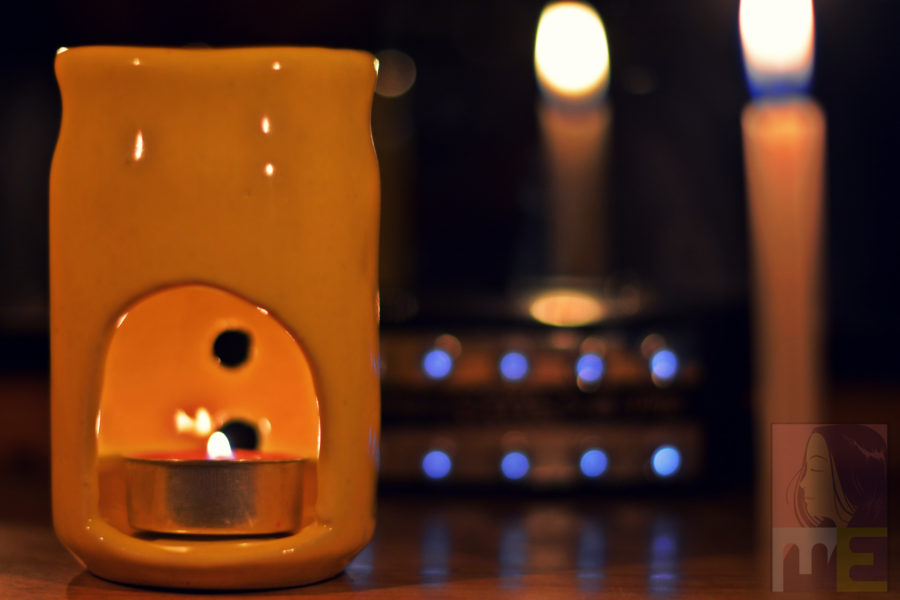 The colour you are surrounded by plays a very crucial role in lifting up your mood. I try surrounding myself with colours that makes me happy- different shades of pink. However, since I indulge in indoor product photography way too often, I have my bedroom walls painted in light shades. My work space is currently under construction and I am planning to paint them all white.
You can also decorate the walls with amazing wall arts that reflects your personality.
In contrast to my light shaded walls I opt for bright curtains that lift up my mood. Have you heard of colour therapy? You can actually fight depression and heal with the use of colours- red, yellow, orange, blue- or in my case pinks or mauve.
Usually I start writing in the evening after having a cup of afternoon tea or coffee. The first thing I like to do is light a scented candle (or sometimes just a pillar candle) and put it beside my laptop on my work table. Nothing lifts up my mood better than a lit candle especially during the winter.
There's something about fairy lights that brings joy and happiness, isn't that why we light them during festivals?
You can get scented candles from online shopping sites.
This is probably the best way to be inspired from your surroundings. Don't we all love keeping our screensavers that reflects our goal in life, or pictures that makes us happy? From pictures of our loved ones to the car we dream of purchasing someday, they have all been our screensaver at one point or another. Yes, we can use our wall as an empty canvas and fill it with pictures and arts that inspire us.
A well kept bedroom and work place:
There's nothing worse than walking into an unorganized bedroom after a hard day at work. It's almost as bad to walk in to a messy desk; literally kills my mood. So I organize my work desk before opening my laptop to work and since am a lover of stationeries, I love having notepads and planners on my desk.
So these are the things that not only lift up my mood but help me fight depression as well. Hope you guys found these useful, do let me know if you try any of them J