Hello everyone! I am Anwesha and this is my first post for Beautifullyme.in . I have become a Kbeauty convert and worshipper after I came across our dear Clara's posts about Kbeauty. Truth be told I had really bad skin condition when I first discovered this blog – dry, patchy, hyper pigmented and yes, severely tanned skin. In short the worst phase possible. So, I thought what's the harm in trying a few Korean products, especially when everybody is raving about them?  And so, I gathered courage( it took guts to convince mom I tell you!) and ordered my first ever international package from Cosmetic-love.com .
The product that I will be reviewing today is a skin-changing (if not life-changing ) thing for me. I had always wondered about a cleansing agent that would not leave my skin dry or with a oily residue – something as uncomplicated as possible. Cleansing water  a.k.a micellar water is just the product which I was looking for. I had used and loved  another cleansing water by the renowned  French brand Yves Rocher before ordering the Saem Healing Tea Garden one. The only issue with the Yves Rocher one was the sticky residue it left behind after cleansing. During winter months that's a plus point but during summer it's just too sticky to ignore.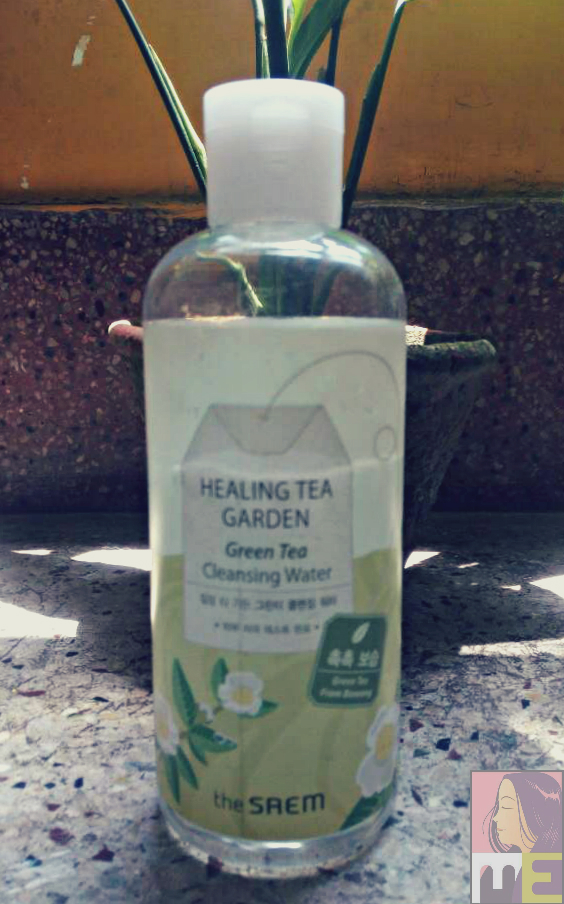 Anyway, I bought the Saem Cleansing water in Green Tea variant. The bottle is a big 300ml one which has sturdy packaging.  Nothing cute or fancy, just really travel friendly basic stuff. As the name suggests, the product's consistency is just like water. It has a faint herbal smell. I think it is the smell of the large amount of Green Tea extract that has been added to the product.  I use the product every day twice or thrice as per my requirement. It does not irritate or dry out my skin. It does its job of cleansing to perfection. One thing that I would like to mention, I do not use this cleansing water as a makeup remover.  Internet is filled with articles primarily describing micellar waters as makeup removers. I don't buy that, sorry! However, I do use this cleansing water to cleanse the last remaining makeup particles or traces of eyeliners after I cleanse my face with a foam cleanser (something which my skin does not like). It removes every single undesirable thing from your skin and leaves it clean and moisturized. No stretchy feeling or rough cleansing.  In fact it does not sting my eyes.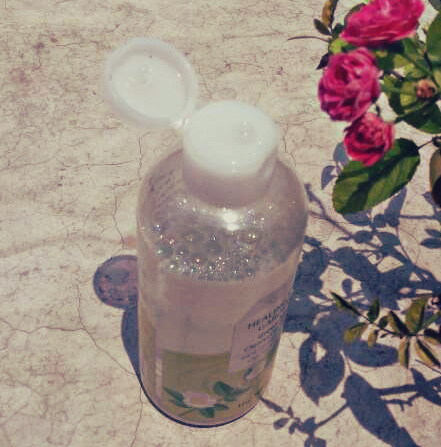 Ingredients:
Purified water, propylene glycol, not blood -7 Caprylic / Capric triglyceride, blood -7 not glyceryl cocoate, can tea (100ppm), baeknyeoncho extract. orange peel extract. lavender extract, jasmine extract, rosemary leaf extract, sciadopitys root extract, district party ex-tract, Portulaca Oleracea extract, sodium citrate, citric acid, disodium this dithiophene this, Butylene glycol, phenoxyethanol, echil hexyl glycerin, 1,2-hexane diol, caprylic rilgeul glycol, Trojan polron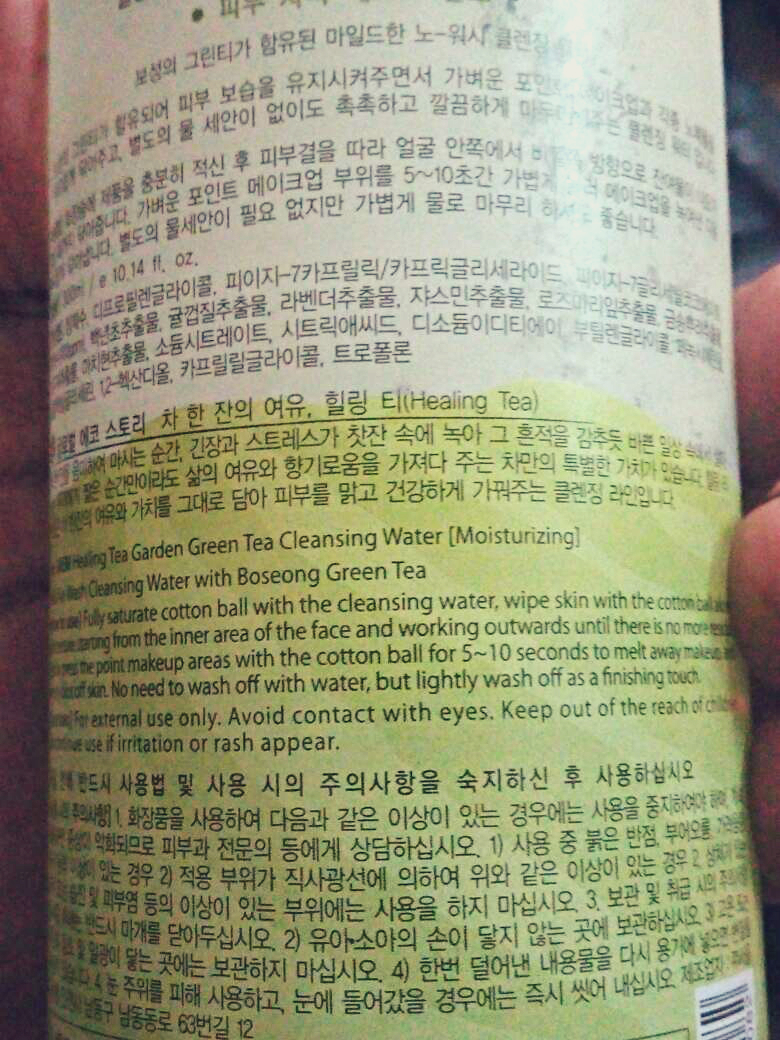 My Experience:
I have felt a noticeable change in the texture of my skin as I continued using it every day. My skin is considerably better and does not turn into Sahara desert within 4-5hours of applying moisturizer. It makes my skin soft and smooth without leaving any tacky residue like the Yves Rocher one.  It does not cause acne or aggravate the existing ones. "How?" you may ask my acne prone sisters. My big sis has a persistent acne problem that makes her skin intolerant to almost anything. She only uses prescription stuff like Sebamed, Saslic etc. This cleansing water did not cause any reaction to her acne. She also uses and likes it. For older and mature skin like that of my mom, it is good as well.  A family skincare product you may say. It is a savior for lazy girls like me who do not want to leave the comfort of their bed. Sometimes I am like cleansing my face while half asleep in bed, surrounded by my books. Just cleanse and slap on some serum or moisturizer and go to sleep.  Uncomplicated bliss!
Pros:
Gentle but effective
Economical and long lasting
Improves skin texture gradually
Does not irritate or cause acne
Has a moisturizing effect and loads of Green Tea and other herbal extracts
Travel friendly and sturdy packaging
Cons:
 Price: 9.89$
Will I repurchase/recommend?
Definitely!
Availability
Rating: 4.8/5
ABOUT THE AUTHOR: Anwesha Biswas, 24 years old bibliophile obsessed with skincare, perfumes and dogs