Hey guys, today I will be reviewing a Sheet Mask that I have had an eye on for some time. I have heard ravings about the goodness of snail extract and even though I was grossed out a little, I still tried out my first snail poo product sometimes back and unfortunately my experience was not as amazing as my expectations were. Luckily my experience with Benton Snail Bee High Content Mask was a lot better. I might disappoint some of you saying that I didn't take a sheet mask selfie because I looked too ghastly wearing the mask but I hope I can make it up to you guys with the review.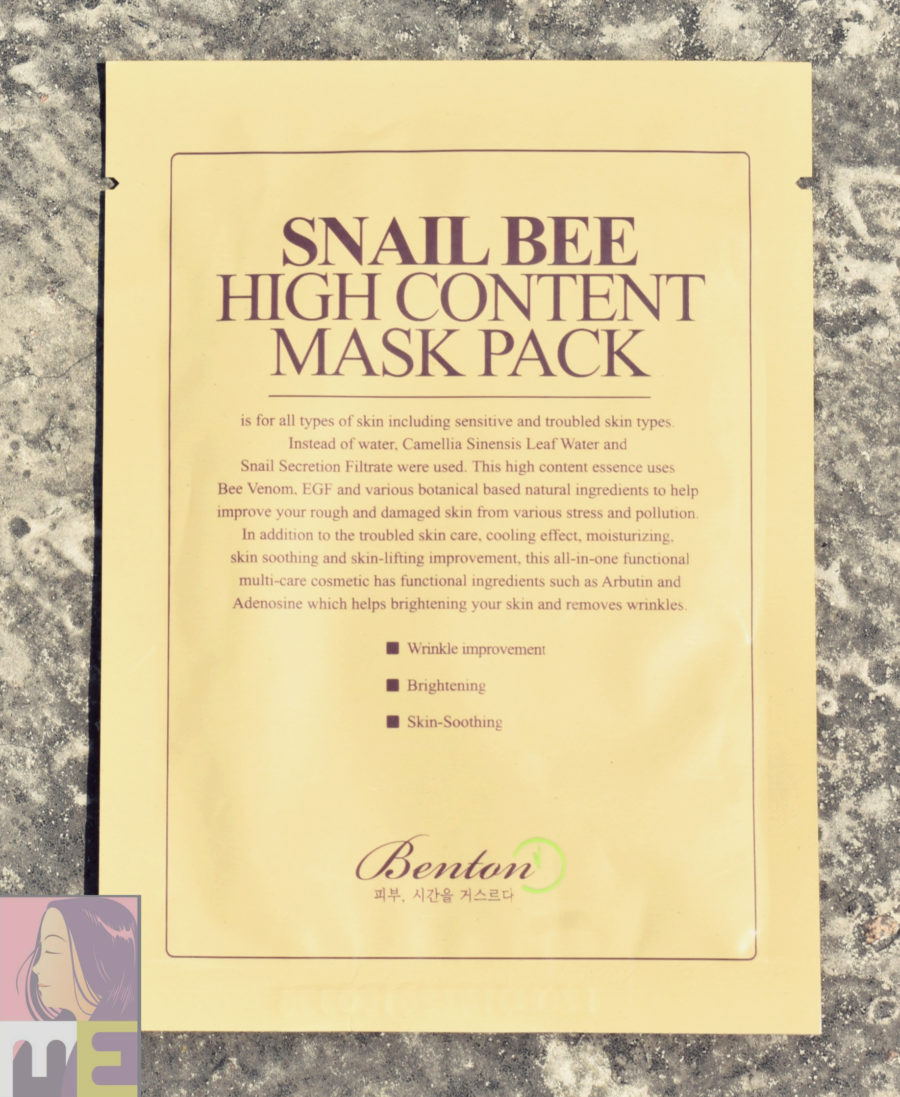 [Features]
[Benton] Snail Bee High Content MaskPack 20g 1 Sheet
Snail Bee High Content Mask Pack is for all types of skin including sensitive and troubled skin types.
This high content mask pack contains Bee Venom, EGF and various botanical based natural ingredients to help improve your rough and damaged skin from various stress and pollution.
In addition to the troubled skin care, cooling, moisturizing, soothing effect, and skin-lifting improvement, this all-in-one multi-care cosmetic has functional ingredients such as Arbutin and Adenosine which help you to achieve clear and more even skin tone complexion.
[How to Use]
Prepare your skin with skin toner after washing your face.
Open the packaging and place the mask gently over the face make sure it adheres to the face.
After 20~30 minutes remove the mask, then pat the leftover ingredients gently into the skin.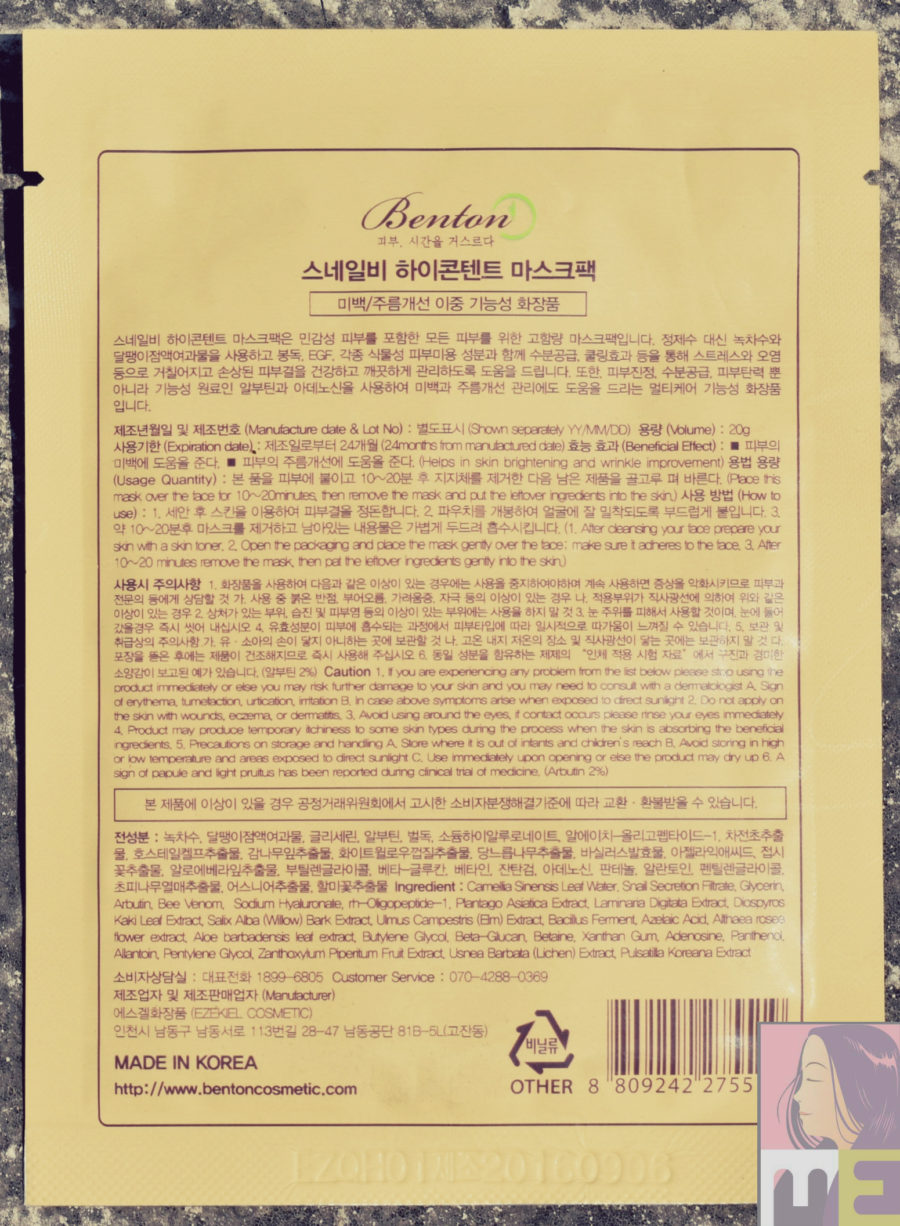 My Experience:
You guys might know that I have come back from my Bangalore trip with a terrible, terrible skin and you guys are probably not hearing it for the last time because my skin hasn't recovered yet. Firstly, because may be the damage is a bit severe, and secondly because I haven't treated my skin like I usually do after I coming back from any trip. It's been over two weeks and the tan is still there and so are the weird bumps on my cheeks.
So I used this Snail Bee Sheet Mask a few days after returning when the bumps were at their worst. When I applied it, I was certain that one sheet mask cannot possibly recover this terrible of a damage, but I had expectations that it will at least control. Out of all the sheet masks I have ever used, this one had to be the softest. And this is not the only point where it stood out from the crowd of sheet masks I have ever used. Unlike the regular sheet masks, the main ingredient wasn't water; it was Camellia Sinesis Leaf Water- green tea. If you think that is impressive enough, wait till I tell you that the eye holes weren't hollow, there were cut out patches, like you can lift them up on your eyes and relax with the eye patches on, or lift them down and watch your favourite series on Netflix. I wish I didn't look that ghastly with the mask on so that I could have shown you guys how it works. The fitting wasn't very good (why I looked ghastly) but it wasn't that terrible either.
I removed the mask after 30 minutes and my skin was super hydrated and the bumps were visibly minimized. Like something told me that had I got a few more of these masks my skin would have completely recovered by a couple of weeks. Sadly I ordered just one and Cosmetic-Love takes a little time to ship.  So even though it didn't completely heal my skin, it really did some damage control and I am impressed.
Price:
$2.18
Pros:
Does what it claims
Contains Snail Extract that's much raved for their anti-aging benefits and their soothing power
Contains Bee Venom that's known as nature's botox
Affordable
Paraben free
Works on sensitive skin
Has got eye patches
Cons:
Nothing
Will I re-purchase and recommend it?
Absolutely
Rating:
4.8/5
Where to buy: