Hey guys, I haven't been writing for a while as there's been a medical emergency in our family and things aren't going very great. However, since writing helps me take my mind of things for a while and I somehow managed to get some decent sleep this afternoon, I decided to review a foaming cleanser that I've been using for a while.
I've said this earlier that I am not a huge fan of The Face Shop products and it's basically the only K-Beauty brand that hasn't impressed me. But during that much raved TFS launch at Nykaa I got myself a few products (even though I wasn't very impressed when I shipped some of their products from South Korea long before the launch) and I'll be reviewing The Herb Day 365 Cleansing Foam Lemon today.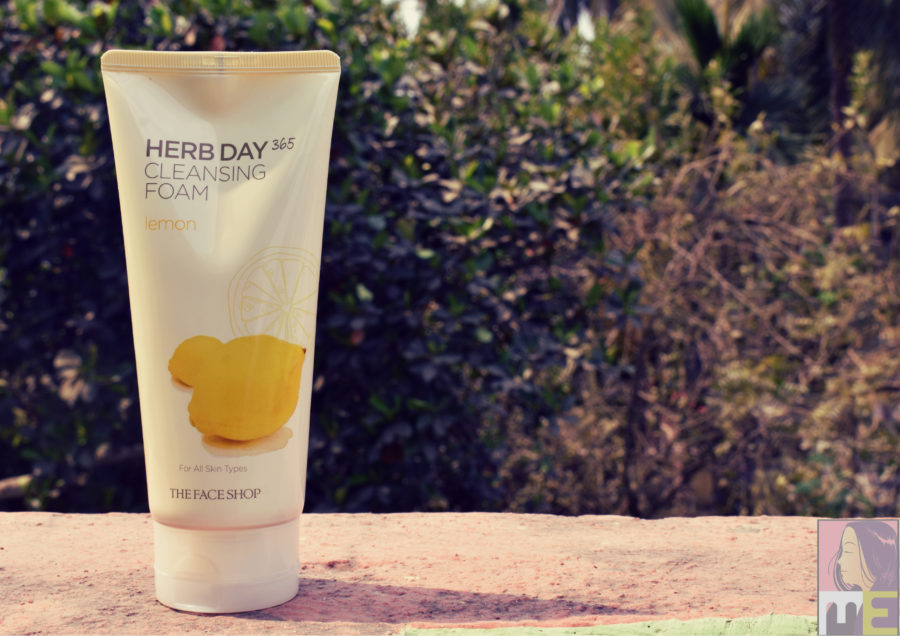 Ingredients:
Water, Myristic Acid, Stearc Acid, Glycerin, Potassium Hydroxide, Butylene Glycol, Lauramide Dea, Ceteth-20, Citrus Medica Limonium (Lemon) Fruit Extract (1%), Juniperus Communis Fruit Extract, Melissa Officinalis Leaf Extract, Aspalathus Linearis Extract, Lilium Candidum Flower Extract, Aesculus Hippocastanum (Horse Chestnut) Bark Extract, Borago Officinalis Extract, Saponaria Officinalis Leaf/Root Extract, Salvia Officinalis (Sage) Leaf Extract, Centaurea Cyanus Flower Extract, Echinacea Purpurea Extract, Anthemis Nobilis Flower Extract, Citrus Paradisi (Grapefruit) Fruit Extract, Salix Nigra (Willow) Bark Extract, Carica Papaya (Papaya) Fruit Extract, Glycol Distearate, Peg-40 Stearate, Peg-8, Dipotassium Glycyrrhizate, Propylene Glycol, Disodium Edta, Methylparaben, Propylparaben, Fragrance (Parfum), Yellow 5 (Cl 19140)
My CosDNA analysis came up almost clean except for some red flags- a whooping 3 acne red flag for Myristic acid, 2 for Stearic acid, 1 for Butylene Glycol.
Price:
Rs 300 for 170 ml.
Quick Overview:
A mild type of cleansing foam with peach extract , this formula by Faceshop leaves your skin super fresh and clean! This formula penetrates deep into your pores to remove impurities & buildup that can cause clogged pores & ugly blackheads. Enriched with pure Lemon and nine kinds of herb extracts, this lovely foam provides moisture and nutrition that leaves skin soft, clear elastic and youthful. Perfect for all skin types, this beauty essential is an absolute must have!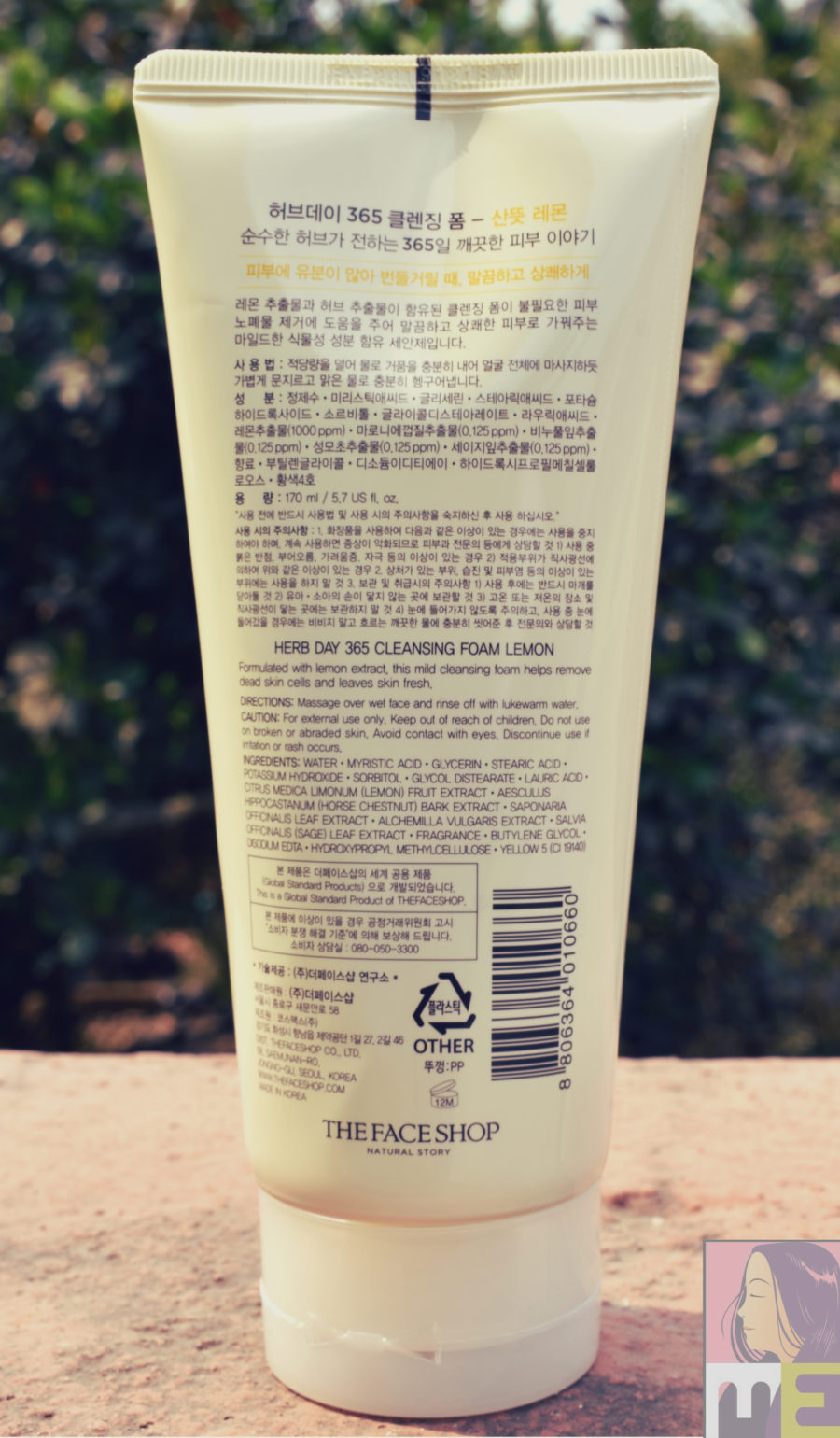 My Experience:
The reason I chose this particular cleanser from the whole range is that I'm always on the lookout for products that can brighten the skin tone, and since this one contained lemon, I had high hopes.
My first thought upon unboxing the package was that it's a huge tube for just 300 bucks. However, I wasn't ecstatic to get a huge tube for that steal of a price; instead, I kept thinking what can I expect from a cleanser that comes for just 300 bucks. My skeptical mind didn't take too long to be proven right. Right when I used the foaming cleanser for the first time, I felt like the pH level is too high. The citrusy smell felt pleasant, but the massive amount of foam it created reminded me of the Skinfood Egg White Pore Cleanser that has a pH level as high as 10.5. The aftermath of using the cleanser was almost the similar to the Skinfood one, my skin felt dry as a desert.  I continued using the cleanser for 3 weeks because that's how long I use a skincare product before reviewing and I saw no brightening effect or noticeable change in my skin.
All the while I kept looking for a pH strip to check the pH level but since I couldn't get my hands on any, I tried Googling the pH level and turns out that the Spearmint and Acerola Cleansers from the same range has a pH level as high as 9 while the average pH level for a cleanser should be 4-5.5. I was genuinely annoyed, I already have one high pH cleanser sitting idle in my cabinet and a second one was the last thing I needed.
Pros:
Cons:
Probably has a high pH level
Strips skin of the moisture
Contains Paraben
No noticeable change in skin
 Will I repurchase it?
 Never
Will I recommend it?
 No
Where to buy:
Rating:
 3/5