I've earlier talked about the difference between a sunblock A.K.A physical sunscreen and a chemical sunscreen. Physical Sunscreens are usually hard to blend and leaves a white trace but suits even the most sensitive skin, on the other hand, chemical sunscreens doesn't suit everyone but if it does, it blends really well and can even act like a primer.
Sunblocks usually contains Titaniam Dioxide or Zinc Oxide or even both so when I received Oshea Herbals UVShield Sunscreen Gel SPF 20 I went through the ingredient list and found phenylbenzimidazole sulfonic acid which is a chemical sun screen agent. Usually chemical sunscreens react terribly on my skin so I am very careful about sunscreens. I did a patch test and my skin wasn't irritated. I still wasn't convinced so I did another patch test and my skin still wasn't irritated. Finally I got the courage to apply it on my both arms and the skin on my arms was just fine. So on fourth day I applied the sunblock gel on my face and have been using it ever since.
What The Product Claims:
An oil free uvscreen gel made with ext. of porphyra umbilicalis a natural U.V. protection factor, vertiver, aloevera, carrot, cucumber & chamomile is ideal for specially in hot and humid weather. It not only protect you from all forms of sun damage like tanning, sun spots and premature ageing but also lightens skin by regulating its skin darkening pigments.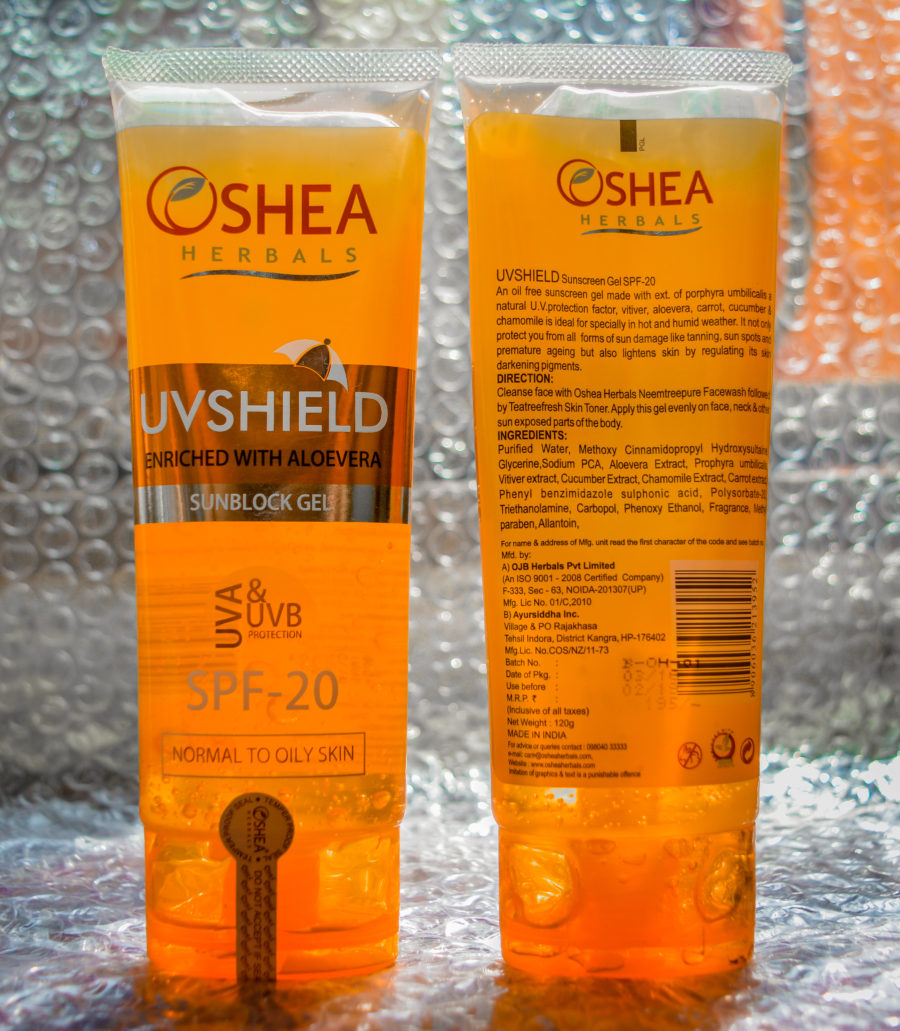 My Experience:
I am that kind of person who would never go out in the sun without applying a sunblock containing SPF 50 because my skin gets tanned like nuts. Usually I opt for cushion compacts for the best protection and since those cannot be applied on arms and other exposed areas I use a different sunblock on my body with a lower SPF. On days I stay indoors I opt for lower SPF sunblocks as well. So when I found out that the Oshea Sunscreen Gel SPF 20 suits my super sensitive skin I thought that I finally found my Holy Grail SunBlock for my body and my indoor days.
The sunblock gel is super lightweight unlike regular sunblocks and settles down on the skin within a few minutes. No greasiness like a sunscreen or white traces like a sunblock. I liked the effect so much that I took it with me to my Bangalore trip intending to use it on my body but then ended up using it on my face as well. Since it contains SPF 20 I tried re-applying it every 2 hrs if I went out in the sun because the heat was overwhelming. I thought SPF 20 wasn't enough to protect my skin from the scorching heat because if you know me you'll know that I wear layers of sunblocks: A day cream containing SPF- Sunblock with at least SPF 50 – Compact Powder with SPF. However the day cream and compacts I packed with me didn't contain SPF (my bad) and I was worried actually about the amount of tanning my skin will receive. Luckily for me the tan wasn't that bad, maybe it was my patience of re-applying it every 2 hrs or may be the sunblock is just as good, I am in love.
However though, if you are someone who stays out in the sun for long hours I would recommend getting a sunblock gel from Oshea with a higher SPF. If you are someone like me who usually stays indoors (unless I'm travelling) you should really, really give it a try.
Price: Rs.180 for 120ml
Where to buy:
Official Website, Amazon , Snapdeal, Flipkart, E-Bay
Pros:
Cheap
Travel friendly
Doesn't make skin oily or greasy
Absorbs amazingly
Suits my super sensitive skin
Lightweight
Cons:
Rating :
4.8/5
*Press Samples received for review purpose but the opinions are completely honest.