Hey guys, hope you all are doing well. I've done a mini sample and sheet mask haul from cosmetic-love.com as it's time for me to travel again. It's going to be my first solo tour as well as my spinster trip and as you guy know how I love packing sample-size and travel-size products while travelling, I ordered a few things I didn't have in tiny sizes.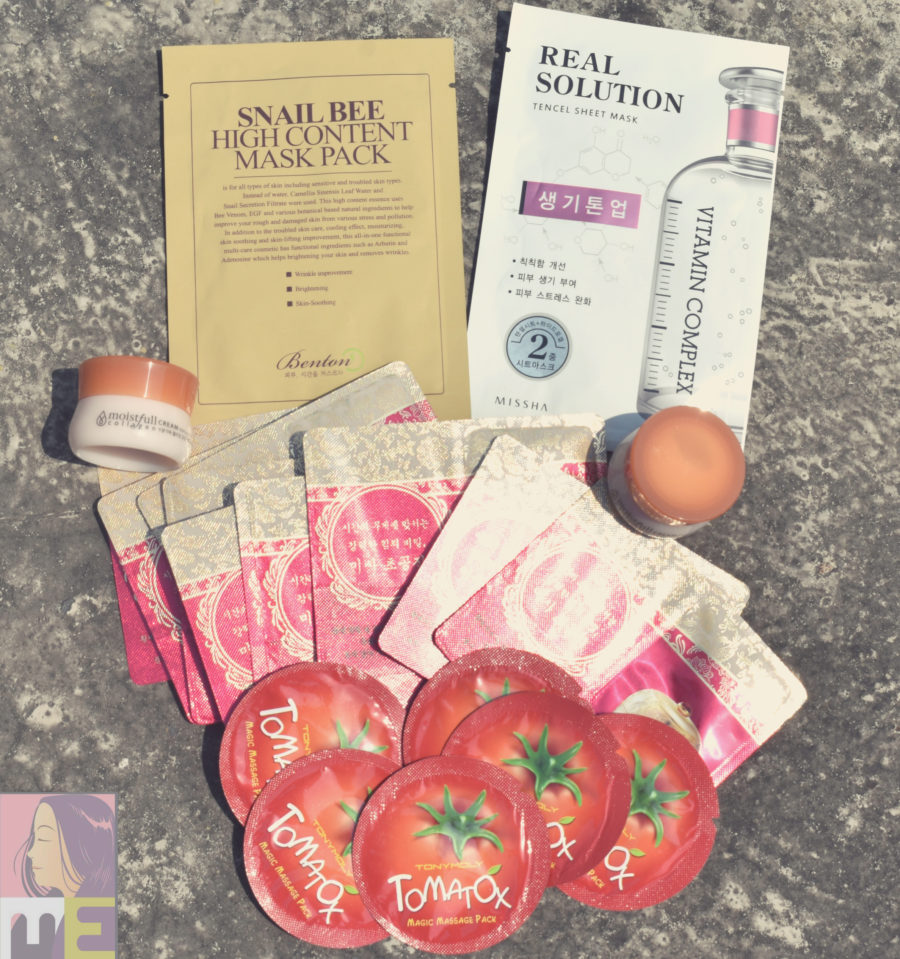 Starting with sheet masks, because why not? I know I already have enough in my stash to pack one for each day during my trip but I don't need any excuse to stock up on them.
Benton Snail Bee High Content Mask Pack: I had been eying this product for a long time. I first ordered this last September but didn't receive it. When I mailed them for re-order it was OOS (and I got a refund). So finally I got my hands on this and I have such high hopes.
Missha Real Tencel Sheet Mask: Missha happens to be a beloved brand of mine. However I never tried any sheet mask from them. I hope it's as good as their essences.
Etude House Moistful Cream Collagen: 10ml x 2PCS- Again one of my most favourite K-Beauty brands. Etude House products reminds me of dollhouses. I have heard wonderful things about the Moistful range and I couldn't help but apply it on my face even before I set out for my trip. I love it already. I'm going to purchase the full-size version soon.
Missha Chogongjin Eye Cream – Another Missha product. I'm touring for 11 days and I got a 10 set sample of which I already used one. I sample will last you only two usages so I don't have to worry about the messiness.
Tonymoly Tomato Magic Massage Pack- It was freebie sample that I received with one previous order as well. Even though I would have loved to try out new products as samples but I am fine with these ones as well. They came to my rescue when I got severely tanned in Andaman despite of re-applying sunscreen every 3 hours. I tanned at least 2-3 shades darker and whenever I applied this pack I de-tanned to some extent, not too much but enough to recognize myself in the mirror.
So that's everything I purchased this time, I'm so looking forward to my trip as well as am anxious because I haven't travelled alone ever before. This time I'm taking my boyfriend's camera because his viewfinder rotates and probably I'll have to click my own pictures this time (except for the times I'm meeting up with my sister and my friends that resides over there).  Also can't wait to review the products I purchased. Till then… Bye… XOXO