In case you already don't know, I'm not a huge fan of The Face Shop products. As I've earlier said, I've had their character masks shipped from Korea long before they launched in India and I didn't have the best impression. TFS is a midrange Korean Skincare brand that comes off really cheap; however I feel like there are brands that costs the same and works way better on my skin. When they launched in Nykaa I had to do a little haul, because you know, am not having to ship them internationally.
So the first product I tried was the Red Ginseng sheet mask.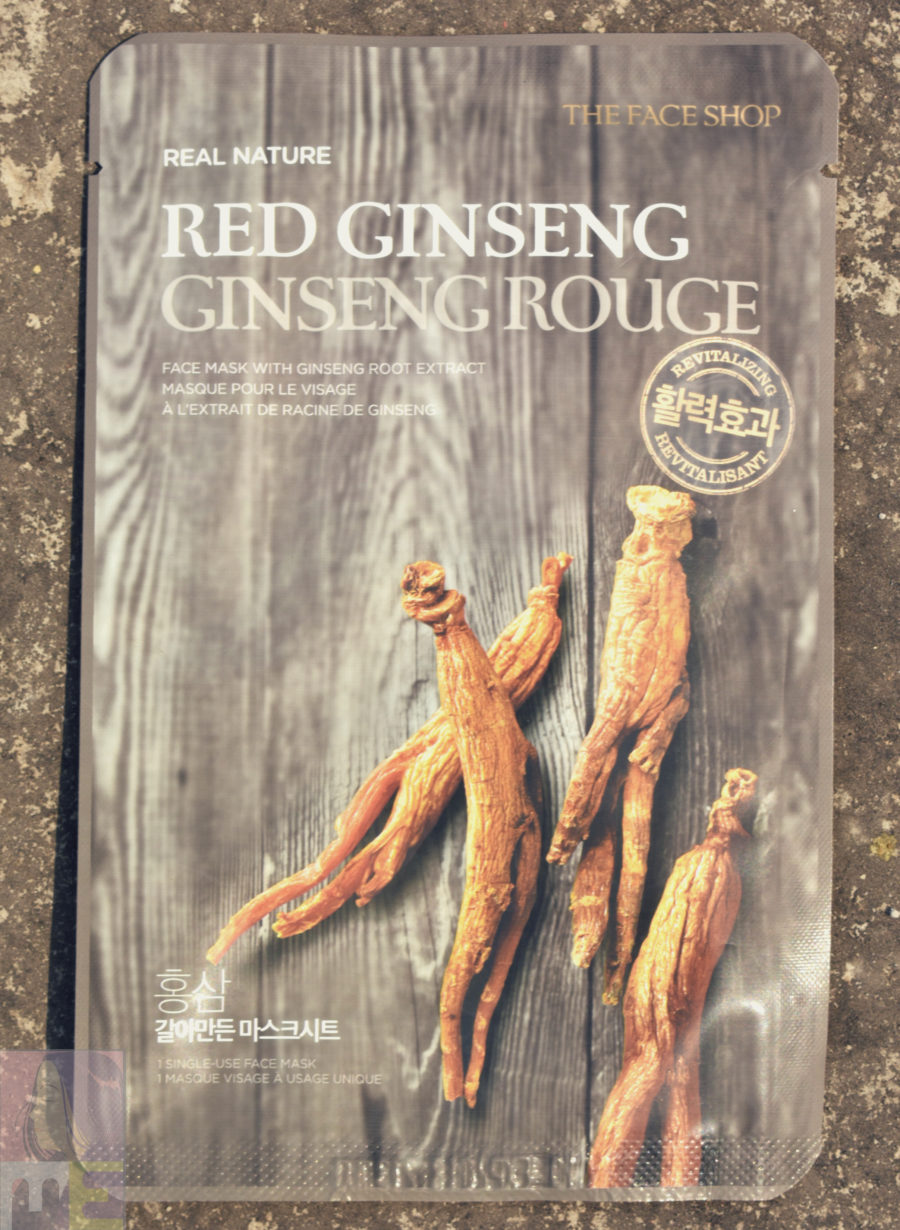 Product claims:
The mask sheet drenched with emulsified moisturizing serum with revitalizing Red Ginseng provides skin with a boost of energy and vitality.
Formula is without added parabens.
Ingredients:
WATER/EAU • BUTYLENE GLYCOL • GLYCERIN • GINSENG ROOT EXTRACT • ALCOHOL DENAT. • TREHALOSE • PROPANEDIOL • PANTHENOL • CAPRYLIC/CAPRIC TRIGLYCERIDE • PHENYL TRIMETHICONE • SODIUM HYALURONATE • CITRUS PARADISI (GRAPEFRUIT) FRUIT EXTRACT • DIMETHICONE • ALLANTOIN • HYDROGENATED LECITHIN • THEOBROMA CACAO (COCOA) EXTRACT • XANTHAN GUM • PEG-60 HYDROGENATED CASTOR OIL • CARBOMER • ETHYLHEXYLGLYCERIN • POTASSIUM HYDROXIDE • DISODIUM EDTA • CAPRYLHYDROXAMIC ACID • PARFUM/FRAGRANCE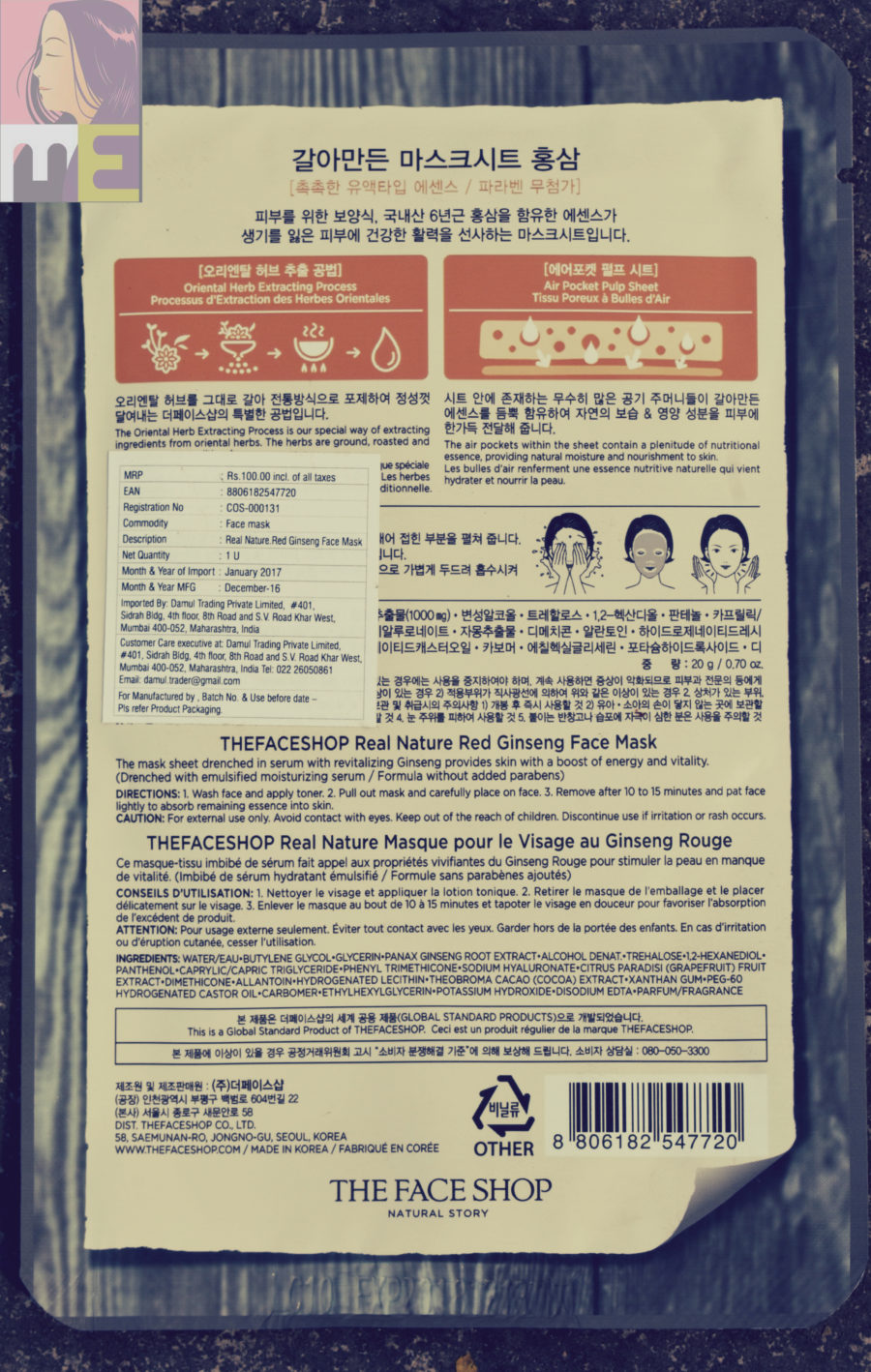 My CosDNA analysis came up a little bizarre with Alcohol Denat raising a red flag getting a huge 5 for being a potential irritant. Yikes!
My Experience:
I've earlier mentioned that I suffer from insomnia, and I haven't got much sleep for over a week now. The sheet mask claimed to energize the skin, exactly what my tired skin needed.
Korean Red Ginseng is known for their anti-aging benefits, anti-inflammatory agents, evening out skin tone and revitalizing tired skin. My hopes were obviously high. Upon tearing the sheet mask pack, the hopes went higher when I noticed the mask drenched in a reddish brown serum. I haven't used a sheet mask that's not white or transparent (except for the character masks of course) and I was really excited. The fitting was almost perfect and reminded me of Etude House sheet masks that have tiny eye holes like this one.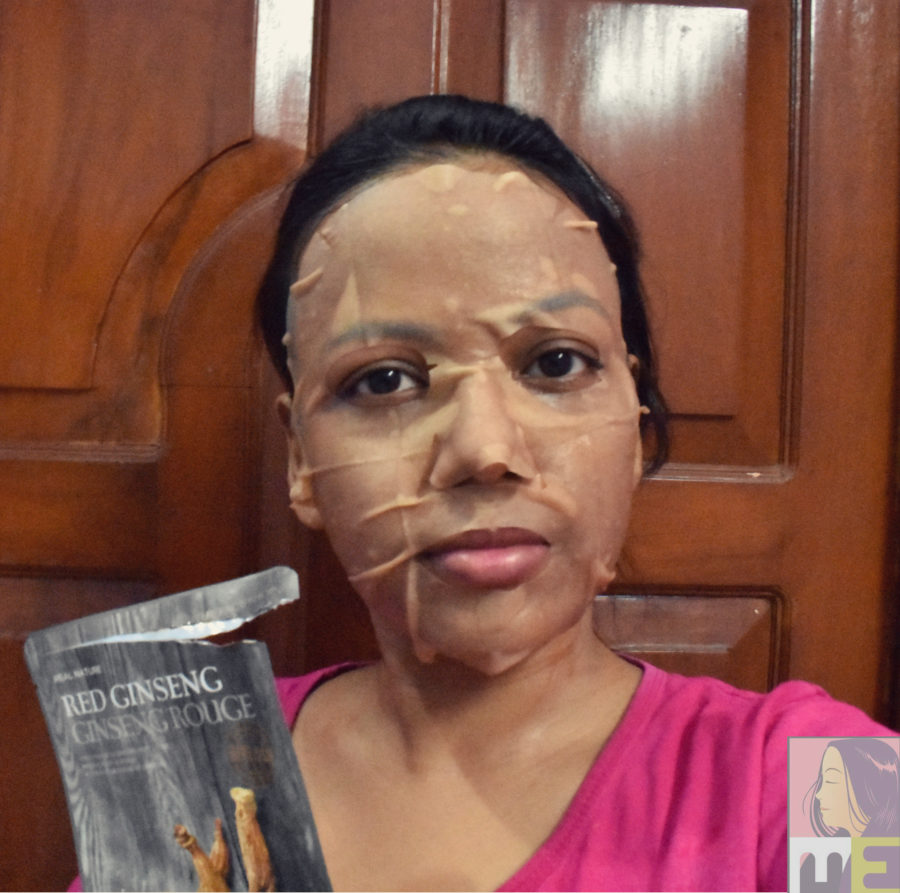 I used the mask after double cleansing, exfoliating, wash off masking and toning my face and as soon as I threw the mask on, a minor cut I had on my forehead started burning. It didn't sting that bad while exfoliating but it literally burned with the mask on. I remembered that the mask contains alcohol, now I was just sure that the amount was really high.
I kept on the mask on for 30 minutes and took it off when it was almost dry. My face was hydrated but not that overwhelmingly hydrated like the other time I sheet mask. I didn't even have to pat the excess serum; I just went on to my night cream. I read reviews from other bloggers complaining that it made their face sticky; however I didn't notice any excessive stickiness, maybe because I layered it with a thick night cream before even I felt the stickiness.
The following morning there wasn't any noticeable change in my skin. No super hydration, no brightening effect, my skin looked energized though. However, my skin did look dewy throughout the next day which I loved, but that didn't linger past afternoon. Any effect my skin achieved from this sheet mask didn't linger more than a day, so it's kind of a fail for me.
Price: MRP 100rs
Where to Buy:
Will I purchase it?
Not really
Will I suggest it?
I don't know, I personally try staying away from products containing alcohol. I'm really very precise about not using a toner that contains alcohol because that can dry out the skin. Upon using this sheet mask my skin wasn't immensely hydrated and it became kind of dry a day after so am guessing the alcohol is the culprit. What I won't repurchase myself, I cannot recommend either, can I?
Rating:
3/5