If you follow me on Instagram you'll probably know that I've had a bad experience with The Face Shop in the past. The first time I used a TFS mask was long before they launched in India. I ordered a character mask and even though it was fun, I didn't notice any change in my skin. After they launched in India I ordered again from Amazon. I was delivered a leaked mask that was manufactured back in 2015. I thought I was done with them but when they launched at Nykaa I changed my mind. I've never had a bad experience with Nykaa (*touchwood) so I felt really positive about this order.
Because I have had bad experience with TFS in the past, I didn't go overboard with the order. I just ordered a Face Wash and 3 sheet masks. You can say it's a trial haul because you know I'll eventually end up ordering all of their products if they do any good to my skin. Thankfully I haven't been disappointed so far. The products were packaged well and all of them were manufactured by the end of 2016 and imported on January 2017 which is cool considering Amazon delivered me products (about a month ago I guess) that were manufactured back in 2015 and imported on 2016 which wasn't cool at all.
So here's everything I purchased: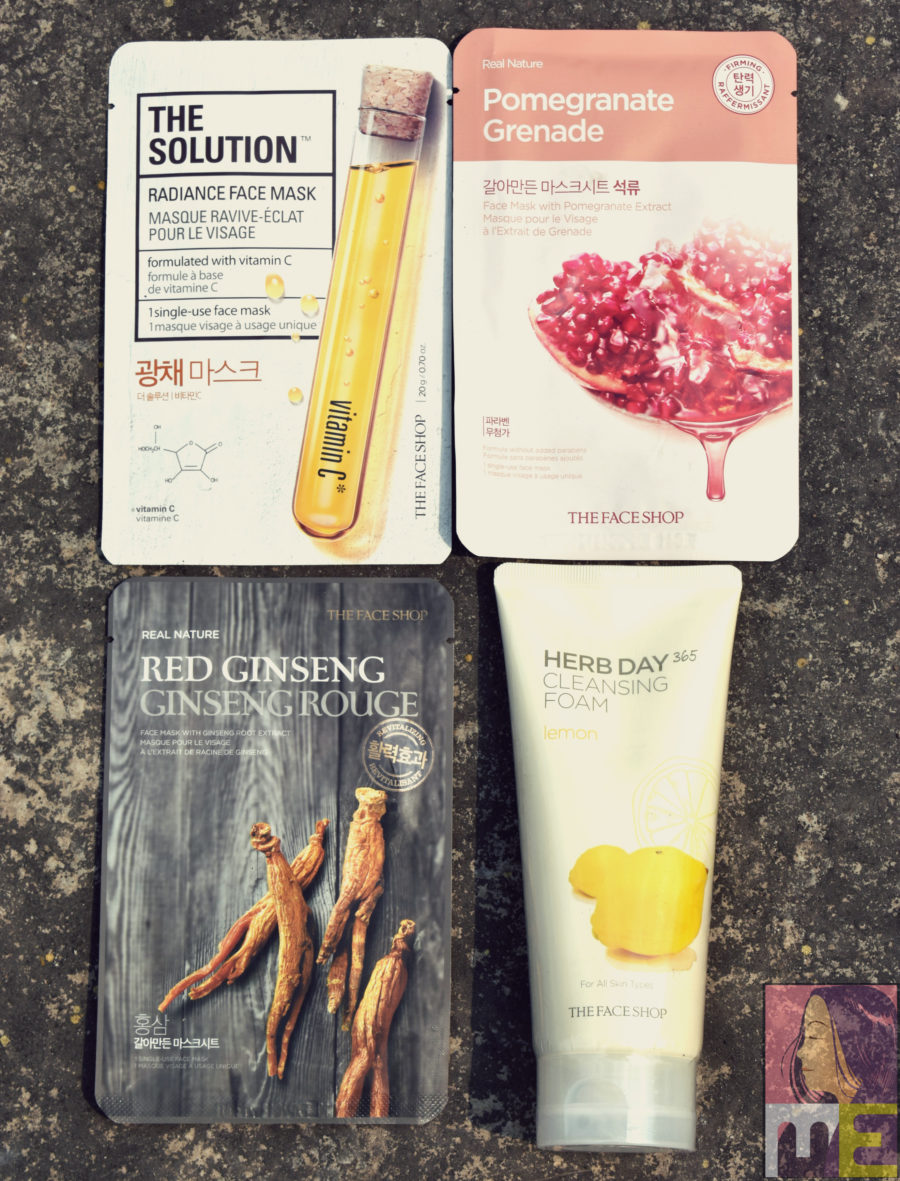 The Face Shop The Solution Radiance Face Mask: I LOVE products containing Vitamin C, they work really great on my skin. However, that one time I wasn't thinking and used a Vita C mask after chemical exfoliating (which is a big NO) I was punished with a cystic acne. So be very careful while using products containing Vita A and Vita C, they can react badly on your skin if used along with AHA and BHA.
The Face Shop Real Nature Pomegranate Grenade Face Mask: Pomegranates are known for their firming ability. I've used Pomegranate Masks from Tonymoly and Innisfree and they have made my hopes high for this one already.
The Face Shop Real Nature Red Ginseng Ginsengrouge: I've read articles on how Korean Red Ginseng are great for skin, hair and health. May be I'll find out some of the benefits after using this mask. 
The Face Shop Herb Day 365 Cleansing Foam: I really didn't need a cleansing foam anytime soon. I have been using the Skinfood Egg Pore Cleansing Foam which will last me long enough, and I'm also stocked up with some Indian Organic Face Washes. I really have been looking forward to clearing up some space in my cabinet and a cleansing foam was the last thing I wanted. However, since it costs only 300 bucks I thought maybe it will come in a small tube. I've been ordering travel sized products for an upcoming trip and I ordered it without looking at the size or weight mentioned. And now it's the bulkiest cleansing foam in my stash. I don't regret ordering it though. I've used it once and so far, I like it. 
So that's everything I purchased this time. I will do detailed reviews on them once I use them up. I'll also do a bigger haul if I end up loving them. In the mean time do let me know if there's any particular product you want me to review.
Till then, bye
XOXO