Hello everybody, hope you are all doing well. Today I'm going to do my first empties post and it's kindda mess. I've never done an empties post before and habitually I kept throwing away the empties, especially the sheet masks. I have been waiting forever for a month when I'll remember to store all the empties to start with my empties post, but then I figured that once I start posting them, maybe I'll remember not to throw them away. So here are the few things I managed to store from the month of January and February, some of them were Press Samples and some of them were purchased by myself and I'll be treating them all alike.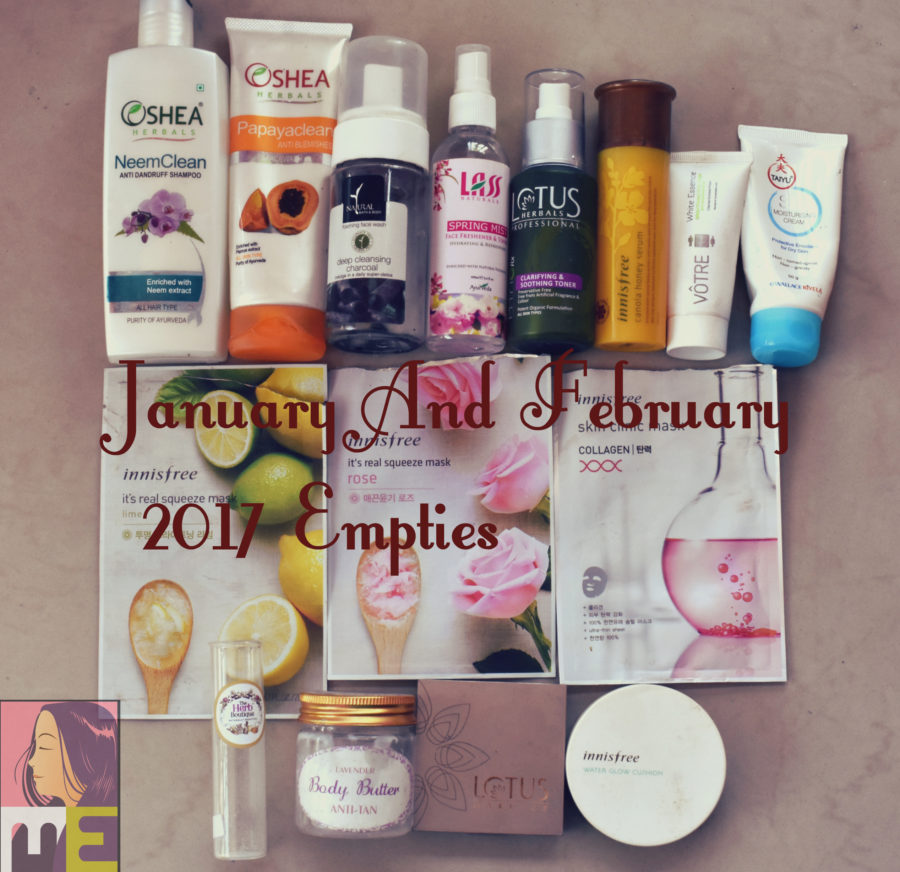 Oshea Neem Clean Anti-Dandruff Shampoo: I don't have any dandruff issue but I've been suffering from crazy hair fall since last May and I kept switching shampoos when nothing else was working. After trying out like 4-5 different shampoos, I purchased this one. I should also mention that I started talking BTN tablets the day I switched to this shampoo and one of them worked. Even though I don't suffer from dandruff and this shampoo makes my hair somewhat dry (what anti-dandruff shampoo doesn't?) I really liked it. I would love to repurchase it, maybe I'll have to stick to a better conditioner if I do, but that's definitely worth it.
Oshea PapayaClean Anti Blemish Face Wash: This was a Press Sample and I loved it. Even though it didn't remove all the spots on my face, it did lighten them to an extent. I still have another one in my mum's cabinet, it somewhat lightened her stubborn blemishes too, and I will definitely purchase it in the future.
Natural Bath & Body Deep Cleansing Charcoal Face Wash: I love this brand. I have tried so many products from them and loved them all. This Charcoal Face Wash looks like a replicate of the Korean Foaming Cleansers. Only the pump stopped working before even I reached half the bottle. I really liked it, but I guess it's not worth repurchasing considering the fact that I am yet to try out other cleansers from this brand. However I will definitely try the other products from their charcoal range.
Lass Spring Mist: How sad! I ran out of a spring mist at the crack of spring. I loved this toner mist. Considering the fact that I am stocked with toners and mist at the moment, I won't be purchasing it (it was a Press Sample) anytime soon, but I will definitely recommend it.
Lotus Professional Clarifying And Soothing Toner: Yes I ran out of two toners in two months. On my defense, there was a little left on this bottle and I decided to use it up to clear some space in my dresser. I still have another bottle of it; probably will run out next month.
Innisfree Canola Honey Serum: Probably the only product that made me sad by running out and I wasn't happy to get a spare space on my dresser. I REALLY LOVED IT. Will definitely repurchase and recommend.
Votre White Essence Cream: It had SPF and all, but I won't repurchase.
Taiyu Silk Cream: My night time essential. My mom has stocked up on like 10-15 tubes of these for me and my sister. When it comes to night time regimen, I stick to it.
Innisfree It's Real Squeeze Mask Lime, Rose, Collagen and in memories of those thrown away: It's no secret I love sheet masks. Among these the Collagen was my favourite. I might repurchase in bulks.
Herb Boutique Bath Salt: It was a press sample. The first time I used it, I loved it. The second time I used it (after months) the fragrance was gone. I don't think I'll purchase it, but the other products sent by the brands are amazing.
Seasoul Anti-Tan Body Butter Lavender: It was a 2015 Christmas gift from the brand and I loved it. It was my best friend throughout the winter. I will definitely repurchase and recommend.
Lotus Compact Powder: The only makeup product I ran out. I didn't really run out of it. It fell, and broke, but didn't break my heart.
Innisfree Water Glow Cushion: I honestly had mixed feelings for running out of this one. I mean I loved it so much that I should have cried for running out of it. But then another part of me really wanted to try out other cushion compacts. I was also thinking of trying out some Non-Korean Cushion compacts to do a compared post no matter how much I try sticking to only Korean products. I haven't made my mind yet on what cushion compact to choose next
So that was all the empties from the last two months. Hopefully I won't forget to store the empties from now on. Also these posts might encourage me to use up all the products hanging in there to be finished up, so that I can make some room in my dresser, and my cabinet and my night stand.
Hope you enjoyed the post. Do let me know if you would love reading more of them in the future.
Till then
Bye
XOXO
NOTE: Most of the products (except for the Oshea Shampoo, Bath Salt, Taiyu Silk Cream, Collagen Sheet Mask and Lotus Herbals Compact) have been reviewed.