Hello everybody, today I'll be reviewing the Innisfree Capsule Recipe Pack in rice which is a repeat purchase from Innisfree. I bought it for the first time during my Delhi trip last year and I was so in love that I ordered it again when Innisfree launched at Nykaa. I've been reading about the benefits of sleeping packs ever since I got introduced to K-Beauty and it's the first one I tried, so far the best one as well.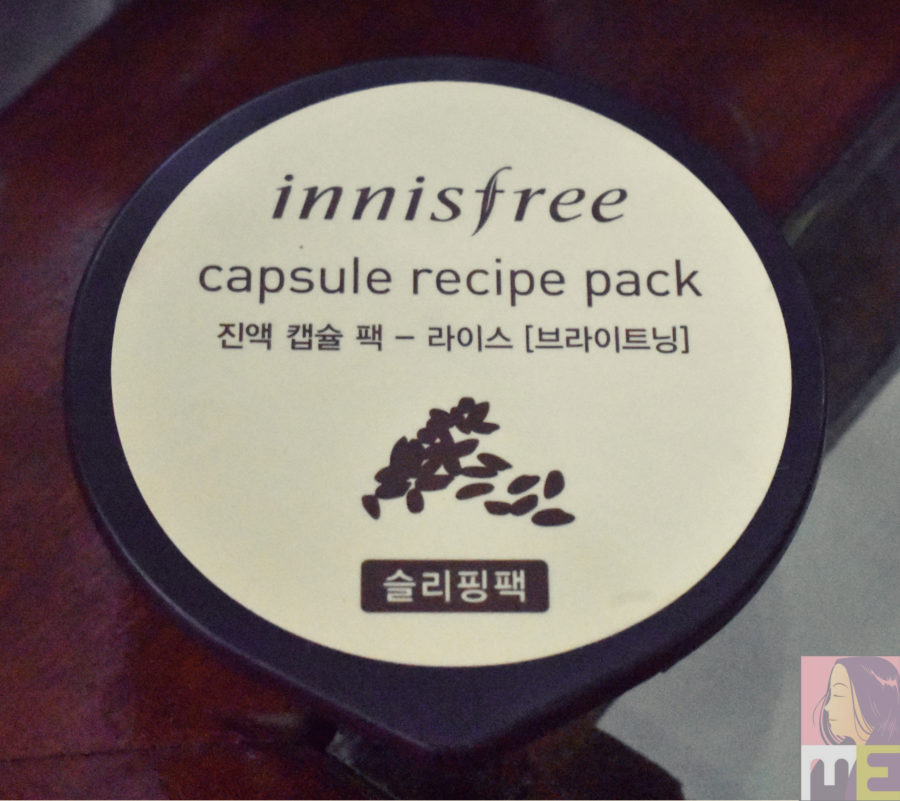 Sleeping packs are twice a week alternatives for night creams which are supposed to be left on overnight and wash off in the morning with regular cleanser followed by the morning routine. So while you sleep, your skin absorbs all the goodness and you wake up with a well-behaved skin. Sleep packs often come with anti-aging benefits, and just like any other beauty products, different sleep packs offer different treatments.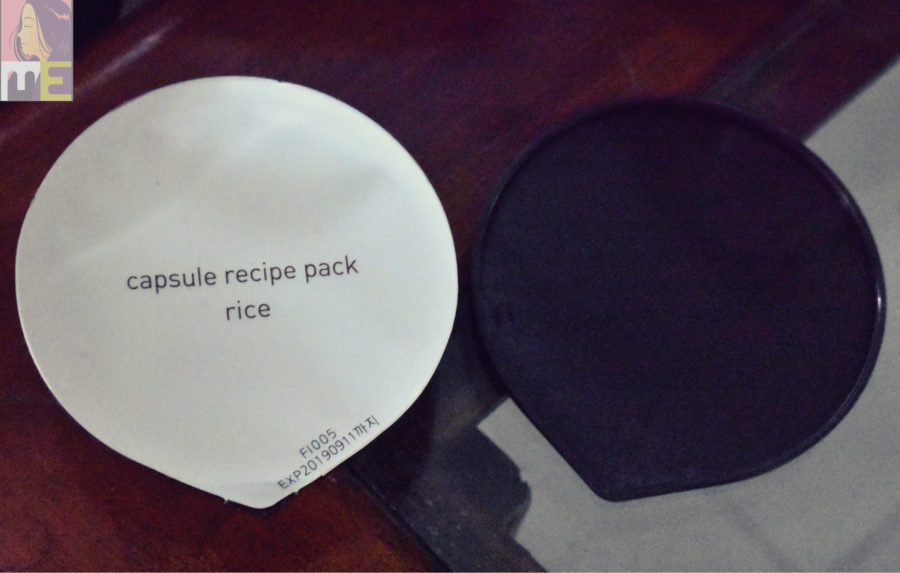 My love for rice products are no secret, they are so purifying and provides such an amazing brightening effect, I've used rice masks from Etude House, Tonymoly, Skinfood, Innisfree and loved the ALL, none of them disappointed me.
What it is
A capsule recipe containing rice to brighten your skin
1. Brighten and nourish your skin using rice ingredients.
2. Enriched sizzling formation provides skin solutions.
3. A night pack that you apply and allow to absorb overnight.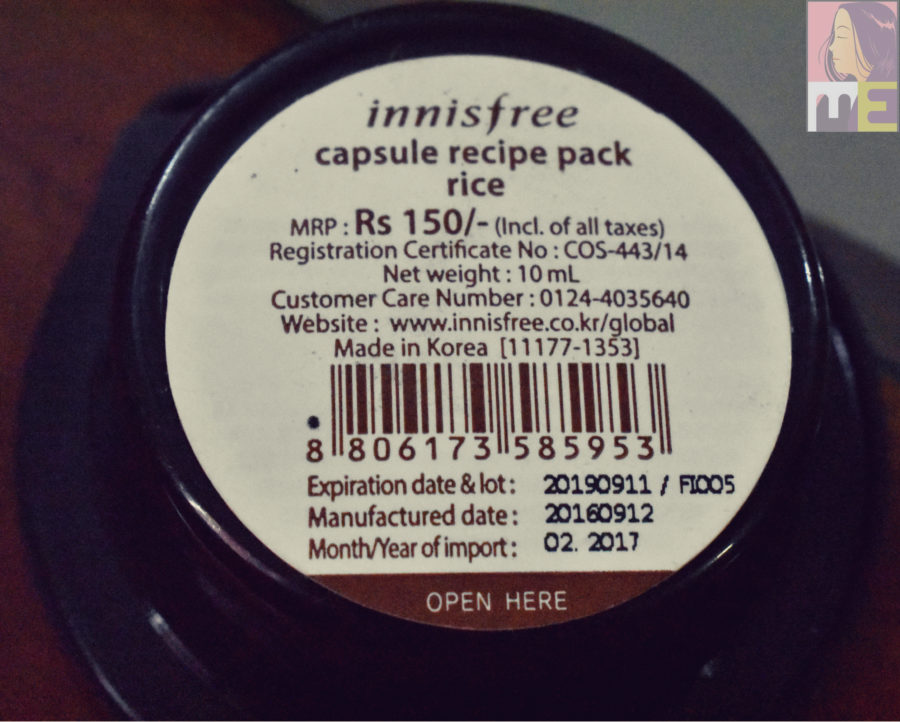 How to use
Massage an appropriate quantity into you face as the last step of your skincare regime. Rinse off with warm water when you wake up the following morning. Choose the capsule that best suits your skin.
2. Insert the lid into the slit of the container and close it to keep it fresh for your next use.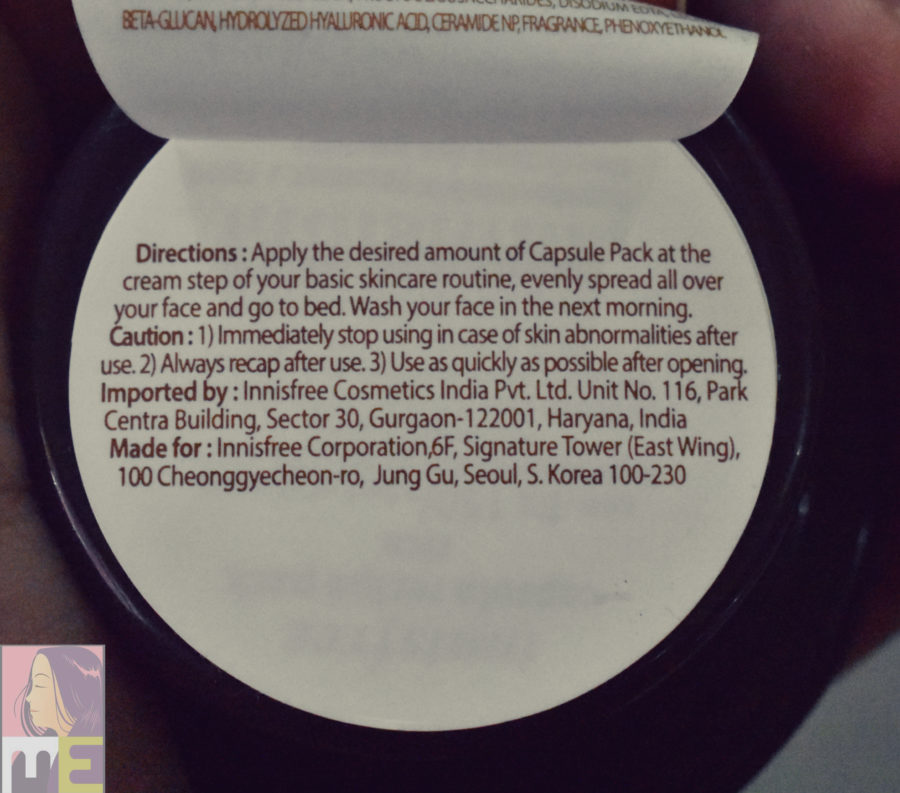 Ingredients:
WATER,BUTYLENE GLYCOL,HYDROGENATED POLY(C6-14 OLEFIN),GLYCERIN,MANNAN,CETEARYL ALCOHOL,OCTYLDODECYL MYRISTATE,DIMETHICONE,BUTYROSPERMUM PARKII (SHEA BUTTER),POLYSORBATE 60,ULMUS DAVIDIANA ROOT EXTRACT,AMARANTHUS CAUDATUS SEED EXTRACT,ORYZA SATIVA (RICE) EXTRACT,CENTELLA ASIATICA EXTRACT,FICUS CARICA (FIG) FRUIT EXTRACT,PORTULACA OLERACEA EXTRACT,PUERARIA THUNBERGIANA ROOT EXTRACT,GLYCYRRHIZA GLABRA (LICORICE) ROOT EXTRACT,PAEONIA LACTIFLORA ROOT EXTRACT,CNIDIUM OFFICINALE ROOT EXTRACT,CITRUS UNSHIU PEEL EXTRACT,ORCHID EXTRACT,CAMELLIA SINENSIS LEAF EXTRACT,CAMELLIA JAPONICA LEAF EXTRACT,OPUNTIA COCCINELLIFERA FRUIT EXTRACT,SOLUBLE COLLAGEN,ALOE BARBADENSIS LEAF JUICE,HYDROGENATED LECITHIN,SODIUM HYALURONATE,1,2-HEXANEDIOL,SORBITAN STEARATE,STEARIC ACID,GLYCERYL STEARATE,PEG-100 STEARATE,XANTHAN GUM,TOCOPHERYL ACETATE,CARBOMER,TRIETHANOLAMINE,ETHYLHEXYLGLYCERIN,DISODIUM EDTA,CERAMIDE 3,FRAGRANCE,PHENOXYETHANOL
The order I follow: (For night time regimen)
Oil cleanser
Foaming Cleanser
Exfoliator (twice a week)
Wash off mask (twice a week)
Toner
Serum
Sheet Mask (twice or more a week)
Sleep Pack (Twice a week, and a night cream the rest of the week)
Eye cream
Pretty intense, huh? However I don't really follow all the steps every day and there are days I follow only 4-5 steps. Surprisingly, the longer my regimen is, the more I enjoy my routine.
My experience with the Rice Sleeping Pack: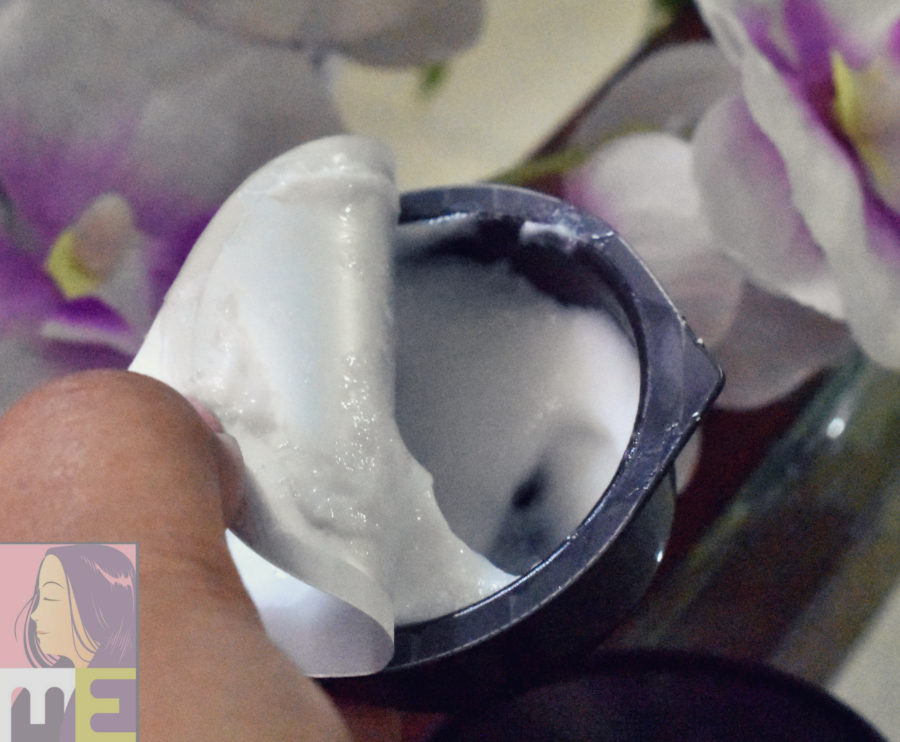 As I told you, it was my first sleeping pack and I did not know what to expect. The product looks like a yummy rice pudding, white sticky and smelled sweet. Luckily, it does not feel sticky on the face. Even if it does, the feeling will go away within minutes. It gets absorbed in my skin with light massaging without leaving any oily residue. The following morning I wake up to a nice plumped up and brightened skin. I've been using it twice a week and my skin has been looking noticeably radiant and even. No wonder I repurchased it and will be repurchasing again.
As I earlier mentioned that Innisfree has improved the packaging of the capsule recipe packs and they are now way too easy to store. The previous pack lasted me for like 5-6 usages.
Will I recommend it?
Yes. It comes in a tiny tub for just 150 bucks, so you can try it once for yourself without digging a hole in your pocket.
Cons:
Does what it claims
Nice fragrance
Pocket Friendly
Softens and plumps
Travel friendly
Can even up skin tone and reduce redness
Cons:
Nothing
Rating:
5/5
Where to Buy:
Review of Other Capsule Recipe Packs: