Hello everybody, today am going to review the Oshea Herbals Cocoa Honey Moisturizing Lotion that I have been using for the past couple of weeks. Now I usually did not have any good experience with face lotions in the past, even the Korean ones gave me pimples. So I was a little sceptical about this lotion but went ahead considering that I have never been disappointed with any Oshea Products (neither with the brands whose lotions broke me out).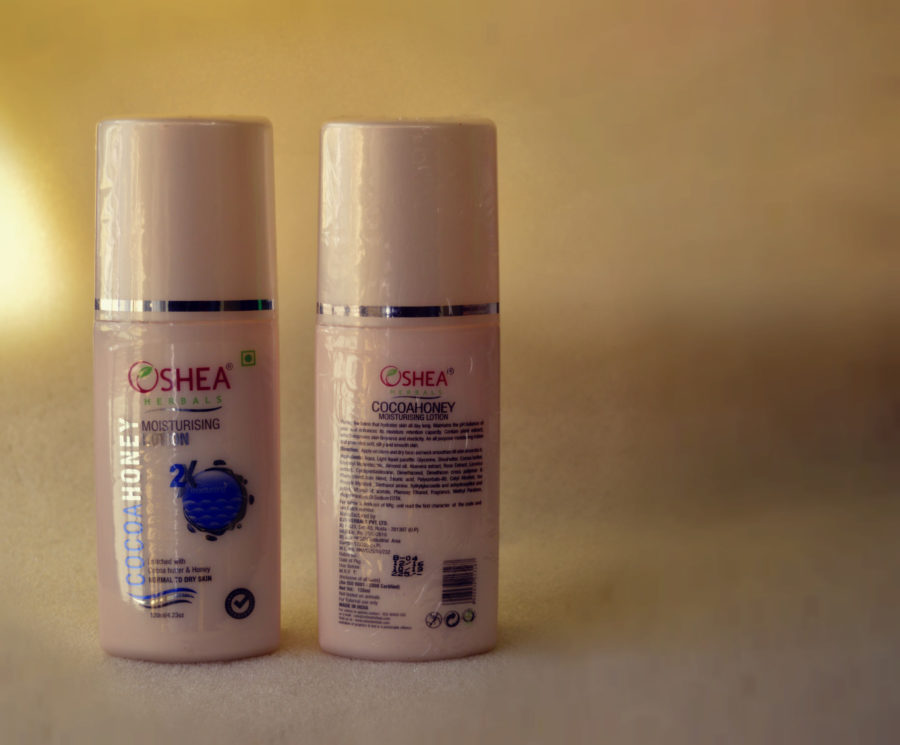 What Oshea Cocoa Honey Moisturising Lotion claims?
Cocoa Honey Moisturizing Lotion for the face with 2X moisturizing level to ensure moisture during harsh winter.
Added with Cocoa Butter and Honey as an active ingredient, this face moisturizer intends skin moisture retention and elasticity. Licorice and Aloevera extracts in the lotion promote fairer and glowing skin.
Moreover, it works as a protective lotion and maintains the PH balance of the skin. It is nongreasy moisturizing lotion with quick penetration formula that provides soft, silky and smooth skin.
Price and quantity
Rs.225 for 120 ml
Buy it here:  www.osheaherbals.com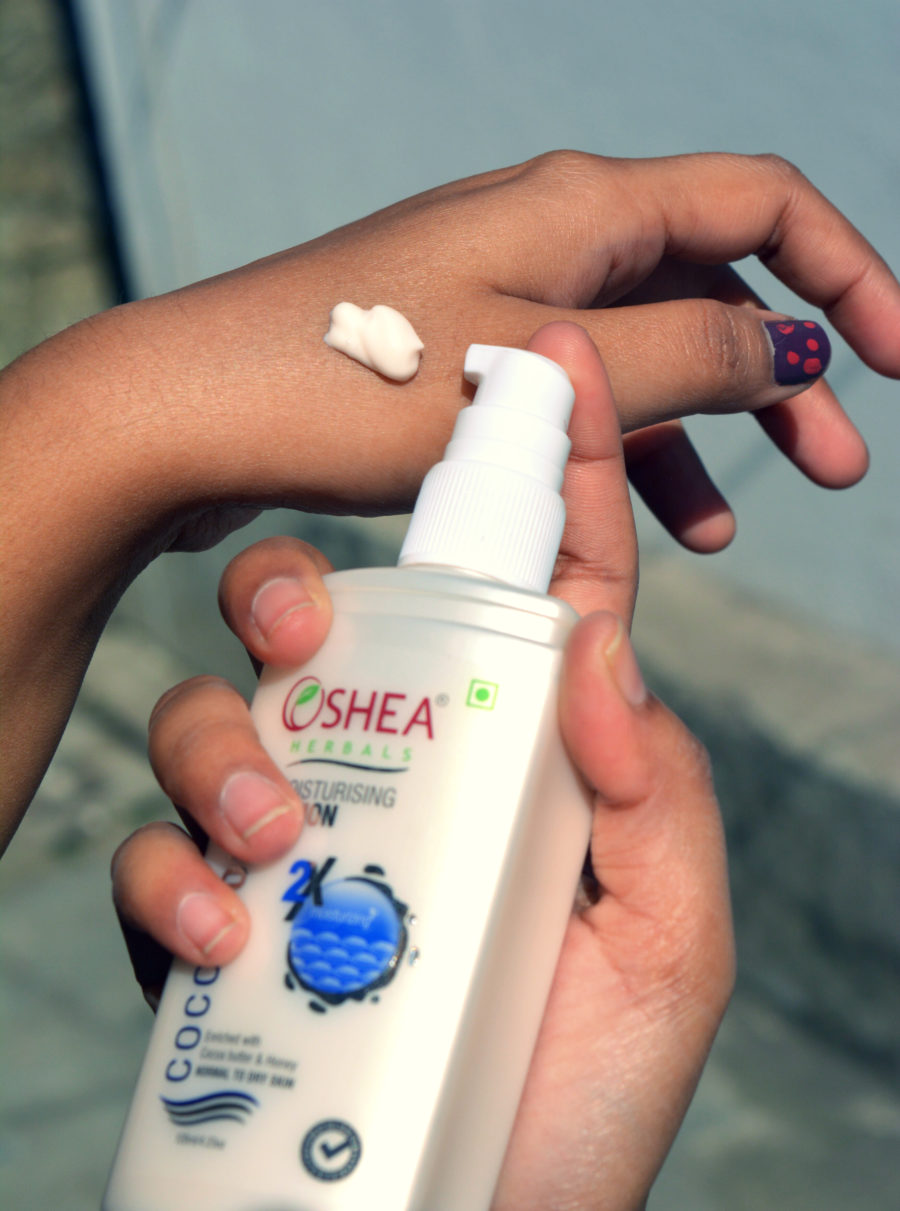 Shelf life: 3 years from manufacturing
My Experience:
 Looking for the perfect day cream is a mission I have taken up some times ago. Some is too greasy, some doesn't hydrate enough. My initial impression upon my first usage of this Cocoa Honey Lotion was terrific. I thought that this could have been my Holy Grail day cream if it contained a little SPF. I do wear sun block separately but when I go out I layer the SPF like – Day Cream with SPF- Sun Block – Compact Powder with SPF to ensure extra sun protection. The moisturizer is too mild for night time usages but perfect for the day time since it doesn't make the skin feel greasy and feels light on the skin. So of course an added usage of Titanium Dioxide or Zinc Oxide would have been perfect.
The texture is neither too runny nor too thick and absorbs into the skin pretty easily. On my combination skin 2 to 3 pumps are enough to moisturize my face and my neck. Dry Skin beauties might not be very satisfied with this mild moisturizer but it's really perfect for combination skin (and oily skin may be?). Over the past couple of weeks I've grown only one acne but it took its first peak the evening after I took a 9 hours of road trip, so I'm blaming the travel for the acne instead of this little baby.
The aroma is pretty good too, smells mildly of cocoa which I love. Apart from the amazing hydration and moisturization it provides, there arenot much noticeable changes in my skin tone. Because it contains liquorice I was expecting a little brightened skin tone but I've been disappointed regarding that so far.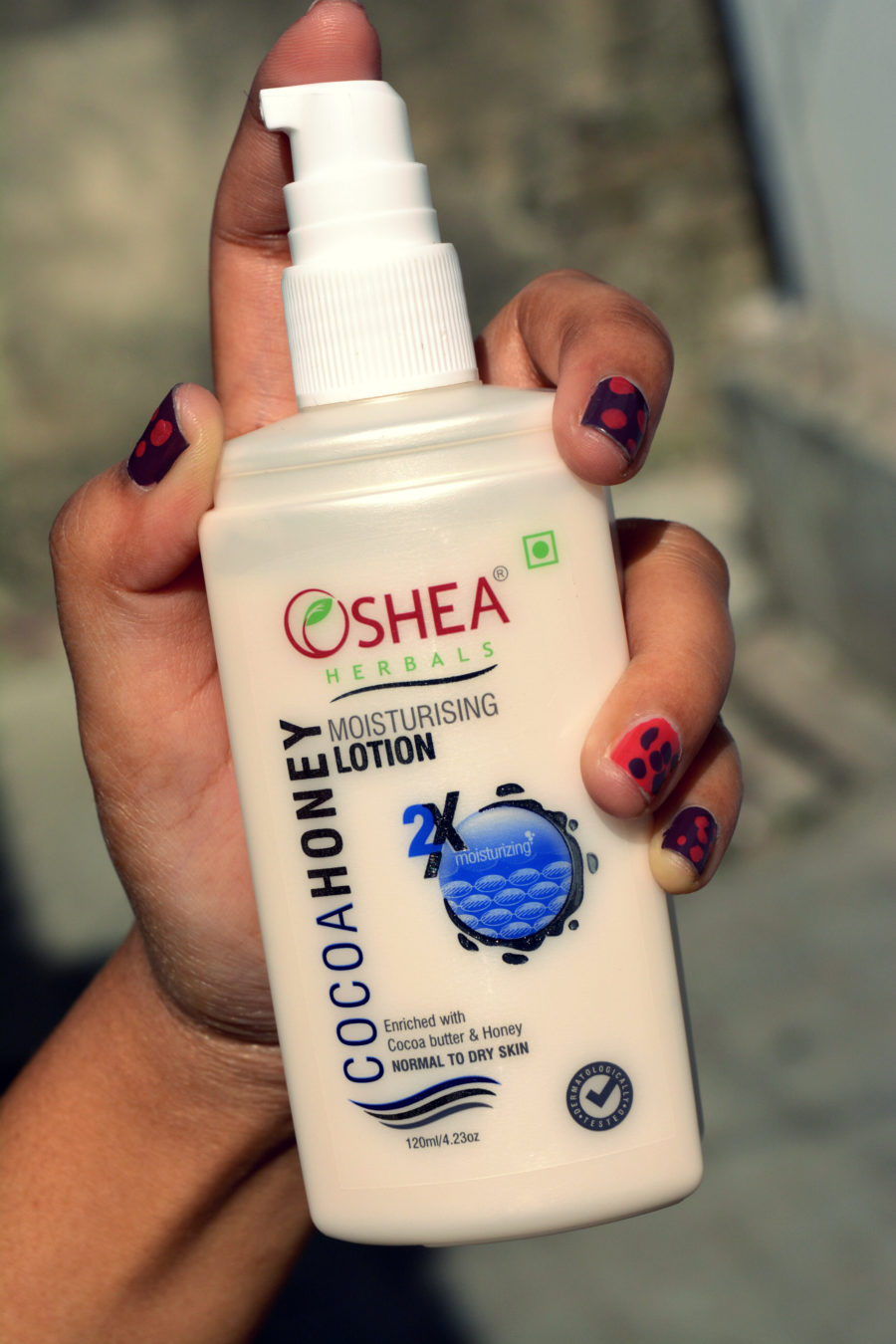 Will I purchase it again?
I don't know. The bottles are going to last me long considering the amount am using once a day. And then you guys know I how love experimenting and trying out new products so I might not repurchase. Had it contained a little SPF I would have
Will I recommend it?
Yes.
Pros:
Travel friendly
Pocket friendly
Smells nice
Didn't break me out
Hygienic pump
Non greasy
Hydrates and moisturizes
Cons:
Contains parabens
Doesn't contain SPF
Rating:
4.3/5