Hello everybody, today I'm going to review a product that has been sitting in my stash for so long that I forgot when I received it and with which beauty box. I have earlier talked about my love for toiletries and how there's literally no space in my left in cabinet for presumably an infinite amount of time. That's probably why the Skinyoga Coffee Body Scrub has been sealed in my ownership for so long. I mean literally it has been sitting idle for so long that the Golden Pouch has even started losing its colour. That's one reason I opened it up before I ran out of the other body scrubs I have been using.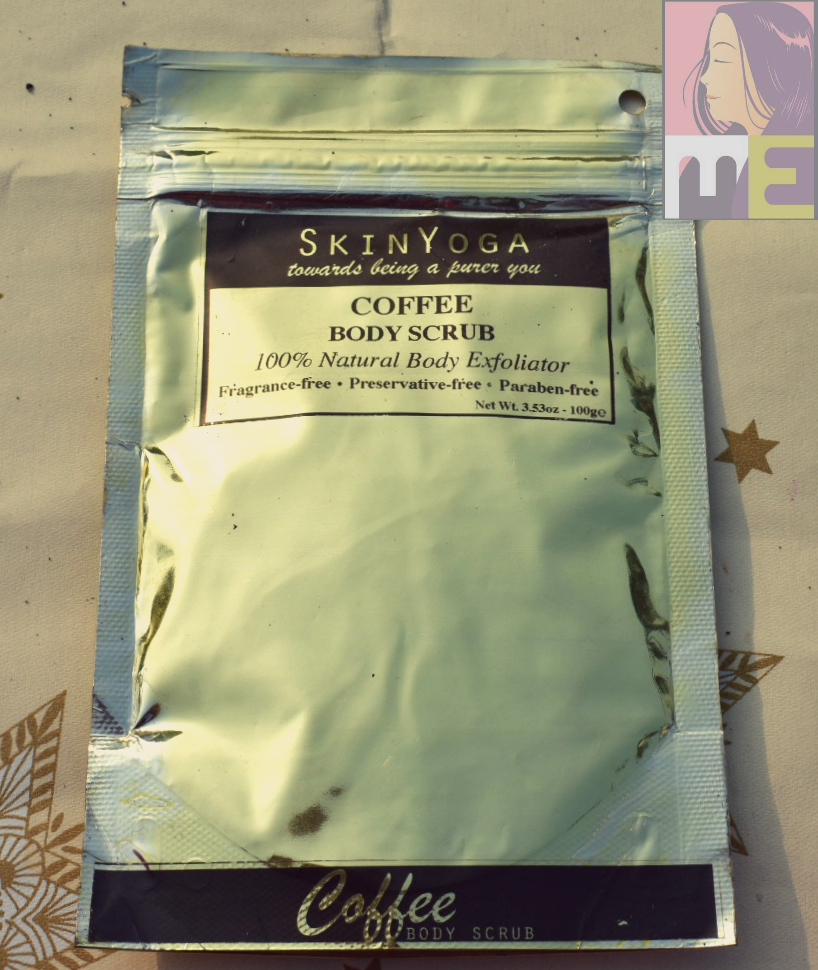 Product Claims:
De-tans and Reduces Cellulites.
The caffeine enhances fat metabolism and removes liquid and fat from your skin, ultimately reducing the appearance of cellulite and stretch marks. The natural oil moisturizes and nourishes your skin. This scrub also treats inflammation and protects your skin from sun damage.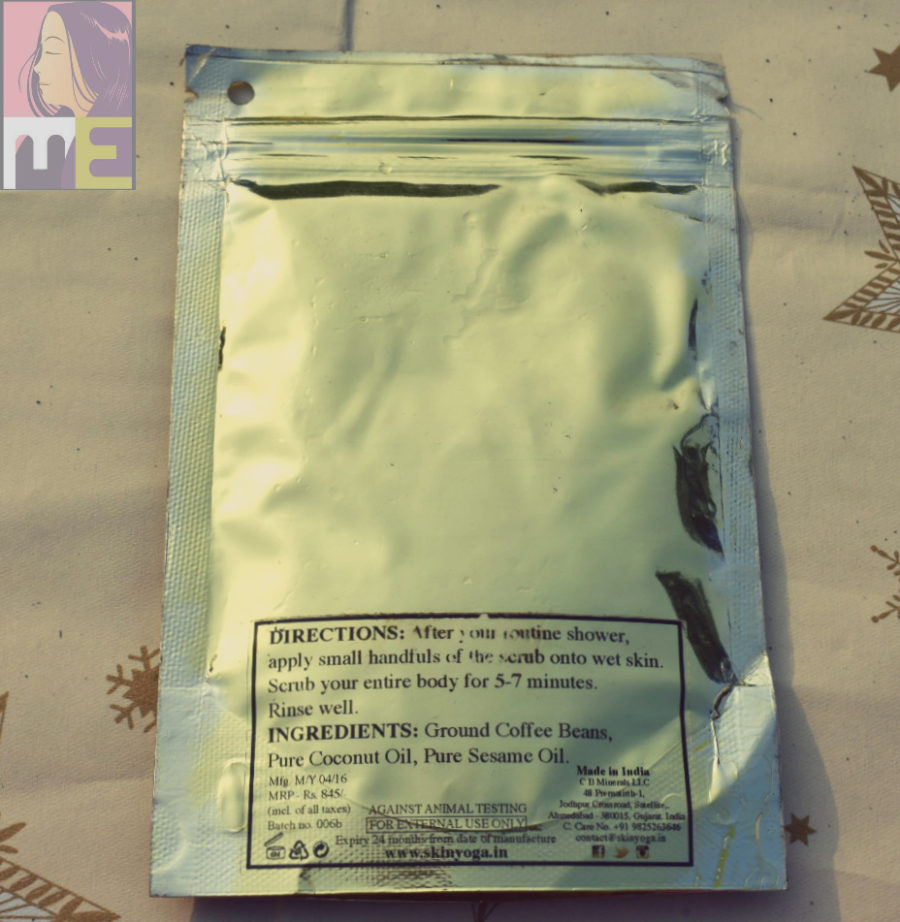 My Experience:
The coffee scrub comes in an attractive golden zip lock pouch. The zip lock does a great job protecting the product from air and water. However, it gets a little inconvenient getting the product out of the pouch. Since I avoid putting my wet hands inside it, I end up spilling and wasting so much product while pouring it in my palm. So I guess the best way to use this scrub is to by transferring it to a convenient container.
Moving on the fragrance. It's heaven. The fragrance of the coffee is even stronger than the fragrance inside any CCD outlet and am not even lying. You can literally get addicted to it if you happen to love coffee as much as I do.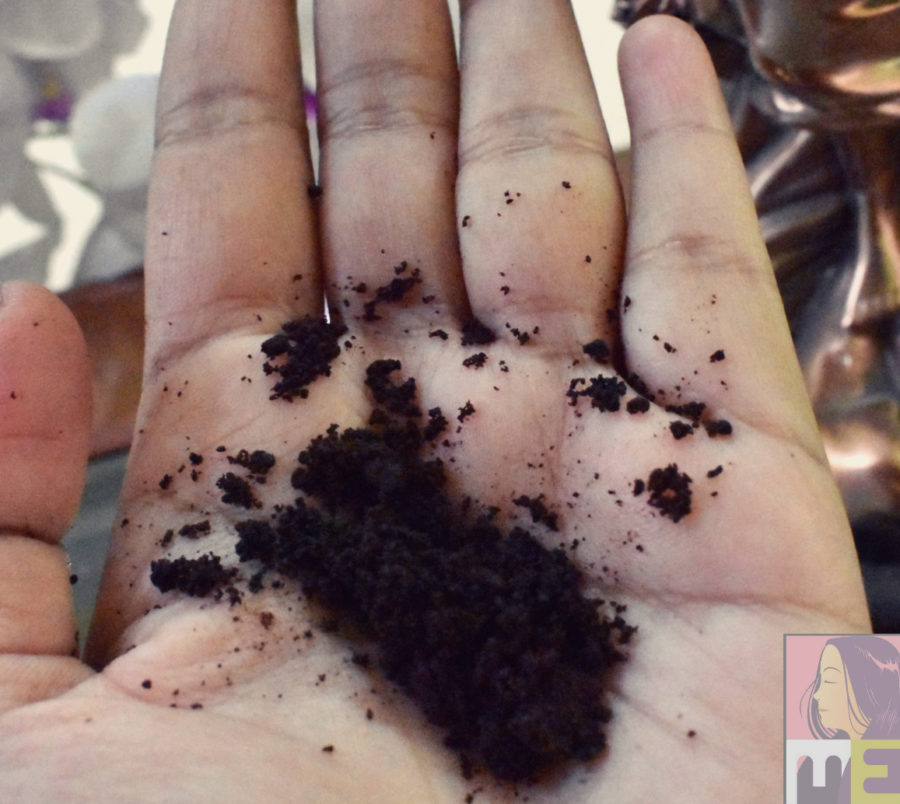 And then if you can take your mind off the fragrance for a while, you might even discover that it's probably the best body scrub you've ever used. Well at least it's the best body scrub that I have ever used. The ground coffee scrub gradually keeps melting into your skin with the massaging, which means that you don't really have to worry about over-scrubbing. While the scrub keeps melting you can also feel your skin getting softer and smoother all the while inhaling the intoxicating coffee smell. Upon washing it off the skin feels deeply moisturized and hydrated because of the presence of the coconut oil and the sesame oil. And the best part? You hop out of the shower totally refreshed!
Since there's no instruction saying how frequently you should use the scrub, I use it once or twice a week since I don't want to risk over scrubbing and if I want to be honest I must admit that it's with great hesitation that I avoid the temptation of using it the rest of the days.
Because I don't have any stretch marks and stuffs *touchwood* I cannot tell if that part of the claim is true, but it sure de-tans like a pro.
Overall, I am in love. I might repurchase it once I run out but considering the whooping amount of money it costs, I'm not sure how soon.
Pros:
Smell…..
Paraben free, preservative free, Fragrance free
De-tans
Works as an amazing scrub
Hydrates and moisturizes the skin (but that does not mean I skip the moisturizer)
Cons:
Too expensive
I am not a huge fan of zip lock pouches (personal opinion)
Price:
MRP 1795 Rs for 200gm
Where to buy?
Rating:
4.7/5